Have you got a summer holiday coming up? Leave your make-up bag at home, book these smart, low-maintenance treatments and arrive looking fabulous
Let's face it, nobody wants to waste precious holiday time getting ready when there's a new world out there waiting to be explored. Here are three clever treatments to book now that will have you looking holiday-ready before you've even left for the airport.
Define the eyes
Most women rely on mascara on a daily basis but, on holiday, the whole process can be a bit of a faff — especially if you're in and out of the pool, which can lead to a rather unflattering 'panda eye' look. Instead, opt for an LVL lash lift and brow tint. "Getting an LVL lash lift for summer is perfect if you want long, curled and defined eyelashes," says founder of Central London salon Browfique, Yana Gushchina. "It's sort of like a perm for your lashes, curling them from base to tip and making them appear longer and fuller for six to eight weeks."
Pair an LVL lash li with an eyebrow lamination for an ultra-flattering eye look that will allow you to ditch your brow products along with your mascara. The treatment uses a face-friendly 'perming' solution to push the brow hairs in an upwards shape, followed by a tint to darken and enhance the hairs. "Brow lamination gives the illusion of fuller brows, adding shape and definition that can last up to eight weeks," says Yana.
Eyebrow lamination and lash lift starts from £155. browfique.com
Ditch the straightners
Is your hair prone to becoming frizzy in warm weather? Then hair Botox could be for you. Formulated with ingredients such as caviar oil, vitamin B5 and collagen, this popular treatment helps to make hair more manageable, particularly throughout summer, when high
levels of humidity cause certain hair types to frizz. The treatment can reduce frizz by up to 80%, resulting in a sleek look that doesn't compromise natural hair texture. "Hair Botox is still our number one hair treatment," says Santi Figueroa, founder of Santi's London Aveda salon in Soho. "Clients love it, not only because of the natural ingredients, but because of the
incredible results."
Balayage, another treatment offered by Santi's, is great for a natural, sun-kissed look that doesn't involve damaging the hair. Derived from a French word that means 'to sweep', the balayage technique is the hand-painting, or 'sweeping', of highlights onto the hair. The final result can last up to three to four months without the need for touch ups, compared to six to eight weeks when getting highlights.
Hair Botox, from £305. Balayage, from £165. santislondon.com
Gloss up
A lipstick or gloss is usually the finishing touch to any look — and once you've found your perfect shade, you'll want to wear it everywhere you go. But with makeup in the upper lip area not lasting as long in the sun, lip blushing is a great alternative this summer. A semi-permanent form of make-up, lip blush is used to enhance both the colour and shape of the lips, meaning you can have your perfect lip colour on all day long.
Karen Betts, leading permanent make-up artist and owner of Karen Betts Clinics, explains: "The treatment will add pigment, define the lip border and enhance the natural colour for a really subtle look. You can go about your day and not worry about having to reapply liner or lipsticks, or carry them around with you. Simply pop an SPF lip balm on and you're ready to go."
Lip blush, from £595 at Karen Betts Clinics nationwide. karenbetts.com
Put your best face forward
Everybody wants a brighter and more refreshed complexion in time for summer. And when your skincare routine just isn't cutting it, a microneedling treatment can aid with stimulating tissue repair deep within your skin barrier, as well as collagen and elastin production. And whilst that might sound high-tech, basically what it means is it helps skincare products reach places they normally wouldn't, allowing them to become more effective.
There's an array of microneedling treatments available at Young LDN, a Notting Hill based luxury salon. Choose from treatments explicitly for the face, or add on your neck and décolletage, too – which is a good idea if you'll be donning a bikini on your holidays. Each treatment is performed by a highly trained professional who will address your skin concerns and needs, and will leave you feeling glowy for days to come. youngldn.com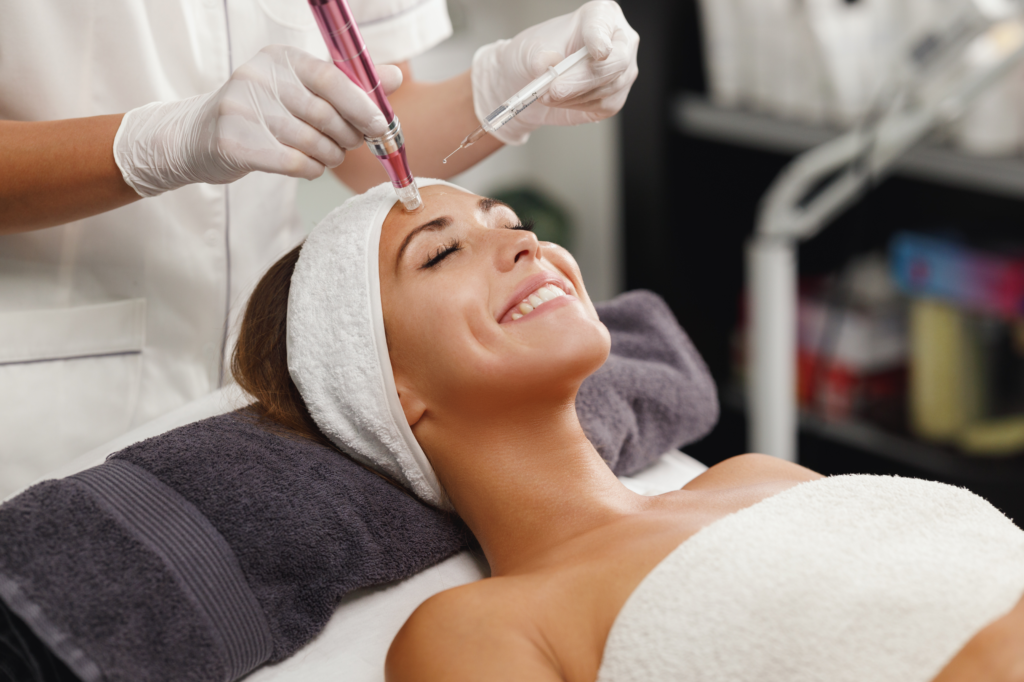 Words by Layla Turner