These days, many families want to take their furry friends on holiday with them — after all, the family pet is, well, part of the family
London is a great city for dog owners, filled with loads of cafes (Farm Girl and Pawsitive are two of our favourites), as well as parks and even hotels that welcome furry friends. But when Hyde Park isn't quite cutting it, and both you and your dog need a change of scenery and a break from the big city, where can you go to stretch your puppy's paws? Here's why The Graduate, Cambridge, located next to sprawling fields and filled to the brim with pooch-friendly amenities, is the perfect base for a getaway with your furry friend.
Just a one-hour train ride from London, the city of Cambridge is known for its universities, architecture and history. Here, you'll find a combination of adventurous trails and nature parks — Grantchester, a 10-minute drive or a 35-minute stroll from The Graduate, is a great day out for dogs — as well as a buzzing city centre filled with independent shops and plenty of dog-friendly spots to grab a bite. The city has everything you need for a weekend away in the company of your furry family member.
Perfectly placed for exploring everything the city has to offer, The Graduate is a contemporary hotel with nods to academic heritage throughout. The hotel chain originated stateside, with a focus on locations in iconic university towns, including Berkely, Ann Arbor and Michigan. The Cambridge location was its first UK venture, followed by a second opening in Oxford. The lobby of the Cambridge hotel is filled with academia-style memorabilia, from upcycled punts to ornate bookcases and college crests. The room keys, meanwhile, feature the faces of notable Cambridge University alumni, including those of Isaac Newton and Stephen Hawking.
While one wouldn't usually associate academic aesthetics with luxury, it's certainly a standpoint of the hotel, and makes for a unique stay. That's not to say it's not luxury, though. Guests can swim alongside the Cam, Cambridge's famous river, at the newly opened gym and pool. There are upmarket amenities, too, such as the in-room Nespresso coffee maker and Malin+Goetz toiletries. Rooms are decorated with floral wallpaper and include design touches like velvet loveseats and balconies overlooking the lush surroundings , with several of the rooms looking directly over the River Cam and neighbouring Sheep's Green park. The rooms boast a home-away-from-home feel, which is ideal for families travelling with their pooch in tow.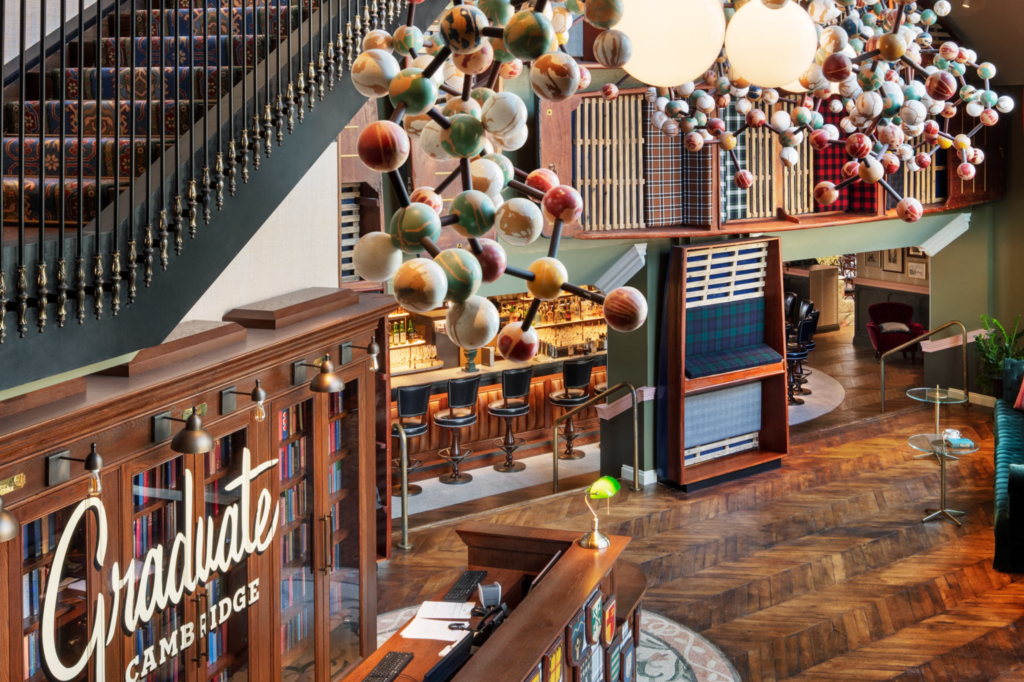 In fact, the dog-friendly amenities are miles ahead of those at any other hotels I've stayed at. Upon arrival, I'm asked to fill out a form for my dog, an American bulldog called Blue. It's worth noting that The Graduate doesn't have any size restrictions for furry friends, something that's a common theme among inner-city pet-friendly hotels (though most disclose this via their website). The only rule is that your dog can't be left alone in the room, and that guests are responsible for any damage caused, which shouldn't be an issue for well-behaved pooches.
In our room, a suite on the second floor, two extra-large tartan dog beds allowed Blue to choose his sleeping area (something he was very happy about, bouncing between the two for some time before eventually settling down). Guests are also provided with high-quality venison treats for their dog, as well as branded poo bags, a useful, albeit amusing amenity.
There are a number of dogs staying at The Graduate while we're there, including a friendly cockapoo and a smaller breed, both of which Blue was happy to befriend. It was reassuring to see that dogs can live in harmony under one roof, regardless of size or breed.
You don't have to travel far for good food, either. The hotel is home to several options for dining in, including Garden House, headed up by chef Adam Wood, with a focus on local and seasonal produce. Unfortunately, but understandably, the main restaurant isn't dog friendly.
Instead, guests are free to dine with their dogs at the Garden Bar. Here, the menu includes a range of small plates, including lamb kofta with sriracha yoghurt, grilled tiger prawns and burrata with marinated tomatoes. There's a range of familiar favourites on offer, too, including the Garden House burger with fries, and a club sandwich. With a range of craft cocktails and specialty beers, this is a great place to enjoy a drink or two after a long day of exploring. Speaking of which…
What's there to do nearby?
Cambridge is a great place to visit, whether with your dog, or as a family, solo traveller, or group of friends. In spring and summer, the Cambridge University Botanic Garden is a must see, filled with cherry blossom and blooming tulips. Of course, it's essential to take in the grandeur of the University of Cambridge, and a trip to the city isn't complete without a punt down the river — an activity that is, in fact, dog friendly, too.
Elsewhere, just across the River Cam is another great option for a dog walk. Sheep's Green is recommended to me by Lloyd from The Graduate's reservations team. We let Blue off the lead, and he enjoyed the chance to run freely alongside the river, meeting many friendly dogs as he did so. Afterwards, head to traditional English pub The Mill or The Old Bicycle Shop, another dog-friendly bar and restaurant serving locally sourced dishes with a range of vegan- and vegetarian-friendly options.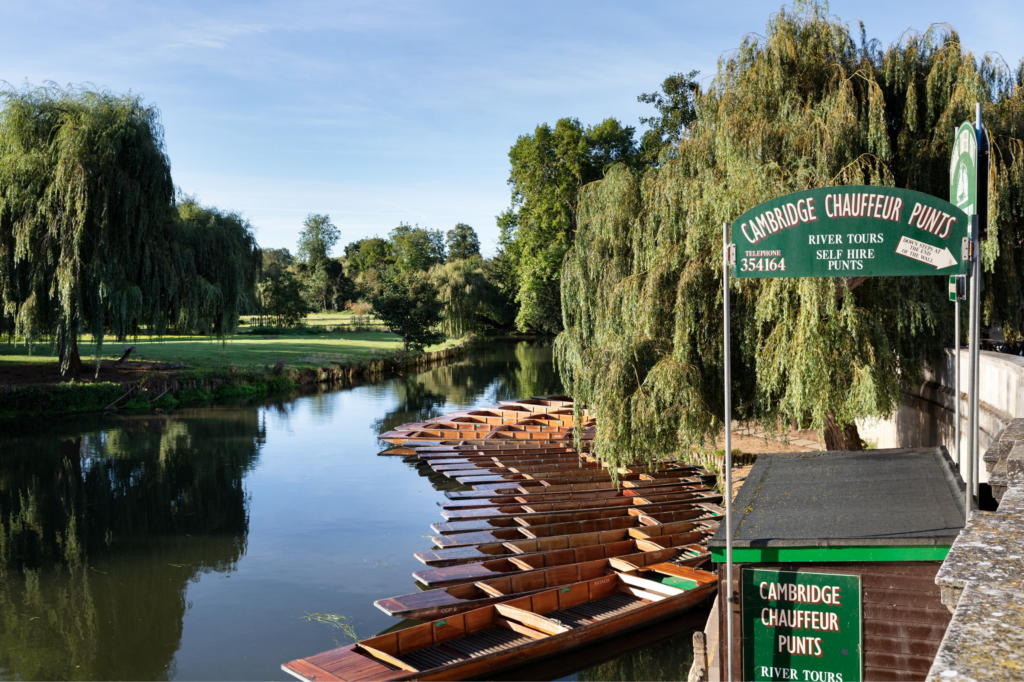 Rooms at The Graduate in Cambridge start from £215 per B&B double. An extra fee of £25 per night will be added for each pet. Maximum of two dogs per room. graduatehotels.com