Pack everything you need into one of these fantastic suitcases, each designed for a unique getaway
Are you planning a long-haul trip to a sun-kissed, tropical destination, or a weekend getaway for a change of scene? Whatever your travel goal, we've found a suitcase just for you.
Here's our pick of the top suitcases you need to get your hands on in this summer.
The best for an overnight stay
Whether you're travelling for work or are looking to make the most of a short staycation, the Barbour Cascade holdall bag is perfect for an overnight stay. Minimal and chic, it's made from cotton twill and comes in two colours, navy and russet — the latter is already out of stock so hurry if you want to catch the navy in time. The webbing grab handles and detachable shoulder strap make this bag super-convenient and easy to carry.
Dimensions: H29cm x W56cm x D21.5cm, £69.95, barbour.com/uk
View this post on Instagram
The best for thrilling adventures
Seeking a reliable case for your next adventure? Haki's Hot-Shot Duffle might just be it. Seriously lightweight, it comes with detachable, heavily padded backpack and shoulder straps that also feature a bottle opener for extra convenience when hydrating on-the-go. Several spacious pockets — including a dedicated pocket compartment for dirty clothes or shoes — will allow you to neatly organise all your essentials. At the same time, the water-resistant fabric and waterproof zips make the Hot-Shot Duffle immune to adverse weather conditions, while its collapsible design makes it incredibly easy to store when not in use.
Dimensions: H56cm x W30.5cm x D30.5cm, 1.4 kg, £65, available from johnlewis.com
View this post on Instagram
The best for long-haul
This classic Delsey design with four double wheels is the ideal buy if you're looking for a strong, large suitcase that's easy to carry. Hard-wearing and with ample space to fit two weeks' worth of outfits, Delsey Chatelet Air is also super-secure thanks to the TSA lock and patented Securitech closure system — designed to make it three times more resistant to intrusion than suitcases with a conventional zipper. It rolls smoothly through airports and beyond but you can also comfortably pick it up when needed, thanks to the handle's reinforced pullers that are up to three times stronger than standard cases.
Dimensions: H82cm x W55.5cm x D34cm, 5.5 kg, £469, available from johnlewis.com
View this post on Instagram
The best for weekend breaks
Travel in style to your next city break with Bric's latest monochromatic Positano collection. Available in three shades — teal, emerald and sage — which echo the glittery waters of the Amalfi Coast, these suitcases can be your fashionable go-to for a fun, 48-hour escape. Opt for the hard-shell carry-on trolley option: light and durable, it comes with four swivelling recessed wheels to optimise space. It also has a USB port and TSA combination luggage lock built into the shell.
Dimensions: H55cm x W38cm x D23cm, 2.81kg, £340, brics.it/uk
The best for budget getaways
Large cases are often quite expensive, but TRIPP's Holiday 7 four-wheel model does the job without costing you the earth. It's available in all kinds of striking colours, too, including flamingo pink, watermelon red, and this mint. There's no need to worry about any bumps or scrapes along the way, either, thanks to its hard casing, TSA-approved lock and five-year guarantee for extra peace of mind.
Dimensions: H76cm x W50cm x D32cm, 4kg, now £75 (down from £85), available from amazon.co.uk
View this post on Instagram
The best for mindful travelling
Minimise your impact on the planet with the Samsonite Spark SNG Eco case. This cabin-friendly suitcase is not only incredibly spacious (it's expandable shell can extend to up to 23cm in depth), but it's also incredibly eco-friendly. Both its interior and exterior are made from Recyclex, a range of fabrics and shells created by using post-consumer or post-industrial recycled materials, specifically crafted to be sustainable and environmentally responsible. The handles, logo and name tag also include real cork details, a wholly sustainable material.
Dimensions: H55cm x W40cm x D20/23cm, 3.4kg, £185, available from amazon.co.uk
View this post on Instagram
The best for travelling with little ones
Make packing and travelling a joy for your child, with Samsonite's whimsical Dream Rider range. This super-fun collection includes playful cases with zoo-inspired designs for your little ones — these take the form of cute animal characters such as Zebra Zeno, Tiger Toby and Cheetah C. Children can ride their four-wheeled animal friends through the airport, with the soft cord handle ideal for pulling them to the gate, helping to turn travel time into playtime. The spacious interior compartment inside each case, meanwhile, is big enough to fit all your child's games and teddy bears.
Dimensions (Zebra Zeno): H37cm x W51cm x D22cm, 1.93kg, £85, samsonite.co.uk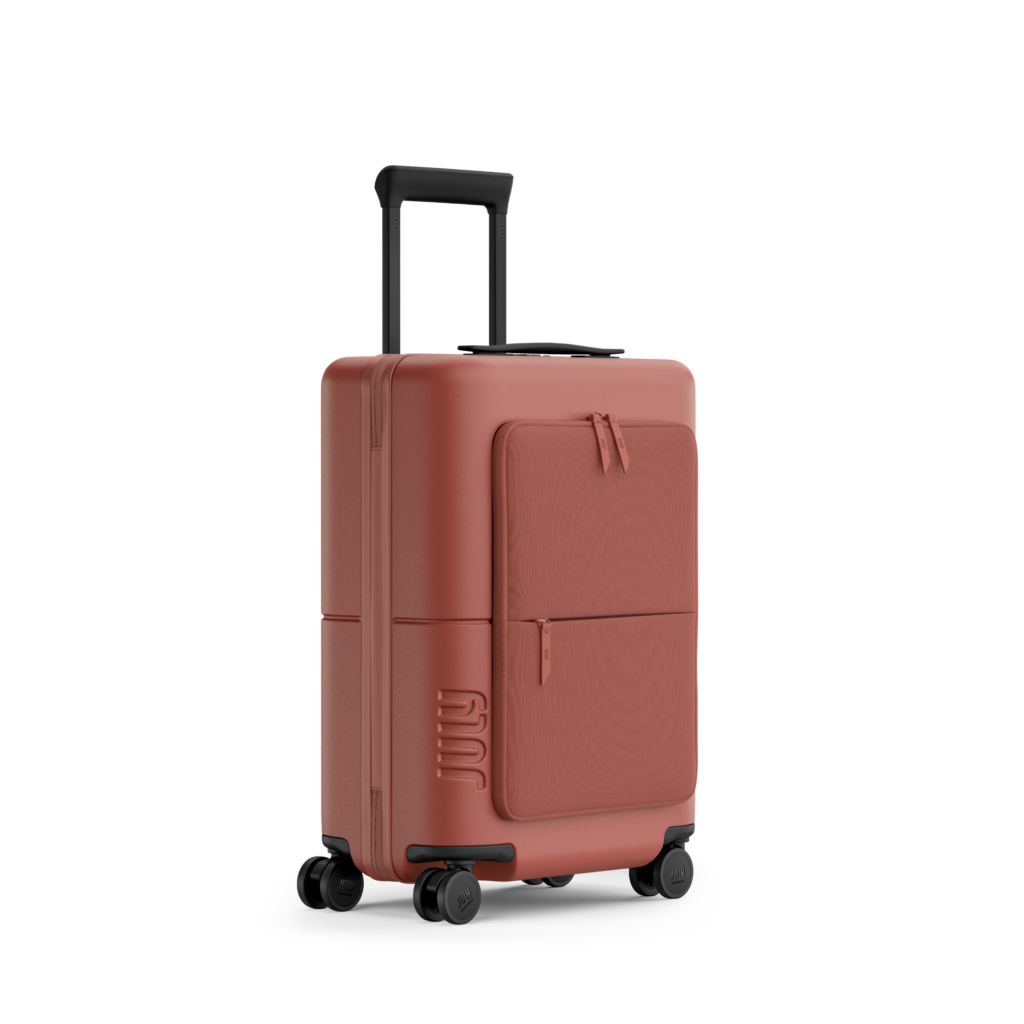 The best for business travel
Do you travel a lot for work and worry your laptop could get damaged along the way? Then you'll love this sleek model from July. The signature Carry On comes with a detachable compartment that can fit a 16-inch laptop, along with any other documents and personal items. When placing the case in the overhead locker, the padded, zippable SnapSleeve will keep your laptop protected. The suitcase is also fitted with a zipped outside pocket for smaller items and an ejectable battery lasting for about 10 hours, with standard USB and USB-C docks.
Dimensions: H55cm x W38.5cm x D21.5cm, 3.4kg, £295, july.com/uk