From gua sha to cupping, if you want to try your hand at facial massage we look at three of the most popular ways to do it.
In recent years, the UK and American skincare industry has been looking to Asia for new trends and treatments. Korea gave us a 10-step routine leading to 'glass skin', while Japan kept things simple with skincare for natural, but plump, 'mochi' skin. Now, however, beauty buffs are looking to neighbouring China.
With aesthetic clinics closed for much of the past year, skincare devotees have had to upskill in a bid to achieve results once reserved for cosmetic clinics. It's not uncommon, now, for an at-home evening skincare routine to resemble a facial treatment.
With myriad resources online — from skincare influencers on Instagram and aestheticians on TikTok to dermatologists on YouTube — knowledge once reserved for professionals is now easily accessible. And it includes more than just what skincare products to use and when for different outcomes now that those with a keen interest in skincare have taken things into their own hands and facial sculpting techniques are booming in popularity.
With nothing but some oil and your hands, anyone can master an at-home facial massage, but you might want to tool up with gua sha stones or cups. Here's everything you need to know.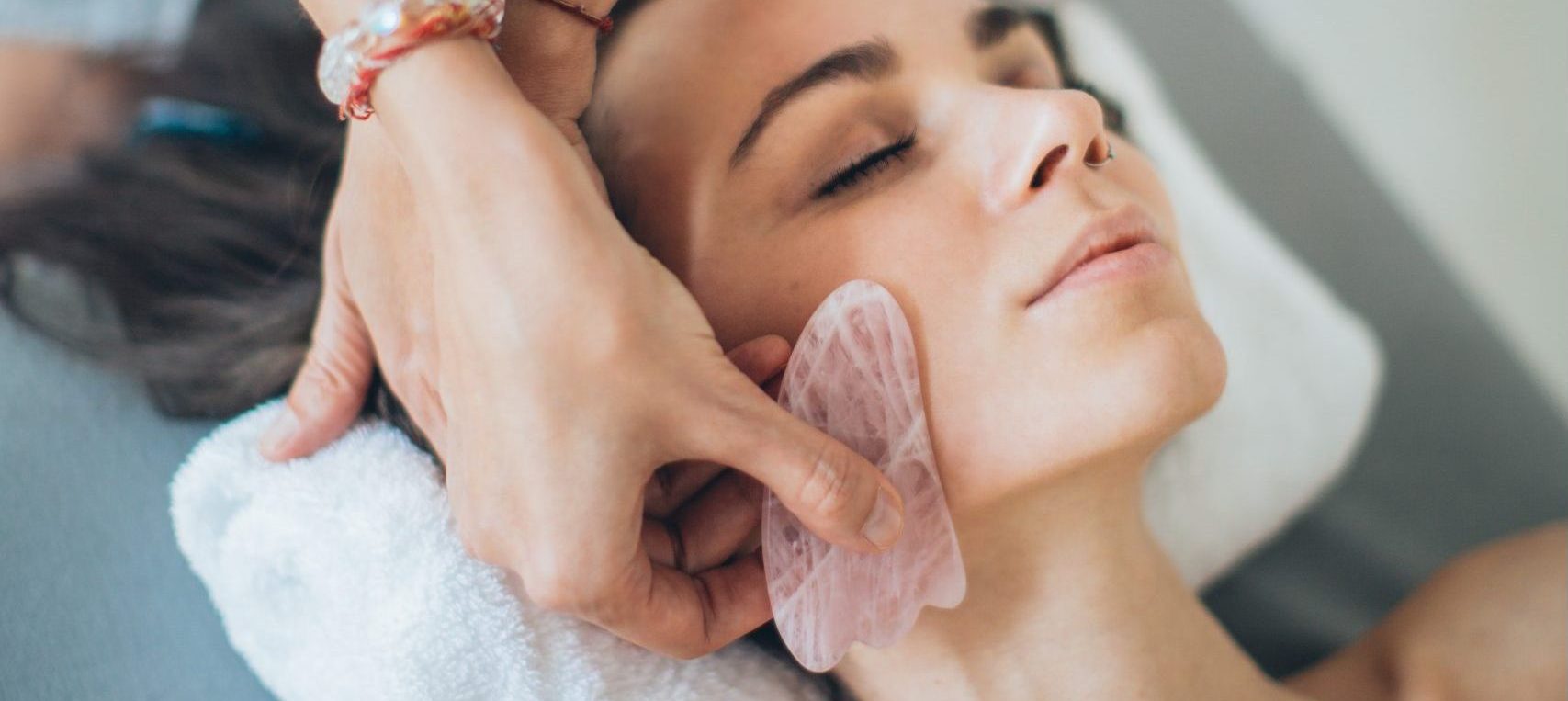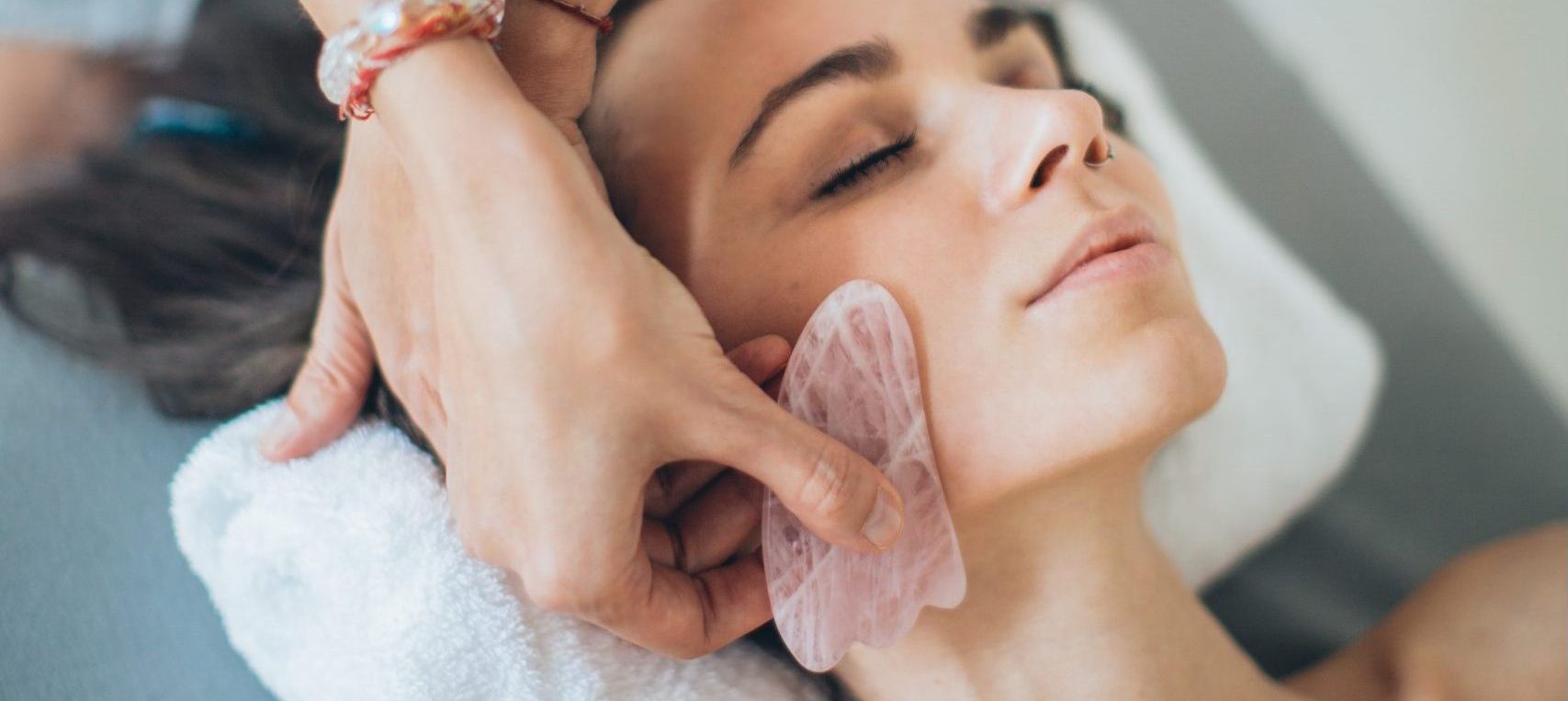 DIY facial massage with your hands
"Facial massages provide a stimulating workout for your face, boosting circulation and plumping the skin," explains skin specialist Dr Lubna Khan-Salim. "It doesn't need to take long: a two-minute daily routine of deep, stimulating motions can really help the skin feel firmer, improve circulation, recharge elasticity and give a moment of much-needed self-care."
With your fingers or knuckles, you can easily add a massage into your skincare routine, but skin must always have a cream or oil applied first to let the hands glide — without this you'll pull at the skin and likely accelerate wrinkles. The key to an at-home facial is movements that go out and up, only ever going downwards around the edges of the face to encourage lymphatic drainage. Follow your bone structure to sweep across your jaw, cheekbones and around the eye
"If you're going to do it yourself, it's all about preparation," says Dr Khan-Salim. "Make sure your skin is cleansed with warm water and all make-up removed. Ensure your hair is tied back and start with an exfoliant that removes the dead skin cells. Next, pick an oil that's suited to your skin type and put a small, pea-sized amount on your hands. Rub together and start working across areas of your face with firm pressure to stimulate the skin. Don't forget to include the neck and even decolletage in upward motions.
Releasing tension with gua sha facial massage
Thanks to the power of social media, namely TikTok and Instagram, gua sha became a lockdown trend that's still gathering momentum today. A massage technique found in traditional Chinese medicine (TCM), gua sha, which translates as scraping sand, uses a flat stone to scrape the face gently. As with any facial massage, oil should be used to prevent friction and allow the stone to glide over the skin. The shape of the stone varies and the pressure applied is up to you but one particular stone, bojin, has a pointed end that should be used to pick at muscles with some force to release tension. As well as helping to increase blood flow, lymphatic drainage and reduce lines brought on by tight muscles, such as frown lines, in TCM there's more to the story. Ada Ooi is a facialist and Chinese medicine practitioner who's been fusing aesthetics with TCM for 15 years. She explains: "Fascia is like a cling film that envelopes our muscles, and in TCM it's understood that fascia stores emotional memory." Massage techniques like gua sha and cupping help to relax fascia and so are said to aid the release of negative emotions. In TCM, it's believed negative emotions have a huge impact on the body, leading to skin conditions and premature ageing. In fact, when asked what her top beauty tip was, Ada's reply was always to find an exit for your emotions.
Increase lymphatic drainage and do away with puffiness
Another form of facial massage rooted in TCM is cupping. Different on the face and the body, and sometimes referred to as 'wet cupping', a slipping agent like an oil should be applied to the skin and then cups should glide over and massage the skin much like gua sha but focusing on lymphatic drainage.
The lymphatic system runs throughout the body, carrying away excess fluid from under the skin. People will often find their face looks slimmer after facial massage, but this is simply due to an increase in lymphatic drainage.