One of the latest non-surgical skin-tightening treatments is said to work wonders on the face, neck and body too, but for almost £1,000 a session is it really worth it?
Last year Morpheus8, a new non-surgical skin tightening treatment, found fame when an aesthetics doctor posted before and after results on Instagram featuring British tennis coach Judy Murray, showing an almost unbelievable difference in her skin. Sound appealing? You'll need to cough up close to £1,000 for just one treatment. I visited Dr David Jack in London's Harley Street to try it out and see if just one treatment was worth splashing out on.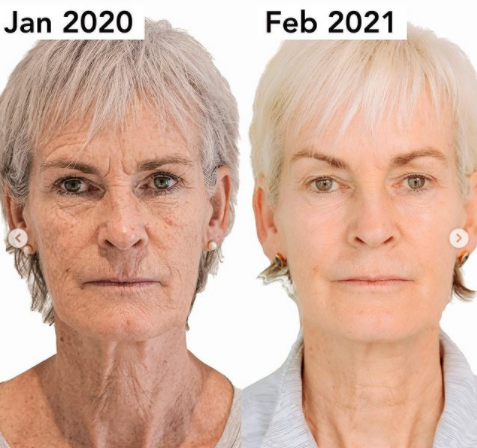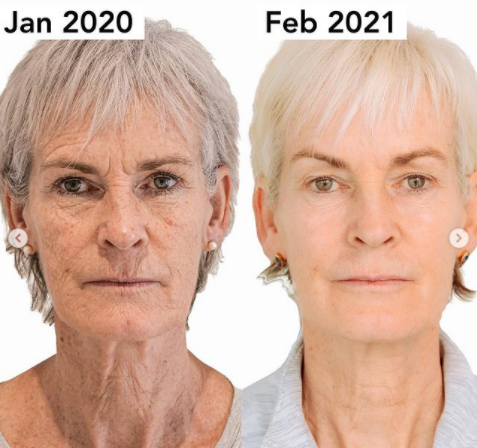 What is a Morpheus8 treatment?
One of the most recent innovations in non-surgical, skin-tightening aesthetics, the Morpheus8 combines microneedling with radiofrequency therapy. It can be used all over the body to reduce wrinkles, improve skin tone and texture and tighten areas of skin laxity. It doesn't stop there. Morpheus8 is not just good for tightening the skin, but can also be used to reduce scars, hyperpigmentation and stretch marks.
How does Morpheus8 skin tightening work?
Microneedling uses a device to make small pricks across the skin (these 'micro traumas' trigger regeneration of skin cells and can help with wrinkles and scarring). Radiofrequency (RF), on the other hand, is when RF energy is directed into the skin to heat the cells in the dermis, which causes the skin to produce more collagen and tighten.
With 24 microneedles, the Morpheus8 technology reaches up to 4mm deep into the skin and the RF is emitted through the tips of the needles. This means none of the electric current is lost in the top layers of skin but can permeate the dermis (where collagen and elastin are produced) and the fatty subcutaneous tissue below, which can also lead to fat reduction and contouring.
The procedure can be used all over the face and body, but one of the reasons for its popularity in the past year (aside from Judy's results) has been the results achieved under the chin, an area notoriously difficult to treat effectively and permanently without cosmetic surgery.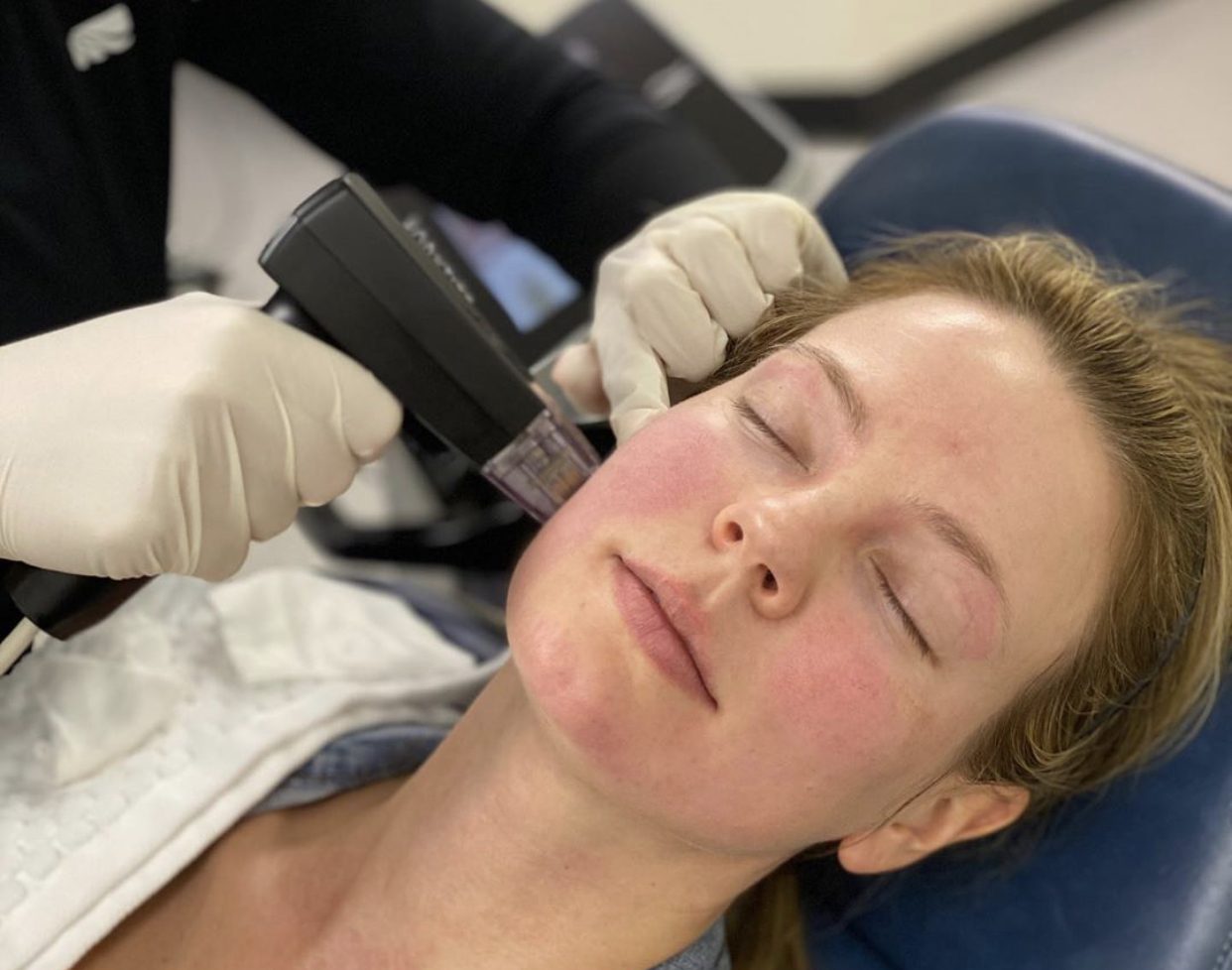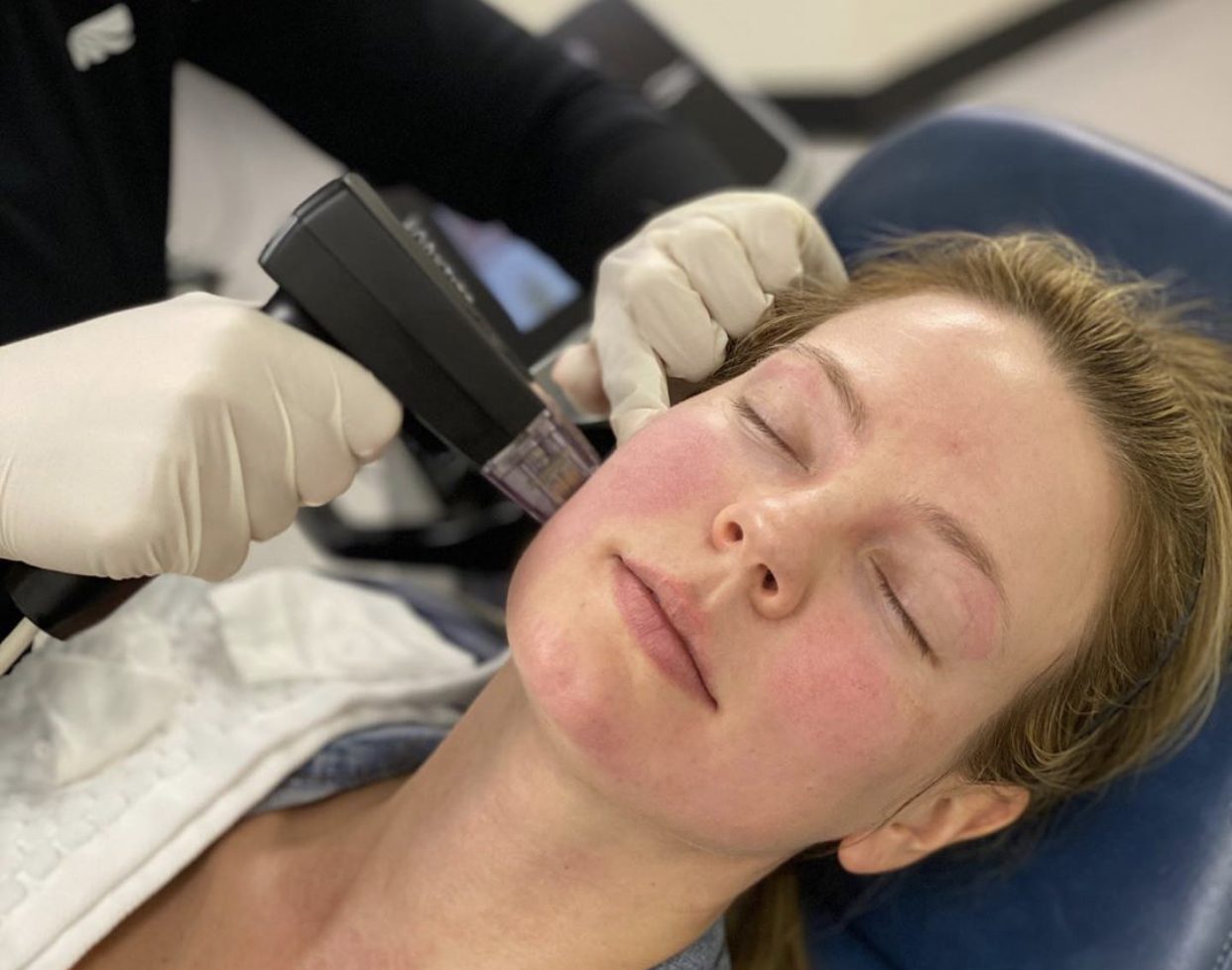 Reviewing Morpheus8
I arrived at Dr Jack's clinic an hour early to have numbing cream applied as without it the procedure can be very painful. During the treatment a handheld device is placed on my skin, stamping the needles in and sending out the RF waves. I was having the treatment on the lower part of my face and neck, which took about 10 minutes. It covered from my cheek bones down to the base of my neck and, for the most part, it felt fine. However, despite the numbing cream, where the skin is thin, such as on around the lips and under the chin, it was a little painful.
Morpheus8 recovery time
I left with half a tomato-red face, as if I'd just had a beard waxed off (which I was grateful to be able to cover it with a mask as I hopped on the train home). It was a little sore afterwards, but as the numbing faded the soreness subsided with it.
For the next 24 hours, I had to keep the treated area dry and not apply any skincare products, and the next day I was only permitted to apply SPF. It stayed slightly red and patchy for a couple of days, with teeny tiny scabs from the needle pricks, but nothing to warrant staying inside or covering up, which meant I could carry on life as normal.
Morpheus8 results
My cheekbones were the first to appear noticeably improved, and the skin across my cheeks looked younger and healthier. I waited patiently for the skin around my jaw and under my chin to miraculously tighten, but eventually gave up. It takes between three and six months for the full results to be realised, making comparison difficult, and Dr Jack did warn me that Morpheus8 is better suited to people with loose or sagging skin and that two treatments is the minimum he'd advise. But with his prices starting at £800 for the lower face and neck and a whopping £1,250 for the whole face and neck, I can't say it's worth it for a one-off treatment. If you're dealing with sagging skin and want dramatic results without surgery, you'd need to invest thousands for results like Judy Murray. And as for reducing scars and hyperpigmentation, there are many other effective treatments out there at much lower prices, such as chemical peels, microdermabrasion and mirconeedlong alone.