From flawless roasties to indulgent desserts, founders of food platform So Vegan dish out their top tips on how to serve a delicious, plant-based festive feast that packs flavour
From rich veggie wellingtons to original Christmas slaws, the couple behind So Vegan are well versed in creating plant-based party pleasers. For the last seven years Ben Pook and Roxy Pope have whizzed up recipes for their homegrown vegan platform, which includes half-a-million Instagram followers, a popular food website and two cookbooks. We met to discuss So Vegan's festive favourites, revealing how a plant-based Christmas dinner is easier, cheaper and tastier than you think.
What are your favourite vegan Christmas centrepieces?
Ben: I think one of the recipes we turn to again and again is our butternut squash wellington. Simply wrap roasted butternut squash in a mushroom and sage stuffing and shop-bought puff pastry — most brands are vegan, which is really good news. Pop it in the oven and you can easily slice and serve on the table.
Roxy: Nut roast is a great way to use up ingredients you already have in the cupboard. Blend some of your favourite pulses and nuts together, with some veggies and play around with herbs and spices before baking. It's nice to add in some twists like dried apricots, dates or cranberry and apple sauces. We love to add soy sauce and miso paste to bring meatiness to nut roasts, too.
Ben: Vegan meatloaf is also a good alternative. Mash shop-bought vegan sausages — our favourite is Tesco Plant Chef Cumberland sausages — and add to a blend of lentils and mixed nuts before roasting.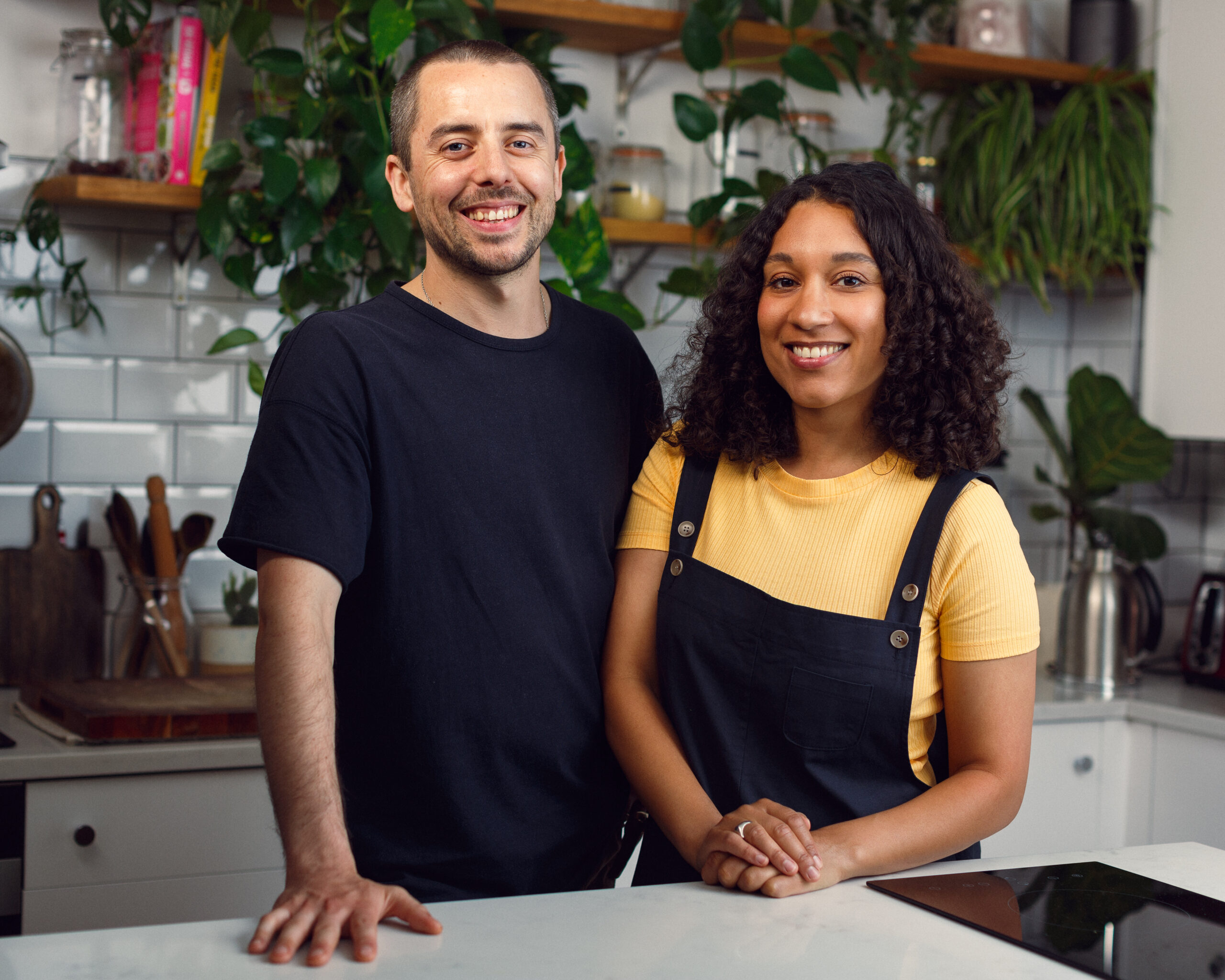 How do you jazz up those all-important vegetable sides?
Roxy: Everyone loves a roastie. But for a different take, use sweet potato paired with cinnamon and roast it in the oven until crispy. Also, for brussels sprouts, we find roasting and tossing them in balsamic vinegar gets rid of that bitter flavour. Then drizzle in maple syrup and top with some pomegranate seeds or dried fruits.
Ben: I think the one thing missing from a Christmas dinner can be fresh veggies, as everything seems to be roasted. So, you could create a Christmas slaw by finely grating beetroot, carrot, and parsnip before tossing in apple cider vinegar or lemon juice and your preferred mustard. What you'll have on your plate is a real change in texture, colour and fresh flavours, which will complement the richer vegetables and the centrepiece.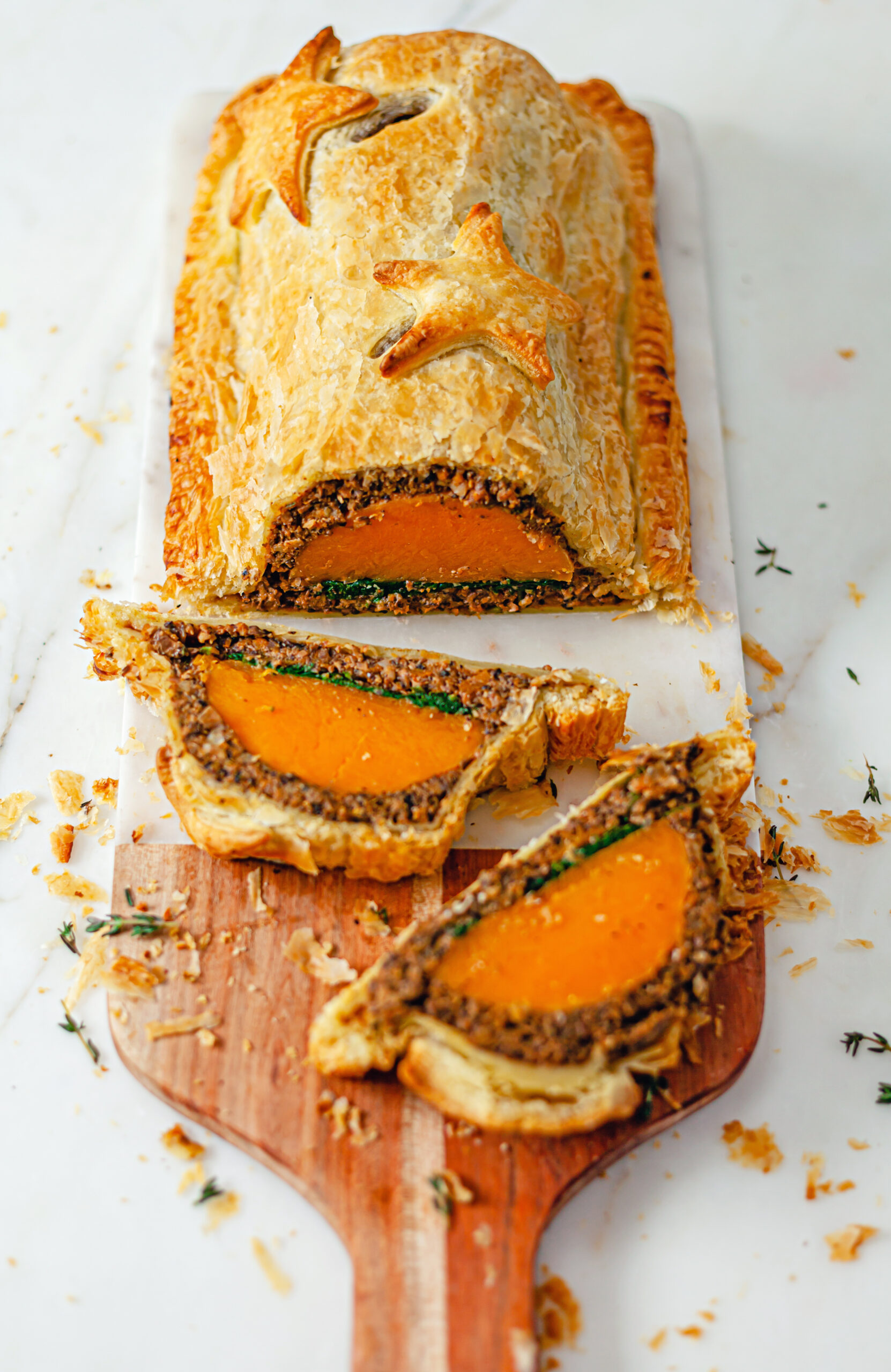 And for the festive finale, what do you like to serve for dessert?
Roxy: We created the recipe for a steamed chocolate and orange pudding last year, which is absolutely delicious. The process is similar to that of a Christmas pudding, where you steam it, but it's a super light, fragrant chocolate cake. We serve this with a zesty chocolate drizzle. Replace eggs in your pudding by creating a vegan buttermilk by combining soya milk and a little acid, like lemon or apple cider vinegar, and add to your mixture.
Ben: Alternatively, add a generous dollop of apple sauce and a couple of mashed bananas to create another level of moisture to cakes.
For all recipes in detail, go to wearesovegan.com and follow @sovegan on Instagram.