England's capital city has a lot to offer tourists, but one of the most unique things about London is its array of excellent markets dotted across the city. We've rounded up our 10 favourites.
England's capital city has a lot to offer tourists, but one of the most unique things about London is its array of excellent markets dotted across the city. We've rounded up our 10 favourites.
1. Visit Camden Market for clothes, food and more
Camden Market, like London itself, has everything. Made up of several markets, it's lively day and night. It's situated north of the Hampstead Road Lock of the Regent's Canal and different parts of the market sit around the docks. The original market sells locally designed jewellery, purses and quirky clothes; Camden Lock specialises in handicrafts; Camden Stables Market has street food, statement clothing and band T-shirts; and Inverness Street Market is full of fruit and vegetable stalls with late opening cafes and bars. It's the fourth most popular visitor attraction in London, with approximately 250,000 people shopping here each week. Open every day, 10am-6pm.
2. Head to Old Spitalfields for boutique and vintage fashion
Known as the original east London market, Old Spitalfields Market is full of fashion stalls brimming with vintage and contemporary clothes, accessories and locally crafted jewellery, along with home decor and art under its beautiful Victorian steel and glass roof. Proud to bring independent businesses and local creatives together, Old Spitalfields Market also offers fresh contemporary and authentic food from its 10 fitted kitchens and band of gastronomic geniuses. Open daily from 10am, except Thursday when it opens from 8am.
3. Find bric-a-brac bargains at Brick Lane Market
Brick Lane Market is the place for second-hand clothes and fashion. Its Sunday artistic vibe with live music entices bargain hunters and there's always something going on, whether that's cooking displays or live music performances. Surrounded by unique and delicious eating places, you won't go hungry at Brick Lane Market and its selection of restaurants and cafes lining the street, from authentic Jewish bagel shops to Bangladeshi curry houses. Open every Sunday, 10am-5pm.
4. Eat your heart out at Borough Market
London's oldest and largest food market is Borough Market, with its roots thought to go as far back as 1014. A few decades ago, it was a wholesale market serving the greengrocers of south London. However, today it acts as a beacon for sustainable and ethical food production. It's a food-lover's paradise with more than 100 stalls under its wrought-iron roof. Artisans offer quality food with local produce and dishes from around the world. Open Sunday to Friday 10am; Saturday from 8am.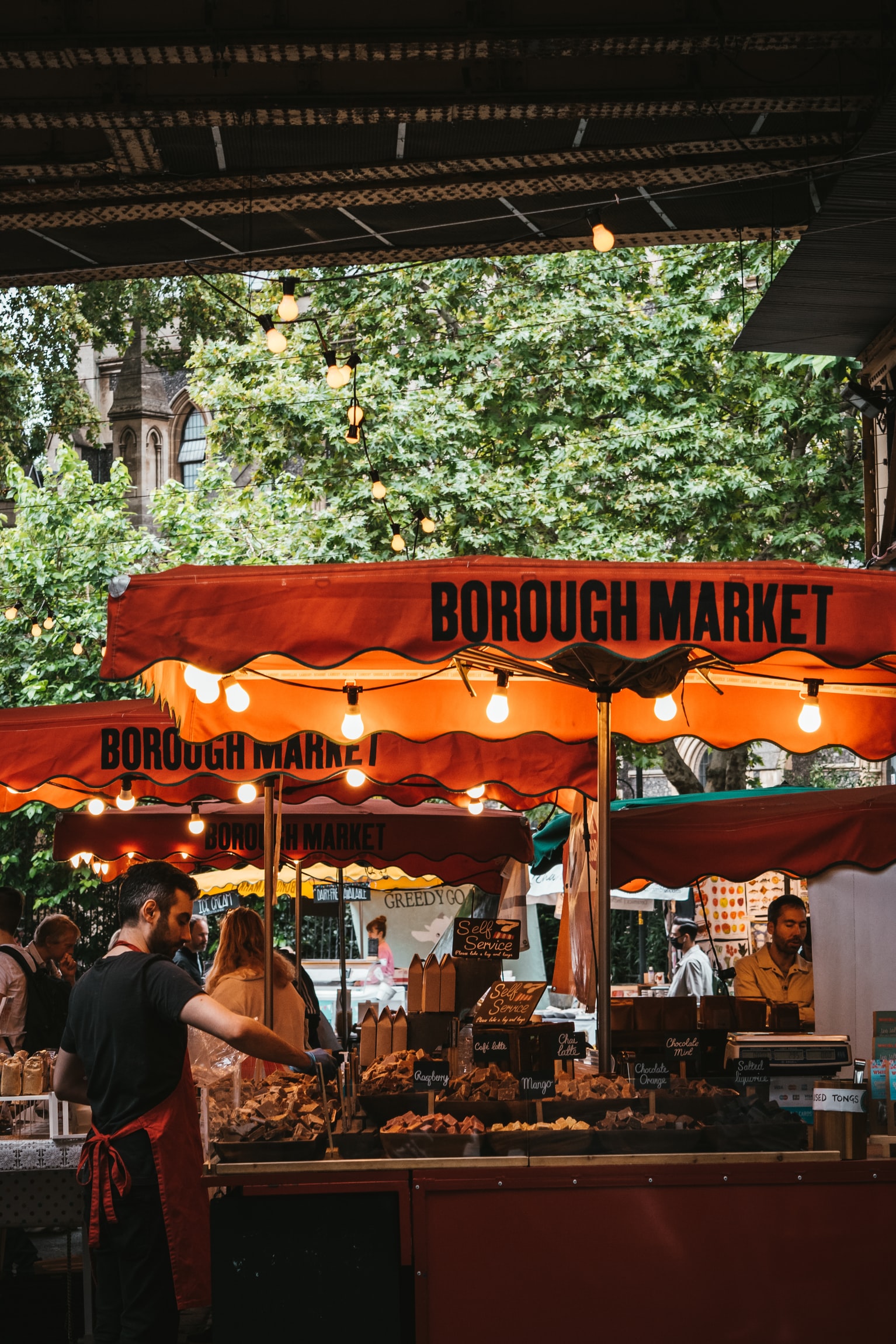 5. Dive into arts, crafts and vintage wares at Broadway Market
Broadway Market has had traders touting their wares in Hackney since the first stall opened selling jellied eels in the 1890s. Once a busy cart-track for traders bringing in food supplies to London, it's now a hipster hive every Saturday with stalls selling artisanal drinks, organic food and coffee, as well as arts, crafts and homemade gifts. In addition to the thriving Saturday market, there are more than 70 shops, cafes and restaurants open seven days a week. From costermongers to green grocers, everything that is fit to sell is on offer here. Open every Saturday, 9am-5pm.
6. Find a bit of everything in Covent Garden Apple Market and Jubilee Market
Once home to a famous fruit and veg market, Covent Garden's Apple Market is great for handmade crafts and goods throughout the week. On Monday, you'll find antiques and collectables, or visit from Tuesday to Sunday for handmade jewellery, prints, watercolours and crafts. Also in Covent Garden is Jubilee Market. For antiques and collectables, visit between 5am and 5pm on Monday, the general market is open 10.30am to 7pm Tuesday to Friday and for arts and crafts visit between 10am and 6pm on Saturday and Sunday. While you're at either market, be sure to listen out for opera singers and classical musicians performing in the piazza.
7. Explore antiques at Portobello Road Market
Portobello Road Market is the world's largest antiques market with over 1,000 traders, located in the famous Notting Hill. Until the 1940s, Portobello Road Market was like many other London markets and mainly sold food and other essential items. At the start of the 1940s, more 'rag and bone' men started selling their wares, and were then joined by other traders specialising in bric-a-brac and antiques. During the past few decades, antiques have become what Portobello Road Market is best known for, with Saturday being the main trading day. The market is now divided into five sections along the road, selling everything from food to furniture. Open Monday to Saturday from 9am.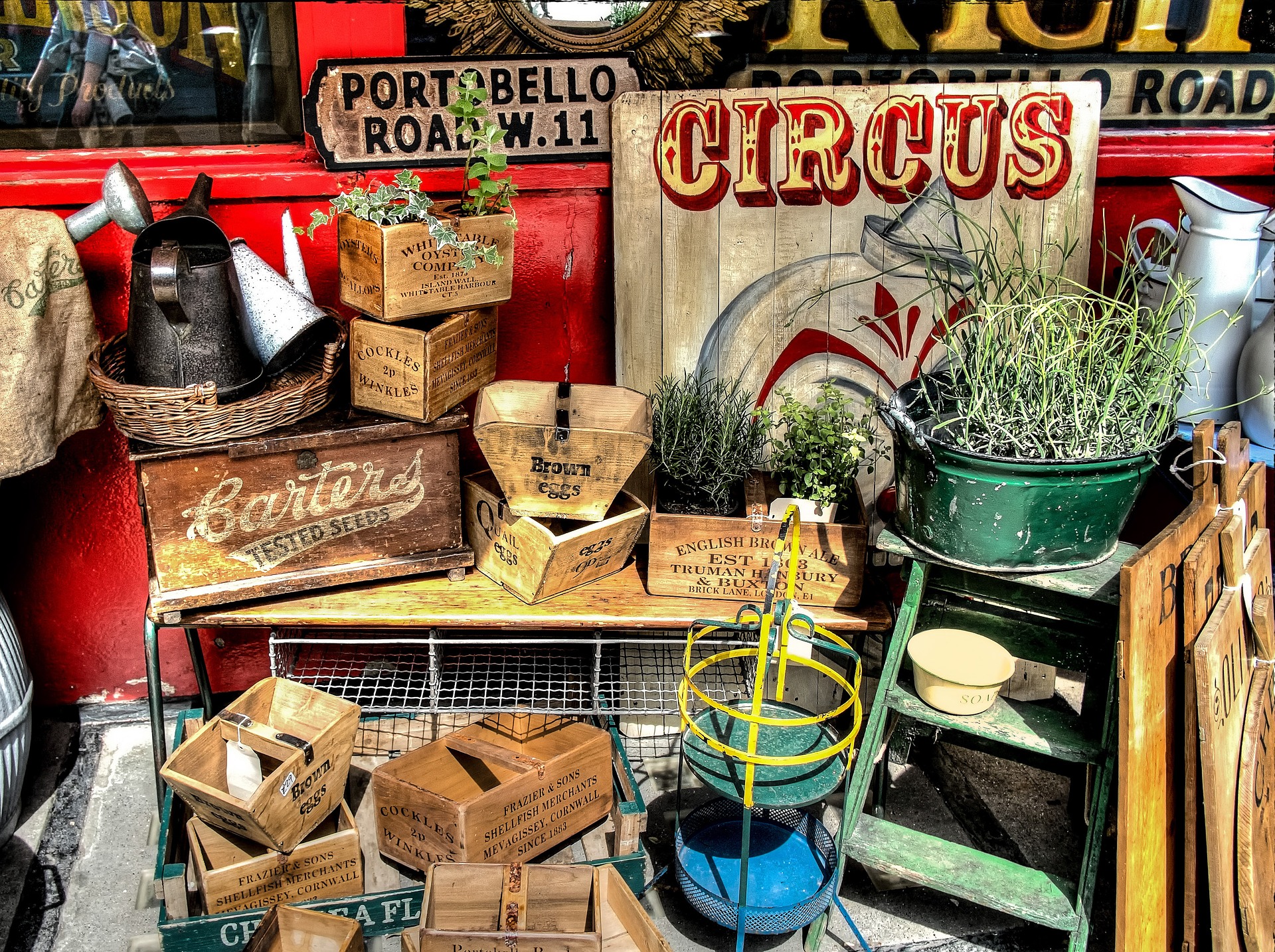 8. Enjoy arts, crafts and at Greenwich Market
Greenwich Market, located in the World Heritage Site of Greenwich, sells collectables of all manner from the past two centuries. Like many other markets, it sold food and other essential items until it saw a gradual decline in the 1980s. Since then, it's been bolstered by galleries and independent craft stores displaying works from local artists and designers in up to 120 stalls. Tuesday and Thursday are the major antique days. Open every day, 10am-5.30pm.
9. Stop and smell the roses in Colombia Road
Every Sunday, a stone's throw from trendy Shoreditch is the best-smelling street in London: Columbia Road Flower Market. This East End gem sells bulbs, herbs, shrubs and a plethora of cut flowers at affordable prices. Many of the traders selling at the market are the children or grandchildren of original Columbia Road traders. It's worth a trip for the scents and the photos even if you don't buy. Open every Sunday, 8am-2pm.
10. Buy second hand books at Southbank Centre Market
The Southbank Centre holds one of London's best book markets. It's open daily, with fiction and non-fiction from every genre. Tucked under Waterloo Bridge, it's one of London's little-known gems and is one of the only outdoor second-hand and antique book markets in southern England. You'll find anything from novels and comics to maps and vintage prints, with regular food markets running in the area, too. Open every day, until 7pm, but sometimes closes earlier in winter.