Throw yourself into the holiday spirit and boost your Instagram game by checking out these five festive spots around London.
After a long and turbulent year of navigating lockdowns, returning to office life after a lengthy hiatus and tentative reintroductions to group socialising, the thought of the fast-approaching festive season and the chance to indulge in the finer things is bound to lift many spirits.
The English capital is renowned for its stunning variety of seasonal offerings and what better opportunity to snap a pic for the 'gram with a mulled wine in hand at one of London's finest Christmas-themed bars. From the kitsch and tacky to cosy hideaways on the city terraces, there are festive flavours on hand to suit every taste.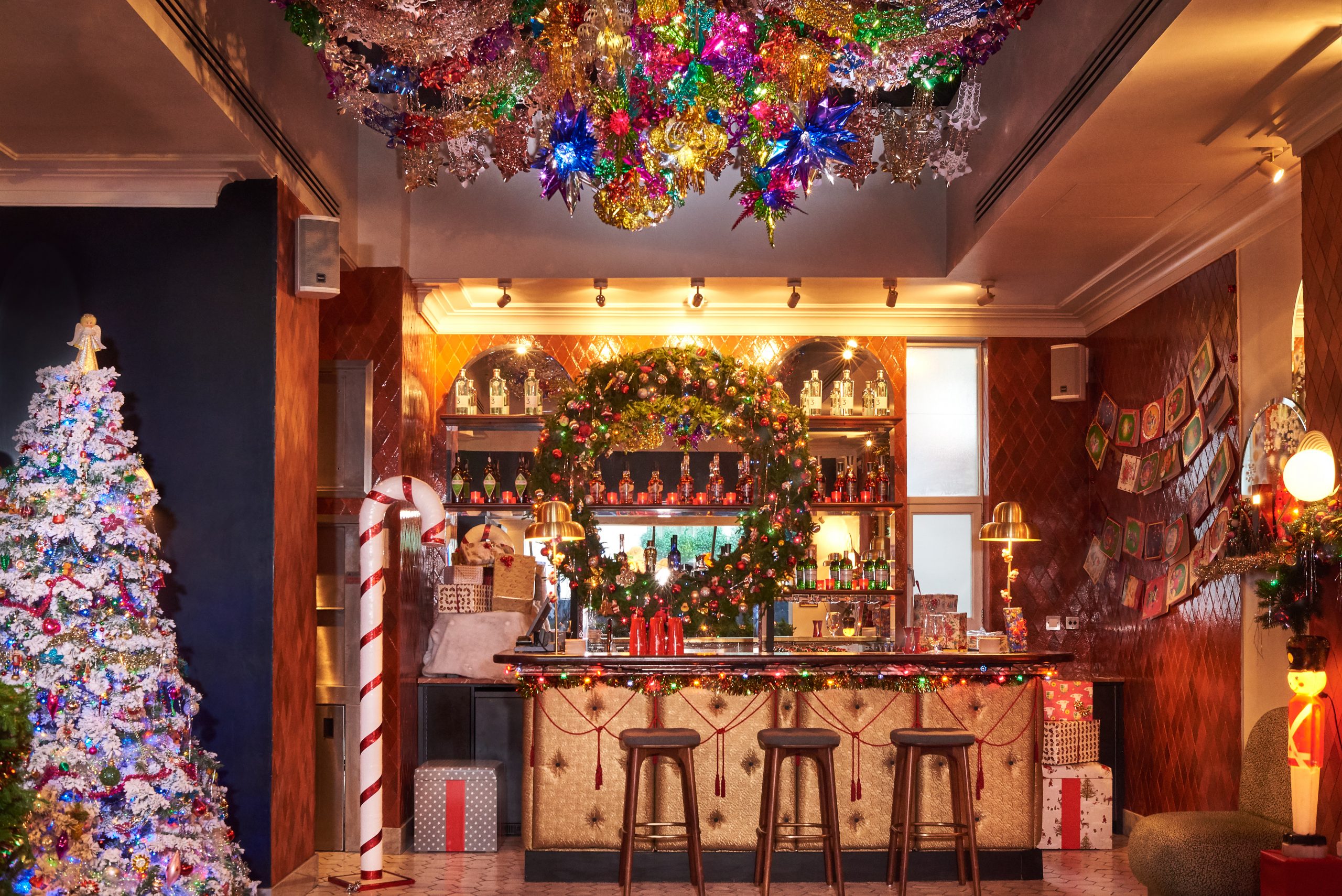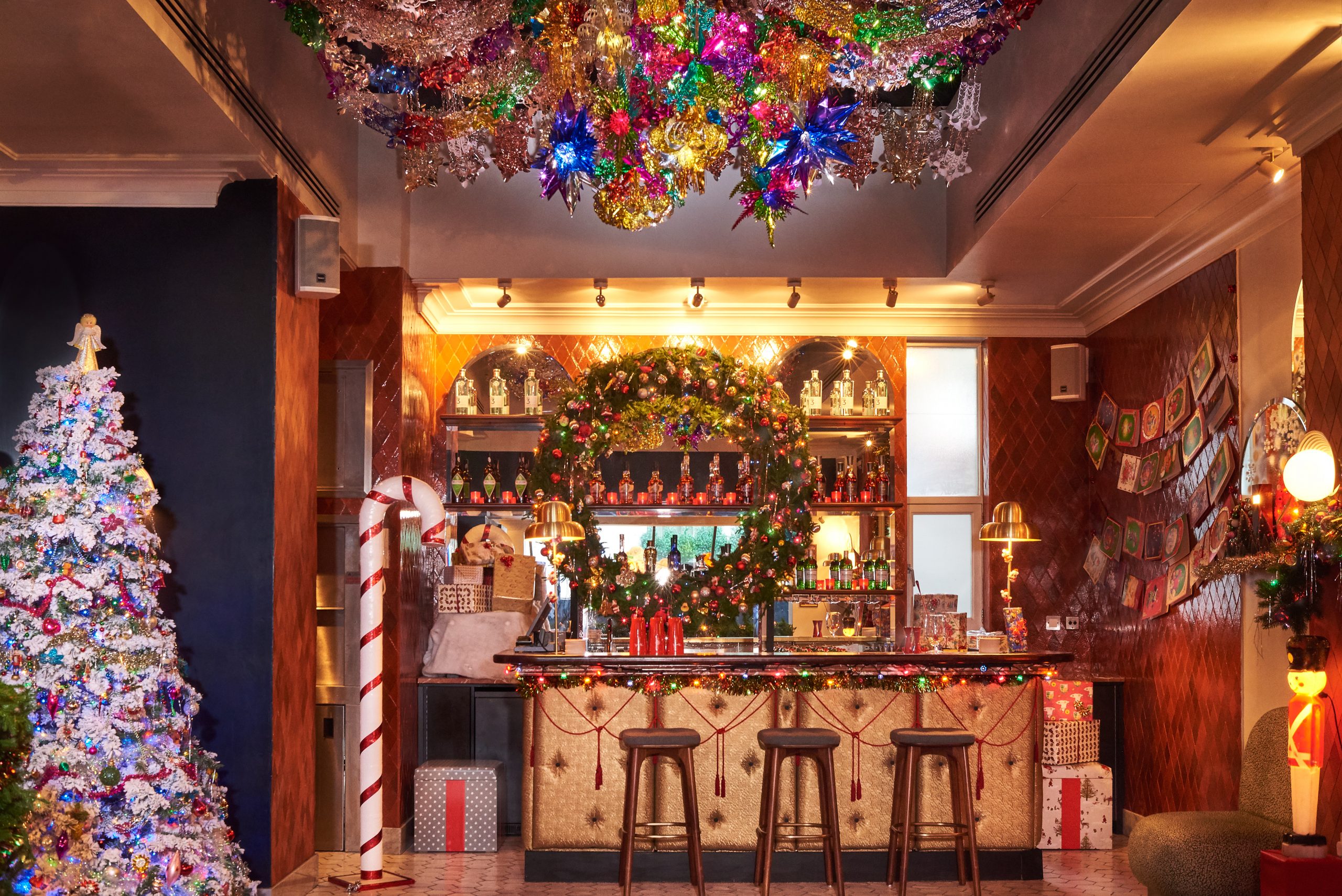 Miracle at Henrietta – Henrietta Hotel Covent Garden
Returning for another year at the Covent Garden-based Henrietta Hotel, this 1970s-style pop up showcases a spectacularly tacky festive drinking hole providing ample opportunities for the chicest Instagram shots.
Based on the miracle bars that are hugely popular the other side of the pond in the USA, step inside and be instantly immersed in thick bright tinsel, deafening Christmas singalong anthems and vintage festive decorations.
Just a short walk from Covent Garden tube station and open right up until 23rd December, the cocktail menu features plenty of festive puns including the Christmapolitan (Vodka, Elderflower, Dry Vermouth, Spiced Cranberry Sauce, Rosemary, Lime, Absinthe Mist) and the And A Partridge In A Pear Tree (Reposado Tequila, Pear Brandy, Mezcal, Spiced Demerara Syrup, Lime, Egg White, Club Soda, Angostura Bitters, Cinnamon) as well as all the traditional favourites and tasty bar snacks.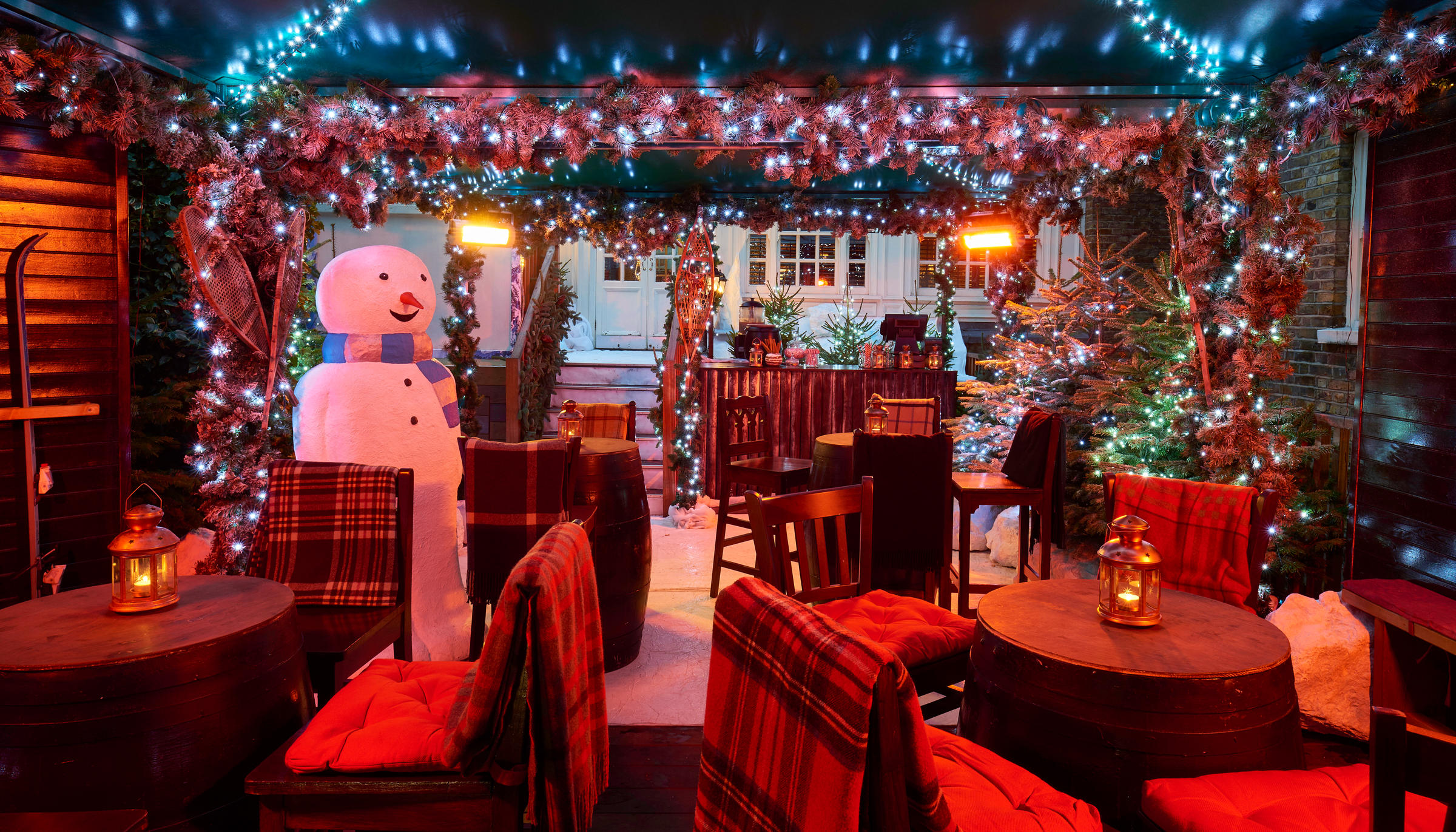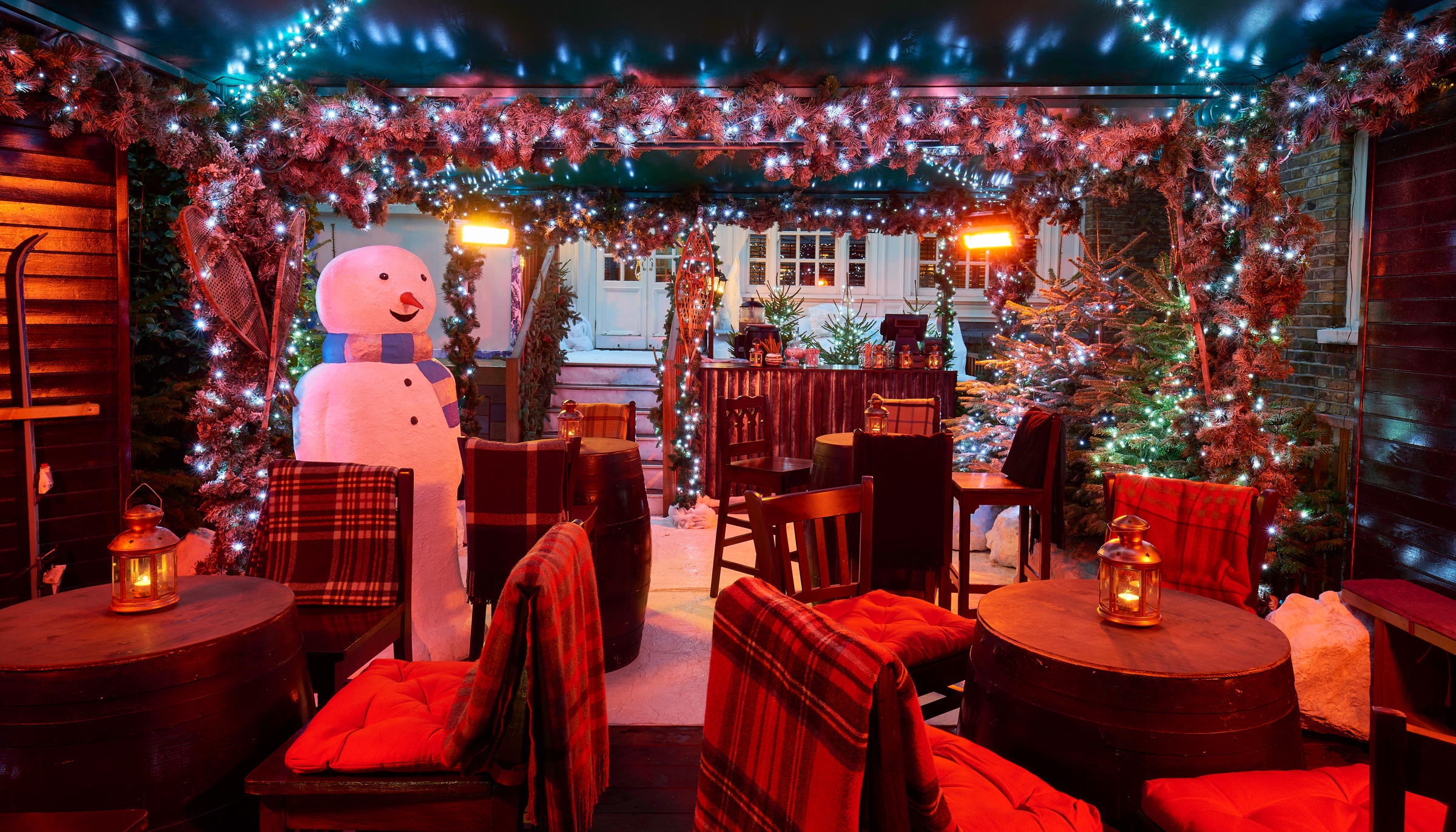 The Montague Hotel Ski Lodge, Bloomsbury
Transport yourself from Central London to the Swiss Alps this festive season by making the trek though the bleak midwinter to The Ski Lodge pop up bar at the Montague Hotel in Bloomsbury. This alpine-themed bar has been decked with all the hallmarks of a classic Christmas hideaway – pine trees, fake snow, a cosy flickering fire and all the mulled wine you can glug.
Surrender to a wide selection of tasty treats including liqueur hot chocolates, sumptuous, candied pecans and in true ski lodge style an enticing variety of gooey melting cheese dishes.
Hop off at Russell Square tube station and spoil your taste buds in this snug Christmas sanctuary. After all, if you can't treat yourself during the festive season, then when can you?
View this post on Instagram
The Churchill Arms, Kensington
This cosy slice of festive heaven in Kensington might just be the most Christmassy pub in all the land. With 21,000 fairy lights adorning the exterior and authentic decorations splashed across the interior, this 270-year-old pub is the perfect location to up your Insta game in the run up to the big day.
Serving a tempting variety of real ales and delicious Thai Cuisine, The Churchill Arms provides the perfect spot for chilly Londoners looking for a slightly less decadent taproom to get their festivities on. The delicious Pad Thai paired with a hot cup of mulled wine might just be the winter warming Christmas combination you need.
Just a stone's throw from Notting Hill Gate tube station, the great news is this Fuller's owned pub is open all year round. After the festive season wraps up, the outside is transformed again with flowers stretching across the outside walls making this spectacular venue a real winner come rain or shine.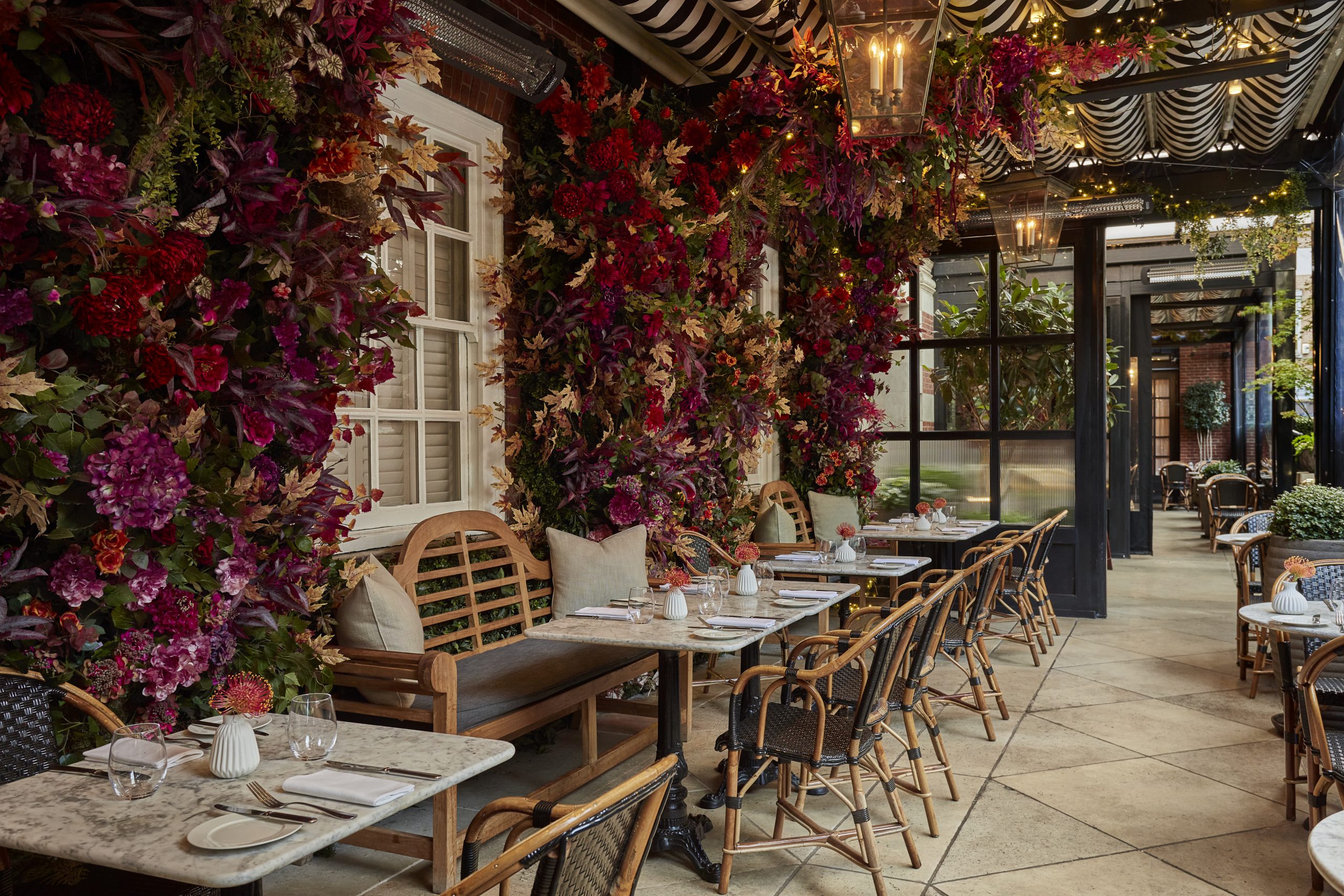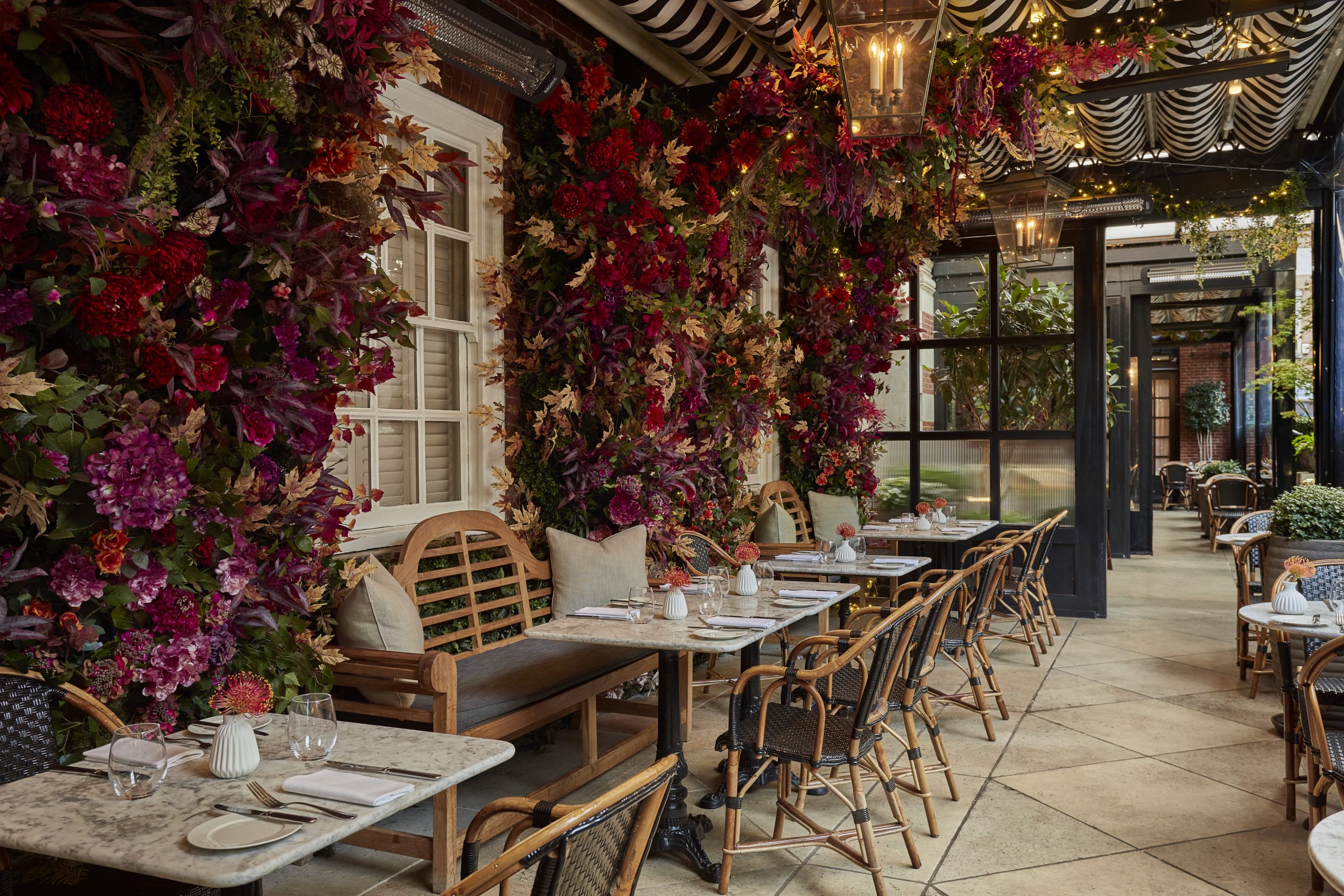 Dalloway Terrace, Fitzrovia
For those looking to avoid cliché Christmas decorations but still eat and drink in the festive spirit, the Dalloway Terrace is the spot to be. Newly decorated ahead of the season, the stunning terrace area has been transformed into a dream autumn/winter hideaway with a backdrop of seasonal flowers and twinkling fairy lights – perfect for those gorgeous Instagram shots.
This spectacular restaurant isn't just a pretty place to show off on your socials, however. Book a table with a gang of friends for a Swiss-inspired afternoon tea featuring treats such as Mont Blanc tarts and posh mini Toblerone-style chocolates.
Make sure to wrap yourself up nice and warm as the terrace is an outside venue, but heaters and blankets ought to keep you cosy as you sample some of the nicest (and naughtiest) treats found in Central London.
Coq D'Argent, City of London
Swap the hustle and bustle of Bank in Central London for the serene and picturesque courtyard at Coq D'Argent – a spectacular French restaurant, bar and terrace where you'll find the cosiest log cabins for you to engorge on the best cheeses and winter warming cocktails.
The cabins themselves could have been airlifted straight from the French Alps and are available to book for up to eight guests – perfect for snug catch-ups and of course those all-important pics for the 'gram.