The very best formulas for dry, combination and oily skin.
Summer means spending more time outdoors, and perhaps, jetting off to a destination where the UV rays are much stronger than here in the UK. Wearing an SPF, even if the sun isn't particularly strong, is vital to prevent skin ageing and sun damage. But how do you know which one is best for your skin type? From mineral sunscreens to chemical options, here are the best options on the market for all skin concerns.
Why is SPF so important?
According to skin experts at leading US beauty retailer SkinStore, many of us think that simply relying on the SPF content that already exists in our make-up products, or only wearing sunscreen when we're in direct sunlight, is good enough. In actual fact, we should be wearing SPF everyday as part of our daily skincare routine, whatever the weather.
Not only does skipping SPF put you at risk of sun damage and premature ageing, but it can also increase the risk of developing skin cancer. Sun damage wrinkles are caused by the penetration of UV rays, causing the elastin fibres in the face to break down and create fine lines and premature ageing.
UV rays can also damage the outer layer of your facial skin known as the stratum corneum. This will cause your skin to become dehydrated and damaged, which is one of the most immediate effects of not wearing SPF.
It's recommended that you apply SPF to your face and neck area daily despite weather conditions, as UV rays can also penetrate clouds and impact your skin even on colder, less sunny days.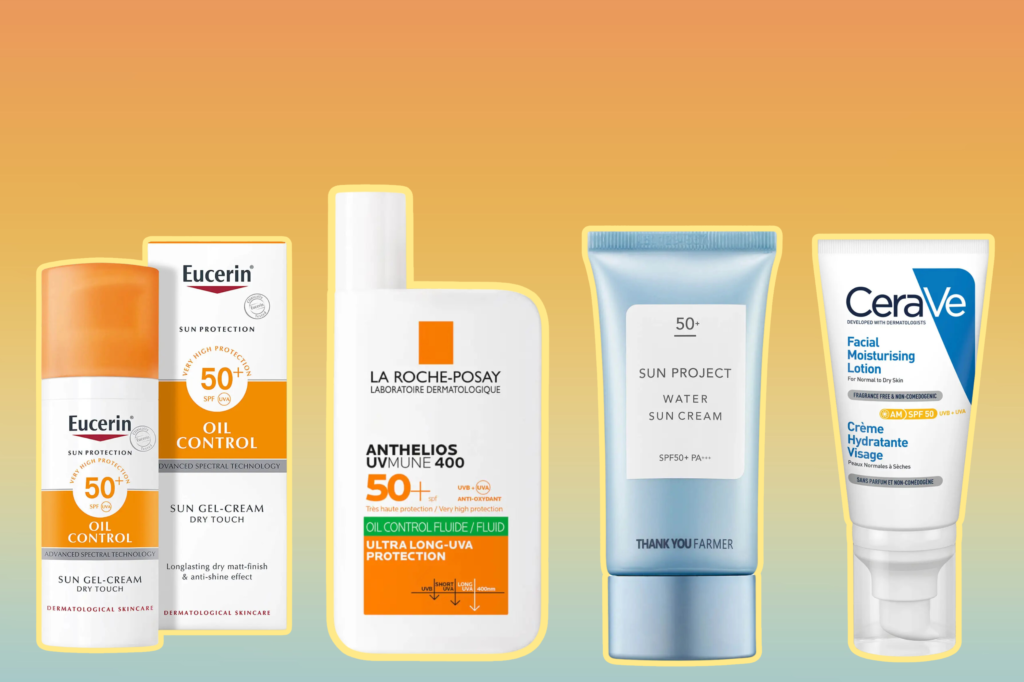 The best SPF for sensitive skin
If you suffer with sensitive skin, you'll already be familiar with the struggle that comes with finding suitable skincare products, especially if you're prone to skin conditions such as rosacea and eczema.
Unfortunately, if you suffer with such conditions, active ingredients such as retinols, acids and vitamin A that are commonly found in most chemical sunscreens can cause further irritation and discomfort. In this case, it's best to use a mineral sunscreen, which contains more gentle ingredients, such as titanium dioxide and zinc oxide.
Eucerin is a dermatological product range that caters to those with sensitive skin. The Eucerin Sun Sensitive SPF 50+ uses mineral-only protectants, and is also hypoallergenic, meaning it's free from fragrances, oils or dyes. The three-dimensional superior protection system protects against both UVA and UVB rays, and the water-resistant formula means you'll stay protected even after a dip in the pool or sea. £12 from Boots.
The best SPF for oily skin
It's a common misconception that moisturisers and other products can make oily skin oilier still. But while oils on the surface of our skin help prevent moisture from escaping, they don't actually provide hydration. It's important for those with oily skin to still use an adequate moisturiser, as well as sun protection, every day.
La Roche Posay's Anthelios Oil Control SPF 50+ has been specifically formulated for those with oily skin in mind, working to absorb excess sebum (an oily substance produced by the sebaceous glands) on the surface of the skin for a long-lasting, mattifying effect. Unlike other sunscreens, it doesn't leave a white cast behind, making it suitable for all skin tones. The formula also boasts La Roche Posay's exclusive UV filter, UVMune 400, which protects against both UVA and UVB rays. £15.92 from Look Fantastic.
The best SPF for dry skin
Those with dry skin will want to avoid alcohol-heavy formulations and opt for sunscreens with hydrating properties, such as hyaluronic acids and peptides. That's why mineral formulations tend to work a lot better for those with dry skin.
For an SPF that's both gentle and moisturising, we recommend CeraVe AM Facial Moisturising Lotion with SPF50. Designed to help restore the skin's barrier, this moisture-packed lotion contains three essential ceramides (a type of fatty acid that's used to strengthen the skin barrier and protect against external aggressors, such as weather and pollution), leaving skin feeling soothed and hydrated for up to 24 hours. It also offers high broad-spectrum protection against UVB and UVA rays. £13.20 from Boots.
The best SPF for combination skin
Combination skin can be tricky to work with. When choosing the right SPF, the ideal formula should be able to add just the right amount of moisture, without worsening oiliness and blocking pores. In this case, we recommend choosing an oil-free formula to avoid triggering a breakout — a common concern among those with oily skin.
As the name suggests, Thank You Farmer's Sun Project Water Sun Cream SPF50+ boasts a featherlight feel, and provides an invisible layer of protection against harmful UV rays. The ultra-light texture feels almost non-existent on the skin, and, thanks to the high levels of hyaluronic acid, it infuses the surface with moisture without looking sticky. Meanwhile, the inclusion of mistletoe extract helps to minimise any signs of damage caused by everyday exposure to the sun. £20 from Cult Beauty.
The best SPF for the body
This no-frills, everyday sunscreen boasts everything you need to stay protected. Formulated in Australia, the team at Sun Bum started making products to protect their friends and families back in 2010, and they're just as passionate about the environment as they are about sun safety. Each product is vegan, cruelty- and gluten-free, and formulated without sulphates and parabens.
The Original Sunscreen Lotion SPF 50+ will help to protect your skin from harmful UVA and UVB rays, while enriching the skin with vitamin E, an antioxidant used to help prevent premature skin ageing. The formula is both hypoallergenic and water resistant and has a satisfyingly sweet scent. Reapply every one to two hours for maximum efficiency. £17.89 from Look Fantastic.