Here's your guide to London's Lunar New Year celebrations, the largest outside of Asia
This Sunday (22 January), Londoners will come together to celebrate Chinese New Year, an event renowned for its annual parade, which starts on Charing Cross Road and finishes up in Trafalgar Square, where a line-up of spectacular stage performances will take place.
However, there's more to the celebrations than just the parade, so here are five ways to mark the annual milestone throughout the capital.
Dragon dance the night away at the Lunar New Year's official party
The London Lunar New Year is at its most vibrant during the organised London Chinatown Chinese Association (LCCA) events. Though the official programme for 2023 is yet to be released, things usually get going around 10am. Follow the crowds and the colossal cloth dragons to the martial arts and cultural zone for remarkable displays of Shaolin kung fu and wing chun.
Leicester Square, meanwhile, usually hosts the LCCA family zone. There, you'll find a range of child-friendly activities, including traditional Chinese calligraphy workshops.
The greatest spectacle, however, is at Trafalgar Square. Don't miss the thanksgiving speeches or lion eye-dotting ceremony, in which the iconic lion puppet 'comes to life', Pinocchio-style, bringing prosperity and protection to everyone present. In the evening, Nelson's Column lights up with Hubba Bubba pinks and electric limes as the LCCA's firework display takes off.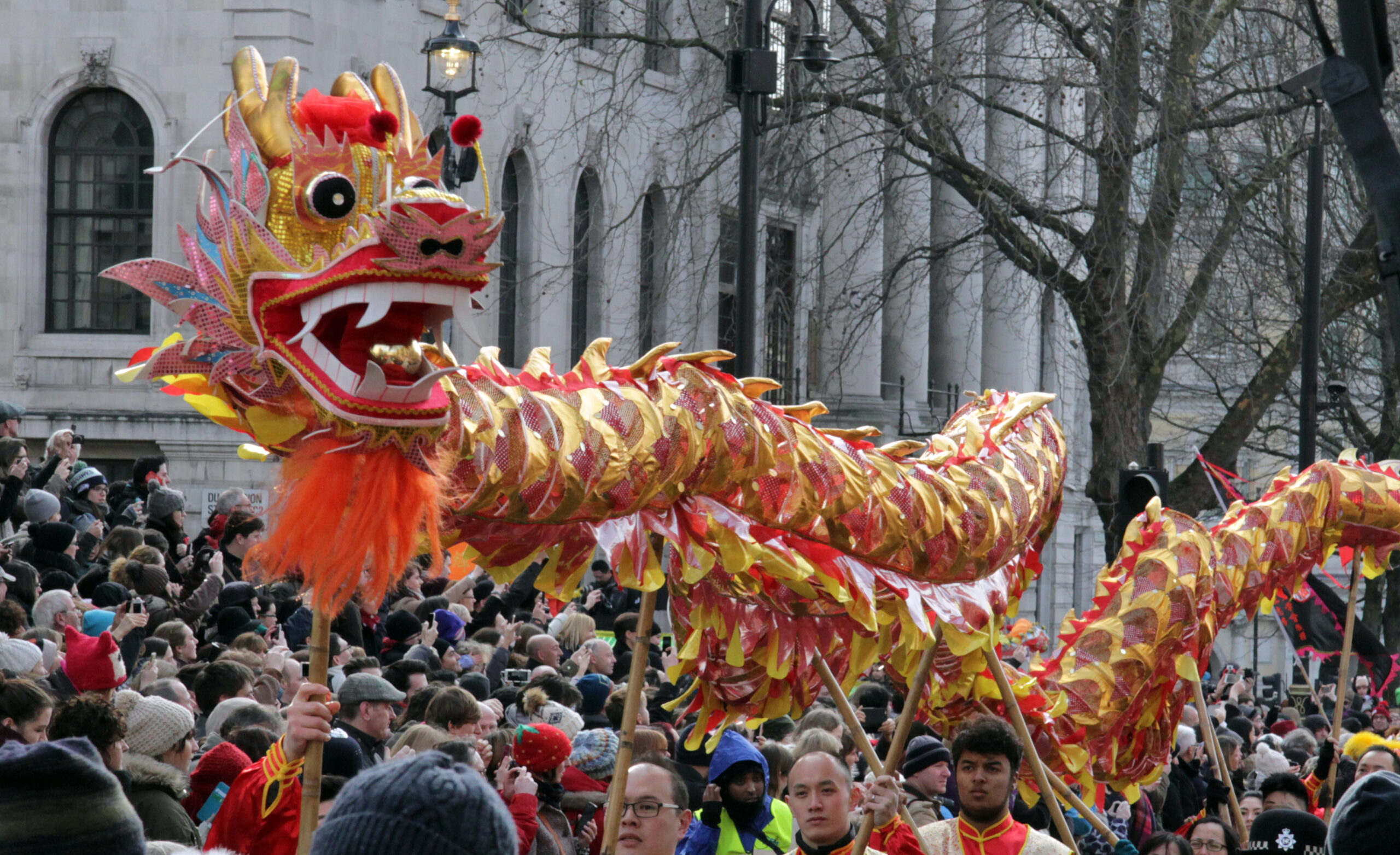 Discover Chinatown's hidden gems
Around 17 million people pass under Chinatown's lantern ceiling every year, many of whom come from far and wide to gorge on dumplings and dim sum at the neighbourhood's excellent Chinese, Cantonese and Sichuan restaurants. If you really want to understand this cultural enclave, however, book yourself onto a walking tour. China Exchange recruits community volunteers to guide small groups through the area's nine streets and four gates, with all proceeds raised going to local charities.
Afterwards, shop for mochi snacks and popping candy in Tianfu Lucky Foods or try a selection of teas at the Apothecary Bar in Opium.
Visit one of these informative exhibitions and seminars
The British Library is currently hosting a special exhibition celebrating the history of Chinese culture in the UK. Entry is free and visitors can listen to personal accounts of merchant seamen, get to know the local business owners who set up Europe's first Chinatowns and be inspired by the scientists, artists and writers at the foreground of Chinese-British culture today.
Eskenazi in Mayfair, which is owned and run by East Asian art expert Giuseppe Eskenazi, is a small dealership that specialises in Chinese art and artefacts. It's currently showing five masterpieces of Chinese art from the Song, Yuan and Qing periods that provide a fascinating look into oriental sculptures and ceramics.
The Oriental Ceramic Society will take your interest in Asian art beyond the New Year. On 14 February, it's hosting the 2023 Sonia Lightfoot Memorial Lecture, titled 'Traditions of the Avant-Garde: Radicals and Experimentalists in Early Chinese Art', which will educate visitors on the connection between 20th-century Western performance art and much older Chinese forms.
Share a meal at an authentic Chinese restaurant
Dumplings symbolise wealth and good luck during Chinese New Year, so head to Chinatown and order a portion or two to ensure you enjoy a prosperous and happy 2023. Leong's Legend serves one of best steamed soup dumpling dishes in the capital — xiao long bao — which draws punters back time and time again with its rich, oyster sauce-infused pork filling and delectably squidgy texture. The window seat at Lotus Garden, meanwhile, is a great place for an hour of two of people-watching — pause between steamy bites of dim sum and admire Chinatown's colourful characters.
If you're looking for a little date-night inspiration, Noodle & Beer on Liverpool Street is just the spot. Enjoy a romantic dinner under the red duilian while tucking into a bowl of spicy xiao mian with its lashings of lip-tingling chili oil, followed by something sweet from the New Year dessert menu, put together especially for this weekend.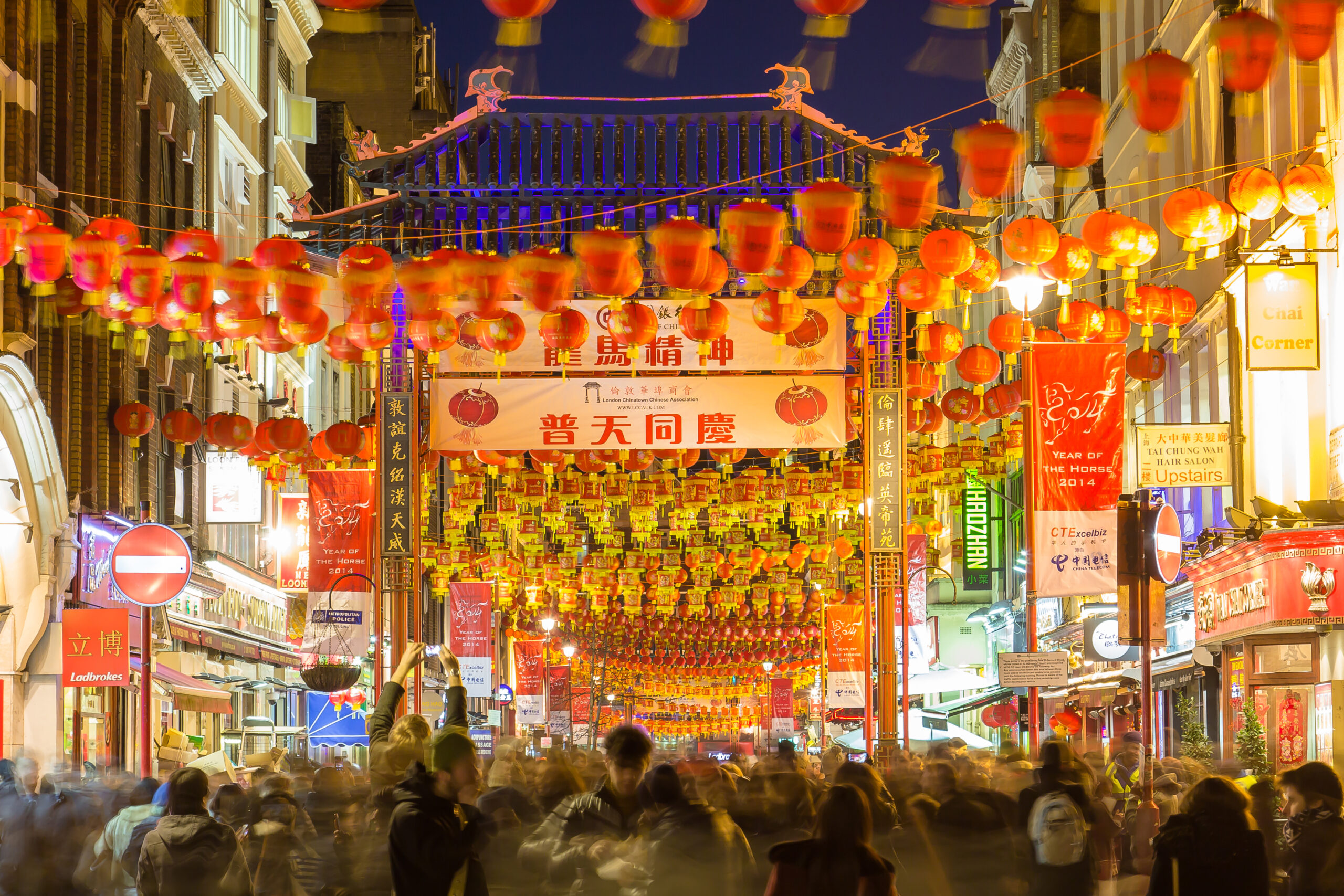 Develop new skills at a cultural workshop
Qigong is a form of tai chi that involves deep, rhythmic breathing and slow, gentle movements. This calming meditation is used for health, spirituality and martial arts training and you can try it for yourself at the Mei Quan Academy.
Budding linguists, meanwhile, can enrol in a Mandarin and Cantonese lesson this Sunday, courtesy of the Creative Chinese Club. As well as offering tutorials in perfect pronunciation and grammar, the class concludes with a virtual visit to an authentic Chinese family home, allowing you to try out your new language skills
Words by Oliver Jakes. Main photo: Dreamstime.com