Whether you're a certified yogi looking to elevate your practice or a beginner wanting to have a go from home, here's the best yoga gear to invest in right now
Yoga: what's not to love? Not only does it improve your strength, balance and flexibility, it's also classed as a feel-good exercise, with studies showing that the practice can lower our stress hormones and promote the release of endorphins.
Danielle Wills, a yoga coach at audio fitness app WithU says: "Yoga encourages you to step away from the world for a bit — to drop the pressures and demands of the world around you and — for just a few moments — not need to be anything for anyone else. It's an opportunity for you to ask yourself what you truly need and to give yourself the space to just be with your own thoughts and feelings.
The movements of yoga also help to regulate the nervous system, and the stretch techniques will allow for feel good endorphins to flow through the body, which can promote a more positive outlook and more peace of mind."
It's no surprise that more people are incorporating the practice into their exercise routines. We've put together a list of our favourite yoga must-haves to buy now, so you can make the most of your workout.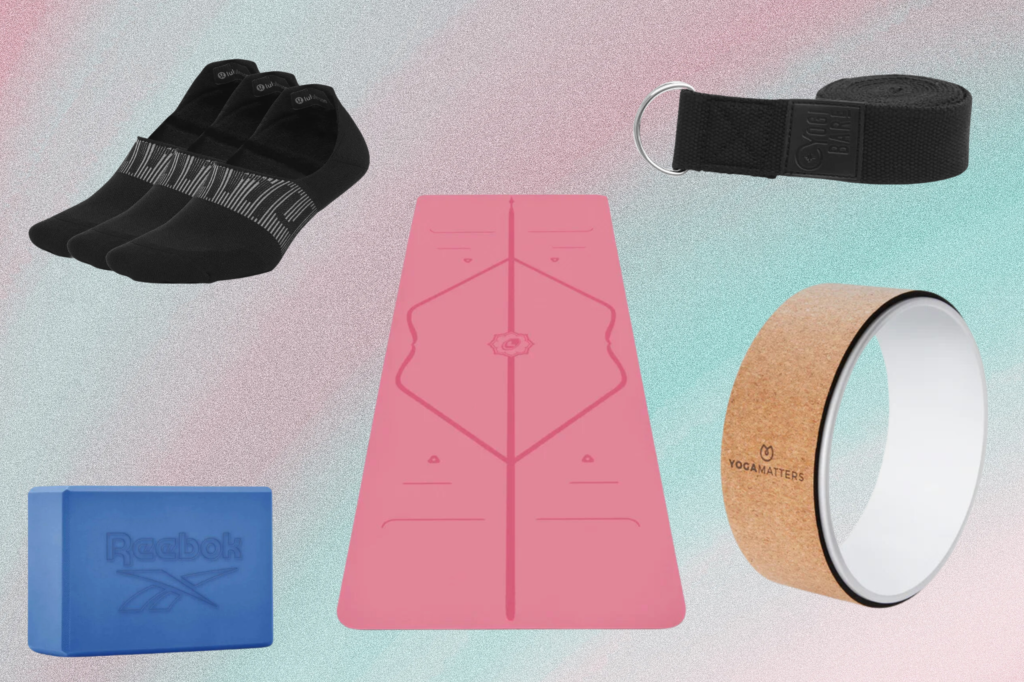 The best yoga mat
Both sustainable and supportive, this yoga mat is wider and longer than most others, giving yogis the space they need to perfect trickier poses. The unique AlignForMe system features practical alignment markers that act as a navigational tool to help correct poses, while the GripForMe material means yogis can hold their positions — even if they're building up a sun salutations sweat! The strong, natural rubber base provides extra support, stability and cushioning and is an essential for any yoga workout. £88, liforme.com
The best yoga block
A yoga block is a great tool for helping you to achieve more challenging poses, while also aiding support. This design from Reebok is crafted from dense EVA foam and features a bevelled edge that provides both a comfortable and solid grip. The hygienic, moisture-proof material can easily withstand tough workouts and is suitable for all abilities and fitness levels. You can also use a yoga block to help tackle troublesome back pain, too. £9.99, workoutforless.co.uk
The best yoga socks
There are many reasons to use yoga socks when you're working out. If you're practising in a studio or gym without your own mat, the options available might be slippery and it might be hard to keep your grip. If you want to keep up with your yoga schedule when out and about, these Power Stride Active Grip socks from Lululemon are a great choice. They can help to set the groundwork for a strong workout and will hug the shape of your foot for 360-degree arch support. £28, lululemon.co.uk
The best yoga bags
Look stylish while on the way to class with this Organic Cotton Surya Mat Bag from Yogamatters. The design is crafted from 100% organically grown cotton and is both sturdy and spacious. The bag can be carried across your body, over the shoulder or as a backpack, and features a concealed inner pocket for your valuables or mobile phone. With completely compostable packaging, the bag has been sustainably produced in India, so your environmental conscience can remain completely Zen during your practice. £20, yogamatters.com
The best supportive yoga bra
A sports bra is a yoga essential. TALA is a brand committed to creating sustainably made activewear that delivers on performance, fit, quality and style, without the hefty price tag. The SkinLuxe Tank Sports Bra comes with a stylish cross-back strap design, as well as a compression band just below the bust for extra support while you're exercising. It also has a buttery-smooth texture that's extremely comfortable to wear, as well as the option to increase the depth of the underband to provide more support for a fuller bust. £36, wearetala.com
The best yoga pants
Lorna Jane is an Australian yoga brand that's been designed by women with women in mind. Created to prevent uncomfortable chafing, this design features a V-shaped seam that enhances and lifts the buttocks, while the Nothing 2 See Here fabric ensures the leggings are completely squat proof, giving you peace of mind during your work out. They also feature a hidden pocket to keep your valuables safe while exercising. £65, lornajane.co.uk
The best yoga blanket
A yoga blanket may not be an essential throughout the summer months, but it can be a great addition to your winter practice, especially during Savasana. They're usually constructed out of a single piece of fabric and are great for keeping you warm during periods of meditation or yin poses. They have other uses, too. You can fold or roll them up to cushion your body while holding certain poses for an extended period of time, such as under your elbows for a more comfortable plank or to add height to a seated bind. This option from Yogamatters is crafted from organic cotton and makes for a welcome addition to your restorative yoga practices. £28, yogamatters.com
The best yoga strap
Yoga straps are extremely useful if you're looking to increase your flexibility. Use them to aid with your stretching, as they can help you to slowly expand your range of motion and reach deeper poses. They can also be used in a number of positions to add resistance to your workout, further engaging your core muscles and increasing your body strength. The Yogi Bare Yoga Stretching Strap comes with a strong, easy to use buckle, and is extremely durable, too. £8.50, thesportsedit.com
The best yoga shoes
Practising yoga outdoors can be a transformative experience that allows you to reconnect with nature, get your daily dose of vitamin D (weather permitting) and improve your concentration and focus. Of course, when doing yoga outdoors, a pair of non-slip shoes is an essential to help protect your feet. Designed to be supportive and flexible enough to move with your feet, these Aufikr Water Shoes are both ultra-light and water-resistant, perfect for all types of sports. They provide good grip and are breathable for comfort during workouts. £8.99, amazon.co.uk
The best yoga wheel
Incorporating a yoga wheel into your routine will allow you to stretch more deeply and release tension in harder to access places. It can also help you to attain more challenging stretches with ease, giving you more stability and support during, for example, a backbend. Think of it as essentially a piece of scaffolding for your body, perfect for helping you maintain an upright position. Use this flexible yoga wheel from Yoga Matters to help relieve tension in the shoulders and hip flexors — simply roll your spine over the wheel to open and stretch out the front and back of your body. It also makes for a great, easy-to-use, legs-up inversion aid. £45, yogamatters.com
Words by Layla Turner