Looking to don your dirndl and partake in beer-fuelled revelry or simply enjoy traditional bratwurst and sauerkraut? Here are the best places to experience the German festival in all its glory.
We'd all love to be in Munich, partying it up in bustling crowds, but Oktoberfest in the UK is the next best thing. The beer-soaked festivities, originally a celebration of King Ludvig I's marriage in 1810, evolved into an agricultural celebration in the 19th century. And of the seasonal food and drink on offer, it was beer that prevailed. So, from rooftop bars hosting pretzel-flinging contests to an oompah-fuelled pop-up tent, we bring you the best spots to toast old Ludo's nuptials.
Wunderbar! at Pergola Paddington
5 Kingdom Street, Paddington W2 6PY
Horns a-blaring, Wunderbar! returns to Pergola Paddington from 28 September. The event sees the al fresco drinking and dining favourite transformed into a grand beer hall, serving delicious delicacies and Bavarian beers, including Spaten and Löwenbräu. Enjoy the sweetness of a Berliner doughnut or the traditional taste of a bratwurst baguette. Afterwards, dance to tunes from resident DJs and enjoy a hearty helping of the eggnog-meets-orange cocktail Gemütlichkeit.
Visiting on a weekend? Book a bottomless brunch and sip free-flowing drinks while a Bavarian brass band provides the quintessential Oktoberfest soundtrack. A dish from one of Pergola's four food traders will also be included. Don't forget your lederhosen!
Bottomless brunch from £35 per person. From Thursday to Saturday, entry is ticketed, at £5 per person. pergolapaddington.com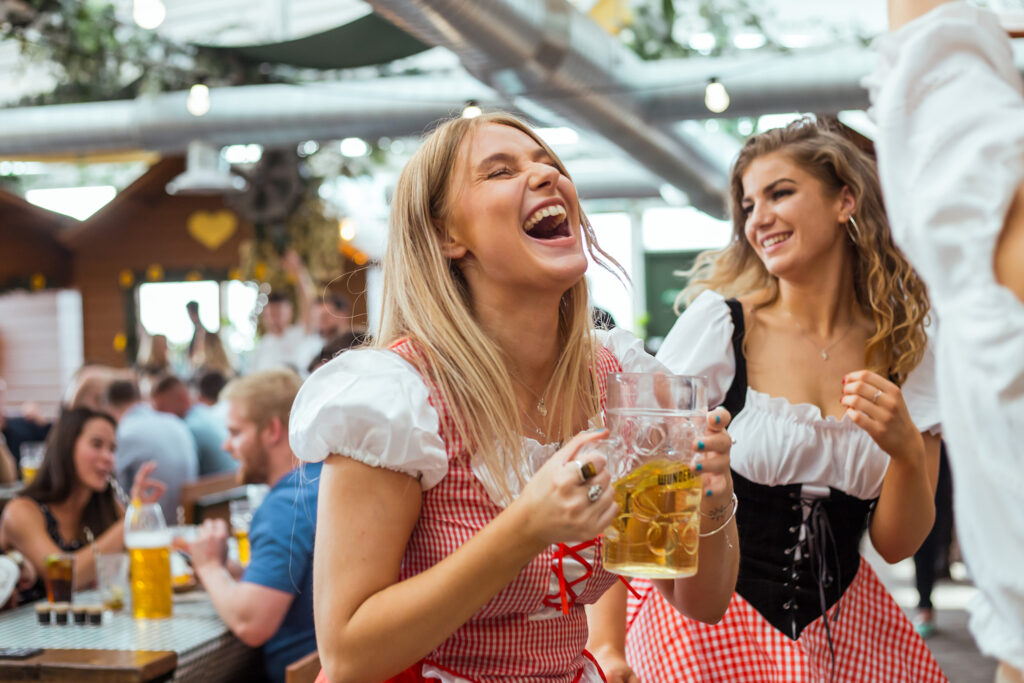 London Oktoberfest
Walpole Park, Ealing W5; Finsbury Square EC2A
Looking for an Oktoberfest knees-up? We've got the event for you, kicking off in Walpole Park, Ealing, on 19-21 October. In a huge beer tent, you can stuff your face, sing and shimmy. There's a live German oompah band, then DJs touting more modern vibes. The event moves to Finsbury Square on 26-28 October — with Halloween Oktoberfest on the last night — and 2-4 November. The tent seats up to 1,800 and serves delicious dishes with traditional German hospitality, so you'll feel you're living the good life in Munich.
General admission from £5 per person. london-oktoberfest.co.uk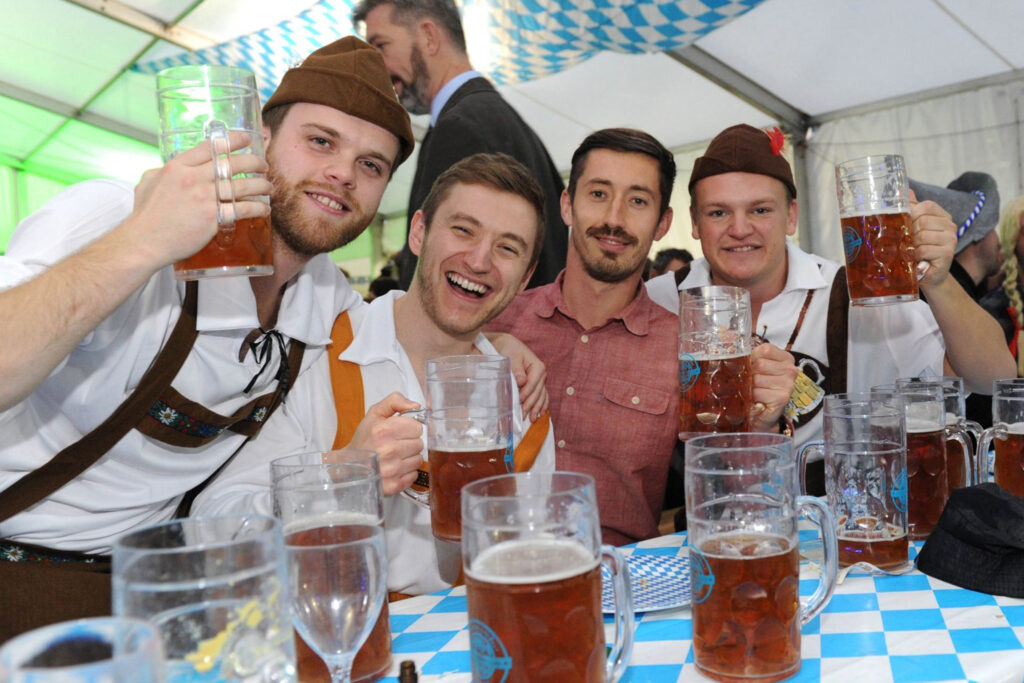 Oktoberfest at Bar Elba
Mercury House, 109-117 Waterloo Road, London SE1 8UL
Who says rooftop bars are simply for summer? Bar Elba reimagines its outdoor space with jazzy decor in honour of the German festival. We're encouraged to come dressed in the full get-up, stomp along to brass bands and, in true Bavarian fashion, beat the tabletops. Fill your boots with beer, sausages and cocktails at the Big Bad Bavarian Brunch as you immerse yourself in the entertainment and enjoy the Oktoberfest-themed activities — get practising your pretzel-tossing now.
Tickets from £10 per person. Includes welcome drink. Bottomless brunch tickets from £39 per person. barelba.co.uk
German Gymnasium Oktoberfest!
King's Blvd, King's Cross N1C 4BU
Keen to sample snacks rather than steins? Head to German Gymnasium. It takes the festival pretty seriously, offering a menu full of spezialitäten. Dishes range from the lesser-known Obatzda (Bavarian cheese, red onion rings and ryebread) and kasseler (pork loin with sauerkraut) to the ever-popular bratwurst (grilled sausage) and Käsespätzle (cheese noodles). As you enjoy your tasty potato dumplings or juicy wurstsalat (pork sausage with gherkins), soak in the sounds of an oompah band and be whisked to the heart of Bavaria. (Until 2 October.)
Prices on menus. germangymnasium.com