Originally developed for astronauts, electrical muscle stimulation (EMS) promises to build muscle quickly and without weights — we put it to the test.
Building muscle without lifting weights — or resistance training of any kind — sounds like an impossibility. But with technology that was originally developed by NASA, it's very possible indeed. I went to FLEX Chelsea, a boutique gym in London, to try it for myself and was told in just 20 minutes of exercise, while wearing a full-body EMS suit, you can get the same results of a strength-training session lasting one hour and 45 minutes.
What is EMS?
Electrical muscle stimulation (EMS) uses low-frequency impulses to mimic the way your brain contracts your muscles. While your brain gets them working at around 30 per cent, EMS can add an extra 50 per cent. It's not to be compared with the promised effects of a vibration plate or body-toning belt because, trust me, EMS is in a league of its own.
EMS suits were originally created to help astronauts build or maintain muscle in space — tricky without gravity. This technology found its way from space and onto gym floors where personal trainers will take you through a short exercise routine unlike any other.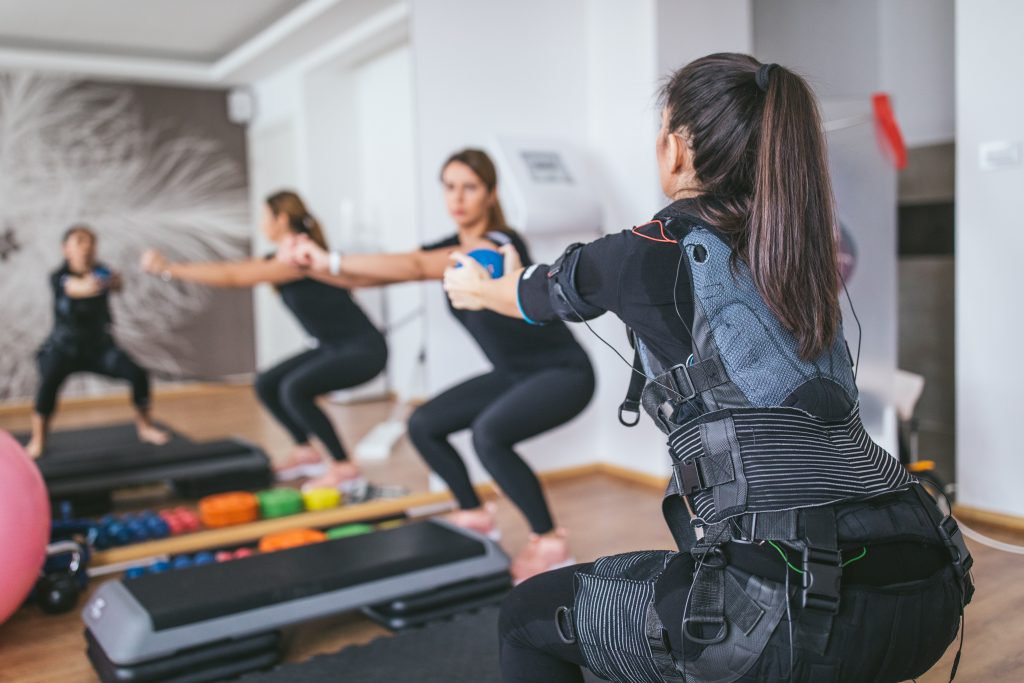 EMS strength-training suit
The bodysuit, created by Miha Bodytec, is the very same as the one used by NASA on the International Space Station due to its unparalleled ability to fire up all the body's muscle groups. Celebrities and athletes, from Ashley Graham to Usain Bolt, have tried it out. And now I have something in common with them having had a few training sessions with Alex Parks at FLEX Chelsea and let me tell you, it's serious stuff.
It's hard to describe how it feels, so lend me your imagination. As you read this, tense your stomach as hard as you can — EMS will greatly exceed how tightly you can do it. And with the technology strapped to your thighs, arms and around your torso and bum, this intense contraction is happening across your entire body at once. With everything tensed tightly, you have to push through into the movement of whichever exercise you're under instruction for.
Personal training in an electrical muscle stimulation suit
In my first sessions, Alex kept it simple with isometric and unilateral exercises such as squats, lunges, standing crunches, single-leg dead lifts and hip raises. While already low impact, for those using EMS for physiotherapy or to maintain muscle mass while injured, movements can be even simpler and completely avoid pressure on any sensitive joints.
It was hard, but not difficult or painful, although as Alex slowly increased the intensity it took me by surprise despite agreeing (or determinedly requesting) to go up a level in intensity. While the physical benefits are remarkable, before my first session I'd been concerned those looking for weight loss wouldn't gain the same cardiovascular health benefits that longer workouts and cardio can achieve. I was mistaken. It might not get your heart pumping quite like a HIIT class, but within minutes I'd worked up a sweat and needed to focus on my breathing.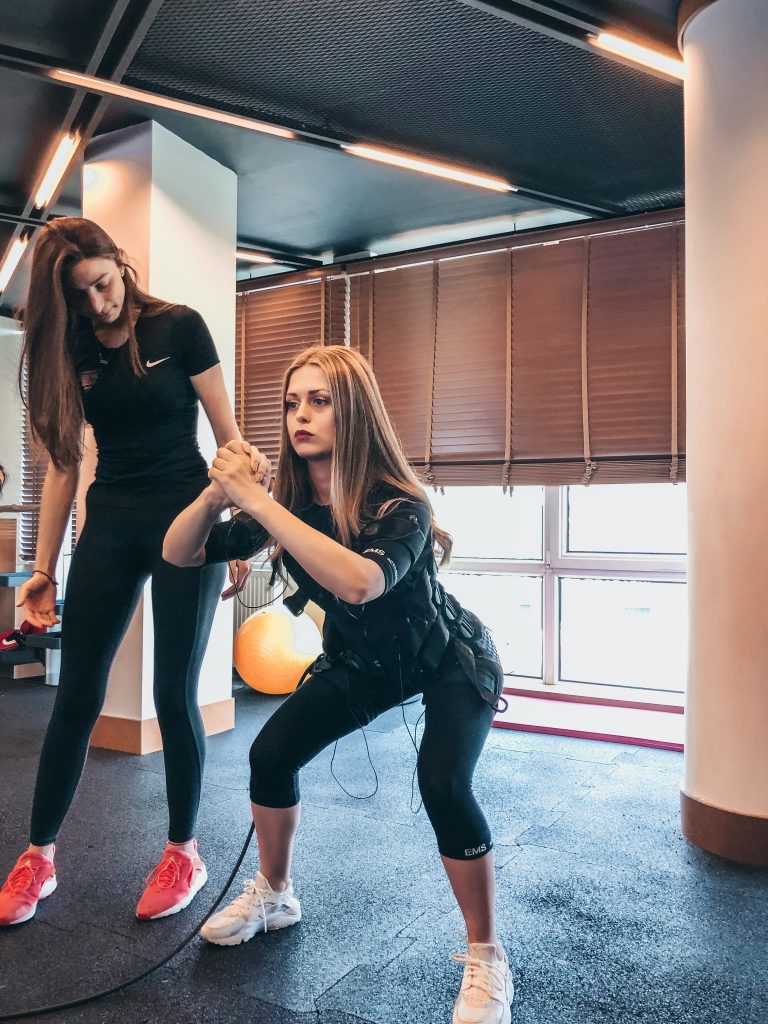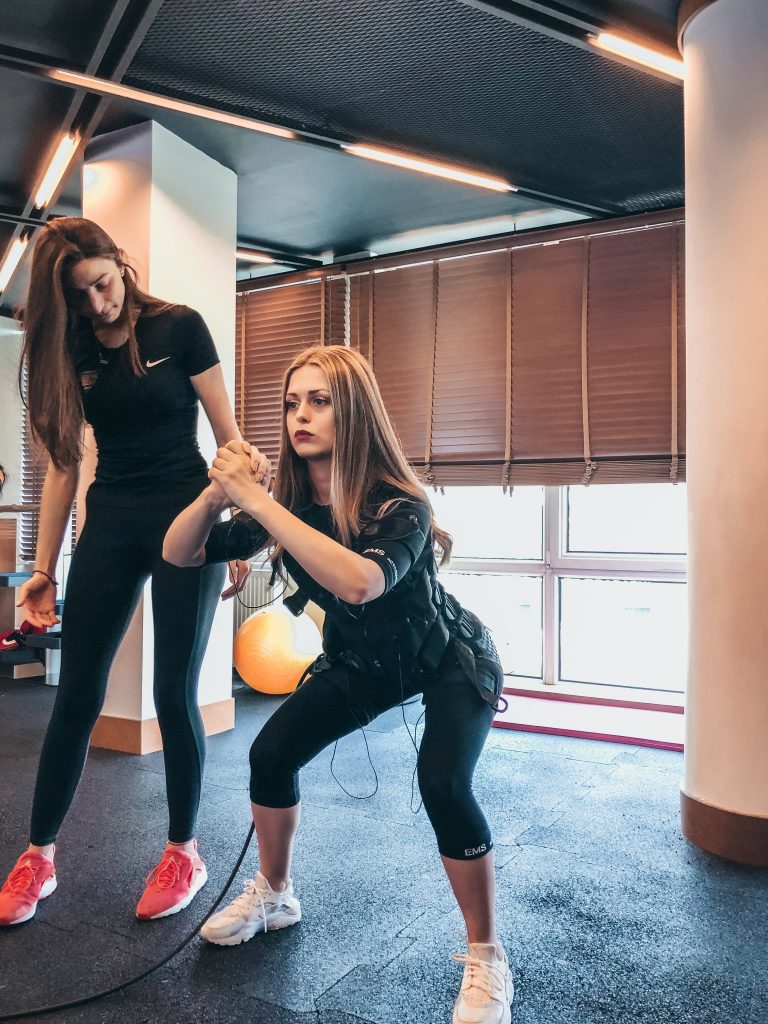 Does electrical muscle stimulation really work?
I expected to feel sore the day after, particularly in places I wasn't used to due to all muscles being worked, but I wasn't. So, I attempted to exercise without the assistance of EMS and jumped on a treadmill, only to feel as if my body had nothing left to give.
It hit me on the second day, when I awoke to my body feeling so sore it was as if I'd never exercised before in my life. And in a way, I hadn't — not like this anyway, not working every single muscle group.
After just a couple of sessions, I noticed a difference; I'd lost weight and had notably improved muscle definition. I can only imagine the results over the long term. At just £80 a zap at FLEX Chelsea, it isn't that much more than a normal personal training session, and 20 minutes is far less daunting than a gruelling hour-long one-on-one.
Just one session each week is enough for most people to see a difference, and Alex doesn't recommend EMS more than twice a week. In fact, reports have found that overuse of EMS can have an inverse effect and cause muscle breakdown. This is probably why the machine doesn't run for more than 30 minutes at a time.