Chef Abdelhadi first discovered his love of cooking in his grandmother's kitchen. We spoke to the head chef of Le Trou au Mur in Marrakech on how he embraces traditional Moroccan flavours within his modern recipes
In Morocco, food brings people together. It's more than simply about satisfying hunger — it's a social affair. In traditional Moroccan households, families gather to eat a midday meal together before returning to work. That's why many of the country's most popular dishes — from giant bowls piled high with fragrant couscous to harira, a zesty soup made from tomatoes and chickpeas — are made to share.
Chef Abdelhadi grew up around Moroccan cuisine. His grandmother would spend all day in the kitchen creating meals that would be enjoyed by all the family. When he became head chef at Le Farnatchi's Le Trou au Mur, a boutique hotel and restaurant in the heart of Marrakech's medina, he was determined to incorporate traditional flavours and techniques into his menu, while giving them a modern twist. We spoke with him to discuss the inspirations and techniques that have gone into creating a must-visit dining destination in Marrakech.
How has the menu been crafted at Le Trou au Mur to give guests a taste of traditional Moroccan cuisine?
We were determined that Le Trou au Mur wouldn't just be another restaurant in the city that served tagine and couscous. We wanted to create an authentic experience. As a result, we asked our members of staff for the dishes that they most enjoyed while visiting their grandparents.
After multiple tasting sessions, we were able to compile a menu of delicious dishes that are rarely seen outside of a family home, including Moroccan Atlantic fish stuffed with vermicelli, preserved lemons and olives, traditional camel or beef tangia (stew) and stuffed poussin with a harissa sauce. We have at least a dozen more recipes that we want to showcase, and every time we reprint the menus, we take off the least popular dish and substitute it with another family creation.
What ingredients in particular does the menu focus on?
We use a variety of traditional Moroccan ingredients, such as cinnamon, cumin, paprika and harissa. All of our produce is sourced locally, wherever possible, and we use a number of ingredients that wouldn't be easily recognised outside of the area. Everything from bread to preserves is made freshly on site. Our inspiration for the menu came from the grandmothers I grew up around, and the fabulous meals they made for our families, so I try to incorporate everything they used into my own dishes.
Of course, the only difference is my granny would have had all day to prepare food for the family, so our kitchen uses a number of modern cooking techniques in order to produce the same result while ensuring we can feed over a hundred people a day, without compromising quality.
And how about the name, why Le Trou au Mur [The Hole in the Wall]?
When my father went to university in Bath in 1970, George Perry Smith had one of the finest restaurants in Britain trading under the name 'The hole in the Wall'. Given that the architectural exterior of our building was merely a door in an otherwise blank wall, as is traditional in our part of the medina, the name seemed to be not only a nod to his youth, but also the building that we were going to be trading in.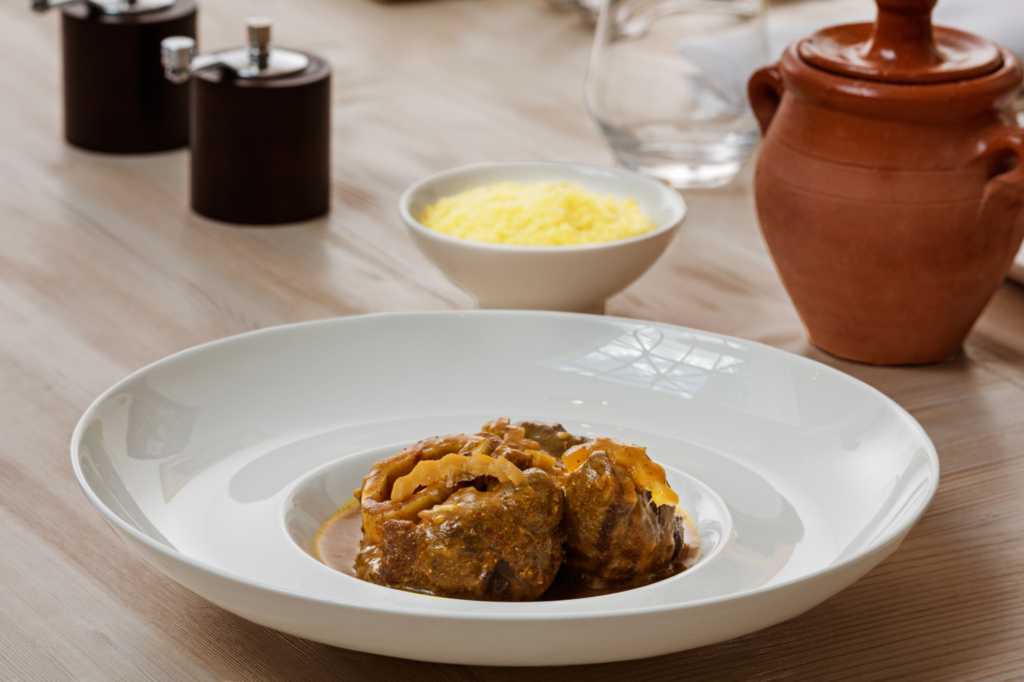 A taste of Morocco at home: Le Trou au Mur's mechoui lamb recipe
Mechoui is a traditional North African dish that varies slightly throughout the region. In Morocco, mechoui refers to the cooking of a whole lamb or sheep in a clay oven, over wood. Usually, the process involves removing the stomach cavity of the sheep or lamb and replacing it with traditional spices such as ras el hanout and saffron. Then, once the lamb meat has marinated, the stomach cavity is stitched back together before the meat is skewered and cooked.
It's a dish deeply rooted in Moroccan culture, often served at the beginning of a diffa (feast). The host will serve mechoui by taking pieces of the meat with their right hand and offering it to guests. If cooked correctly, diners won't need to use cutlery due to the tenderness of the meat. Eating with your hands is a time-honoured tradition throughout Morocco, though only the right hand is used, as the left is considered 'unclean'.
Here, Chef Abdelhadi shares his restaurant's take on the classic Moroccan dish so you can serve it at your next dinner party.
Ingredients (serves two to three)
2 large carrots, chopped
2 onions
6 cloves of garlic
2 sprigs of thyme
50g fresh oregano
1kg lamb shoulder
2 courgettes
1 aubergine
3 mixed peppers
100g butter
a pinch of saffron
50g coriander, chopped
To garnish:
In the souk, it would be eaten alone wrapped in newspaper with liberal amounts of cumin and salt, much like English fish and chips. At Le Trou au Mur, it's offered with roasted vegetables and sometimes a wholewheat couscous.
Method
Put the carrots, one quartered onion, two cloves of peeled garlic cut in half, the thyme and oregano into a pressure cooker along with one litre of water.
Place the lamb shoulder into the steamer basket and cook in a pressure cooker for 45 mins.
While the lamb's cooking, chop the remaining vegetables into approximately 1cm x 1cm cubes and place into a roasting dish along with four cloves of unpeeled garlic. Drizzle with olive oil, season to taste and roast at 180C/fan160C/gas 4 for 25 mins.
Melt the butter in a heavy based pan and add the saffron and finely chopped coriander. Allow the saffron to infuse into the butter on a low heat for a few mins.
Release the pressure from the pressure cooker and take the lamb out before placing it into a roasting dish. Then, pour the infused butter over the lamb and roast at 180C/ fan160C/gas 4 for 20 mins. Allow to cool before serving.