Summer is a great time to pickle or ferment fresh produce, but what's the difference between pickling and fermenting? We explain how to do both and consider any health benefits each process offers.
From kimchi to kombucha, fermented foods have been an increasingly popular trend in recent years, in part due to the plethora of good bacteria found in them that our guts love. Pickles, on the other hand, don't do as much for our gut but sometimes are exactly what you need to add a bracing tang to your dish, and they're arguably more versatile than their fermented friends. Almost anything can be pickled. You can serve pickles as an appetiser, with your main meal or with cheese. You can add them to cocktails — blueberries and grapes work surprisingly well.
And as the foodie world consciously shifts to more sustainable eating habits, fermenting and pickling should be firmly on your radar as both provide a zero-waste option for food that would otherwise go to waste.
We look at the difference between pickling and fermenting, how to do them and compare the purported health benefits of both. 
Everything you need to know about fermented food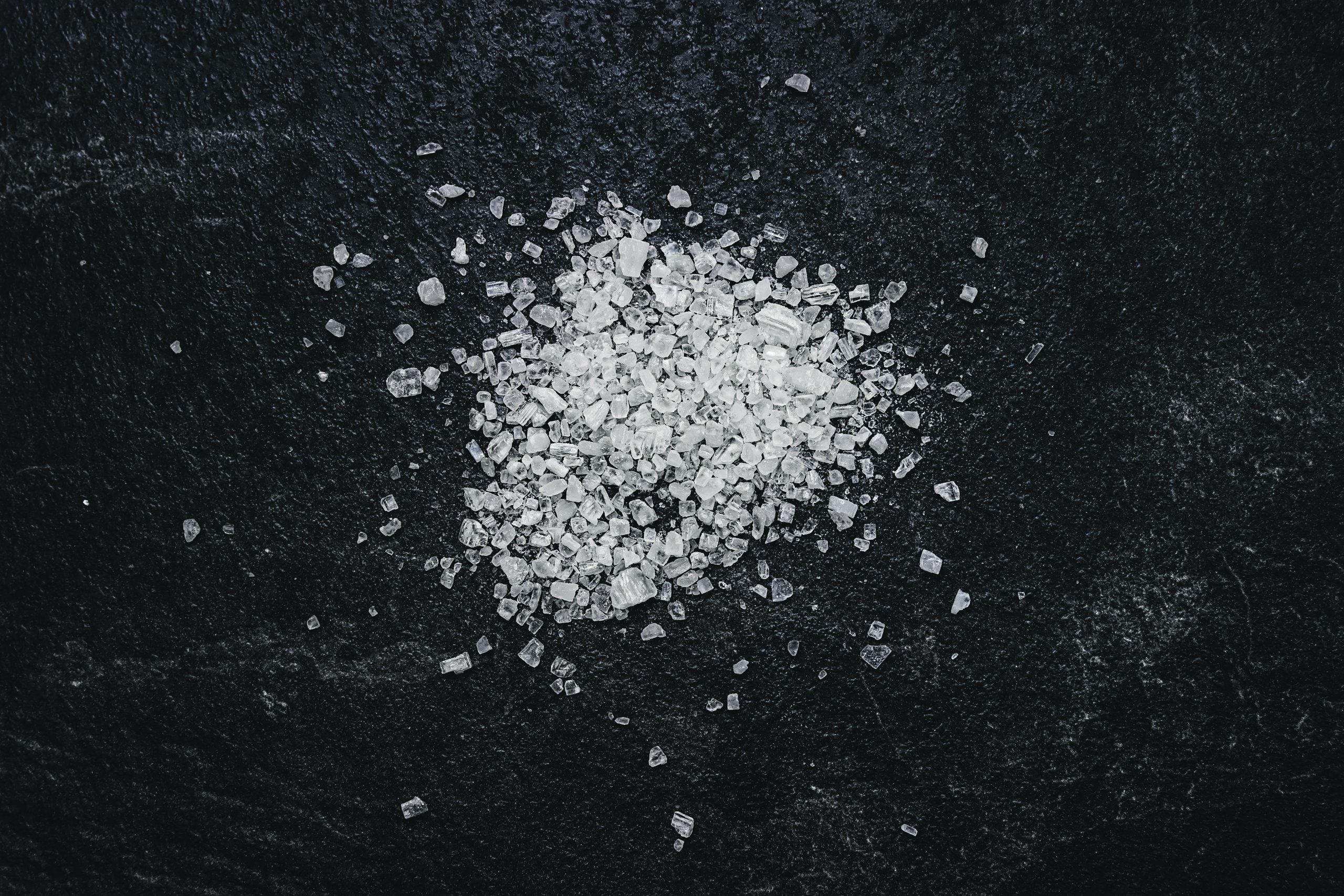 What is fermented food and what are the health benefits?
Popular fermented foods include kimchi, sauerkraut and tempeh. Almost any vegetable can be fermented, but root veg and cabbage are the most common. You can get fermented drinks too, like kefir and kombucha. The only types of vegetable that fermentation is not recommended for are those with lots of chlorophyll, such as kale or spinach.
Essentially, fermentation is a method of preserving food and its nutrients, while bacteria thrive by breaking down sugars. So when you eat fermented vegetables, you're munching down on much-needed nutrients as well as good bacteria (or probiotics) beloved by the gut, which makes fermented food the standout choice for overall health.
The health benefits of eating fermented foods may also include lowering blood sugar levels, decreasing inflammation in the body, increasing antioxidant activity and supporting the immune system, according to a research review conducted by Cambridge University.
How to ferment food
"Fermenting vegetables requires following a few key principles, experimenting with flavour combinations and some patience," explains Sabrina Zeif of food blog the Midlife Food Guru, which seeks to support women's health and help those approaching or experiencing menopause. "At first make small batches while experimenting with a variety of flavours including adding herbs and spices to get the degree of acidity that pleases your palette," she advises.
You can choose just one vegetable to ferment or create a mix, adding in complementing herbs and spices (peppercorns, cumin seeds, caraway seeds, fennel seeds, bay leaves). And remember, temperature plays an important role in successful fermentation. Beneficial bacteria proliferate best at moderate to warm temperatures. In warmer months fermentation occurs faster than in the cooler months.
Sabrina's easy fermentation step-by-step:
Chop, slice, grate or shred the vegetables.
Salt the vegetables well to achieve a slightly over-salted taste; too little salt and the ferment will be bland.
Pound the vegetables with a rolling pin or squeeze and kneed by hand until they release juices to create a brine with the salt.
Mix in your chosen herbs and other seasonings.
Pack the vegetables tightly into a sterilised jar (see below) and fill with water, so they are forced below the liquid — keeping the vegetables submerged in fluid is critical. Cover loosely with a lid or muslin.
Taste frequently and then move to the fridge or cold storage when the optimal flavour is attained (in other words, when you like how it tastes).
How to sterilise jars
Ideally, do this within 20 minutes of using. Wash the jars and lids in hot soapy water. Rinse and dry, then put the jars and lids in the oven at 170C, 150C fan, gas 3 for 10 minutes. Turn the oven off but leave the jars and lids in the oven to keep warm.
Everything you need to know about pickles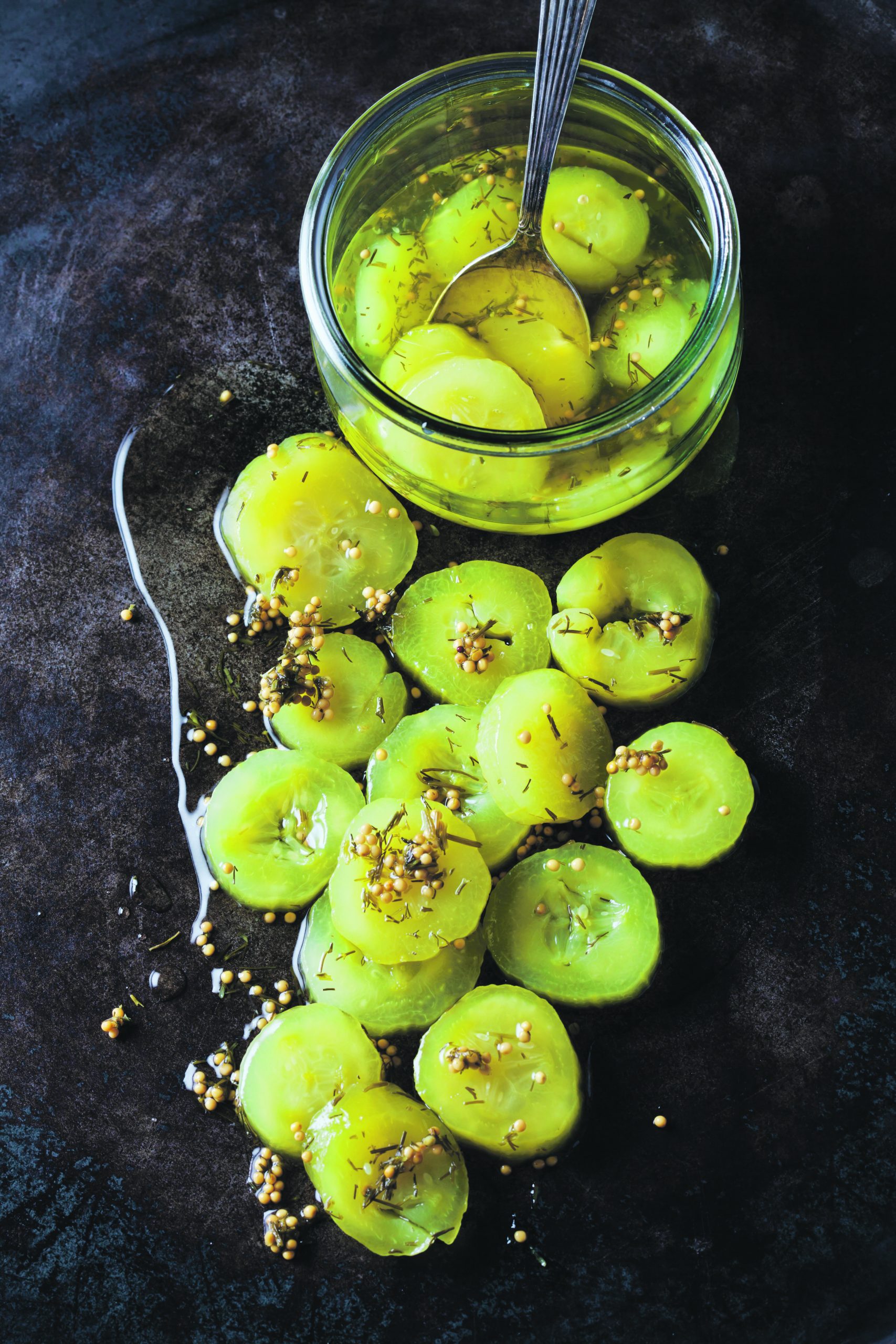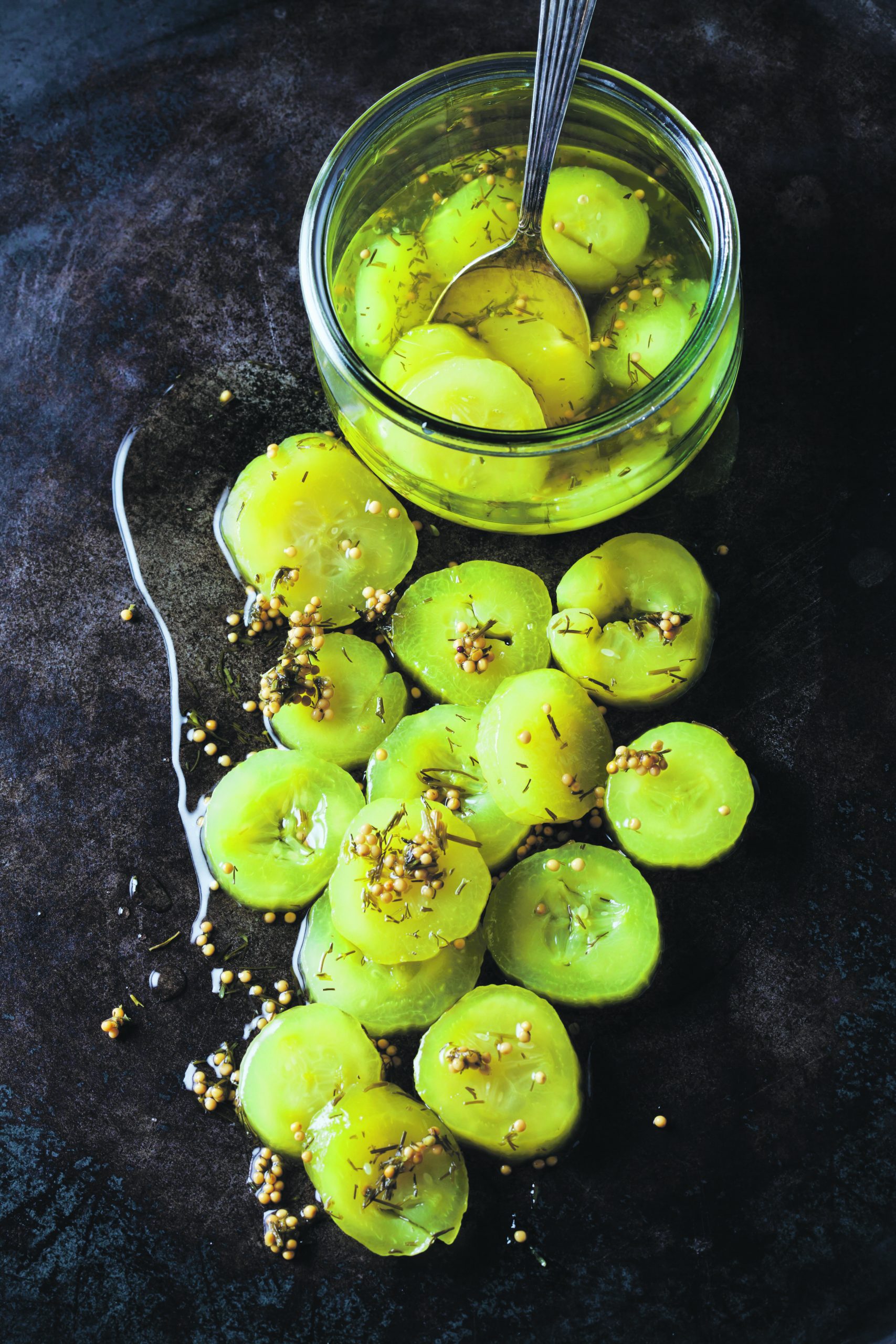 What are pickles and are they good for you?
Pickled cucumber is the most common type but you can pickle just about any fruit or vegetable that takes your fancy. Pickles are foods preserved in brine or an acid such as vinegar or lemon juice. There are claims drinking pickle juice can help you stay hydrated, may support blood sugar levels and soothe muscle cramps.
Don't get too excited, as Sarah Coe, nutrition scientist at the British Nutrition Foundation, warns: "While pickles are low in calories and can provide small amounts of vitamins and minerals, the addition of salt as part of the pickling process may mean they should be eaten less often and in small amounts."
Instead of drinking it, you can use pickle juice in your cooking so it doesn't go to waste when all of your pickles have been eaten.
Jules Goddard, the brains behind foodie enterprise The Plucky Pickle, who learned her craft from her Italian nonna, says: "It will keep in your fridge for ages. It's great as a base for a salad dressing, as a marinade, dipping your sourdough in with some good-quality oil, added to hummus to make it last longer or to kickstart a fermented sauce."
How to pickle fruit and vegetables
Making pickles is a simple process of prepping food and leaving it to soak in a salty, vinegary brine in jars in the fridge. Before starting, consider how you want to use the pickles: for salad the vegetables should be thinly sliced and pickled raw, or if considering a straight-up crudités plate it may be worth quickly boiling the vegetables first to take the bite out of the crunch. Next, prepare the vegetables — carrots work best cut into matchsticks or coins, green beans are best topped and tailed, and onions should be sliced, not diced. Some ingredients can be pickled whole, but cut pieces will absorb the brine faster.
Jules recommends choosing good-quality, firm fruit and veg, ideally at the height of their season and certainly not at the end of their life. Anything with a high water content should ideally be salted before being pickled, and use a good-quality sea salt. The same goes for the brine: the better quality the vinegar, the better the pickle. You can use any vinegar such as cider apple, red wine, rice wine or distilled white vinegar.
Once you've prepped your food, put it into sterilised jars (see above) and add in some extra flavours such as garlic, ginger, cumin seeds, mustard seeds, chilli, peppercorns or coriander seeds.
To make the brine, follow Jules' step-by-step. You'll need:
250ml vinegar
250ml water
1 tbsp sea salt
1 tsp sugar
Put all the ingredients and 2 cups water into a pan and bring to the boil. Stir until the mixture is dissolved, then pour into the sterilised jars. Leave 2-3cm of space between the liquid and the rim, then screw on the lids. After the jars have cooled to room temperature, transfer them to the fridge for at least 48 hours before eating.