This sun-filled wellness retreat is the ideal spot to truly connect with the Italian island and find your Zen
With warm Mediterranean waters, blissful white-sand beaches, a rocky volcanic coastline and charming fishing towns, Sicily is the quintessential island destination. Located just off the coast of southwest Italy, it's home to some of the world's best preserved Roman and Greek temples, with plenty of other architectural and cultural sites to explore.
But if it's serenity you're after, you'll find it on Sicily's west coast. Beat the crowds and fully immerse yourself into Sicilian life with a stay at Almar Giardino di Constanza Resort & Spa. This is where spa treatments meet an idyllic private beach, watersports and local flavours — all making for a memorable stay. Here's why you should visit.
The Almablu Spa
The spa is undoubtedly the highlight of Almar Giardino di Costanza Resort & Spa. A space that centres self-love and encourages guests to come back to themselves and prioritise their own space and time. It's a sensory journey, taking inspiration from Sicily itself, steeped in Roman Arab rituals; the section dedicated to wellness from the Norman period is sure to take you back in time.
There's a huge range of treatments available for the body and face, rooted in traditional Chinese medicine. These will help you decompress, recharge and feel more present. The Body and Head Massage is a highlight, working to quiet the mind from racing thoughts and promote a better night's sleep.
The decor
The hotel's interiors' neutral colour palette adds to the sense of calm that the spa focuses on, with Sicilian notes throughout. There's a combination of suites and junior suites that are reminiscent of a historic Sicilian stately home. Handmade ornamental decorations are carefully weaved into the rooms, with fine wood furnishings, high ceilings and plush materials like velvet and marble, to soothe the senses.
All the rooms come with a balcony, which brings in views of the lush greenery, centuries-old olive trees, fountains and palm trees that are scattered throughout the resort grounds.
The private beach
Staying at the resort gives you exclusive access to its very own private beach, Lido di Costanza. Tucked away further down the coast, the waters of the Mediterranean Sea are crystal-clear here, leading on to soft golden sands, with incredible sunset views.
A free shuttle will take you on a 15-20-minute ride down the coast, with sunbeds and umbrellas available to really make a day of it. There's also a bar and panoramic terrace, serving up refreshments and freshly caught fish. For a more active beach day, there's snorkelling, paddle surfing and canoeing available. Or you can always dive in the indoor or the outdoor pool in the Mediterranean garden back at the hotel.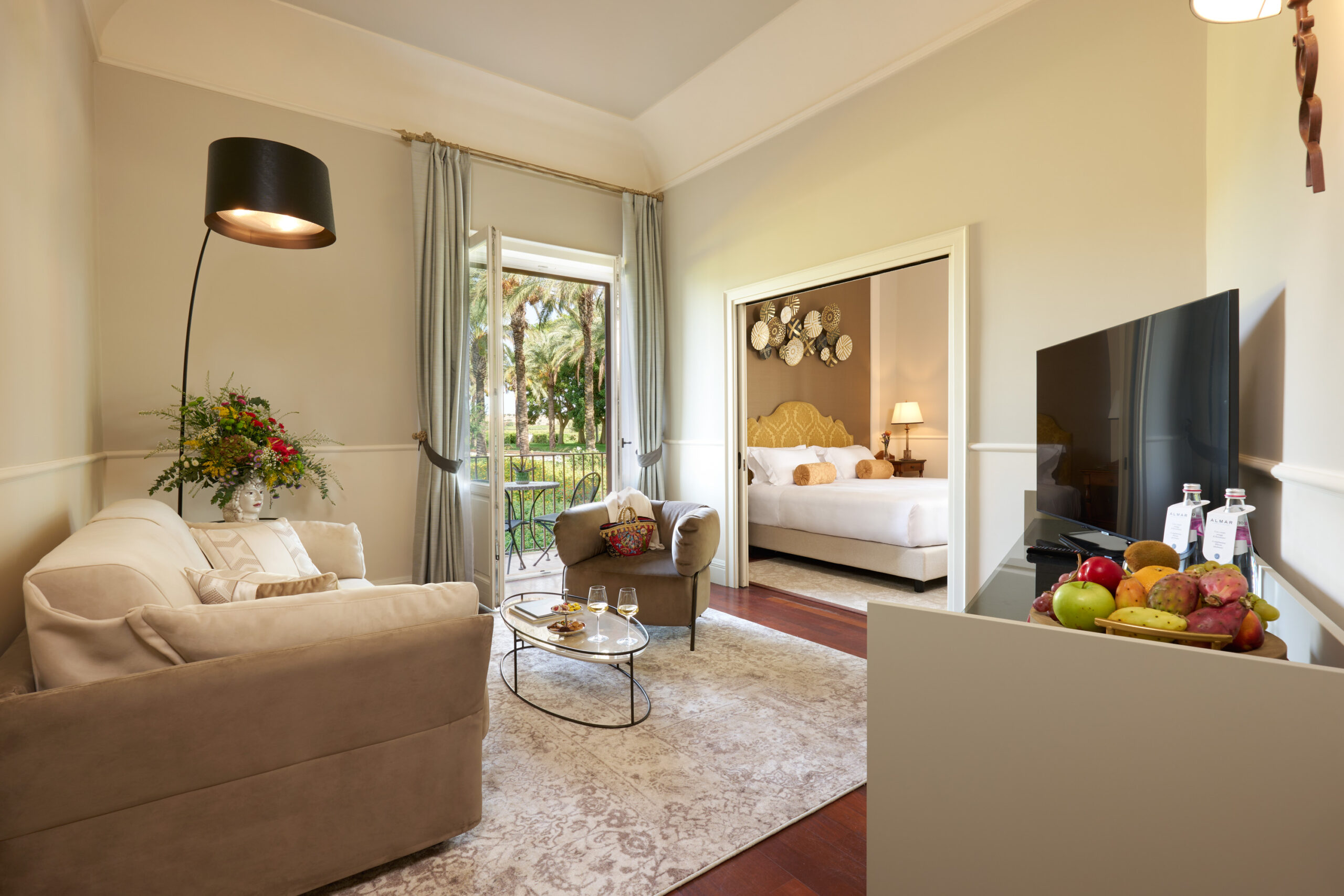 The food and drink
The Citrus Pool Bar is a great spot to take in the beautiful surroundings of palm trees and banana trees that fill the gardens around the outdoor pool, or to enjoy a refreshing summer drink and snack on the oversized loungers and stools in the water.
Elsewhere, there's AquaMadre Restaurant, which is inspired by local flavours and aromas. Traditional dishes using the best local ingredients — such as artichokes, Sicilian blood oranges and red shrimp — are served up in the restaurant or outside on the terrace. The Turchinu Lounge & Terrace, meanwhile, is the main lounge bar in the resort, serving up cocktails, snacks and fresh pizza on its panoramic terrace.
The activities
Gym classes, Pilates and yoga are all on offer within the resort, but there's a range of activities and tours that can immerse you into Sicilian culture in a relaxed way, too.
Fishing trips can be booked in with a fisherman from nearby Mazara del Vallo, as well as wine tasting and olive oil tasting at nearby spots. Tours can also be set up to learn more about the salt pans of Trapani and nearby archaeological sites, or to take you to Favignana Island, just off the coast of northwest Sicily.
To book your stay at Almar Giardino di Costanza Resort & Spa, visit almargiardinodicostanza.com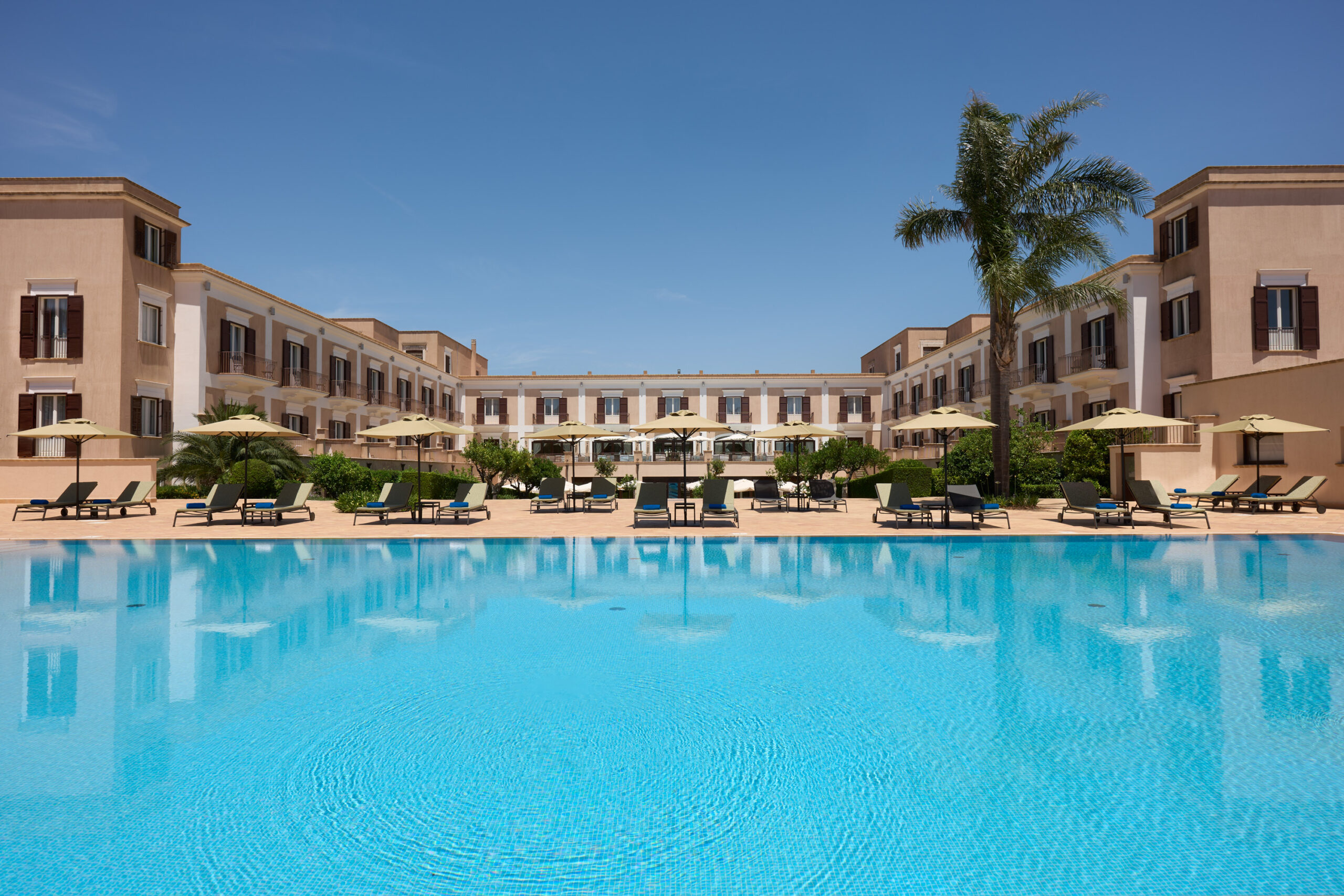 Things to do in Mazara del Vallo
Piazza della Repubblica
Attractions like the Cathedral Basilica, Seminary Palace and Diocesan Museum are all located in this landmark square, which, come night, is alive with people gathering and taking respite in the breeze.
Teatro Garibaldi
This theatre hosts a range of operas and plays, some starring famous Italian performers, but the architecture itself is worth seeing — it was built in the 19th century with wood from old boats.
Museo del Satiro
This museum is home to the famous bronze Dancing Satyr statue, which dates from between the 4th and 2nd century BCE, and continues the legacy of Greek art in Italy.
Words by Tamsin Wressell