When it comes to first dates, group outings or birthday celebrations, sports and activity bars are always a good shout. Not only do they provide heaps of entertainment, but they're a great way to get to know someone and make memories or bond with your work colleagues. We've rounded up the five best bars to pick for five types of occasion.
Flight Club
Various locations
Best for: Dates
Of all London's myriad sports bars, Flight Club would have to be my favourite for dating purposes. Not only are you surrounded by mesmerising fairground-themed decor, but you can sip on a delicious range of cocktails — all while aiming darts from behind your own private oche (throw line). The fast-paced multi-player darts games offer the chance of some competitive action with your prospective other half, while still leaving ample time to chat and catch up. After you've secured your position on the leader board, stick around and enjoy the snacks on the menu. £10 per person.
Tip: Visit the Victoria, Shoreditch or Islington venues before the end of summer to see thousands of flowers adorning their outdoor spaces, as well as some new tipples added to the menu — as part of a partnership with Hendrick's Gin.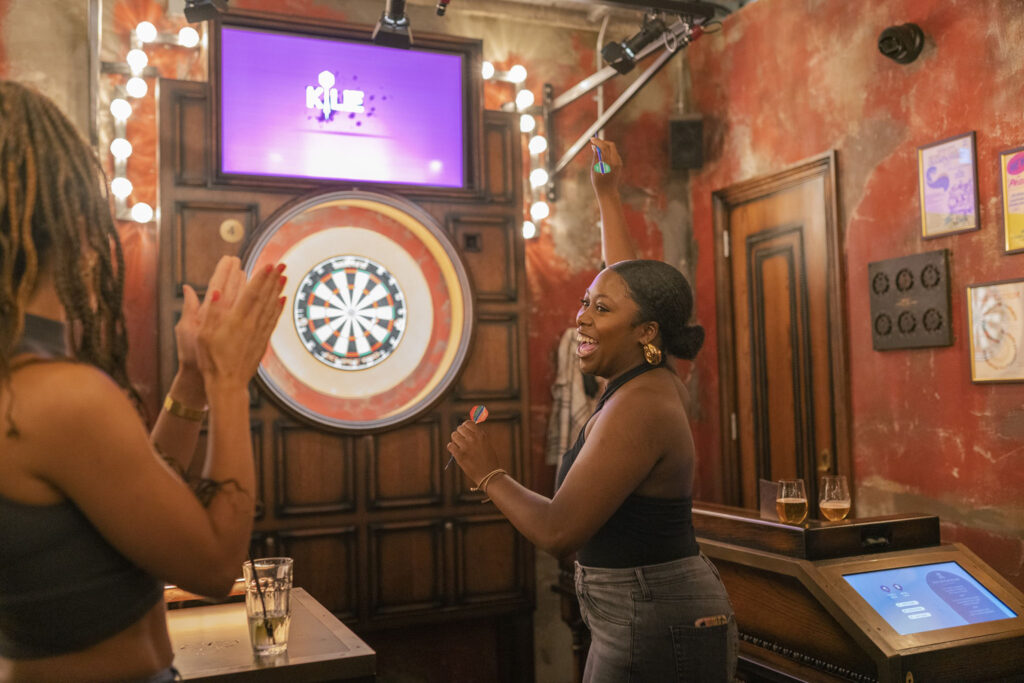 TOCA Social
The O2, Peninsula Square, SE10 0DX
Best for: Teambuilding
While I personally detest playing football (mainly because I'm no good), I must admit that TOCA Social is a lot of fun. It's suitable for players of all abilities, so you'll be able to find a level that works for you. Start with the beginner game and simply kick the ball at the screen to start scoring. When you're ready to amp things up, try your hand at the tense Toca Challenge — where you'll have to hit a target on every level, or it's game over. Parts of the space are available to hire by private groups and events, so the venue is the perfect place to assemble the work crew and see who comes out on top. Prices vary.
Tip: Be sure to check out the US-inspired menu during or after your game. If visiting in a large group, go for the classic sharing platter, where you can enjoy a little bit of everything — cheeseburgers, chips and more.
Alcotraz Experience
Unit 3B, 127 Hackney Rd, E2 8GY
Best for: A birthday night out
Of all the interactive drinking experiences in London, it would be hard to find one that compares to the one at Alcotraz. This 'bar behind bars' immerses you in the story of the notorious Californian prison island of Alcatraz — while you covertly enjoy your stash of personalised cocktails. After you slip on your orange jumpsuit, you'll have to 'smuggle in' your own liquor to hand over to the serving 'inmates' (feel free to bring a choice of spirits, unopened), before you can toast your life as a prisoner. All 'sentences' at the venue last an hour and 45 minutes, so it's the perfect experience to enjoy at the beginning or end of your night. 39.99 per person
Tip: Base spirits such as vodka, gin, rum, tequila or whisky are the best ones to smuggle in. Remember to pose for your group photo before breaking out.
Sixes
Various locations
Best for: Group outings
Sixes Cricket Club has used cutting-edge sports technology to create an immersive and fun cricket experience, complete with luminous UV bats and balls. Once you and your 'team' (up to 10) step into the cricket cage, you'll be able to choose your level, from beginner to pro. What's more, the global leader board allows you to compete against more than just your group, testing your skills against some of the world's best. Worry not: after all that batting, you and your pals can enjoy some cocktails and barbecue-style snacks, including a whisky-glazed short rib or some burnt-ends nuggets. £7.75 per person (off-peak).
Tip: Visit the Leicester Square venue on the last Saturday of the month to experience its 'hip-hop bottomless brunch'.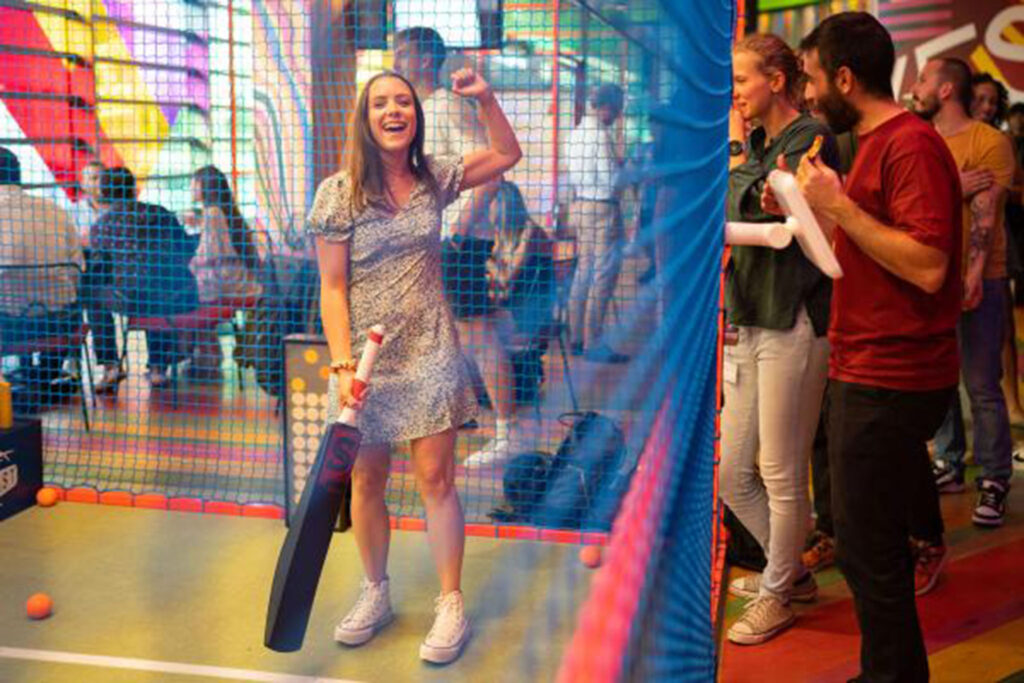 Whistle Punks
53 Eastcastle St, W1W 8EE
Best for: Thrill seekers
Those of you who constantly crave an adrenaline rush, look no further than Whistle Punks. Being the largest axe-throwing bar in Europe, the venue will be sure to get your heart pumping and awaken your combative spirit. Led by an instructor, you'll be shown how to swing an axe the right way, before getting started on a tournament against your friends. Choose from a variety of drinks and food bundles and unleash the lumberjack within. Prices vary.
Tip: Order one of the fantastic sourdough pizzas to enjoy in between throws.