If you need to buy for a foodie this year, festive food hampers are an easy win.
Food gifts are great for those who already have everything, or are extremely hard to buy for. And one of the highlights of the festive season is inevitably the food. From mince pies to pigs in blankets, and mulled wine to Christmas pudding, festive food is irresistible and hampers make for the perfect Christmas present. Just think about all the cheese, cakes, and chocolate which you can buy bundled together in an irresistible food hamper, delivered straight to your door or loved one.
Luxury Christmas foods in the House of Commons gift hampers
A truly luxurious gift, the House of Commons Deluxe Christmas Celebration Gift Hamper (£190) is packed with festive goodies, including Brut Tradition Champagne, its bestselling Luxury Christmas Pudding, traditional brandy butter, chocolate yule log and more. One hamper which is more budget friendly is the Port and Cheese Mini Hamper (£45), comprising a bottle of the House of Commons LBV Port, Godminster Black Truffle vintage organic cheddar and oak smoked cheddar cheese. Both hampers are packaged in a keepsake wooden box.
Stunning gifts with Panzers Festive Fare
Delicately wrapped in a box and hand-tied with ribbons, Panzers Festive Fare hamper (£69) is filled with all the treats which are synonymous with Christmas. Including luxury mince pies, homemade Christmas pudding and cheeses, this would make for the perfect gift without breaking the bank. Panzers are also selling an Italian-inspired hamper, Buone Feste (£95), which features specially sourced produce from the home of panettone. In this hamper you can enjoy, Papa di Boschi toasted hazelnuts, Cantuccini, Panzer's Marron Glacé and Red Cow parmesan.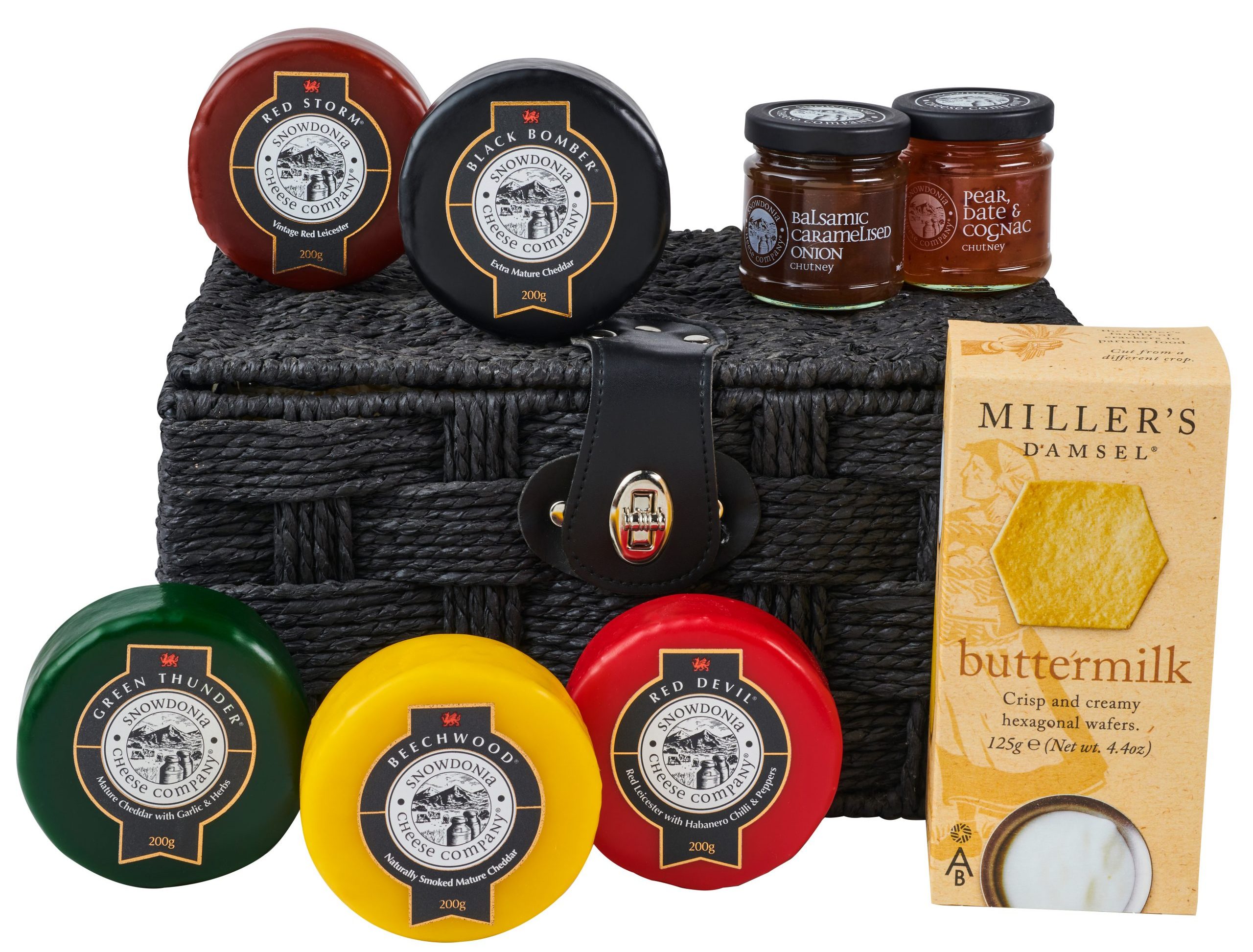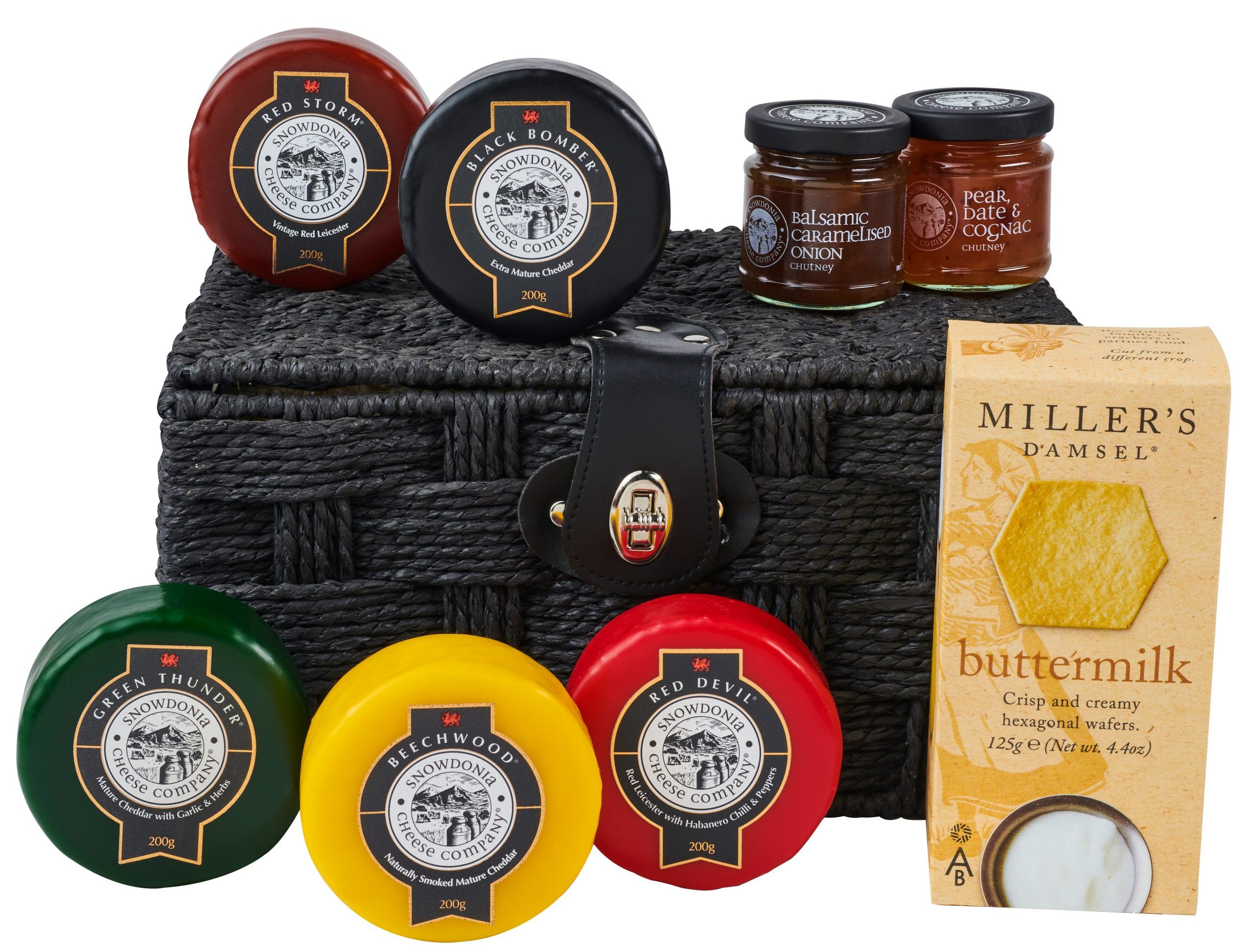 Presents for cheese lovers from Snowdonia Cheese Company
At Snowdonia Cheese Company, every cheese is made using the finest natural ingredients and is expertly graded by a small, devoted team of cheese experts to deliver the ultimate premium cheese no Christmas should be without. The Quintessential Hamper (£40) celebrates the most popular cheeses — Black Bomber Cheddar and the new Rock Star vintage cave-aged Cheddar — and chutneys, as well as including a box of buttermilk crackers. The Christmas Cheer Hamper (£65) also includes famous cheeses as well as deli favourites such as olives by The Real Olive Company; a traditional Riojana Spanish chorizo ring; and a box of Miller's Damsel Buttermilk Crackers.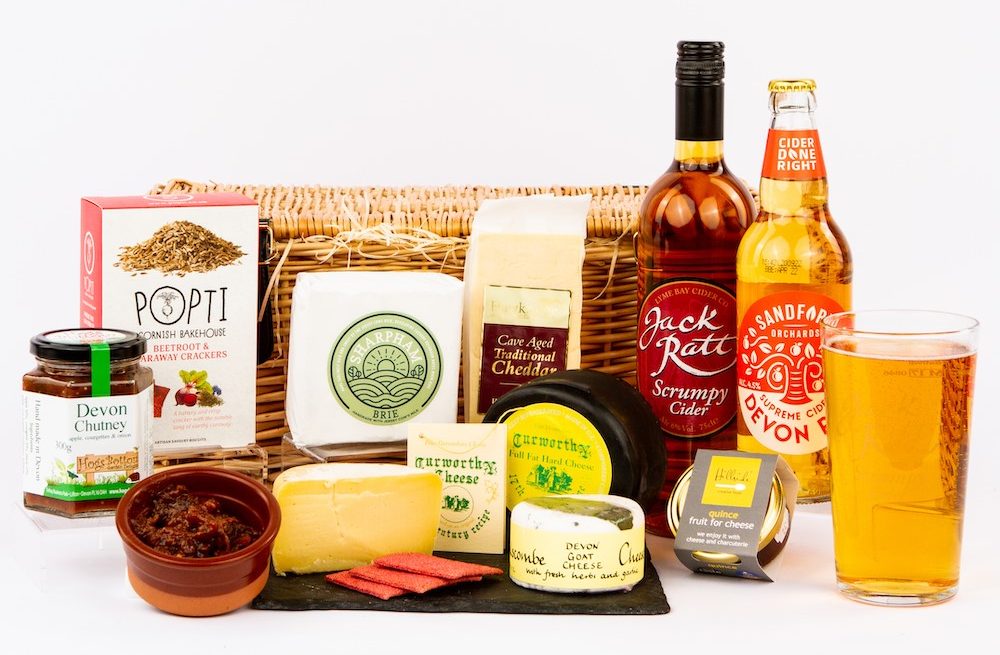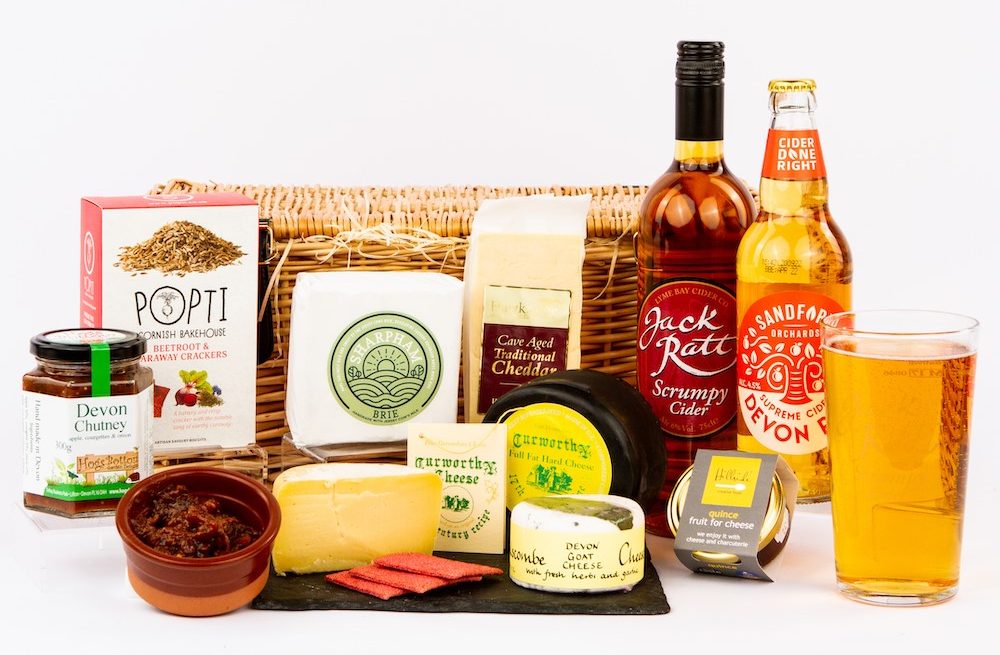 Enjoy a taste of the south west with Devon Hampers
For a true taste of the west country this Christmas, enjoy a specially selected range of food from Devon Hampers. The company's Cheese and Cider Hamper (£51.75) includes Nanny Florrie Goats Brie, Curworthy hard cheese from Devon, Hawkridge Cave Aged Traditional Cheddar and more. With this hamper you can also try two traditional Devon ciders from Jack Ratt and Sandfords Orchards. Devon Hampers also cater for dietary requirements in its Gluten Free Christmas White Wine Hamper (£45.50), which includes carefully made Christmas cake, biscuits, and crackers to accompany its best-selling cheeses.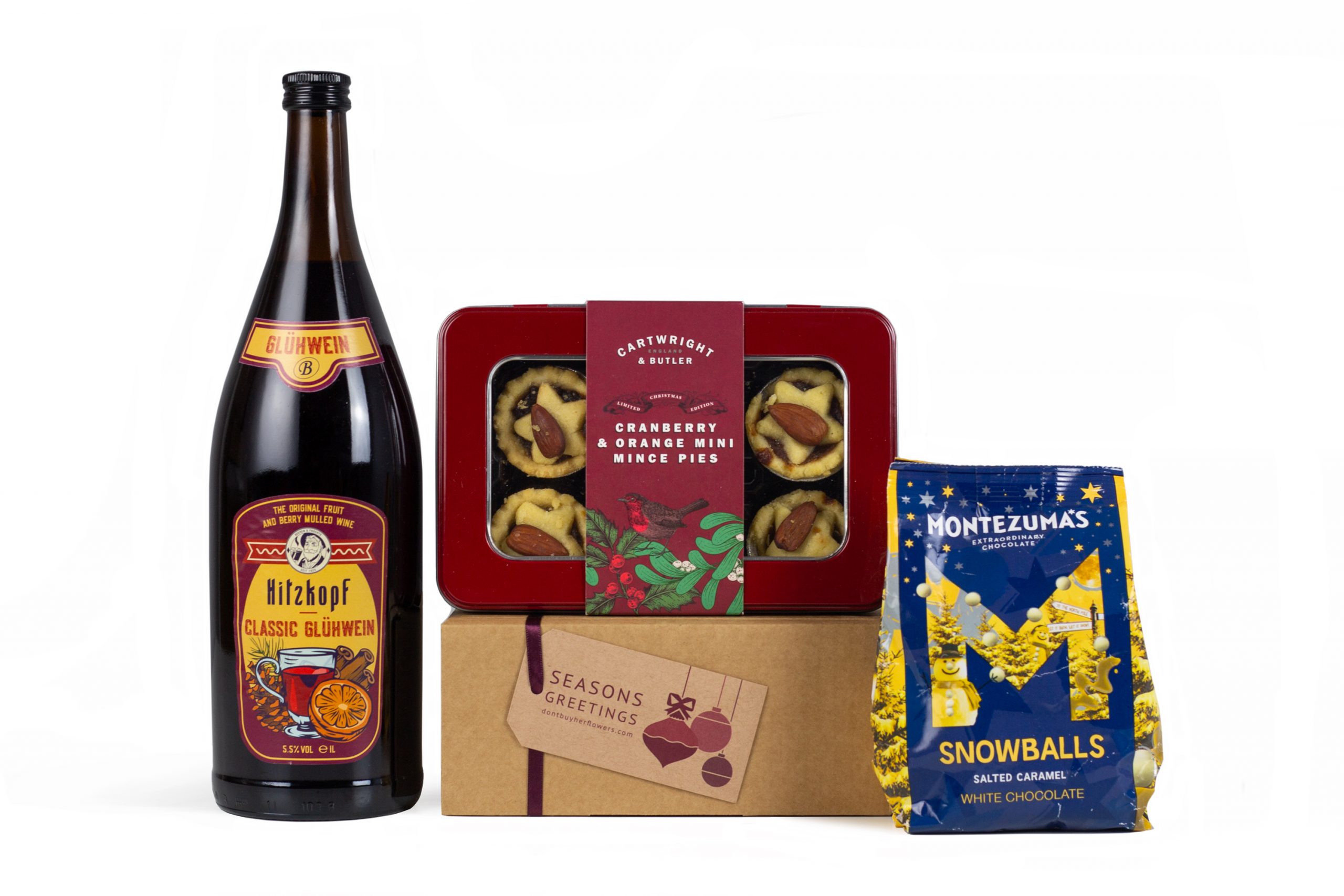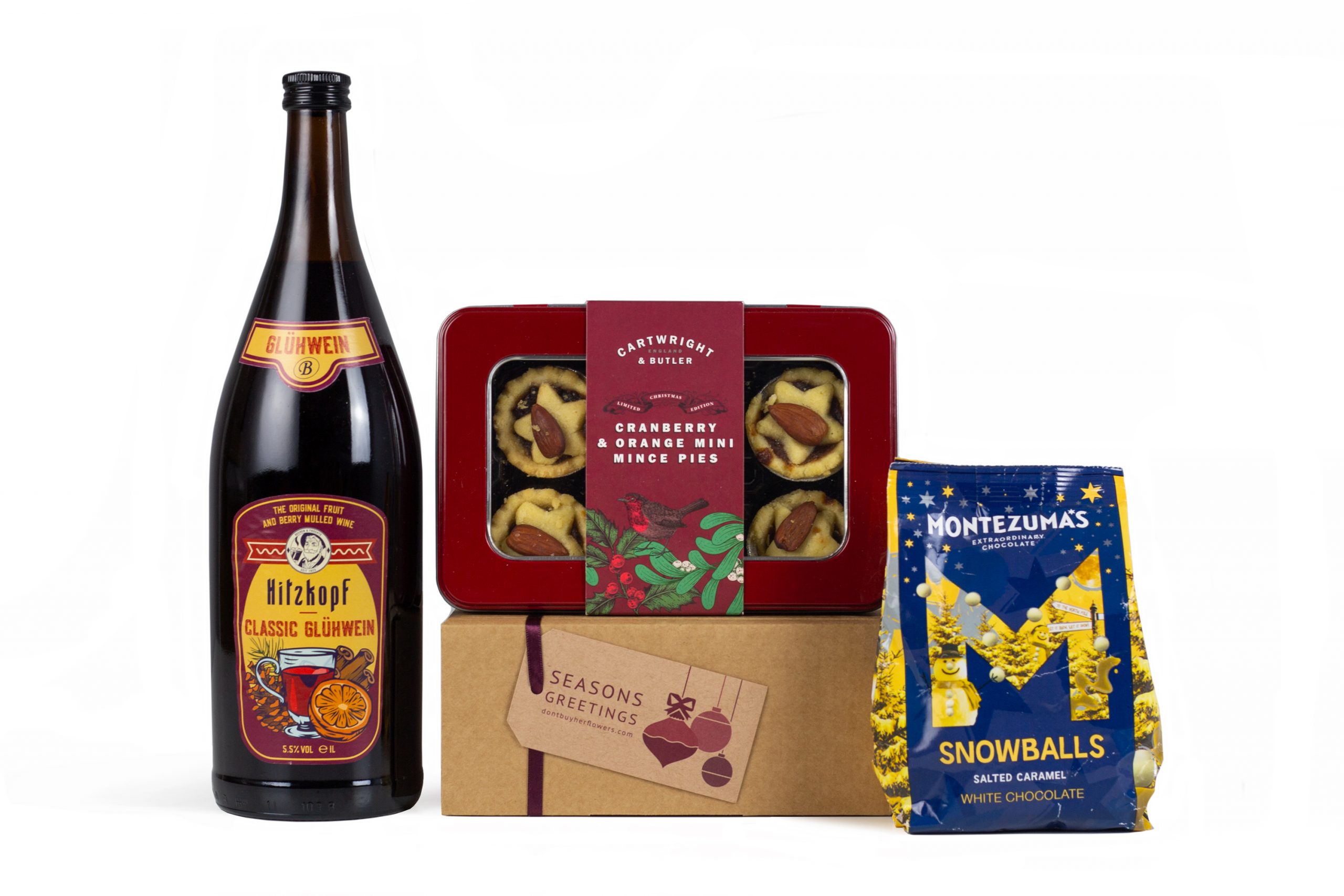 Shop bespoke hampers from Don't Buy Her Flowers
Packaged in beautiful festive wrapping paper and with a personalised note, Don't Buy Her Flowers have special hampers and packages for every occasion, whether it's a birthday, Christmas or just to show you care. The Christmas Package (£31) includes mini cranberry and orange mince pies from Cartwright and Butler and Montezuma's white chocolate salted caramel snowballs. Choose a refreshment of your choice from Teapigs Tea or Hitzkopf Mulled Wine. There's also a Christmas Eve Package (£33.50) to make the day more magical for those up to 10 years old. This includes cosy PJs, an activity book and delicious hot chocolate to occupy youngsters before Santa arrives.