Living 360 caught up with Deano Moncrieffe, founder of Hacha bar and bottled cocktail brand Mirror Margarita, to find out how to create the iconic drink in the comfort of your own home.
When it comes to tequila, you could say Deano Moncrieffe is a bit of an expert. Winner of Time Out's Best Cocktail for Mirror Margarita, the pre-made margarita drink, if there's one thing the bar owner is passionate about, it's making a stellar marg. Moncrieffe shares his top tips for creating the perfect margarita — a cocktail that had its own day of national celebration earlier this week — from the comfort of you own home.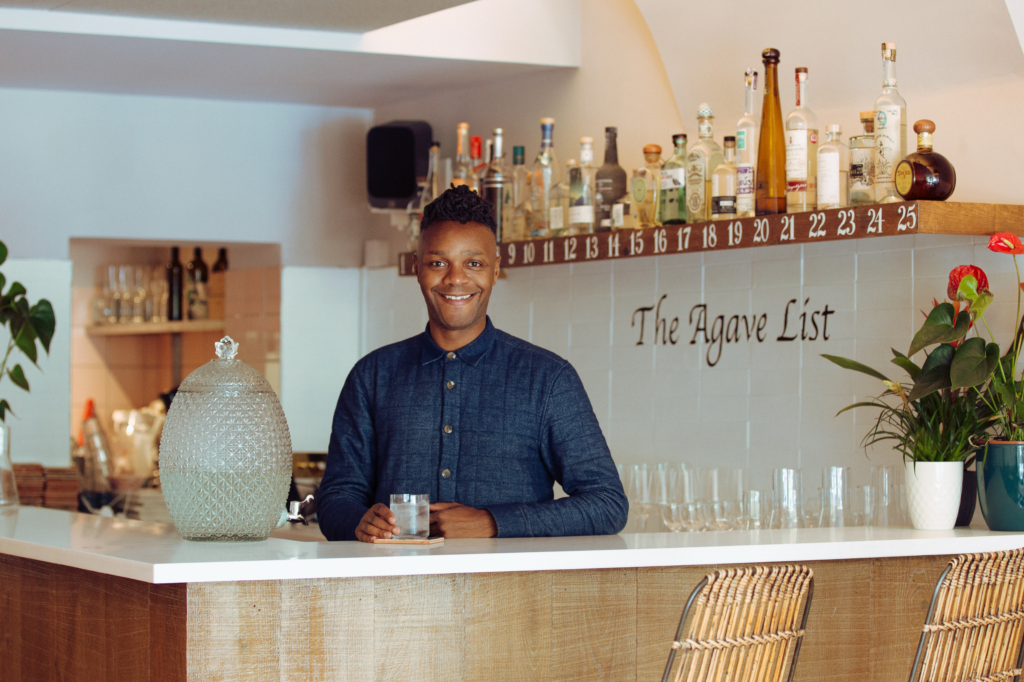 Where did the margarita come from?
The origins of the margarita can be traced back to 1937, when a cocktail named the 'Picador' appeared in the Café Royal Cocktail Book by William J Tarling, which included the same ingredients as the drink that's known today as the margarita — which translates to 'daisy' in Spanish.
Today, the drink is one of the most popular cocktails in bars across the globe, and even has its own day of celebration — National Margarita Day, which falls on Wednesday 22 February in the UK.
What ingredients will I need?
At the heart of any good margarita is a quality tequila. "There are only three ingredients in a margarita," says Moncrieffe, "so it's important to invest in a good quality spirit." Deano's favourites are Don Julio Blanco or El Rayo, which are priced at £47.50 and £43, respectively.
As well as a high-quality tequila, mezcal and agave, you'll also need fresh lime or citrus, a high-quality triple sec, Cointreau or Grand Marnier, and a sugar syrup. Moncrieffe says that using maple syrup in place of sugar syrup is a great twist on a classic. For a basic margarita, however, tequila, fresh lime and triple sec will work just fine.
What measurements should I use?
The second-most important element of any margarita are the measurements. "You always want to make sure you're using less sweet than sour – that's really important," says Moncrieffe.
Basic measurements for a classic margarita are 50ml of Tequila, 25ml of lime and 20ml of sweetener — that's your Cointreau, triple sec or sugar syrup.
How do I nail the salted rim?
True margarita fans will know that the cocktail isn't complete without the perfect salt or spiced rim. "The best thing to do is to make sure you really mix the salt with the dried chilli, use chilli flakes or dehydrated chillies, pop them into a pestle and mortar and grind them down to make a dust or powder — and then mix with salt," Moncrieffe adds. "You don't want to make it too spicy, otherwise it will ruin the flavour of the drink. It's important to get the balance right. Of course, if you want to cheat, you can always just buy some chilli salt."
What about if I like it spicy?
Finally, for spicy margarita fans, Deano says you'll need to infuse your base spirit with a little bit of chilli: "You won't need to infuse it for so long, as it will pick up the flavour really quickly. The other thing you can do is muddle it — a bartending technique that involves basically pressing or 'muddling' ingredients together with a tool. However, it's easier to get a more consistent flavour if you choose to infuse, instead."
And how should I serve it?
Ensure you serve the finished product in the perfect glass. A coupe or martini glass both work well, says Moncrieffe, just remember to keep it chilled! Dartington Crystal sells a set of six high-quality, classic margarita glasses, which are perfect for showing off your new margarita-making skills at your next dinner party.
For those who are serious about margaritas, you'll even find dedicated cocktail-making kits, which come with Cointreau, tequila, sea salt (for the rim), a measuring cup, shaking kit and lime squeezing tool — basically, everything you could ever need to make the perfect Mexican cocktail.
Buy a pre-made margarita cocktail, created by Deano himself, online at mirrormargarita.com. Alternatively, visit Deano's bar, Hacha, in Dalston or Brixton, to try one of the best margaritas in town.