It's designed to get rid of unwanted hair, but could laser removal have any other benefits?
Tired of persistent waxing, shaving and plucking? You're not the only one. The global market for laser hair removal is valued at around £650m and is expected to grow by a further 18% between now and 2030, according to market research company Grand View Research.
Laser hair removal works by heating and destroying hair follicles in the skin with a high-beam laser to inhibit or delay growth in the future. "Most clients can start to see a noticeable difference from the first session," says Shaila D'Ammestro, a practitioner at Pulse Light Clinic, which has four clinics in London. "The hair falls out with minimal regrowth."
The procedure targets hair in the growth phase of the hair cycle, with six to eight weeks of sessions advised for maximum success. Aside from being a long-term option for hair removal, the treatment is also being touted as a solution to skin conditions resulting from ingrown hairs. These form when hair follicles are trapped beneath the dermis of the skin and can't penetrate through the surface — resulting in spots or bumps. Post-inflammatory hyperpigmentation and scarring are common reactions to this pattern of hair growth.
So how can laser removal help? "Pigmentation and, often, scarring of the skin reduce as the individual doesn't have to pluck or wax, and has limited interaction with the affected area, allowing the skin to heal and repair itself," says D'Ammestro. "The less the skin is tampered with, the less likely it is that scars and lesions will form."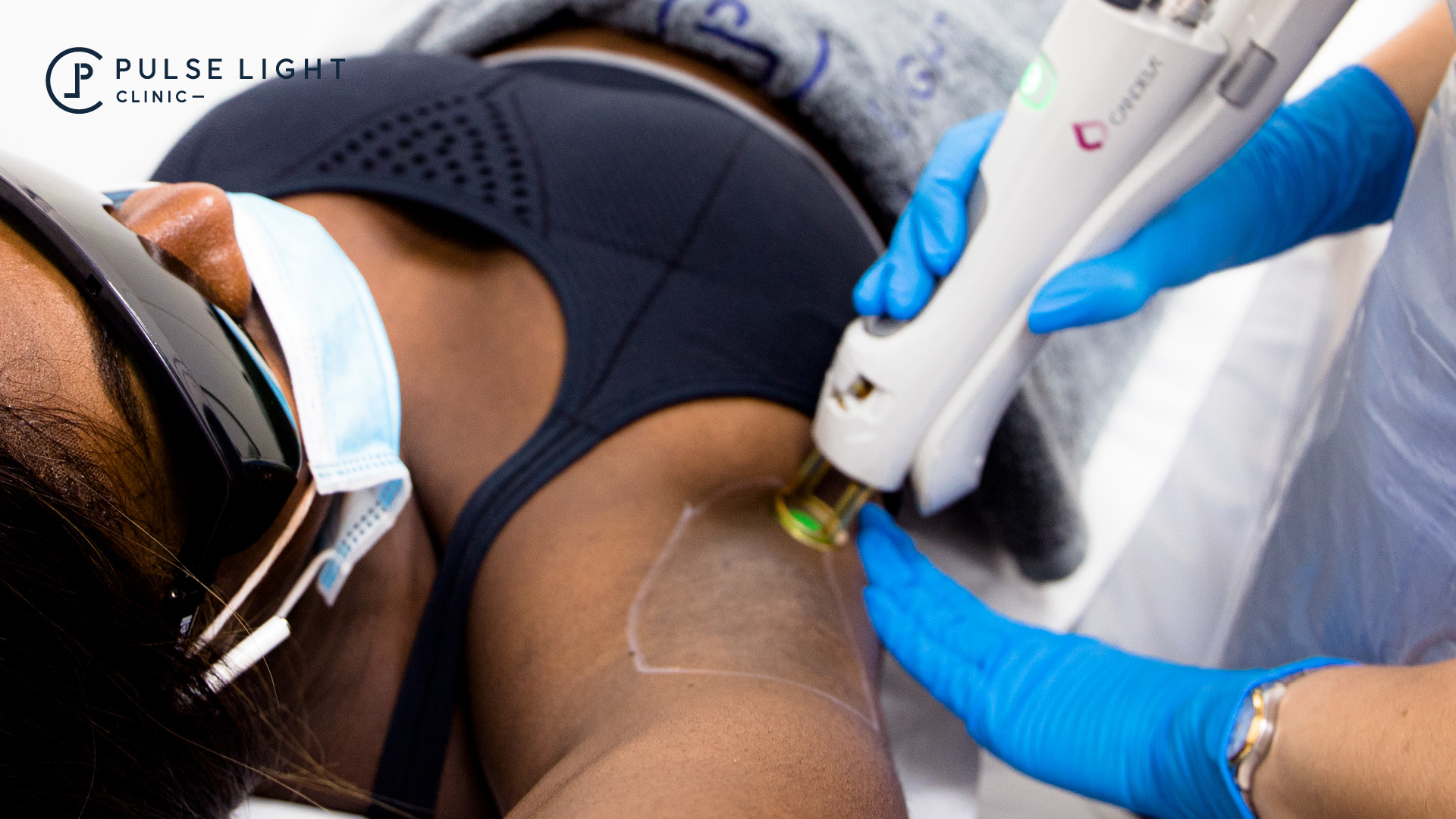 Is it suitable for everyone?
"Laser hair removal won't work on blonde, grey or fine hair," explains Dr Hayley Leeman, consultant dermatologist at the Cadogan Clinic, in Chelsea, London. "Consider electrolysis for this."
Dr Leeman explains there are several potential risks with laser hair removal, including pain or discomfort, post-inflammatory pigmentation or discolouration, or blistering and burning. However, risks are minimised when the appropriate laser settings are used for the individual's skin type. Patients are advised on what specific laser to use when undergoing the procedure.
Those with fair skin, for example, are more likely to benefit from the Alexandrite laser, while dark-skinned patients are usually recommended the longer-pulse Nd:YAG laser. "This is because dark-skinned patients have more melanin in their skin," explains Dr Leeman. "The wavelength of the Nd:YAG minimises the melanin absorption from the skin and just targets melanin in the hair follicle."
Patients are also advised to not use topical products that could disrupt the effectiveness of the treatment, and heighten sensitivity and fragility.
According to Dr Leeman, retinols, fake tan, hair removal and bleaching creams are among the chief culprits. "Bleaching products can bleach the hair follicle, which means the laser is no longer able to target the melanin in the follicle effectively leading to treatment inefficacy," she explains. D'Ammestro points out that some forms of medications, such as antibiotics, can cause a reaction or skin bruising after treatment.
If you wish to undergo laser hair removal, see a professional who can advise appropriately and save you time, money and potential adverse side effects.
Words by Josephine Platt