Margot Robbie's red-carpet looks have sparked a backlash in the fashion world for several years, largely due to her longstanding partnership with Chanel. Where the star of The Wolf Of Wall Street and I,Tonya really excels, though, is with her dressed-down outfits. Here's how to master her casual style.
If you've been on the internet at all this week, you might have seen the ongoing conversation surrounding Margot Robbie and her Chanel contract, with fans urging her to cut ties with the French maison.
The backlash arrives after a flurry of red carpet looks in which the actress is pictured in a series of decidedly unflattering styles at the hands of Chanel and stylist Kate Young. Critics felt so passionately about the subject that her recent appearance in a slinky green Bottega Veneta dress sparked joy.
Off the red carpet, however, Robbie is the master of understated yet chic street style, taking advantage of easy silhouettes and neutral colour palettes. Here are some of her best looks and how you can mimic them.
Margot Robbie does understated retro
This look from the set of Once Upon A Time In Hollywood, although a costume, is easily one of Margot's most memorable. Costume designer Arianne Phillips managed to seamlessly embody the vibrant spirit of Sharon Tate — the US actress, model and wife of Roman Polanski — on whom Margot's character is based, while paying homage to typical 60s style.
When you think of mini-skirts and go-go boots, however, you might not associate them with wearability. But the colour palette means the look is extremely wearable today, while the snug fit of the turtleneck is universally flattering.
Shop the look
Skims Fits Everybody Turtleneck Stretch Woven Top, £54, selfridges.com; Arket Cotton Twill Mini Skirt, £45, arket.com; & Other Stories Squared Toe Leather Boots, £155, stories.com
Margot Robbie wears the ultimate power suit
It's no secret that Margot Robbie has a penchant for suits, having been pictured in many different styles over the years. Her most recent look, an oversized, crimson-red leather co-ord, proves that suits, although often reserved for corporate affairs, can indeed be cool.
To transform your look from business casual to street-style approved, opt for less structured tailoring — as seen in Margot's leather look — and alternative textures. A coloured leather blazer, for example, is a great staple piece to dress up any outfit.
Shop the look:
Warehouse Faux Leather Wide Crop Trouser, £55.20, warehousefashion.com; Warehouse Single Breasted Modern Faux Leather Blazer, £71.20, debenhams.com; Koi Chocolate Brown Platform Boots, £47, koifootwear.com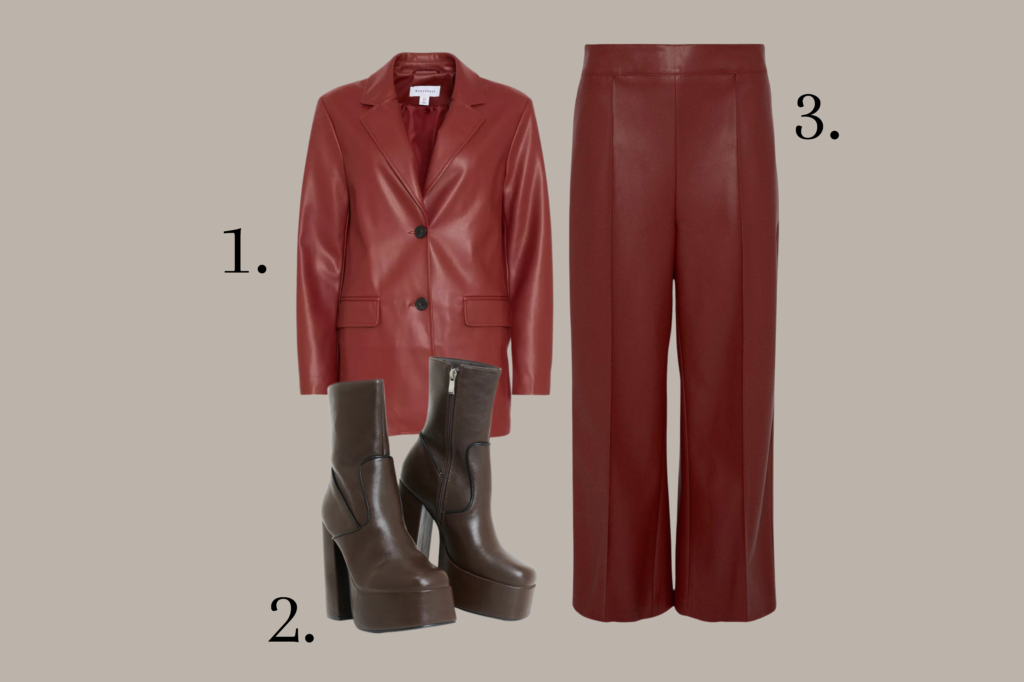 Margot Robbie in the It girl combo
A blazer and jeans will always be the ultimate cool girl outfit, providing a clean, pulled-together look with minimal effort. It's become the uniform of many celebrity It girls, including Hailey Bieber, Emily Ratajkowski and, of course, Margot Robbie.
The actress was recently seen sporting light blue straight-legged jeans, an oversized blazer and black heels, adding a pop of colour with a bright green, woven crossbody-style bag.
Shop the look:
Abercrombie & Fitch Ultra High Rise 90s Straight Jean, £75, abercrombie.com; Everlane The Long-Sleeve Supima® Square-Neck Bodysuit, £43, everlane.com; Steve Madden Lustrous Pump Black Leather, £110, stevemadden.co.uk; LRM Goods Lucia Woven Cross Body, £95, lrmgoods.co.uk
Margot Robbie does trans-seasonal style
Those who live in a city and are heavily reliant on public transport will know the struggle of navigating a spring-summer wardrobe. One moment you're too hot, the next, too cold. A trench coat is a great transitional style staple, perfect for layering both up and down thanks to its lightweight finish.
Margot Robbie recently showed us how to wear the timeless piece, stepping out in a grey trench coat paired with a pleated miniskirt of the same colour, with an oversized collared blouse, and finished perfectly with a Prada knit. It's a perfect example of how versatile a trench coat truly is.
Shop the look:
COS Oversized Tailored Shirt, £79, cos.com; Zara Box Pleat Skorts, £25.99, zara.com;
Prada Logo Wool and Cashmere Sweater, £1,300, mytheresa.com; Weekday Zenni Oversized Trench, £129, weekday.com; Ganni Mid Chelsea Boots, £289, flannels.com
Words by Layla Turner