There's an alarming rate of suicide among men compared to women, so organisations and support groups have been popping up across the UK in a bid to get men talking.
According to the Office for National Statistics, there were 5,224 suicides registered in England and Wales in 2020. Of these, a staggering 3,925 deaths — 75.1% — were men, a sad statistic that follows a consistent trend dating back to the mid-1990s.
This alarming figure can, in part, be linked to the stigma still attached to admitting to mental health problems, and the fact men are less likely to open up about their worries and stresses to anyone. A survey conducted by Priory, a leading independent provider of behavioural care in the UK, found that 77% of men polled have suffered with common mental health symptoms such as anxiety, stress or depression, but that 40% of men have never spoken to anyone about it.
Dean Corney, from The Fire Fighters Charity, says: "Many men don't own up to having problems to mates, and especially not to their partners and families. They don't like showing weakness or failure and getting them to talk to others is difficult."
Thankfully, new ways to get men talking are emerging. Here are three ingenious initiatives on a mission to boost men's mental health.
Walking your way to health
Spending time in nature is beneficial for mental health, and referred to as ecotherapy. Maxwell Ayamba founded 100 Black Men Walk for Health to entice middle-aged black men into the countryside, but it's since relaunched as Walk4Health. "In spaces, such as the countryside, there's freedom and a sense of altruism, but above all feelings of being connected with nature — with minds switched off from daily problems and worries," Ayamba says.
Similarly Dean, who struggled to cope with poor mental health after a traumatic incident at work, set up a male walking group with his colleague Mark Smith. With no expectation to talk, it began as a simple walking group, in which men came together weekly to be outside in nature. But before long, this weekly activity proved a lifeline for many, allowing them to talk with other men about their anxieties.
Groups such as these offer the space and freedom to connect with nature as well as other men, while also helping to address factors that can lead to mental health problems, such as isolation and loneliness.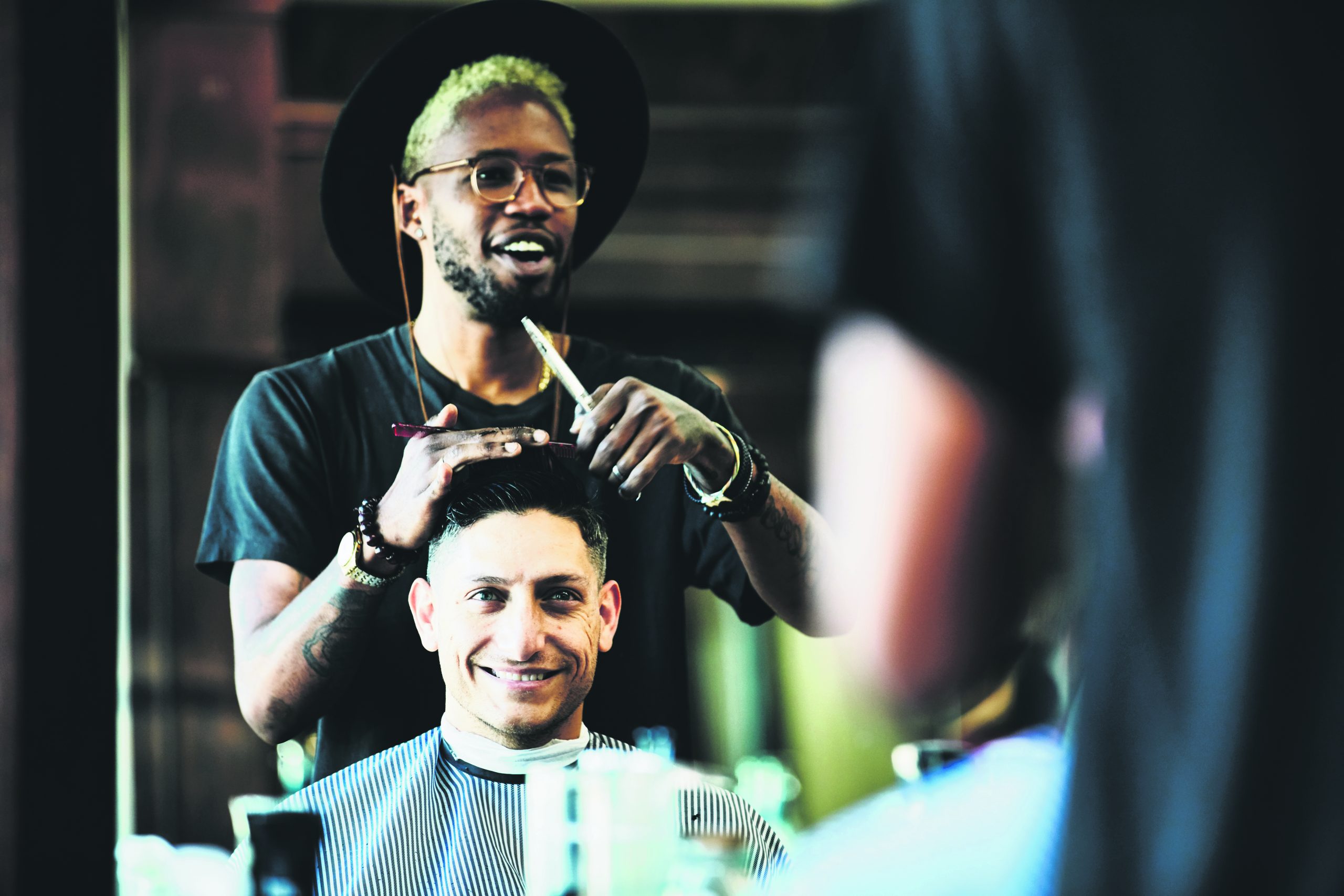 Talking it out
Whether it's walking or not, research clearly shows that talking can help improve mental health. For those less inclined or able to walk and talk, thankfully you don't have to ramble through nature to find someone who'll listen. The Lions Barbers Collective, a mental health and suicide prevention charity based in London, trains barbers in mental health awareness — helping them spot symptoms of poor mental health and encourage men to talk, all while sitting back having a trim or a shave. Since its inception, the charity has trained hundreds of barbers around the world and has gone on to open its first permanent barber shop on London's historic Carnaby Street. All profits donated to raising awareness for suicide prevention and coaching more hair professionals in mental health support.
Open goal
There's nothing quite like football to breakdown barriers and get men talking to one another (in this country, at least). Shifting the topic from the weekend's results to mental health can be challenge, however, which is where FC Not Alone comes in. The UK charity is harnessing our love for the beautiful game to encourage men to open up, both on and off the football pitch. As well as organising no-judgement training sessions, matches and tournaments, FC Not Alone has cultivated a loyal online following thanks to its collection of insightful blog posts linking football to a range of pressing mental health subjects, from masculinity to sexuality. Keep your eyes peeled on the FC Not Alone website and social channels for upcoming training session announcements.
Other organisations men can turn to — or that those around them can turn to for advice — include Improving Access to Psychological Therapies (IAPT), NHS Urgent Mental Health Helplines, Campaign Against Living Miserably (CALM), Men's Health Forum, and the Samaritans helpline, 116 123.
Written by Ulrike Lemmin-Woolfrey & Jack Carter