Are you craving a holiday where sleeping is the only item on your checklist? You're in luck — the latest travel trend is all about meditation, pillow menus and sleep-aiding teas
Between the crippling effects of the pandemic and the ongoing cost of living crisis, it's no wonder sleep has taken a back seat. A study conducted in late 2021 by life insurance company Direct Line showed that nearly 71% of adults in the UK do not get the recommended seven to nine hours' sleep, while 14% of Brits survive on dangerously low levels of sleep every night (under five hours).
"The need for regular, good-quality sleep has never been so great," says Dr Guy Meadows, co-founder and clinical lead of Sleep School, an app helping people improve their sleep through bespoke plans and expert advice.
"Our routines have changed after the pandemic, and people working from home often find it tough to detach from work. Anxiety, loneliness, health and financial worries have all flared up, making sleep more difficult."
With poor sleep being linked to lower mood, irritability and lack of concentration, as well as more serious chronic diseases and conditions, people are taking drastic measures to ensure they're getting their eight hours.
View this post on Instagram
Pack your bags and doze off
The travel industry is now responding to the need for sleep by inviting travellers to swap an action-packed trip for a sleep retreat.
More and more hotels are offering guests a variety of sleep-focused amenities. They'll let them choose their preferred pillow from a special menu, help calm them down before bedtime with a yoga or meditation session, and even invite them to sleep on a smart mattress that tracks their sleep cycle. Others simply focus on the need to disconnect from technology and minimise screen time in order to rest and sleep better.
"We've seen a big uplift in people looking to get away from their devices, and wanting a good night's sleep is one of the biggest drivers of that," says Hector Hughes, co-founder at Unplugged, the UK's first off-grid retreat, offering guests a three-night digital detox while surrounded by nature.
"We live in an increasingly connected world where the lines between work and personal time are blurring. Our guests often share their experiences of being constantly 'on', which leads to elevated stress levels and a diminished ability to switch off and rest."
Using your phone before bed is known to restrain the production of melatonin, the hormone that controls your sleep-wake cycle. Unplugged's three-night digital detox is based on a study which found that spending 72 hours disconnected from technology and surrounded by nature can positively influence your mind and allow you to fully rest.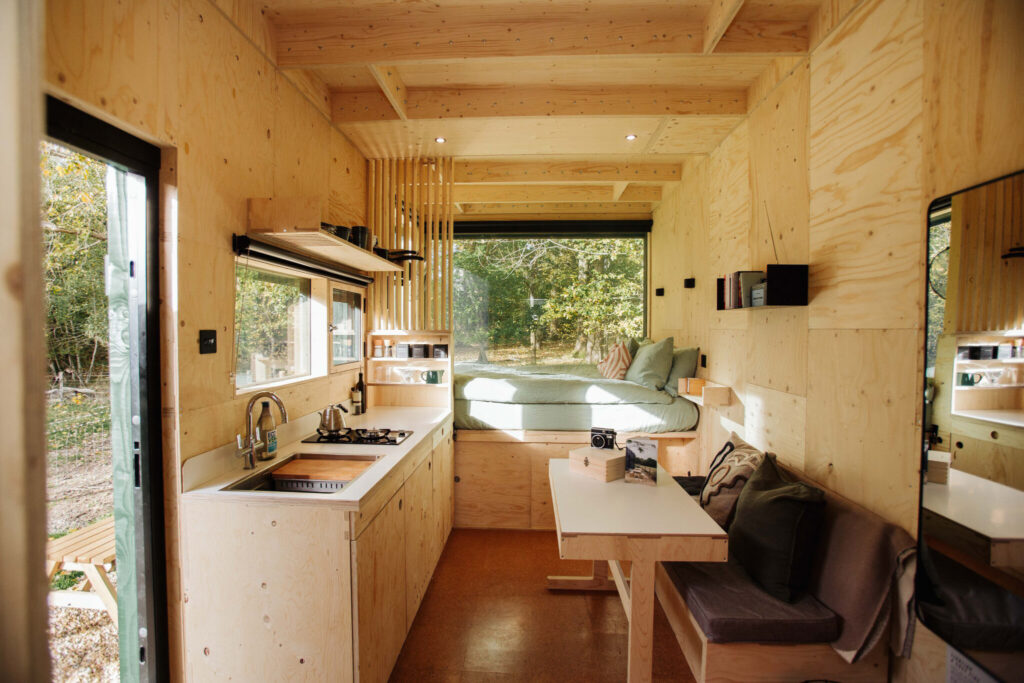 Picture staying in cosy cabins in idyllic locations — think expansive meadows and glistening lakes — everywhere from Brighton to North Wales (there are 10 destinations to choose from). Cabins come fitted with floor-to-ceiling windows and, of course, ultra-comfortable beds, complete with plush sheets and covers from luxury homeware brand Piglet in Bed. All contribute to outstanding sleep, helping you to wake up naturally in the morning, without a digital alarm, feeling restful and rejuvenated.
"Being surrounded by nature is proven to help sleep. Plus, we give people what they need to be able to spend three days offline. This includes a Nokia, a map, a polaroid camera and a bunch of books and board games to help switch off," says Hector.
Other than allowing you to enjoy sleep as much as possible during your holiday, sleep retreats often aren't the answer to long-term sleep-related problems, let alone serious sleep disorders such as insomnia — for which you will need to speak to a medical professional.
Dr Guy stresses that "if you are considering going on a sleep retreat, it's important to manage your expectations. It takes time to develop new, long-lasting, healthy sleep habits, so a weekend retreat is unlikely to be able to solve your sleep issues. Consistency, rather than intensity, is key."
View this post on Instagram
Five retreats to book in England for a sleep-focused stay
Sea Containers London
Reflecting the old-world finesse of a 1920s cruise liner, Sea Containers London is an ideal choice for the sleep deprived. Book the Ship Shape Suite to use the room's private fitness amenities, which include a Peloton bike, dumbbells, mat and weights for an endorphin-boosting workout. Then treat yourselves to a soothing massage using the Theragun Pro, before sleeping in the 8 Sleep Pod 3. Designed by Eight Sleep, this super-smart pod includes a water thermo-regulated mattress which maintains the perfect sleeping temperature. It also tracks sleep stages throughout the night, as well as your respiratory rate and resting heart rate, so you can stay on top of your sleep cycle.
Sea Containers London's Ship Shape Suite is available to book from £220 per night, via seacontainerslondon.com.
The Cadogan, A Belmond Hotel, London
For a good night's sleep curated by an expert, book a stay with The Cadogan. The hotel has teamed up with esteemed Harley Street hypnotherapist and sleep expert Malminder Gill to offer guests its Sleep Concierge service. This includes a pillow menu with offerings for those who sleep on their back or on their side, a weighted blanket, bedtime tea service and a scented pillow mist to help you nod off in no time. If you download the hotel app, you can also enjoy Malminder's sleep-inducing meditation recording, or you can book an in-room hypnotherapy session with Malminder herself.
Sleep Concierge is a complimentary service for all guests at The Cadogan, A Belmond Hotel, available to book through the concierge team. Rates start from £930 per night for a Superior Room.
Kimpton Blythswood Square, Glasgow, Scotland
Spend an hour or two in the spa of this smart city-centre hotel and you'll quickly forget you're in the heart of Glasgow. Its terracotta and charcoal grey hues were chosen to transport guests to the rugged serenity of the Hebrides, and once you've tried one of the treatments, you'll be kissing sleepless nights goodbye. Mineral-rich, hand-harvested seaweed is flown in daily here from the archipelago and is used in the hotel's organic product range for facials, massages and hot, sea salt-infused baths. Check-in for a night and enjoy complimentary access to the Thermal Experience, which involves a series of wet and dry, warm and cold rooms — go from one to the other, alternating between hot (saunas and steam rooms) and chilly (ice fountains and cold showers), which is meant to increase blood flow and improve your mood.
Rates at Kimpton Blythswood Square start from £172 for the Twin or the King room, and spa treatments start from £99.
View this post on Instagram
Marley cabin, Unplugged, North Wales
There are plenty of picture-perfect locations to choose from, should you decide to book Unplugged's digital detox. LLangollen, in North Wales, is one of the best, with its views of the Dee Valley, an Area of Outstanding Natural Beauty. Embrace the analogue life, where all you'll really need to be happy will be a hot shower, a king-sized bed and a cassette player (remember those?). You'll also be offered an instant camera to capture the beauty all around, fresh tea and coffee, as well as board games and books — everything but your laptop or iPhone really. Combine all that with walking, canoeing and mountaineering, and you'll be sleeping peacefully each night.
A three-night stay at the Marley costs £450.
The Langham London
The Langham has gone all out to help its guests achieve a good night's rest, with its Sleep Matters by Chuan programme. Opt for the Chuan Spa Bespoke Bath, where the hotel will draw you a sumptuous bath with essential oils right there in your room, or book the Auricular therapy, which involves stimulating your ears to improve blood circulation. Alternatively, book the Sleep Matters Refresh and Renew Package which combines an overnight stay with perks such as a 60-minute CBD massage, ear plugs and sleep masks, and the option of late check-out.
The Langham's various sleep services are available to book via langhamhotels.com. Rates start from £560 for a Superior Room.