Tofu is a fantastic vegan protein source, say the women behind plant-based food blog Healthy Twists. Here's how to cook it.
If you're looking to expand your vegan recipe repertoire, head to the plant-based food blog Healthy Twists, created by Cheshire mums Claire Swift and Sarah Biagetti. The food bloggers have amassed nearly 80,000 followers on Instagram with their easy-to-follow meat- and dairy-free recipes and innovative foodie combinations.
"Our mission is to help you and your families increase the number of plant-based meals you eat each week," they say. Healthy Twists is packed full of easy-to-make, delicious plant-based recipes for breakfast, lunch, dinner, snacks, desserts and for extra special occasions. All are inspired by the health issues they experience between them, which they find benefit from a vegan diet. "We are a muddle of food intolerances, bloating, acid, IBS, blood sugar control, diabetic, migraine and transplant-owning humans with busy energetic lives — so eating healthily, keeping fit and active is key!'
Of their crispy tofu rice bowl, Claire says: "It's a deliciously simple, tasty and filling meal that's perfect for a weeknight dinner. We love to infuse tofu, and by marinating it beforehand it has time to absorb all the wonderful flavours. It tastes even better once it's pan-fried until crispy on the outside but still soft in the centre."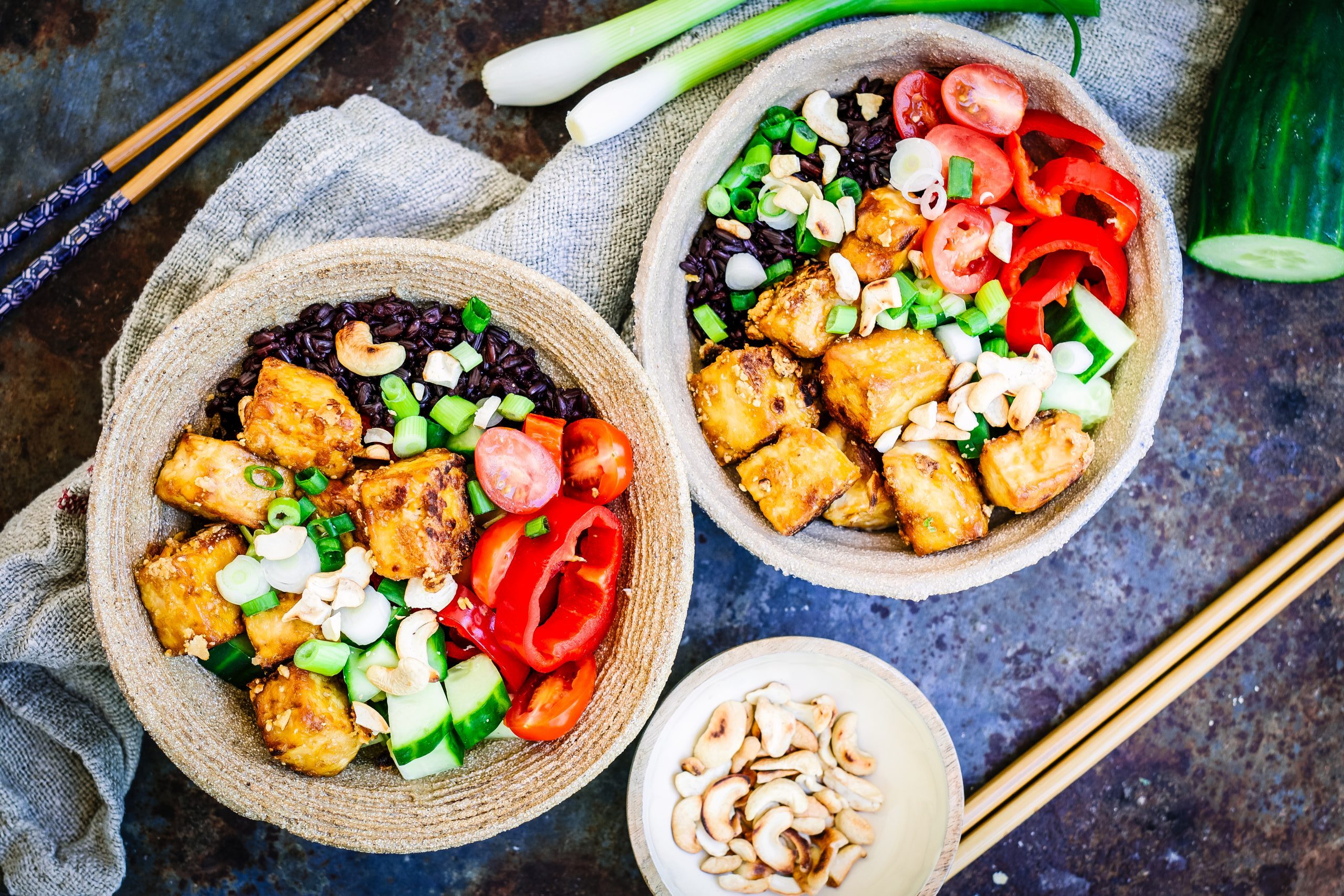 Vegan crispy tofu rice bowl
Serves: 2
Takes: 50 mins (30 mins to prep, 20 mins to cook) plus marinating
Ingredients
100g black rice
½ tsp vegan vegetable stock cube
280g extra-firm tofu
For the marinade
3 tbsp tamari
1 tbsp maple syrup
1cm fresh ginger, grated
3 heaped tbsp cornflour
To serve
handful of cashew nuts
1 tbsp extra virgin olive oil
1 sweet red pepper, sliced
4 spring onions, sliced
⅓ cucumber, sliced and quartered
Method
Cook the rice according to the packet instructions, adding the crumbled stock cube to the water while the rice is cooking. Once the rice is cooked, drain and set aside.
Drain and slice the tofu into bite-size pieces, then use a kitchen roll to dab off as much liquid as possible.
Put the tamari, maple syrup, ginger and garlic into a shallow bowl and stir together. Mix in the tofu, making sure all the pieces are covered. Set aside and leave to marinate for as long as possible, at least 30 mins.
Drain the excess marinade into a small pot, then sprinkle the cornflour over the tofu and stir to coat completely.
Gently toast the cashew nuts for a few mins, remove and set aside.
Put the olive oil in a medium pan and bring to a medium-high heat and then add the tofu. Pan-fry each side for a few mins until it's golden and lightly crisp.
To serve, divide the rice between the two bowls then add the red pepper, spring onions, cucumber and tofu. Scatter over the cashew nuts and drizzle the remaining marinade over the bowl.