Looking for recipes fit for royalty? Impress friends and family with these three plant-based dishes from top chefs and culinary creators — just in time for the Coronation on Saturday 6 May
King Charles III is among the most climate-aware royals, having spent much of his tenure as Prince of Wales vocally championing environmental and ethical issues around countryside conservation and animal welfare.
View this post on Instagram
And while our new monarch isn't a fully-fledged vegan or vegetarian himself, he's known to eschew dairy and earmarks several days a week to go meat- and fish-free. So, to celebrate the Coronation, we've pulled together three drool-worthy vegan recipes that you can easily make at home.
Read on to start planning the ultimate eco-friendly Coronation feast.
Beyond Coronation chic-king sarnie
Thought Coronation chicken was only for meat-lovers? Guess again.
Plant-based guru Sam Jones, of the No Meat Disco project, has created the perfect alternative, turning this poultry classic into a plant-based, sarnie delight.
The cook uses Beyond Meat's new Beyond Burger Chicken-Style products (available to buy from Sainsbury's) in his delicious 'Beyond Coronation chic-king sarnie' recipe, shared here. Expect 'chicken' that's crispy on the outside, thanks to the golden breading, and incredibly tender and juicy on the inside — suitable for carnivores, flexitarians, vegetarians and vegans alike.
"As a big Beyond Meat fan, I wanted to honour this month's momentous event, and the long-anticipated Beyond Burger Chicken-Style launch, with a dish fit for a king," says Sam. "Coronation sauce has been my favourite sandwich filler since I was a little boy and, over the years, I've come to perfect it. It's full of flavour and packs a punch with its sweet-and-spicy taste — and, of course, this recipe is completely plant-based."
Serves: 2
Ingredients
1 pack of Beyond Burger Chicken-Style or Beyond Fillet Chicken-Style
1 ciabatta loaf, halved lengthways
plant-based butter, to spread
salad
handful of fresh coriander (optional)
sriracha mayo (optional)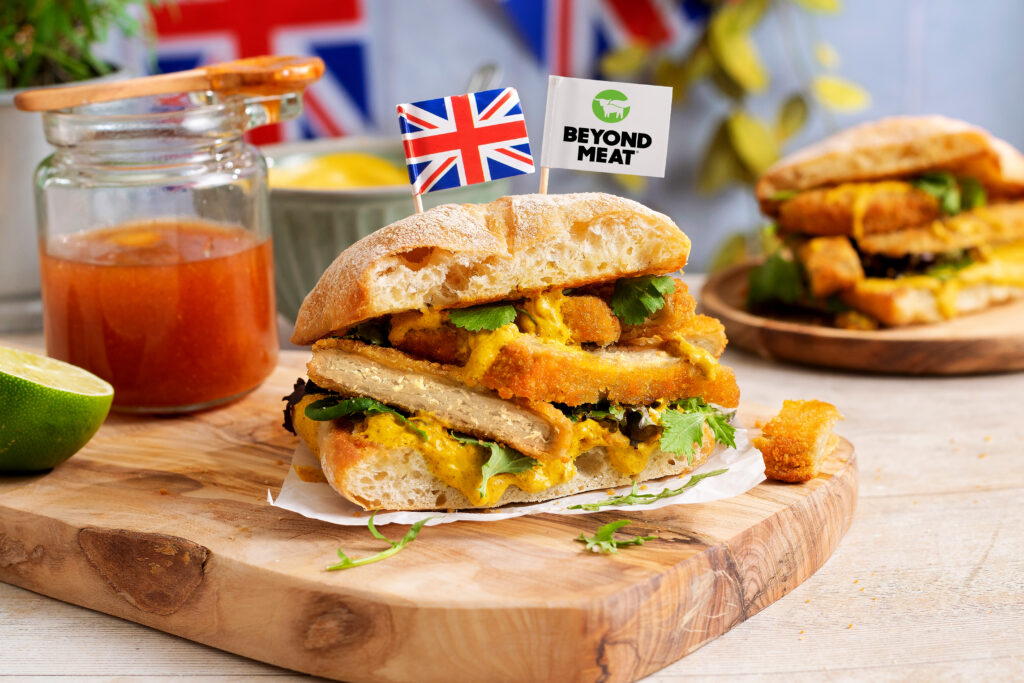 For the Coronation sauce:
1 cup coconut yoghurt
1 tbsp plant-based mayo
1 tsp crispy chilli oil
1 tsp Dijon mustard
1 tbsp curry powder
1 tsp turmeric
1 tsp garam masala
1 tsp garlic powder
1 tbsp mango chutney
½ lime
½ cup raisins
Preparation
If using an oven, heat to 220C, fan 200C, gas 7. Put the frozen burgers or fillets on a tray lined with baking paper and cook for 14 mins, flipping halfway, until golden and crispy. Alternatively, if using an air fryer, heat to 180C.  Put the frozen burgers or fillets in the basket and cook for 9 mins until golden and crispy.
Mix together all the Coronation sauce ingredients in a bowl.
Butter the ciabatta halves, then toast in a pan set over a low heat until golden.
Arrange the salad on the base of the toasted ciabatta, then load on the coronation sauce. Slice the Beyond Meat into strips and add to the ciabatta, topping up with more Coronation sauce. Sprinkle with the coriander and add a squeeze of sriracha sauce, if you like. Complete the sandwich with the top half of the ciabatta.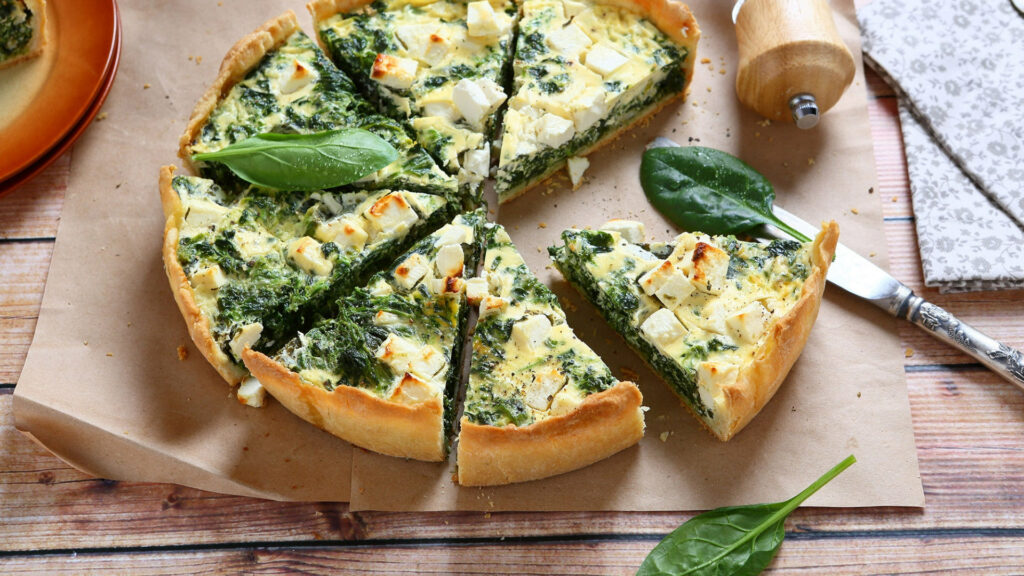 Vegan Coronation quiche
To put British tastes to the ultimate test, plant-based subscription service Grubby has carried out a poll to find the 10 most popular Coronation foods — and the results are in, with quiche ranking among the firm favourites.
"As we commemorate the King's Coronation this May, people across the country will come together to celebrate with street parties and, most importantly, enjoy British cuisine," says Fergus Smithers, head of food at Grubby. "Among the most popular searches for party food is the quiche."
"Quiche has earned its place as a beloved party food due to its versatility and delicious taste. It's a perfect street party food as it can be served hot or cold, and its wide range of fillings makes it suitable for a variety of dietary preferences."
King Charles would surely agree. In April, Buckingham Palace revealed the official dish of the upcoming occasion: a Coronation quiche, created with royal chef Mark Flanagan and unveiled on YouTube.
Tasty hot or cold, and great for sharing, this is an easy win for those looking to create a memorable centrepiece this weekend. See Fergus's plant-based take on the recipe below.
Serves: 6-8
Ingredients
1 roll pre-made vegan shortcrust pastry
220ml egg replacement (such as Crack'd)
100ml vegan single cream
50g grated vegan cheese, plus extra for the topping
150g spinach
100g broad beans
10g fresh tarragon, finely chopped
Preparation
Heat oven to 190C, fan 170C, gas 5. Roll out the pastry and dust with a little flour. Carefully place the pastry into a tart case, pressing it down into the edges. Line the pastry case with baking paper and fill with baking beans (rice works well, too). Bake for 15-20 mins until the pastry is partly cooked.
Remove the pastry case from the oven and let it cool slightly. Turn oven to 160C, fan 140C, gas 4.
Whisk together the egg replacement, vegan cream and grated vegan cheese in a bowl, then season with a pinch of salt and pepper. Tip the spinach into a frying pan and gently fry until wilted, then set aside on kitchen paper to absorb any excess liquid. Put the broad beans in a bowl of boiling water and cook for 4-5 mins.
To assemble the quiche, layer the cooked spinach and broad beans in the pastry case, then sprinkle over the tarragon. Gently pour in the liquid mixture, being careful not to overfill the pastry case. Top it all off with more of the grated vegan cheese and a final crack of black pepper. Bake in the oven for 40-45 mins until cooked through, then leave to cool for a bit and serve warm or cold.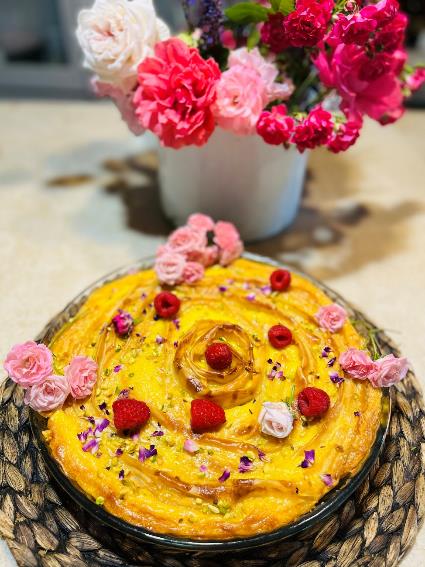 Vegan raspberry and lemon filo pie
There's something quintessentially British about the fragrant combination of tart lemon and sweet raspberry, and Jana Fritzsche, nutritional chef from UK healthy living and ageing platform Goldster, has leant into this for her Coronation creation: a vegan raspberry and lemon filo pie.
This is just the kind of refreshing delight you need to finish a springtime luncheon, or to win the rosette at your community's Coronation street party. With its layers of light filo pastry, the dish also showcases Greek gastronomic influences, paying homage to the nationality of King Charles's late father, Prince Philip.
"I wanted to suggest a dessert idea that touches on King Charles's heritage, his love for eggs, and includes a classic British ingredient — the custard," says Jana.
"The beautiful rosette shape fully unfolds while the pie is baking, which is a historical reference to celebratory royal rosettes and the symbolic English Rose. Topped with colourful raspberries or strawberries, and perhaps a few rose pedals to resemble jewels in the crown, this pie is truly fit for a king."
Serves: 6-8
Ingredients
375g filo pastry (8-10 sheets)
cinnamon, for sprinkling (optional)
500ml almond milk
¼ tsp custard powder (such as Bird's Original Custard Powder)
150g caster sugar (to be added only if the custard powder doesn't already contain sugar, otherwise your pie will be too sweet)
2 lemons, zested
125g fresh raspberries (or strawberries, blueberries or other berries)
100ml coconut oil, for brushing
icing sugar, for dusting
pistachios or almonds, chopped (optional)
rose petals, to serve (optional)
Preparation
Heat oven to 180C, fan 160C, gas mark 4. Lineand grease a 20cm cake pan. Heat the coconut oil in a small saucepan set over a medium heat.
Place the pastry ona work surface and gently cover with a damp cloth to prevent it from drying out and cracking. Set one sheet of pastry lengthways on the worktop or a chopping board, then gently brush with some coconut oil. Ruffle up the pastry, holding each end of the long side, to create a rosette. Place the pastry rosette in the greased cake pan and repeat with the remaining pastry and more coconut oil. Arrange each rosette lengthways around the centre rosette until you've filled the pan and have a large rosette.
Liberally brushthe top of the pastry arrangement with the remaining coconut oil and sprinkle with the cinnamon, if using. Bake for 15-20 mins.
Meanwhile, pour thealmond milk into a saucepan set over a medium heat and bring to a simmer. Tip the custard powder (and caster sugar, if using) and lemon zest into a medium mixing bowl and whisk well. Slowly pour in the hot almond milk, whisking constantly.
Remove the pan from the oven and pour over thecustard mixture. Return to the oven and cook for another 30 mins, or until the custard sets (during this second bake, the pastry may rise, but it will settle back into place once removed from the heat). Take the pan out of the oven and allow to stand for a few minutes. Garnish with the raspberries, and sprinkle over some rose petals and chopped nuts if you like, and serve warm.
For more information on King Charles's Coronation or the celebratory events taking place over the Coronation Weekend (between Saturday 6 May and Monday 8 May), please visit royal.uk