Head chef Giovann Attard's take on flavours from Sicily and Malta creates a divine combination at this restaurant in the heart of the capital
It's no secret that London's restaurant scene can go toe-to-toe with practically every other major city in the world. In each corner of the capital lies a different epicurean experience to sink your teeth into, but they're not always where you might expect, which is why I find myself in Charlotte Street, a charming stretch of chain restaurants and Michelin-starred eateries tucked away from the chaos of Oxford Street.
Charlotte Street's melting pot of gastronomic influences includes French, Japanese, Goan and Greek — to name just a few — but one of the more curious offerings is from Norma, the restaurant inspired by the food and culture of Sicily, but from a Maltese perspective. As the first independent establishment from the team behind luxury hotel The Stafford London, Norma offers a more relaxed dining affair, but still oozes as much opulence as its sister restaurants.
Set across three floors of a characterful Victorian townhouse, diners are invited in through the restaurant's street-side terrace before entering a low-lit, paisley-tiled hallway, which leads to the golden-hued dining room. At the far end is the restaurant's conservatory room, where green foliage hangs from the skylights above. Upstairs, on the second floor, you'll find plush-pink booths lit delicately from the chandeliers above — a delightfully romantic setting.
A final flight of stairs leads me to Etna, the intimate private dining room named after Sicily's infamous and active stratovolcano. I take my seat at the grand table to sample Norma's new feasting menu, A Journey Around Sicily — a unique dining concept fusing two delicious cuisines, Sicilian and Maltese, to see if this marriage of Mediterranean flavours has what it takes to become London's next big foodie trend.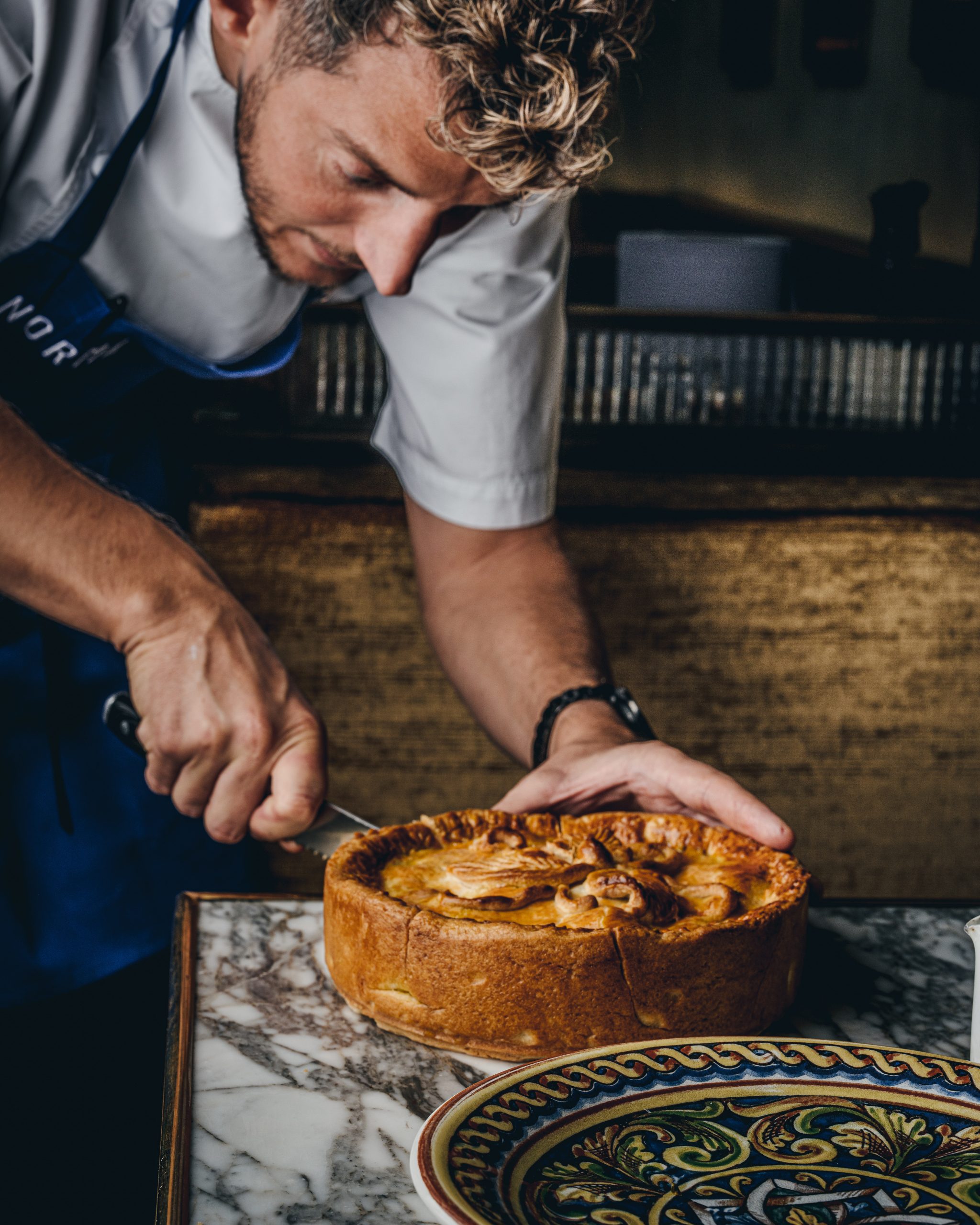 Meet the head chef
Although Norma first opened its doors 2019 as a Sicilian-inspired restaurant, new head chef Giovann Attard is now at the helm, bringing with him an authentic Maltese take on Sicilian food. Having grown up on the Maltese island of Gozo — situated between Sicily and north Africa — his menus are inspired by the island's Moorish heritage.
Due to Malta and Sicily's geographical proximity, much of Giovann's upbringing in Gozo was inspired by Sicilian recipes, which he is now implementing at Norma via thick pastry pies, sensational seafood and crunchy cannellinis.
Sicilian swagger
Like all good Italian feasts, this one starts with freshly baked focaccia and golden olive oil. It's only after I've devoured a chunk of this delicious, rosemary-infused bread, that I remind myself that this is only a snack. If there was ever an early sign that tonight's food's going to resemble more of a king's banquet than a three-course dinner, then this is it. Aside from the focaccia, the table is also decorated with bowls of Nocellara del Belice olives, native to Sicily.
Next up is a beloved Italian delicacy: arancini. Giovann explains the male and female forms of these Italian rice balls as arancini is, grammatically speaking, plural in Sicilian. Masculine arancinu comes in mini cones — originally derived in eastern Sicily and shaped to resemble Mount Etna — whereas female arancina is traditionally formed in rounded balls. Naturally, Giovann has served both on his feasting menu, filled with saffron, beef ragu and peas. As one of my go-to choices at any Italian restaurant, I have high hopes for this arancini as soon as I spot it on the menu — and it doesn't disappoint. The creamy rice and touch of saffron melt in my mouth and it's utterly delicious. It's worth visiting Norma for a plateful of these alone.
While pasta is often the main event during most meals in Italy, this course signifies that the feast is only just beginning. Giovann hand serves Caserecce al Pesto Trapanese — a Sicilian twist on classic pesto, which is made with blanched almonds instead and one I much prefer to traditional basil green pesto.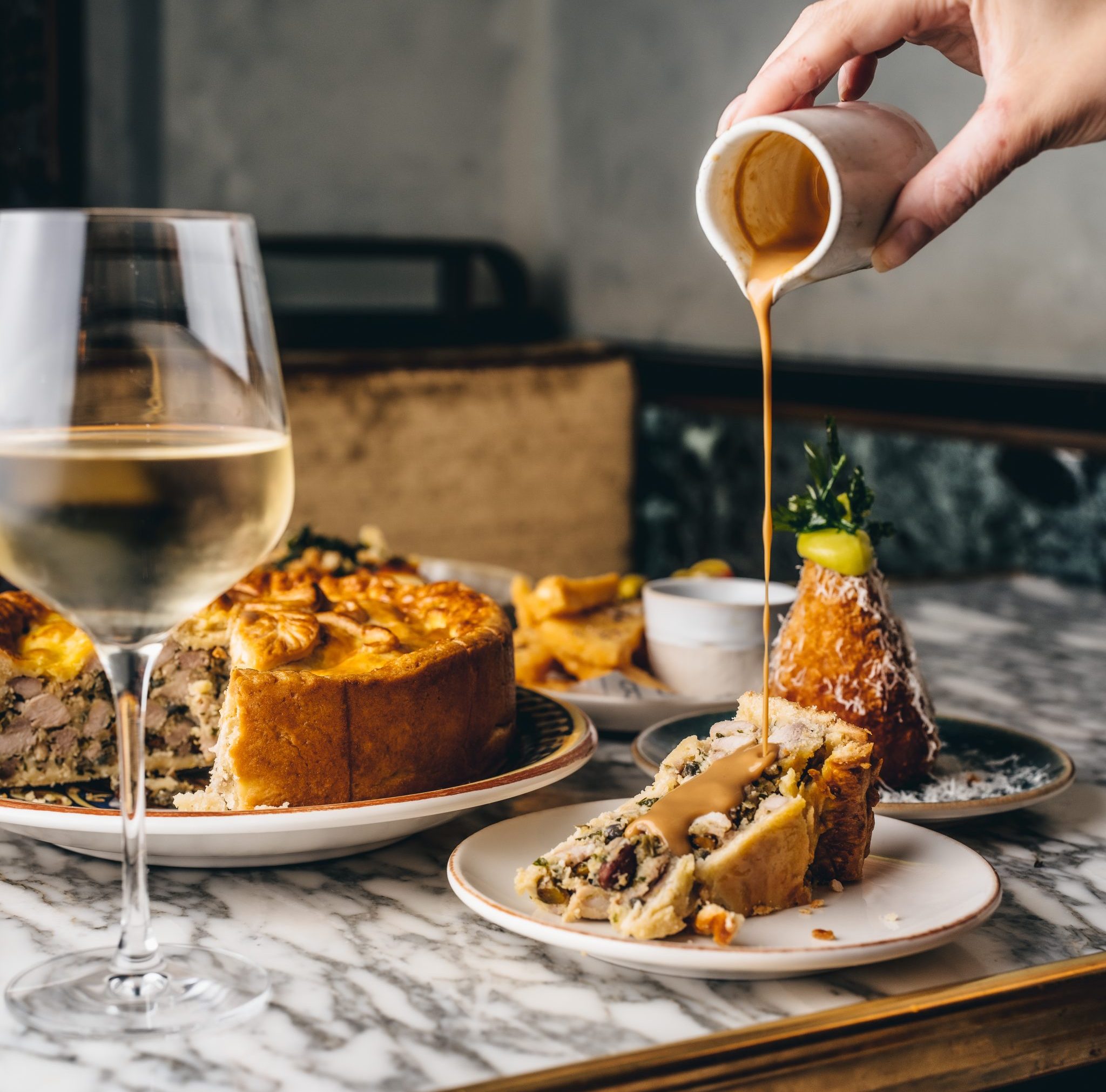 Time to indulge
We move onto large plates, which are piled high on hand-painted platters, where I'm served a Messina-style swordfish roll and a thick-slice Sicilian chicken pie, otherwise known as Pasticcio di Pollo. Mixed with almonds, pistachios and capers and almost resembling an English-style stuffing, the hint of lemon zest and parsley in the chicken provide a freshness and zing that cuts through the rich pastry. Giovann explains he only uses two lemons to season this dish, and I immediately google the recipe so I can bake it at home.
The wine pairing with this final dish is Sherazade Nero d'Avola, which is one of the restaurant's best sellers. This Sicilian ruby wine has been dubbed 'the red you don't expect' thanks to its plum and cherry notes followed by a saline aftertaste. This wine is surprising and perhaps not for those who aren't keen on adventurous flavours. It's an ode to southwestern Sicily and the vineyards are planted on clay soils, which are rich in limestone. It retails for £46 at Norma.
I leave Norma satisfyingly full, both on food and appreciation for Sicilian-Maltese cuisine. While much of the food served this evening arrived on my plate in traditional Italian forms we know and love — pasta and arancini, for example — Giovann's fervour for Maltese flavours sets it miles apart from other conventional Italian restaurants in the capital. And for that reason alone, I will be returning to Norma sometime soon and look forward to seeing what else the restaurant has to offer.
Book your table at Norma now. Find the restaurant at 8 Charlotte Street, Fitzrovia, W1T 2LS and book A Journey Around Sicily feasting menu from 1 November 2022 for £120 per person, with other menus starting from £55 per person.