Add a twist to your festive weekend escape at one of these exciting European theme parks.
Few things are more conducive to a festive mood than a winter break at a theme park. The best amusement parks tend to involve a variety of rides and attractions, paired with fewer people and shorter queues. Add in that extra Christmas sparkle from the festive markets that some of them host, and you've got yourself the ultimate theme park experience.
We've rounded up three European parks tailor-made for winter fun, each in its own inimitable style — picture superhero-inspired rides, splendid Christmas parades and stunning light shows.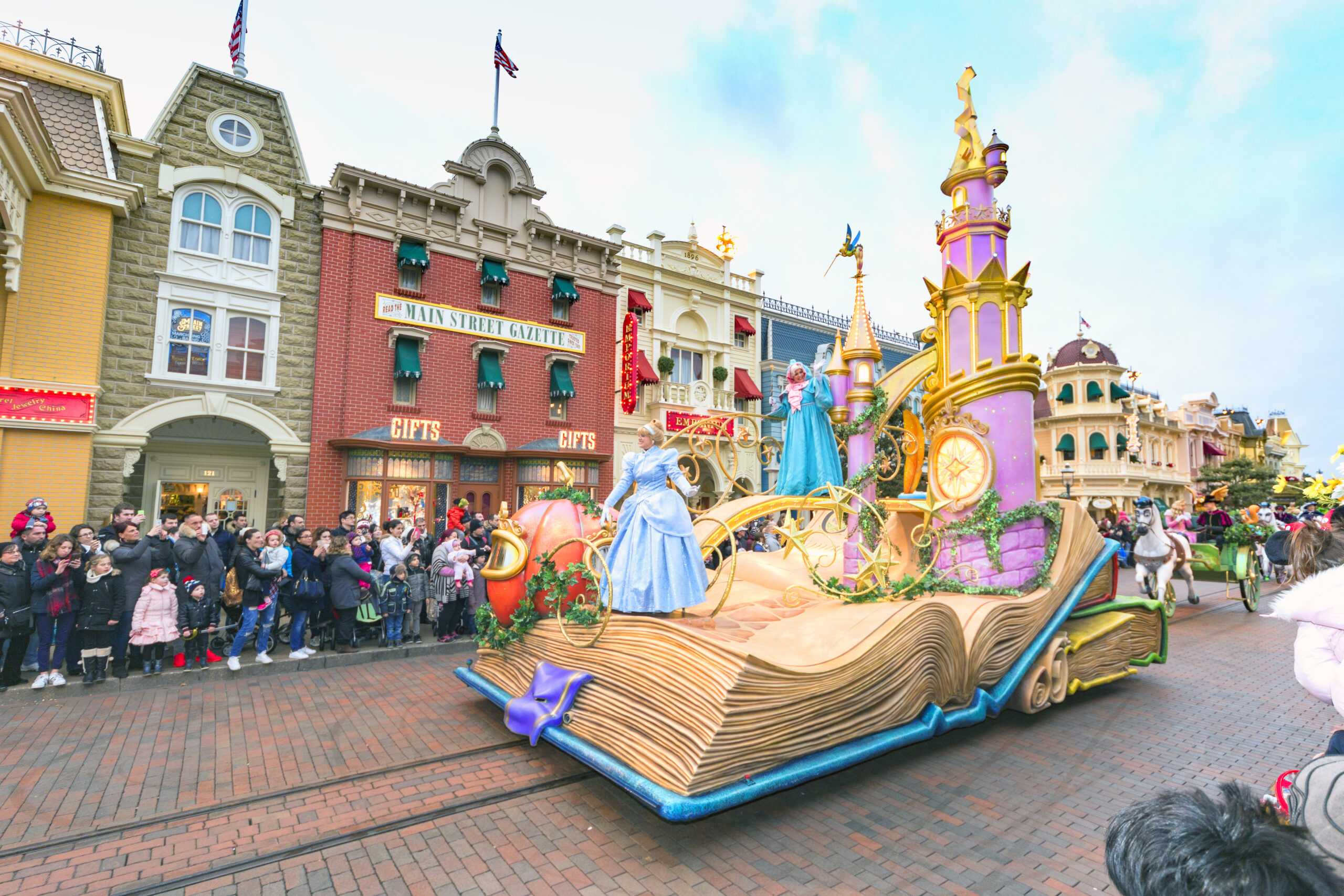 Disneyland Paris, for epic family-friendly adventures
The festive season feels extra-special at France's most-visited attraction this year, with Disneyland Paris's Enchanted Christmas (from 12 November to 8 January) celebrating the park's 30th anniversary.
The latest attractions at the park include the Avengers Campus zone, with two Marvel-themed rides, and the Disney Hotel New York, hosting the world's largest collection of original artworks from the superhero franchise.
The much-loved night-time spectacular Disney Dreams! Of Christmas (with holiday-themed musical segments from Disney films) returns, together with Mickey's Dazzling Christmas Parade!, the musical Let's Sing Christmas! and a winter market.
Meanwhile, hotels are serving up indulgent festive menus for guests. Step into the Red Garter Saloon at the cowboy-themed Disney Hotel Cheyenne, for instance, for a Yuletide-meets-Wild West vibe and the rum of your choice.
The best and most eco-friendly way to get to Disneyland Paris is by Eurostar. Direct services from London St Pancras to the park itself take a little under three hours.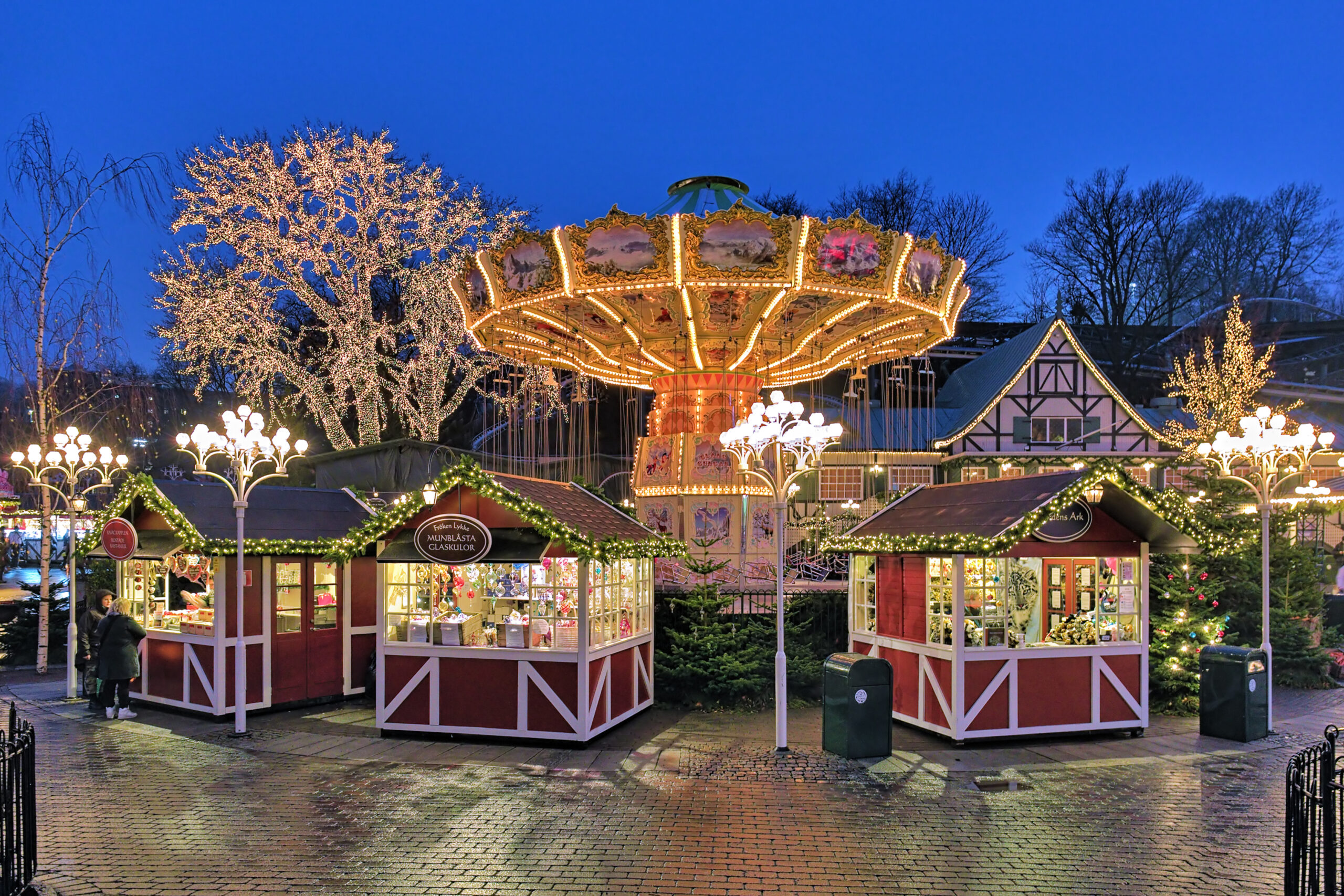 Liseberg. Photo 64074839 © Markovskiy | Dreamstime.com
Liseberg, Austria, for festive city breakers
Open for Christmas from 19 November to 30 December, the 100-year-old theme park of Liseberg — in the centre of Sweden's second-biggest city, Gothenburg — continues to reinvent itself. Among the newest attractions here is the retro-themed Luna Park, equipped with the exhilarating four-rotating-arm Tempus ride and the Turbo motorbike-and-sidecar carousel. For the festive season, the park also hosts Gothenburg's biggest Christmas market, complete with ballet on ice, a skating rink and live concerts (with acts to be announced).
Ahead of the opening of the Grand Curiosa Hotel, which will include all sorts of curiosities and odd decor, accommodation at Liseberg this Christmas takes the form of cosy woodland cabins and B&Bs — all within easy reach of the attractions and Gothenburg itself — as well as Hotell Heden in the city centre.
Christmas in coastal Gothenburg is enchanting in its own right, with the Haga (Old Town) Christmas market taking centre stage, along with concerts, ice skating and delicious festive treats, including glögg, the popular spiced mulled wine.
Daily direct flights from London to Gothenburg take less than two hours.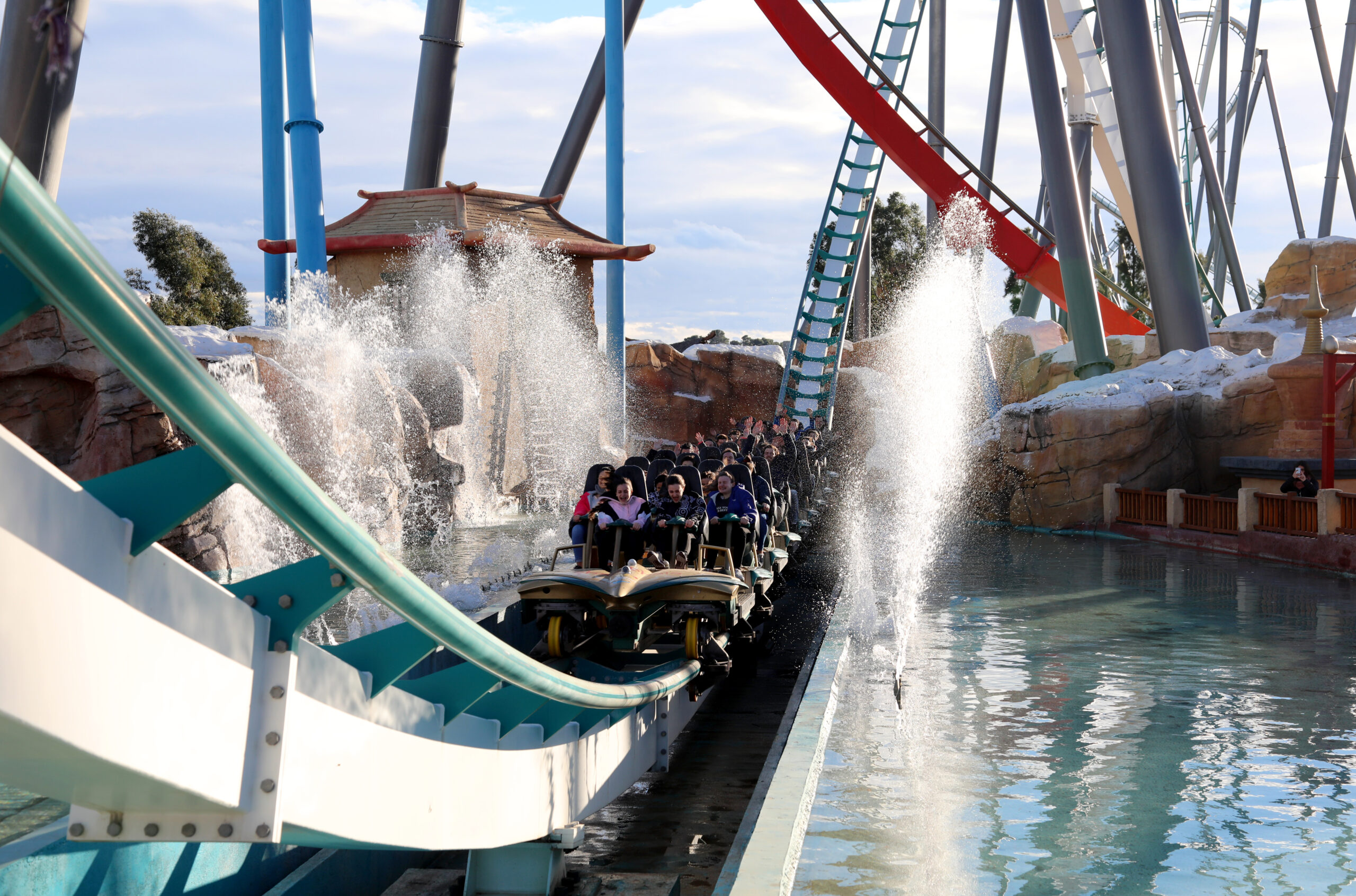 PortAventura, Spain, for adrenaline junkies
With many record-breaking rides — including Red Force, the tallest and fastest rollercoaster in Europe, in the motor-racing-themed Ferrari Land area — PortAventura in Spain draws thrill-seekers from far and wide.
Christmas here runs from 19 November to 8 January, with each of the park's areas (from Sesame Street-themed SésamoAventura to one inspired by colonial China) hosting festive shows that add to the main parades and entertainment offerings. These include the Christmas World extravaganza, a musical show comprising spectacular lighting, dancing, singing and awe-inspiring acrobatic numbers.
PortAventura is well set up for short breaks, with six hotels — three Wild West-themed, and one styled as a fishing village. Alternatively, you could stay in Barcelona, which has direct train links to PortAventura (about 75 minutes). The park is also an hour away by car from Barcelona Airport.
Words by Rhonda Carrier