Eschew the crowds at Europe's big-hitter fairs and do your seasonal shopping at these little-known festive markets instead.
Tired of the hustle and bustle of overcrowded Christmas markets in Germany or France? Worry not, as there are a few other ones to consider, in places that remain relatively unaffected by over-tourism.
Come November, the streets in cities like Athens and Tromsø are filled with sparkling Christmas lights, pretty stalls overflowing with sweet treats and crafts, and lovely carousels. Put on your most festive attire and embrace the holiday spirit at one of these charming European fairs.
Athens, Greece
26 November 2022 to 6 January 2023
The brick chimneys of the Technopolis cultural centre (an old gasworks at the foot of the Acropolis) are lit up in red and green when the Christmas Factory comes to town. Children (and the young at heart) will revel on fairground rides — from Ferris wheels to sack slides — while adults can enjoy daily performances, from plays to triangle-brandishing children's choirs singing kalanda (Christmas carols). Pick up a blue-eyed mati charm to bring you luck in the new year.
Aachen, Germany
18 November to 23 December 2022
Up for a no-fly December getaway? This archetypal Weihnachtsmarkt — held in snow-dusted sheds under the gloriously gothic cathedral where Charlemagne is buried — is only around four hours from London by train. Feast on just-baked Aachener Printen, a spiced lebkuchen-style biscuit sweetened with honey. And, as you'd expect, there's a glass of glühwein (the local take on mulled wine) on almost every corner.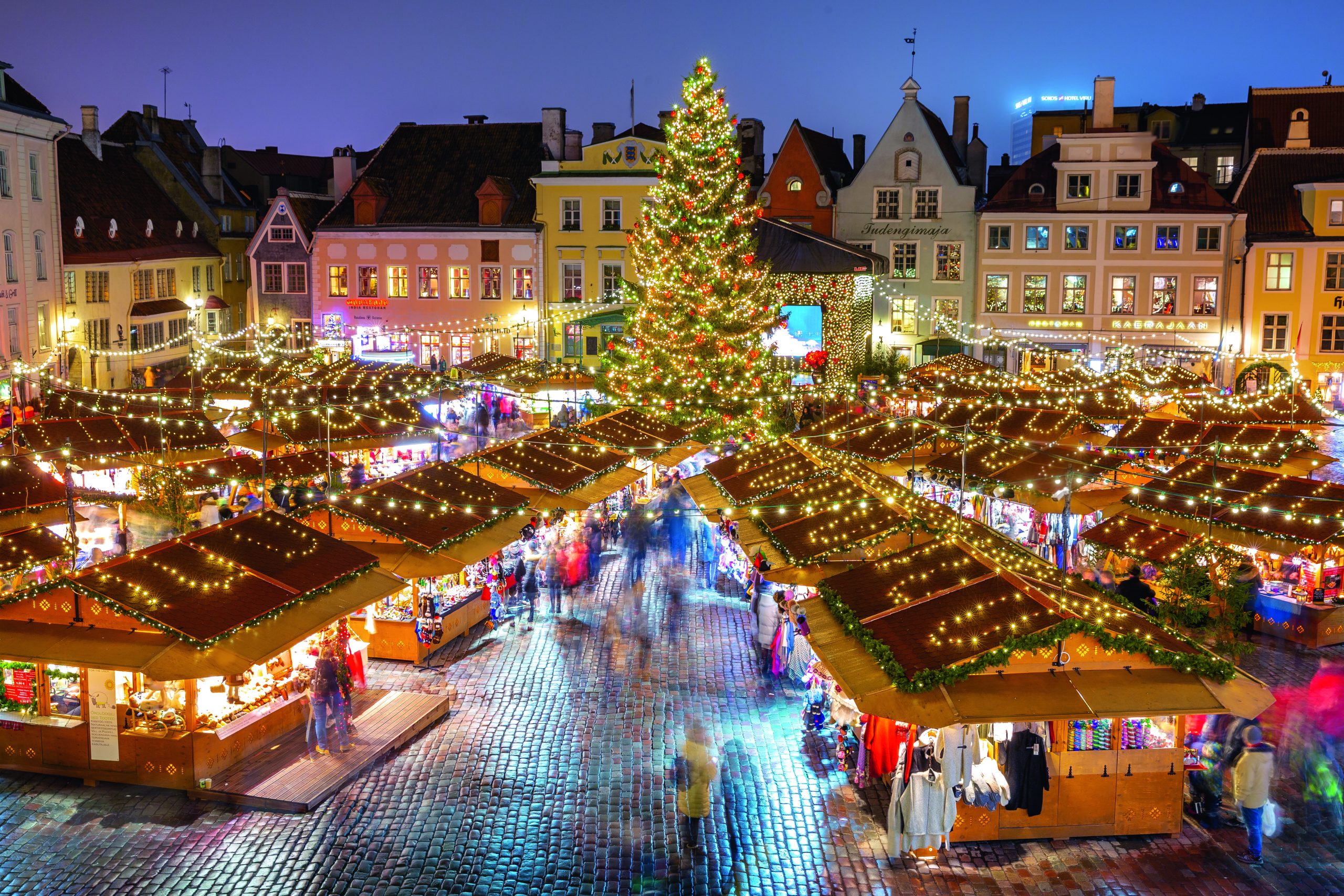 Tallinn, Estonia
25 November 2022 to 8 January 2023
The Estonian capital's off-the-radar Christmas market is the epitome of festive cheer. It's even shaped like a star, radiating out from the towering Christmas tree — itself decked out in two miles of fairy lights. Away from the star attraction, stalls sell everything from warming sea buckthorn cordial and Estonian pepper cookies (pipparkoogid) to tree decorations made from Baltic pearls.
Tromsø, Norway
Mid November 2022 to New Year
This Scandi city is on a mission to become the 'World's Best Christmas Town'. Browse hygge presents such as handcrafted enamel mugs, perfect for a swig of hot chocolate or Norwegian gløgg (best sipped on the reindeerpelted benches of the Stortorget kiosk). In the Arctic Circle, it's dark 24/7 at this time of year, which makes the Christmas lights and the almighty Aurora Borealis look even more magical from the city's 1,380- feet Fjellheisen cable car.
Stratford-upon-Avon, England
8 to 11 December 2022
For a Christmas jaunt that's closer to home, head to the medieval market town of Stratford-upon-Avon for its annual Victorian Christmas Festival. Three hundred stalls, with their vendors dressed in full 19th-century garb, fill the Shakespearean streets, while stilt performers entice you one way and the smell of roasting chestnuts and proper Midlands pies pulling you in another. A whirl on the original Victorian carousel will add a thrill to your festive day out.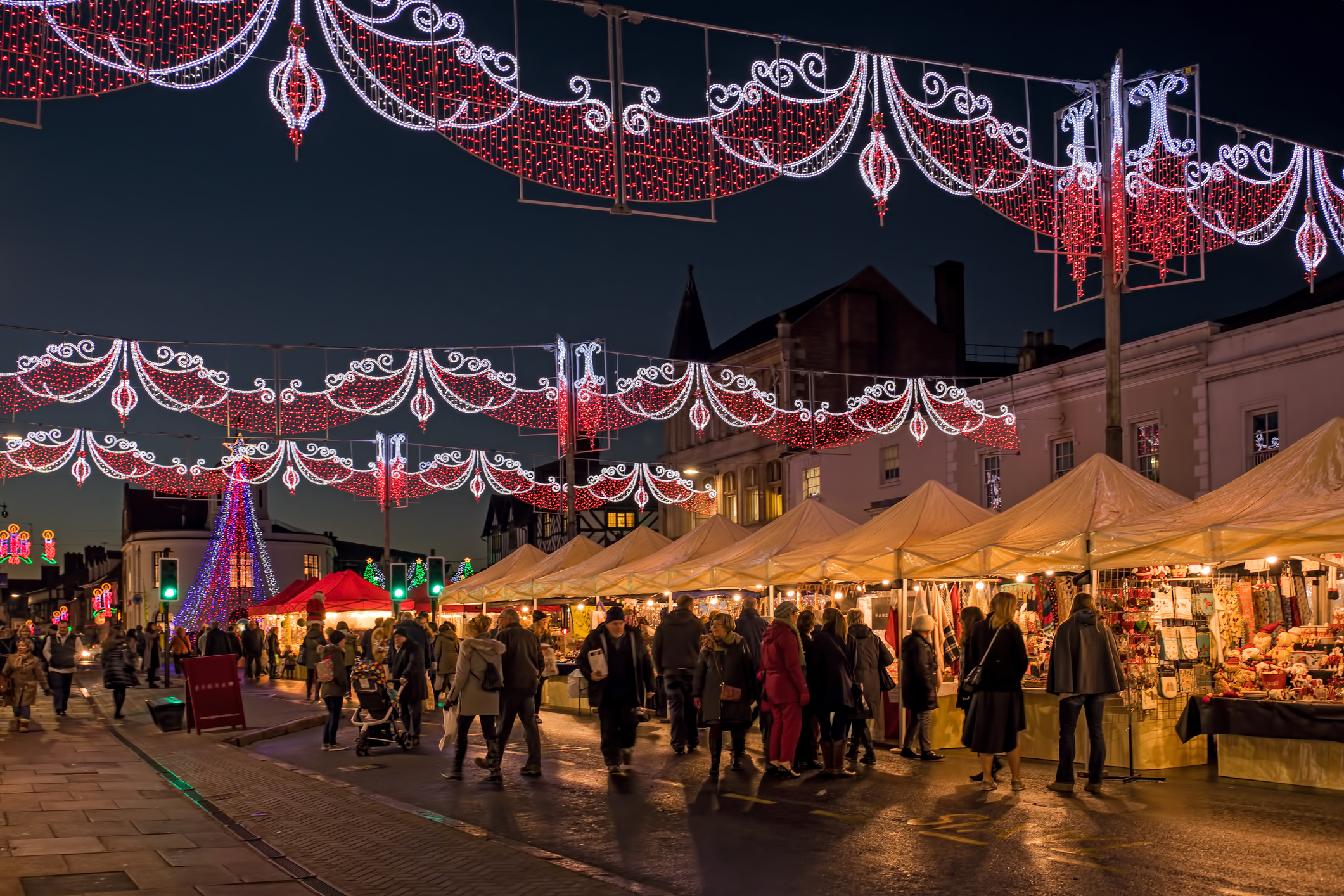 Valkenburg, Netherlands
18 November 2022 to 8 January 2023
Not only are the streets of this scenic Dutch castle town transformed into a Christmassy wonderland, the festive fun extends below the surface, where two 12th-century mining caves beneath the castle ruins are filled with garlanded stalls offering everything from stroopwafels (syrup waffles) to spinning tops. When you resurface, head for the Wilhelmina Tower — a fairytale hilltop turret that has a 1,230-feet toboggan run back down.
Zagreb, Croatia
26 November 2022 to 6 January 2023
Childlike art installations in gritty Gric tunnel (a Second World War bomb shelter), willow-wood toys, and multilingual Christmas tracks offering a soundtrack to laughing ice skaters in the King Tomislav Square: no wonder the Croatian capital has won the award for Best Christmas Market three years in a row. Stash away a batch of heart-shaped licitar biscuits for your friends back home.
Written by Alice Barnes-Brown