Looking to create your very own 'boo board' this Halloween? We spoke to the experts at Lola's Cupcakes and other culinary connoisseurs to find out how to create a truly spooky feast.
Whether you're hosting your children's friends for a Halloween party or are looking to create some gruesome grub for a horror movie night, it's a great time of year to get creative with your snacks. But while this promises to be a ton of fun, it can sometimes be difficult to know where to start, what to use and how to go about it. So, we spoke to the experts to find out for you…
"A lot of treats can be made from what you already have in your kitchen cupboard," says Emily Brook, head of new product development at leading UK cake shop, Lola's Cupcakes. "From extra rice crispy cereal to apples and leftover sweets, there are so many recipes that allow you to swap in ingredients to suit whatever you have."
When it comes to decorating your sweet treats and ghastly snacks, chocolate is always a safe bet. Melt some milk chocolate to dip apple pops in, or coat strawberries in white chocolate to make some very juicy mini ghosts. Adding edible eyes to any brownie, cake or cookie is also a simple way to bring them to life.
Hungry for more? Here, the experts share their recipes for some fiendishly good Halloween treats…
 Rice crispy monsters
"One of my favourite things to make for Halloween are ghostly rice crispy monsters," says Emily from Lola's Cupcakes. "They're a fun way to get creative, with or without kids — and are super easy to make."
Makes: 18
Takes: 35 mins
INGREDIENTS
60g butter
1 tsp vanilla
330g marshmallows
200g rice crispies
One pack cake decor eyes (available at Tesco or Sainsbury's)
Halloween sprinkles
METHOD
Melt the butter and vanilla extract in a heavy-based saucepan over a low heat. After a few minutes, add in the marshmallows and stir until they've completely melted into the mixture.
Take the pan off the heat and immediately add the rice crispies, combining until the cereal is fully coated. Press the mixture into a greased 13in x 9in tin, and, as it tends to get sticky, cover the top with cling film or baking paper so that you can press the mixture down firmly without it sticking to you.
Once the mixture is spread evenly, position your edible eyes and Halloween sprinkles accordingly. Allow the marshmallow crispy squares to cool completely in the tin before cutting them into 18 rectangles, and then — voila! You're done.

Mini Halloween cupcakes, Lola's Cupcakes
The experts at Opies, a family-run company that's been crafting food and drink products since 1880, point to cake eyeballs as being a quick, simple and particularly eye-catching treat.
Cake eyeballs
Makes: 12
Takes: 2 hrs
INGREDIENTS
One shop-bought red velvet cake
400g buttercream
12 cocktail cherries
200g white chocolate
12 blueberries
Red icing pen
METHOD
Put the red velvet cake in a blender and blitz until you have fine crumbs. Mix with the buttercream.
Line a baking tray with greaseproof paper.
Roll the cake mix into 12 equal-sized balls and place onto the tray, and then into the fridge to harden for 30 mins.
While the cake mix is chilling, prepare your cocktail cherries by using a chopstick to widen the hole in the middle of each cherry and stuffing a blueberry inside to create the eyeball effect.
Break the white chocolate into pieces and place in a microwavable bowl. Heat in the microwave until melted and smooth.
Remove the cake balls from the fridge and use a fork to dip each one into the chocolate, turning until completely covered. Place on another baking tray lined with greaseproof paper. Stick a cherry on top of each ball and place back into the fridge for an hour to firm.
Once the chocolate has set, use the icing pen to decorate each eyeball with some squiggly red veins. Remove from the baking tray and serve on a dark and spooky platter.
If your friends — or even the little ones — prefer savoury to sweet, fear not: you can spook-up a charcuterie board, too. Curated by TikTok sensation and food stylist, The Culinary Bee, this recipe will be sure to impress.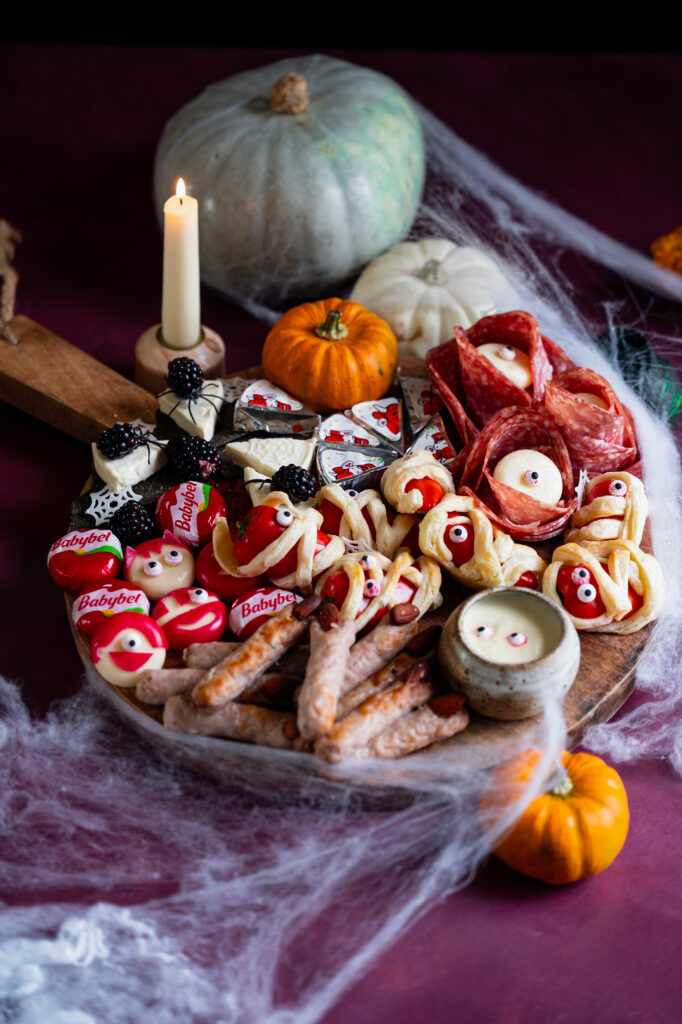 Boo board
Serves: 4
Takes: 90 mins
INGREDIENTS
8 small peppers
half sheet rolled puff pastry
6 food-safe plastic spiders (for decorative purposes only)
6 blackberries
9 cheese triangles, such as Laughing Cow
6 Jacobs cream crackers and extra for the board
12 chipolatas
12 whole almonds
7 mini cheeses, such as Babybels
100ml double cream
30 slices salami
One pack cake decor eyes (available at Tesco or Sainsbury's)
METHOD
Preheat oven to 180C and line a baking tray with parchment paper.
To mummify your peppers, slice the puff pastry into 3cm strips and wrap around the peppers. Bake for 15 minutes until the pasty turns golden brown. After you've allowed them to cool, add the edible eyes and set aside.
Next, make a small incision at the end of each sausage and add an almond to each to create a gruesome fingernail effect. Bake for 15-18 mins until dark golden brown and cooked through and set aside to cool.
Now for the eyeballs. Drape ten salami slices around the rim of a champagne glass to create a rose (or eyelid) effect and then turn upside down and onto the charcuterie board. Push a mini cheese into the centre of each and add an edible eye.
For the blackberry spiders, unwrap the cheese triangles and place each one onto a cracker. Add a blackberry onto a plastic spider to place on top of the cheese. (Reminder: Do not eat the plastic spider).
Finish your ghastly board by heating three cheese triangles, four mini cheeses and 100ml of double cream in a saucepan. Stir until the mixture is completely combined and melted and pour into a ramekin.
Add all the above to any charcuterie board and boom! Your horror feast is complete.