African designers have been creating flamboyant fashion pieces with an eco-conscious, ethical mindset for centuries. As part of Living360's new Fashion meets… series, we celebrate the continent's rich textile heritage, while highlighting some of the best African brands to look out for — just before Black History Month draws to a close
Fabric production in Africa is thought to date as far back as 5000 BC, when ancient Egyptians started to cultivate flax and weaving it into linen. Fabrics, as well as the world of fashion, have dramatically changed ever since, but one thing remains constant: the creativity and wealth of materials, styles and techniques going into African fashion pieces.
"Fashion on the continent, as with elsewhere in the world, is constantly shifting and changing, and African creatives have been designing and innovating for millennia," says Elisabeth Murray, project curator at V&A's current Africa Fashion exhibition.
The display celebrates the evolution of African fashion through the centuries and explores the global impact of contemporary African designers on today's fashion scene. More than 250 objects (from jewellery to ready-to-wear to made-to-order items) drawn from the personal archives of iconic mid-20th-century and influential contemporary African fashion creatives document the variety in styles and colours.
Modern palette and techniques
"Today, use of colour is down to the individual designers; some creatives, such as Lisa Folawiyo or Maxhosa Africa, mix colour, pattern and texture, while others, such as Moshions, choose a more monochrome palette," explains Elisabeth.
"For some, the continent is the starting point, a rich well of inspiration and material cultures, from the characteristic Yoruba aso-oke cloth to Moroccan embroidery. For others, architectural lines and innovative pattern cutting are the driving force."
Sometimes these two aspects blend, with contemporary designers re-interpreting tradition in new, exciting forms. A perfect example of this is Adeju Thompson's Post-Adire collection, which re-imagines the indigo-dyed Adire cloth, historically made by the West African ethnic group Yoruba. Thompson produces the indigo textiles in the traditional manner — using a resist-dying technique to create striking patterns in blue and white — but then tears them apart and sows them back together to create even more textured knits.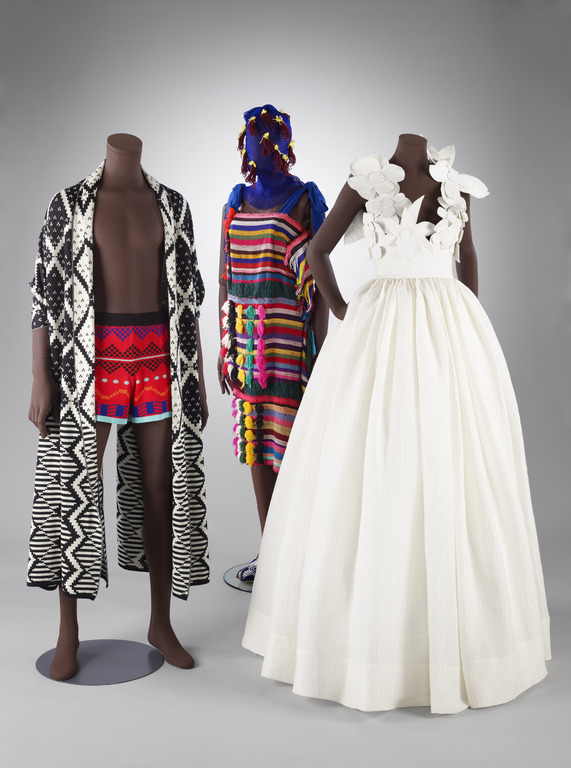 Sustainability at the core of African fashion
Eco-conscious and ethical practices are often second nature to African designers, who tend to source their products locally or reuse them, contributing to a circular production that ultimately keeps entire communities alive. "The African fashion industry is estimated to be worth $31 billion, and contemporary creatives are determined to see this reinvested at a local level, in local people," says Elisabeth.
"For example, Mali-based designer Awa Meité's work is a celebration of cotton and the cotton industry. Mali is the largest cotton producer on the African continent, and the industry employs about 3 million people, but less than 5% of the cotton grown in Mali is processed in the country. Meité seeks to change this by supporting local processing from field to loom, to maintain jobs and enable cotton production to provide higher incomes for local communities."
As well as supporting the makers, most African brands are committed to a responsible manufacturing process. Aiming to minimise their waste and carbon footprint, they focus on natural ingredients, smaller productions and limited-edition collections that take into consideration the environmental impact and challenge fast fashion's often irresponsible practices.
The Africa Fashion exhibition is at the V&A until 16 April 2023. For tickets, visit: vam.ac.uk/exhibitions/africa-fashion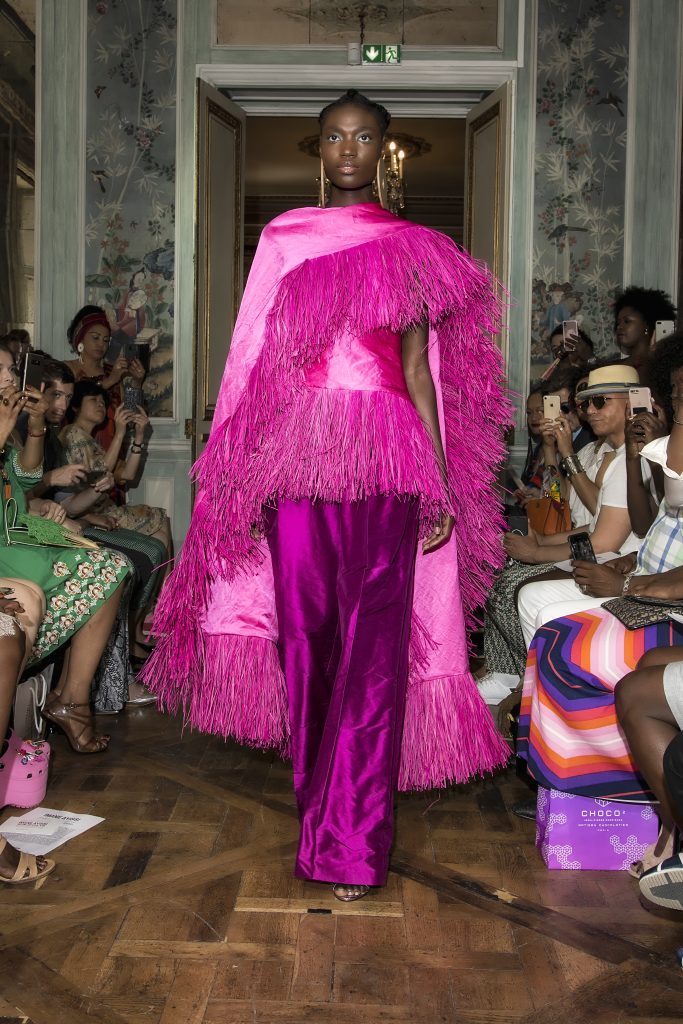 Three ethical African brands to watch
While many fashion houses and brands only recently joined the sustainability movement, African designers have been choosing eco-friendly, slow fashion for centuries. Here are some of the best African labels to watch right now, founded by designers with a green and responsible ethos.
Mayamiko
The idea behind this womenswear brand, founded by Paola Masperi, started with the Mayamiko Trust. The charity was set up by Paola in 2008 to support disadvantaged women in Malawi, providing them with transferable artisan skills and getting them involved in sustainable trade. Soon after, the Mayamiko Fashion Lab and the Mayamiko label were born; the former offering training, education, nutrition and sanitation to those women, and the latter allowing them to channel their creativity into one-of-a-kind, ethical pieces. Traditional African techniques and locally sourced fabrics known as chitenje are used to create beautiful fashion pieces, from plant-died jewellery to hand-knitted hats, bathed in lively colours and prints carrying the African legacy.
Kemi Telford
London-based African brand Kemi Telford was born in 2017, out of its founder's dream to encourage women to be themselves and 'take up space'. As soon as she became a mum, Nigeria-born Yvonne Modupe Telford realised that women needed comfortable clothes to get them through the day, but also bold, colourful pieces that would boost their self-esteem — inspired by the designer's roots, wax-print dresses and exuberant, oversized skirts take centre stage, along with a palette comprising anything from eye-popping fuchsia to bright green and warm orange. Kemi Telford is committed to above-minimum wages for all manufacturers, with Yvonne herself supporting people financially where she can.
View this post on Instagram
Quazi Design
A founding member of SWIFT Eswatini Fair Trade Network (adhering to fair-trade principles), Quazi Design was founded in 2009 with the aim to create jobs for female artisans. Working from a workshop in Eswatini, Southern Africa, these women use 100% waste paper to make stunning pieces of jewellery and be in a position to support themselves and their families. The brand provides a living wage to all artisans involved, with each salary feeding a number of their dependents, too. Some of the sophisticated items include turquoise paper pulp and brass earrings in crescent shape, and varnished earrings in olive green, made entirely from waste magazine paper, using a special paper wood technique.
* Fashion meets… is Living360's new fashion series, which explores how fashion intersects with different movements, cultures and aspects of daily life. Each story highlights a unique theme — from punk rock music to architecture and art — diving into its history or cultural background alongside exclusive interviews, fashion trends and styling tips.