Give the gift of indulgence this festive season with these lavish, tread-laden baskets to suit every taste.
They say Christmas is a time for sharing, but these hampers are so tempting you'll (probably) be forgiven for hoarding these delicious treats all for yourself. Whether you're seeing in the festive season with a ravenous foodie or a wine buff with a taste for top-class fizz, these five fabulous hampers will keep your discerning guests satisfied long into the Christmas holidays.
A Trip To Eataly
Eataly's crowd-pleasing hampers (pictured above) — cramming everyone's favourite Italian produce into neatly ribboned boxes — have arrived, offering a variety of top-notch snacks and ingredients plucked from the shelves of the east London food hall. With six hampers to choose from, this particular option offers delicacies from all four corners of the boot, with Sicilian anchovies and Extra Virgin olive oil, pistachio and dark chocolate cantucci biscuits, Afeltra's 100% Italian wheat pasta and balsamic vinegar from Modena. There's plenty for Italophiles to sink their teeth into here. £79.90.
Different Kind's Festilicious Sweet Hamper
Different Kind's range of gift baskets contain goodies that are all ethically produced. Go for the Festilicious Sweet Hamper and chomp down on mince pies from Luminary Bakery, a social enterprise giving opportunities to disadvantaged women, before tucking into fudge from Step and Stone, which employs young people with learning disabilities. £150.
Rick Stein Chalky's Ale Box
This box of Chalky's Bite Beer (a multi-award-winner, named in honour of Rick Stein's beloved Jack Russell terrier) is an ale drinker's delight. As well as six bottles of beer, two Chalky's half-pint glasses and an engraved bottle opener, there's a range of moreish salty treats to complement the Cornish brew, including a jar of peppery peanuts and extra virgin olive oil crisps. £89.95.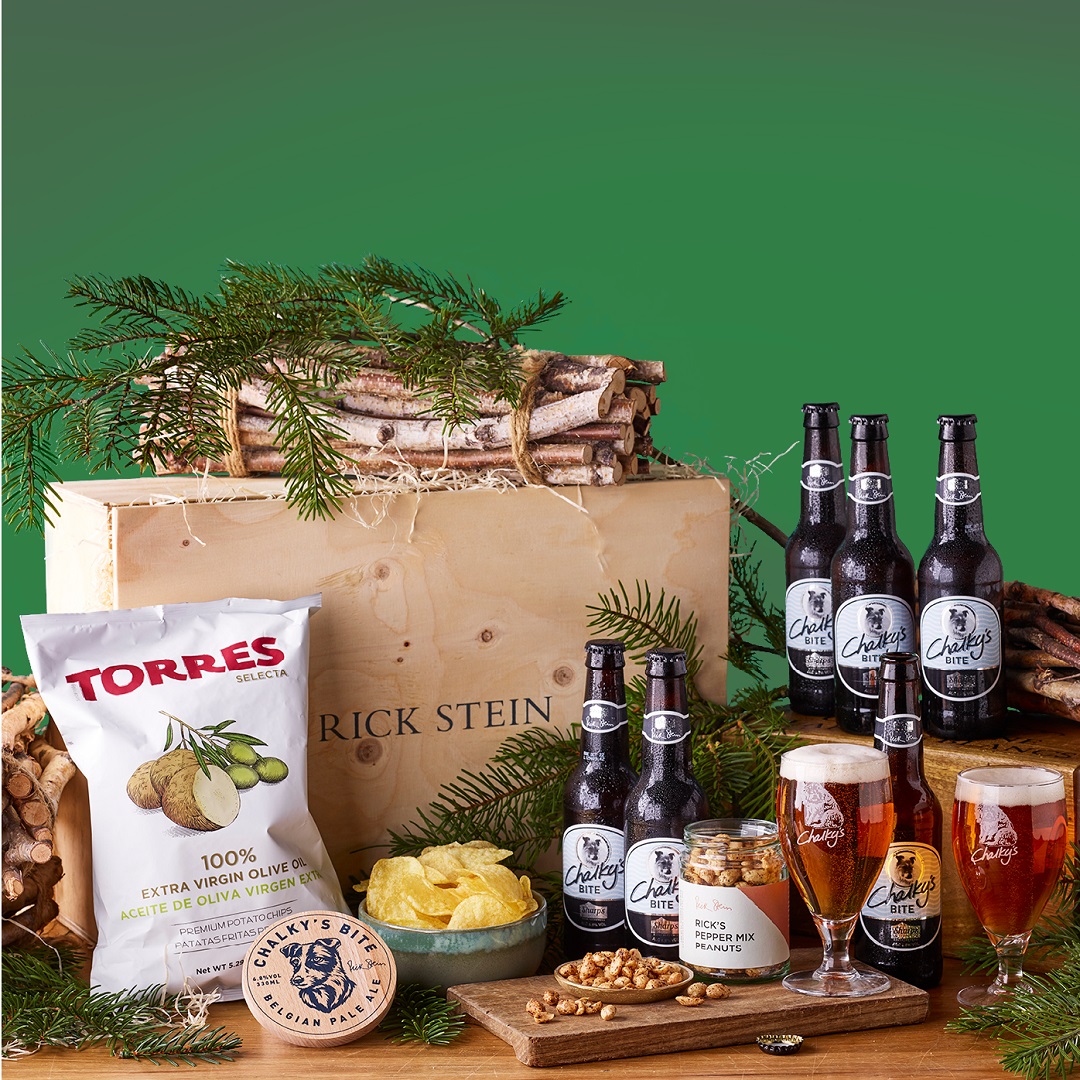 Rick Stein Champagne & Chocolates Stocking
British households have been inviting Cornwall's culinary king to Christmas ever since he first appeared on our TV screens in the mid-90s, and his line of hampers makes for some fab festive feasting. This Champagne & Chocolates Stocking contains handmade Cornish sea salt caramel chocolates and a bottle of Champagne. £59.95.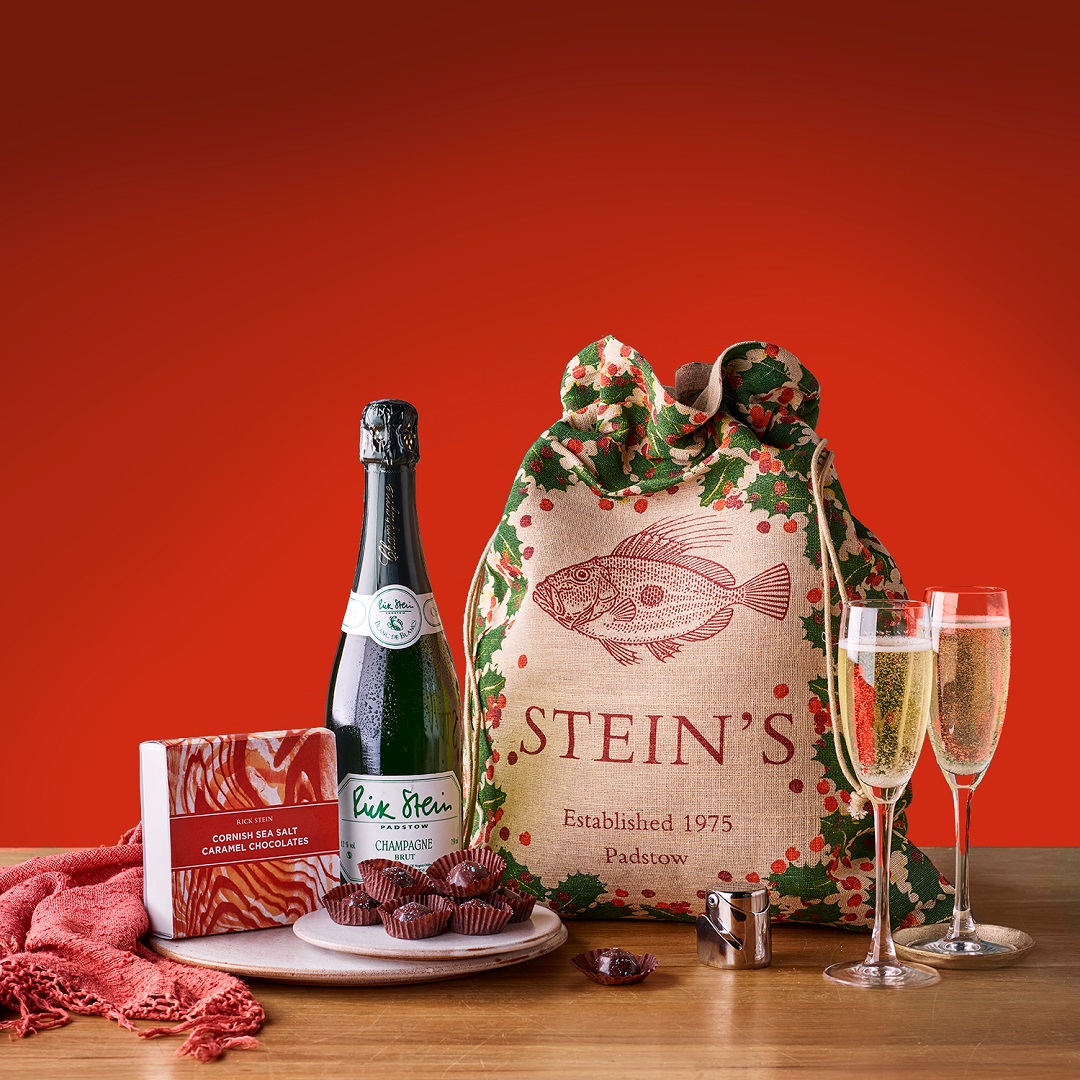 The M&S Collection Christmas Hamper
Filled with an indulgent selection of sweet and savoury treats, don't be surprised if this classic hamper from M&S isn't around for long. Inside this plush wicker basket you'll find all-butter shortbread, sourdough crackers and festive chutney, and Cornish cruncher biscuits topped with extra-mature cheddar cheese. Dig a little deeper for the box of Florentines, with flaked and whole almonds melded together with caramel and cased in milk chocolate, before landing on the bottle of red, a medium-bodied variety from France's Rhône region that'll pair nicely with your roast turkey. £50.