Sustain your Veganuary mission with a little help from London restaurateur and plant-based pioneer Rose Hood.
Struggling to stay the course this Veganuary? You're not alone. We caught up with Rose Hood, founder of trendy brunch chain Farm Girl, to gather some top tips on how to sustain a vegan diet throughout January and beyond.
Hey Rose! Why go vegan in 2023?
People go vegan for all kinds of reasons. One of our managers did so for ethical reasons, and he's still going strong two years later. When I went vegan, it was for my health. I had some issues I couldn't shake. I saw doctors and specialists — they all said it was a hormonal issue, and that I should try this or that remedy. By chance, I read an article recommending a plant-free diet and it worked. After years of horrible symptoms, medicines and antibiotics, I suddenly felt good. I was sleeping well and my skin was brighter. Everything was better.
Amazing! Tell us some great vegan spots in London.
Well, obviously I'll say Farm Girl. Back when we opened in 2015, we pioneered cashew milk and hazelnut milk in our coffee. Other places were still doing soy. I remember telling our chef, Benoit, a very old-school French guy, that I wanted a vegan sandwich. He came up with this amazing coconut substitute that we still use in our BLT — one of the first vegan sandwiches that wasn't basically a leaf between two slices of rye bread. Our vegan pancakes are quite special, too. Elsewhere, KOL, just behind Selfridges, does incredible vegan Mexican food, really high-end. Patty & Bun's vegan burger is next level, dripping with sauce and naughty vegan cheese.
How about home cooking? Is there a cool vegan market to shop for ingredients for a homemade dish?
Actually yes, there is. Portobello Vegan Night Market happens once a month, just by the Westway. All the vendors are vegan, they do cosmetics and there are DJs. To be fair, nowadays every supermarket in London also has great vegan options. Whole Foods is my go-to — you can get great pasta sauces, as well as delicious Violife butter (you really can't tell the difference from the 'real thing').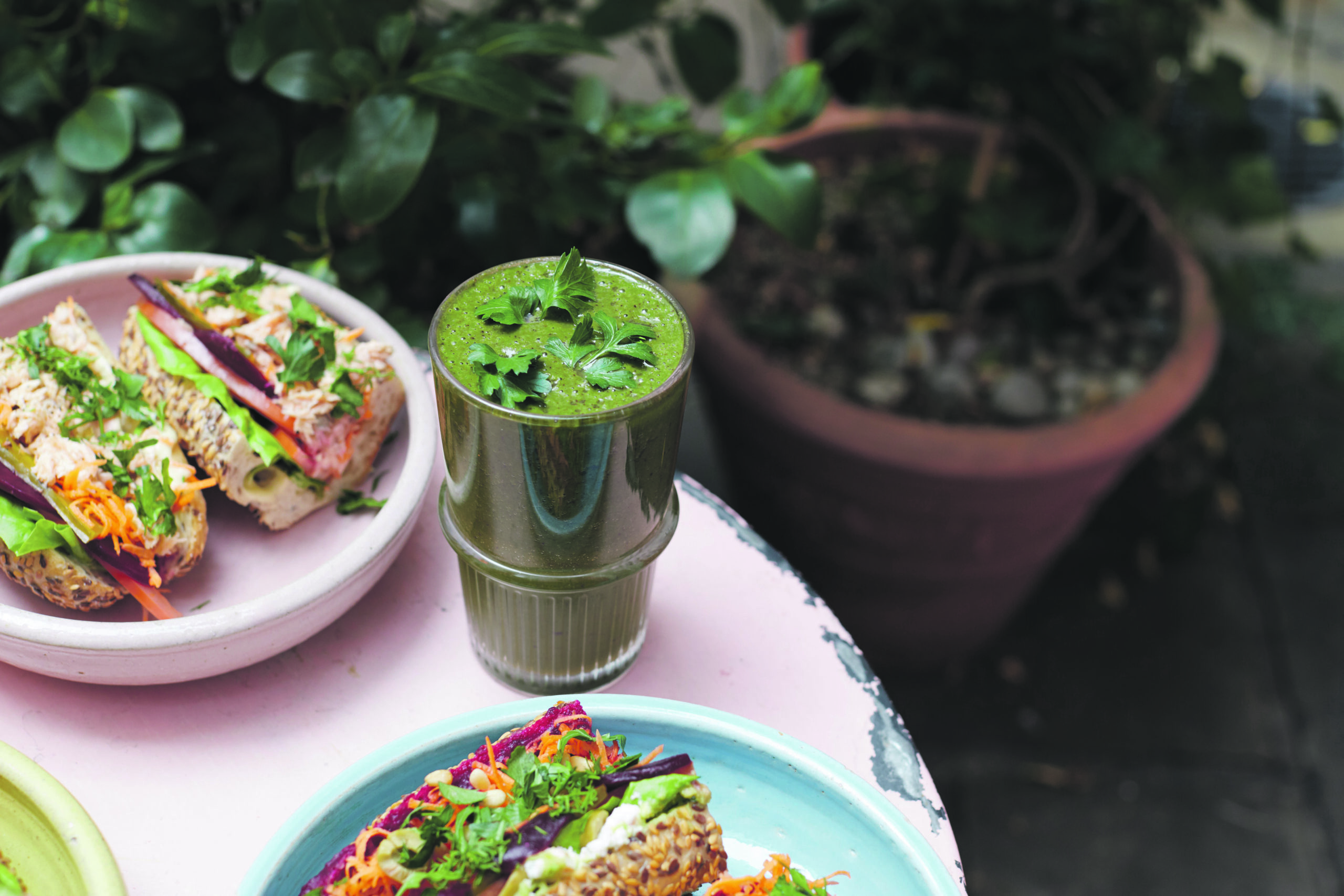 Where do you go for recipe inspiration?
There's an amazing book called Broke Vegan by Saskia Sidey, full of cute, easy recipes. Lots of the recipes in Flavour, the new Ottolenghi book, are vegan. And who doesn't want to cook Ottolenghi at a dinner party? There are quite a few great vegan communities on the web, too. Farm Girl gets so many enquiries over Instagram — vegans are very online.
And when your willpower starts to wane?
There are just so many brilliant alternatives out there now. Our Farm Girl happy hot chocolate uses cashew milk — creamy, fatty, better than cow's milk — with date syrup and peppermint essence, plus cacao and a dash of CBD. Our coloured coffees are gorgeous, too. These days, you can be vegan and still eat interesting, delicious food all the time. Especially in London. Take Tonkotsu, my favourite ramen place, where the cauliflower wings are as good as the chicken, coming in the same spicy, sticky sauce. OK, sometimes you need to be strict with yourself — I find it helps to go over the reason you started doing it in your mind. Sticking to your guns feels great. My dad — a farmer back in Australia — couldn't believe it when I told him I was going vegan. My response was to cook him an amazing meal. And no, I didn't tell him it was vegan!
Words by Andy Hill