Follow the crumbs back to the 14th century and discover how the humble Christmas pudding found its way into our hearts before discovering an extra-special recipe to try on the big day
Those familiar with Charles Dickens' famous 1843 novel A Christmas Carol, in which Mrs Cratchit emerges from her kitchen, proudly carrying a speckled cannonball ignited in brandy with a holly on top, will know that the author had a soft spot for Christmas pudding.
While families up and down the country will perform similar rituals when the big day arrives, how this no-frills steamed pudding – with its peculiar, ever-changing recipes – came to be such a beloved part of our Christmas tradition is an intriguing story.
The dessert can be traced back to the 14th century when it more closely resembled porridge. The British made the boiled grain dish — then called 'frumenty' — with mutton, raisins, currants and prunes, which were then enhanced with spices and wines.
Towards the end of the 16th century, more dried fruits were added to the mix, making the pudding sweeter, and by 1650, the so-called 'figgy pudding' had become a Christmas staple in households throughout the country.
Things turned sour for the Christmas pud when the dish was banished by fanatical Puritans, along with other 'sinfully rich' festivities such as carol singing and nativity scenes.
Thankfully, King George I reinstated it in 1714, putting it back on Christmas dinner tables for good.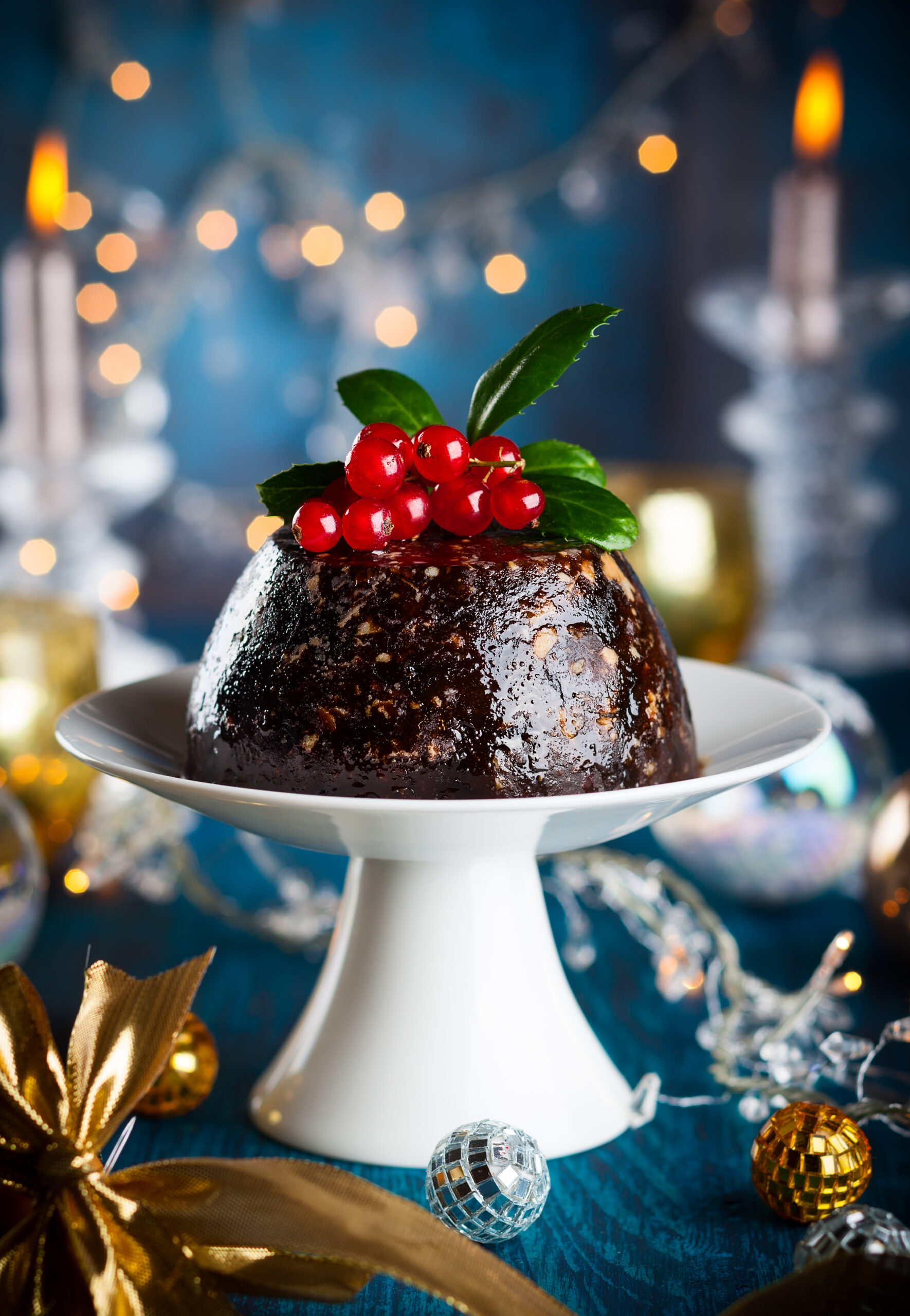 Preparation and lore
Victorians were the ones who turned plum pudding into the sumptuous dish we know and love today, adding ingredients such as cinnamon, nutmeg and cloves, lemon, orange peel and chopped apple.
It's said that the pudding contained 13 ingredients to represent Jesus and his 12 disciples, with the garnish of holly symbolising the crown of thorns, while the tradition of covering the pudding in brandy and lighting it on fire was to draw comparison to the Passion of Christ.
Traditionally, the pudding was served on 'stir-up Sunday' — the fifth Sunday before Christmas — and during preparation, family members would take turns stirring the mixture from east to west, reflecting the journey that led the Magi to baby Jesus.
Today, lighter versions of the dessert have replaced beef fat with vegetable suet, while the addition
of chocolate, cherries and coffee have modernised it further. And while most pudding-related customs have disappeared, every now and then, you may still catch a glimpse of a silver coin glimmering inside your supermarket pud.
Give your winter cocktails a fruity twist with this Christmas pudding martini recipe
Ingredients
125ml golden syrup;
90g sultanas;
One cinnamon stick;
Ice cubes;
50g white chocolate;
Four green glacé cherries;
Two red maraschino cherries;
125ml gin;
Pouring cream;
Ground nutmeg
Method
Place the golden syrup, sultanas, cinnamon stick and 250ml water in a saucepan. Cook over low heat until combined. Increase the heat and bring to a simmer for 12-13 minutes. Strain the syrup (keep the sultanas and discard the cinnamon stick) and set aside for one hour.
Melt the white chocolate and drizzle around the rim of two martini glasses. Thread two glacé cherries and one maraschino cherry onto
two skewers.
Place the ice, golden syrup mixture and gin in a cocktail shaker. Shake hard for 30 seconds then pour into your glass with a little cream and sprinkle with nutmeg. Serve
with your cherry skewers.