Looking for a fun film experience under the stars? We've got you covered.
Hot summer nights call for al fresco fun and, luckily, this summer there's an array of open-air movie nights you can enjoy across the UK in idyllic locations. From breezy rooftops looking across London to lush country estates and fairytale castles, we've found some of the best outdoor film hubs to visit this summer for an unforgettable movie experience.
The Luna Cinema, various locations across the UK
With so many venues around the UK to choose from (from East Midlands to Wales), The Luna Cinema doesn't disappoint when it comes to finding the space that suits you best. Among the iconic spots are Westminster Abbey and Kew Gardens in London, and Brighton Pier. Naughties' favourites such as Mean Girls and Devil Wears Prada, as well as beloved musicals including Moulin Rouge, are part of this year's programme, as are recent releases like Belfast. Most screenings run until August, with some of the Luna cinemas (including the ones at Lincoln Castle and Rochester Castle) hosting screenings until early October.
Rooftop Film Club in Peckham and Stratford, London
This summer Rooftop Film Club's two locations – on top of the Bussey Building in Peckham and at Roof East in Stratford – will welcome you for chilled-out screenings paired with stunning London views. Running until early September, films range from indie favourites such as Fight Club and Lost in Translation, to newer releases like Licorice Pizza. Cocktails and pizza are on offer at Bussey's bar, while Roof East serves street burgers and Turkish flatbreads along with popcorn and desserts. Great food, films and splendid vistas should be enough to make up for the stair climb at Bussey. Roof East comes with a lift, while both have wheelchair access to the rooftop.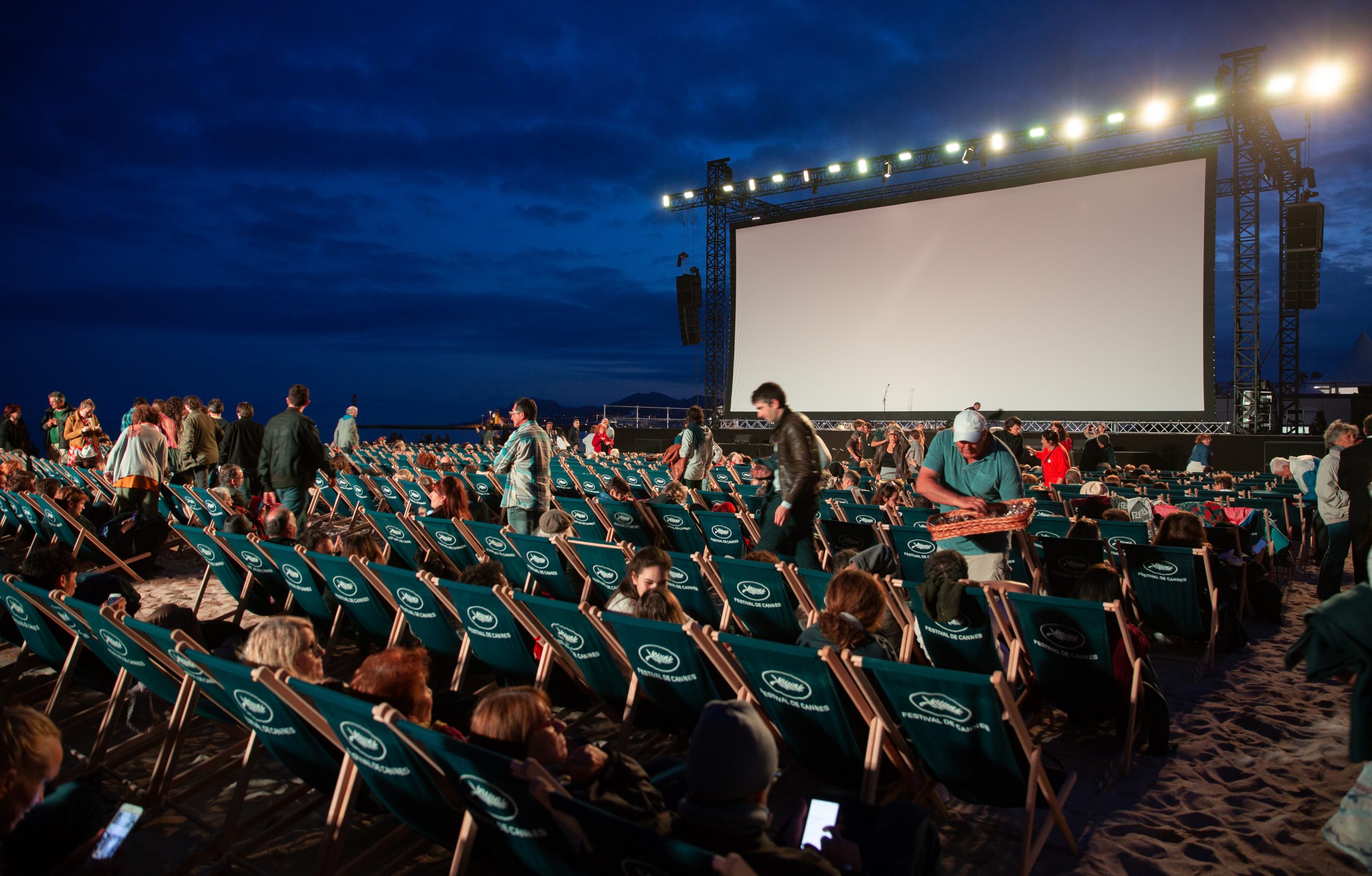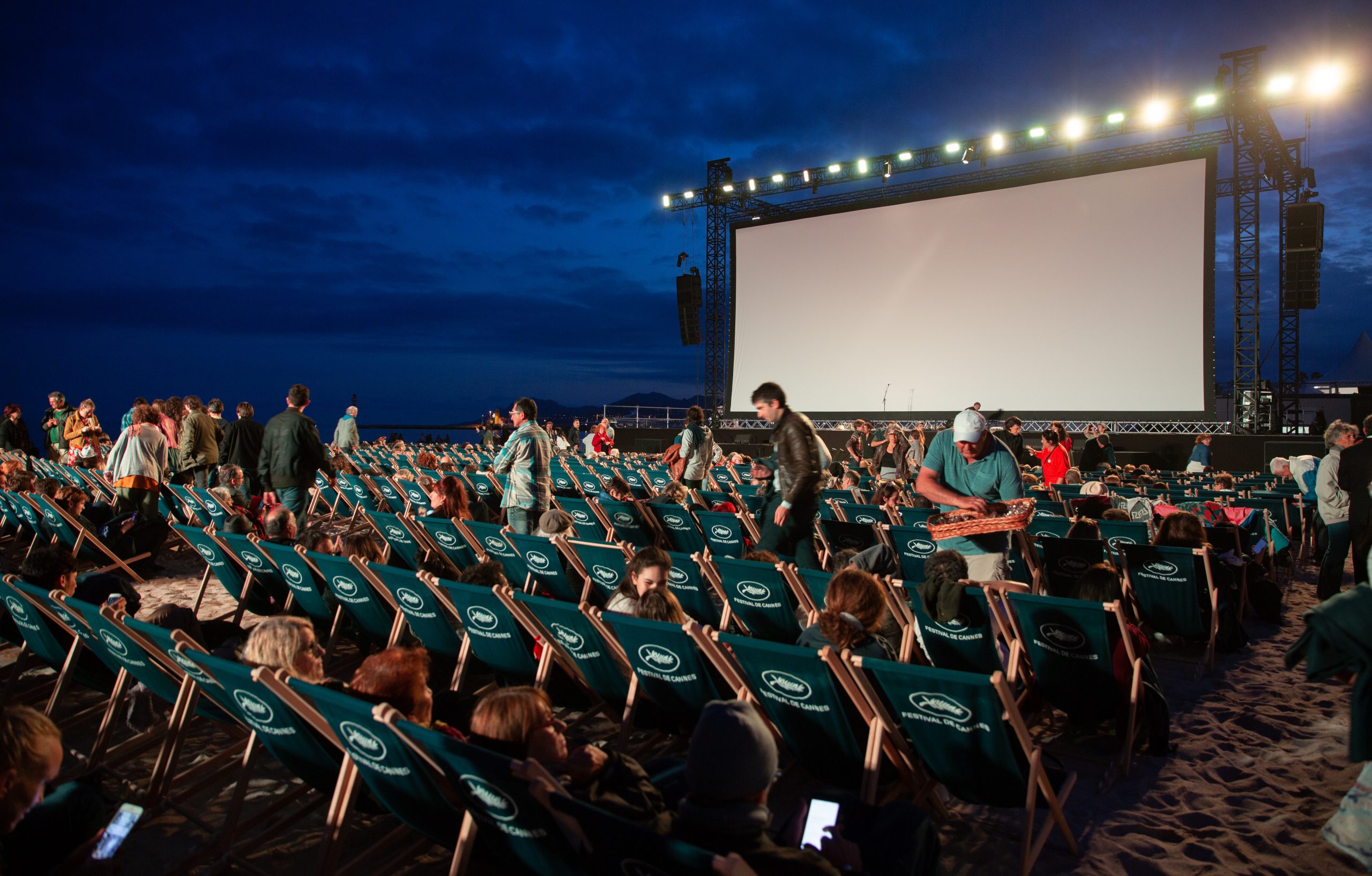 Screen on the Canal in King's Cross, London
The Everyman cinema company has set up a pop-up movie theatre on the steps of Granary Square in King's Cross, Screen on the Canal, also known as The Lollipop Lounge. It gives you the chance to watch films or sports including Tour de France amid giant, playful lollipops. Movie screenings include anything from recent hits such as Dune and Spider-Man: No Way Home to beloved classics like Romeo + Juliet, all on the banks of the canal. Films run throughout the day and every evening until early August, and you can choose which movie you'd like to be screened every Thursday evening via the King's Cross app.
Moonlight Flicks, various locations across the UK
This one has four locations to choose from including the grand Chester Cathedral in Chester, Cheshire, and the serene Claremont Farm in Bebington, Wirral. Moonlight Flicks provides a relaxed cinema experience with drinks and snacks such as pizza, hot dogs and cocktails; in Chester and Nantwich, you'll need to pre-order these no later than 24 hours in advance. Running until late August, and mid-September in Chester, screenings range from older films such as Mamma Mia!, Pulp Fiction and Pretty Woman to newer releases like Cruella and House of Gucci. To ensure an immersive movie experience, the cinema uses headphones, so you're welcome to bring your own and plug them in or borrow a set at the venue.
Open-Air Cinema Cinestock, various locations across the UK
Cinestock makes outdoor screenings feel like home, since it allows you to bring your own rugs, cushions, sunloungers or any other type of seat you like, and kick back to watch your favourite films under the stars, in venues across Surrey and Sussex. You can also book a luxury high-back padded chair for maximum comfort. Or if you're more of an indoorsy kind of movie geek, there's an indoor drive-in that will give you the open-air feeling without the risk of a cold night breeze. Expect to watch classics such as Dirty Dancing, or recent blockbusters such as No Time to Die until early October. There's also live music to entertain you before each screening, and ticket deals for families, couples and groups are available.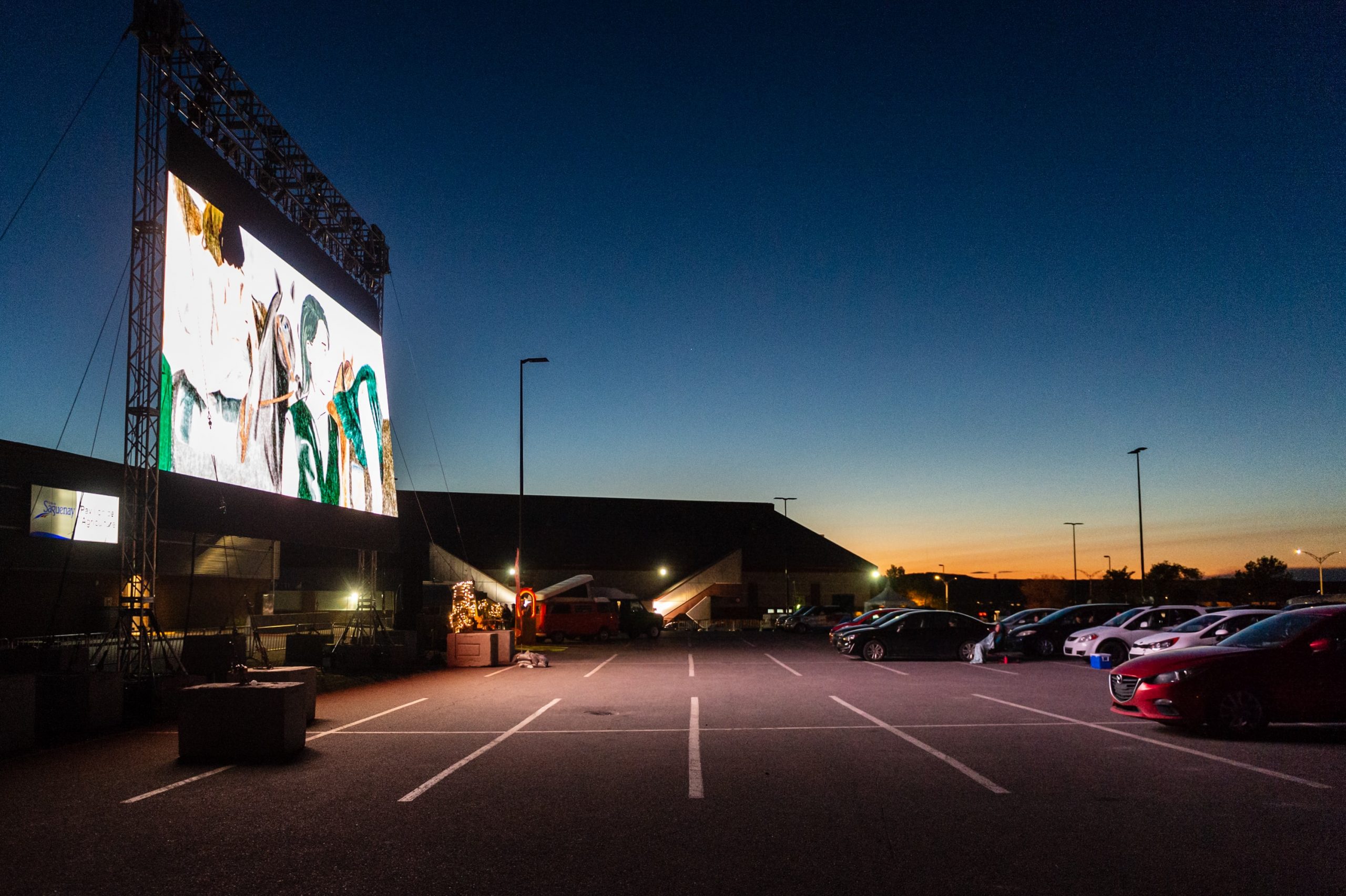 Ashridge House, Hertfordshire
If you're looking for a more sumptuous setting, Ashridge House is the way to go. Once a residence to Henry VIII and Princess Elizabeth I, this regal country estate in Hertfordshire is now an events and wedding venue, as well as one of the most romantic places for open-air film screenings in the UK. This year, screenings take place from 1 to 4 August, with select films including Hairspray and The Best Exotic Marigold Hotel. When purchasing your tickets, you can also pre-book a meal, to be enjoyed on the lawn along with the film. Or you can order drinks at the pop-up bar throughout the evening, as well as food and drinks from The Bakehouse cafe. Staying the night at Ashridge House is also an option.
Adventure Cinema, various locations across the UK
From Cardiff to Derby and with Scotland recently added to the mix, Adventure Cinema has more than 70 pop-up screens across the country, all with gorgeous backdrops such as medieval castles and glistening lakes. Bear in mind you'll have to bring your own camping chair or blanket, or book the venues' VIP deck chairs, to watch a film at these scenic locations. This year, Adventure Cinema celebrates 50 years of ABBA with the screening of Mamma Mia!, and Elton John's 75th birthday with Rocketman, but you can also catch classics such as Grease and Pulp Fiction, or newer releases like West Side Story, until the end of October. Snacks and soft drinks are available to purchase at most events but feel free to bring your own food, too.