From a humble bowl of lentil soup to a lavish spread featuring dozens of sweet and savoury nibbles, this is everything you need to know about Turkish breakfasts — including the best spots to visit if you're ever in the country.
One of Turkey's best-known poets, Cemal Süreya, once wrote: 'Breakfast must have something to do with happiness.' That happiness can take many forms, with the wide variety of delicious morning meals consumed in Turkey reflecting the country's rich regional culinary diversity.
In rural central Anatolia, breakfast might be a hearty bowl of lentil soup (mercimek çorbası), brightened with a squeeze of fresh lemon juice and flakes of red pepper. In the southeastern city of Gaziantep, a plate of katmer, a luscious, crepe-like filo-dough pastry stuffed with crushed pistachios and double cream. For the busy Istanbulite, perhaps a simple sesame-seed-studded bread ring (simit) grabbed on the go from a street vendor.
What's referred to as 'Turkish breakfast', though, is a mixed plate of cheeses, eggs, olives, sliced tomatoes and cucumbers, honey, jams, and bread. Its origins are in the Ottoman palace, where the sultan's retinue nibbled on similar fare after morning prayers, before drinking coffee. (In Turkish, the word for breakfast is 'kahvaltı', which literally means 'under coffee.')
The Turkish breakfast can be expanded to a table-filling array of dozens of different items (often called a serpme kahvaltı, or 'sprinkling breakfast'). The selection tends to reflect regional produce: a pile of fresh herbs along the Aegean coast, spicy pepper-based dips in the south east, or pickled green beans and corn fondue (muhlama) in the lush mountains above the Black Sea.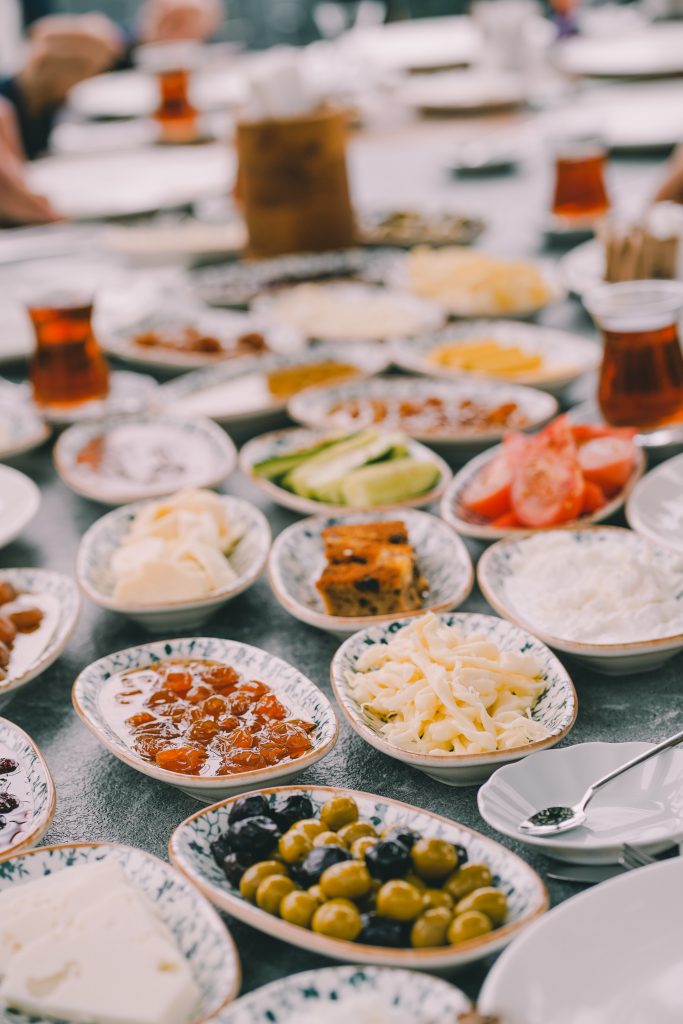 Must-have ingredients for a Turkish breakfast
Eggs (yumurta): While breakfast eggs can come hard-boiled, fried, or in a plain omelette, one firm favourite in Turkey is menemen, eggs loosely scrambled with tomatoes, green peppers and
onions. Each portion is usually served in the two-handled metal dish that it's cooked in.
Honey and cream (bal kaymak): The king of the breakfast table for many is this heady combination of flavourful honey (sometimes served on the comb) and thick cream, best slathered on fresh-from-the-oven bread (ekmek).
Cheese (peynir): Some of the distinctive Turkish cheeses served at breakfast include otlu peyniri, a crumbly, herb-studded cheese associated with the eastern province of Van; tulum peyniri, a tangy cheese ripened in the skin of a goat or sheep; and dil peyniri, a mild, white, stringy cheese.
Tea (çay): Despite the long history of coffee-drinking in the Ottoman Empire, tea has become the drink of choice with the morning meal (and all day long) in Turkey over the past century as domestic production developed along the rainy Black Sea coast.
Börek: Layered, rolled or coiled; baked or fried; stuffed with cheese, spinach, meat or potatoes. This savoury filo-dough pastry comes in many varieties, all delicious. Börek can be a quick meal on its own, or part of a larger breakfast.
Olives (zeytin): Stuffed with pimentos, or cracked and mixed with walnuts and herbs, olives are an integral part of the Turkish breakfast spread.
Tahini and molasses (tahin pekmez): These two rich tastes swirled together make for a decadent dip.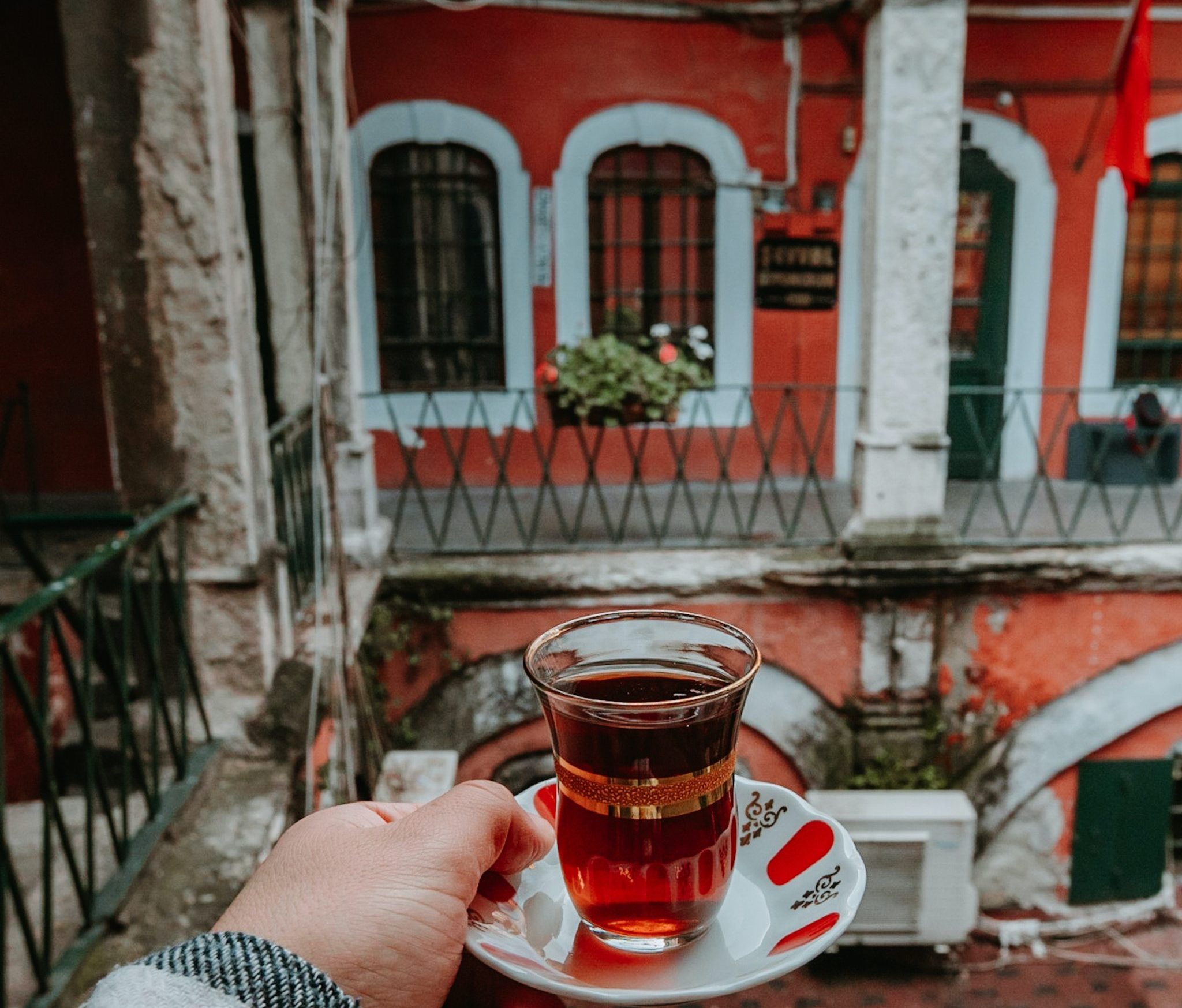 Best breakfasts in Turkey
Çeşme Bazlama Kahvaltı (Çeşme)
Dozens of homemade jams and the namesake bazlama, a kind of fluffy flatbread, are among the hallmarks at this famous breakfast spot on the Çeşme Peninsula near İzmir. The original location is open summers only, but multiple branches in Istanbul serve the same Aegean flavours year-round. (Dalyan Mahallesi, 4000. Sokak, No 4, Çeşme, İzmir, www.bazlamakahvalti.com, serpme kahvaltı 155TL/£7.50 per person
Mustafa'nın Kahvaltı Dünyası (Diyarbakır)
This is a popular choice among the many restaurants serving massive breakfast spreads all day long inside the imposing Hasan Paşa Hanı, a 16th-century caravanserai built in black-and-white layers of basalt and limestone. The eggs cooked with braised beef and peppers (kavurmalı yumurta) is a speciality. (Tarihi Hasanpaşa Hanı, Gazi Caddesi D:1. Kat No:2, Sur, Diyarbakır, www.mustafaninkahvaltidunyasi.com, serpme kahvaltı 100TL/£4.80 per person)
Sütçü Kenan Kahvaltı Salonu (Van)
A stalwart of the bustling 'breakfast street' in the eastern city of Van, 'Milkman' Kenan's place serves appropriately delicious kaymak as well as local flavours such as murtuğa, eggs cooked with flour and browned butter; and van otlu peyniri, which you can also buy to take home at the nearby Peynirciler Çarşısı (Cheese-makers' Bazaar). (Cumhuriyet Caddesi, Kahvaltıcılar Sokak No: 7/A, Van, vandakahvalti.com, serpme kahvaltı 85TL/£4.10 per person)
Çinçiva Kafe (Rize)
There's no better breakfast for a big day hiking in the gorgeous, rugged mountains above the Black Sea coast than muhlama (also known as mıhlama or kuymak), a fondue- or grits-like blend of cheeses, cornmeal, and butter. And there's few more atmospheric spots to fuel up on it than this wooden house overhanging the Fırtına River in Şenyuva village, part of the Çamlıhemşin district of Rize. (Şenyuva Köyü, Çamlıhemşin, Rize, cincivakahve.com, muhlama for one, 35TL (£1.70), serpme kahvaltı 75TL (£3.60) per person)
Written by Jennifer Hattam