PAID CONTENT
With its crystalline beaches, Mamma Mia-esque charm and pleasant spring-through-autumn weather, Kefalonia is the perfect out-of-season holiday destination
When novelist Louis de Bernières sat down 30-odd years ago to write possibly the greatest love story of modern times, he selected the enchanting Greek island of Kefalonia for his backdrop.
That book, Captain Corelli's Mandolin, was a worldwide bestseller, and a movie adaptation starring Nicholas Cage and Penélope Cruz followed a few years later. Unusually for Hollywood, the film was actually shot on Kefalonia. So, what makes this oft-overlooked destination such a perfect setting?
It's no secret that most Greek islands rely heavily on tourism — with the travel industry generating around 27 billion euros in 2021, according to Statista.
This is no less true for Kefalonia, with tourists flocking to the island in abundance from June through until August, thanks to its high temperatures and picturesque landscape. With the island's Mamma Mia-esque charm and painterly shoreline, it's easy to see why summer in Kefalonia is so popular.
However, many people are unaware that the mild climate and abundance of land and sea activities make it an ideal out of season destination, too, particularly around April and October, where crowds are slim and the weather is warm enough to enjoy an idyllic island break.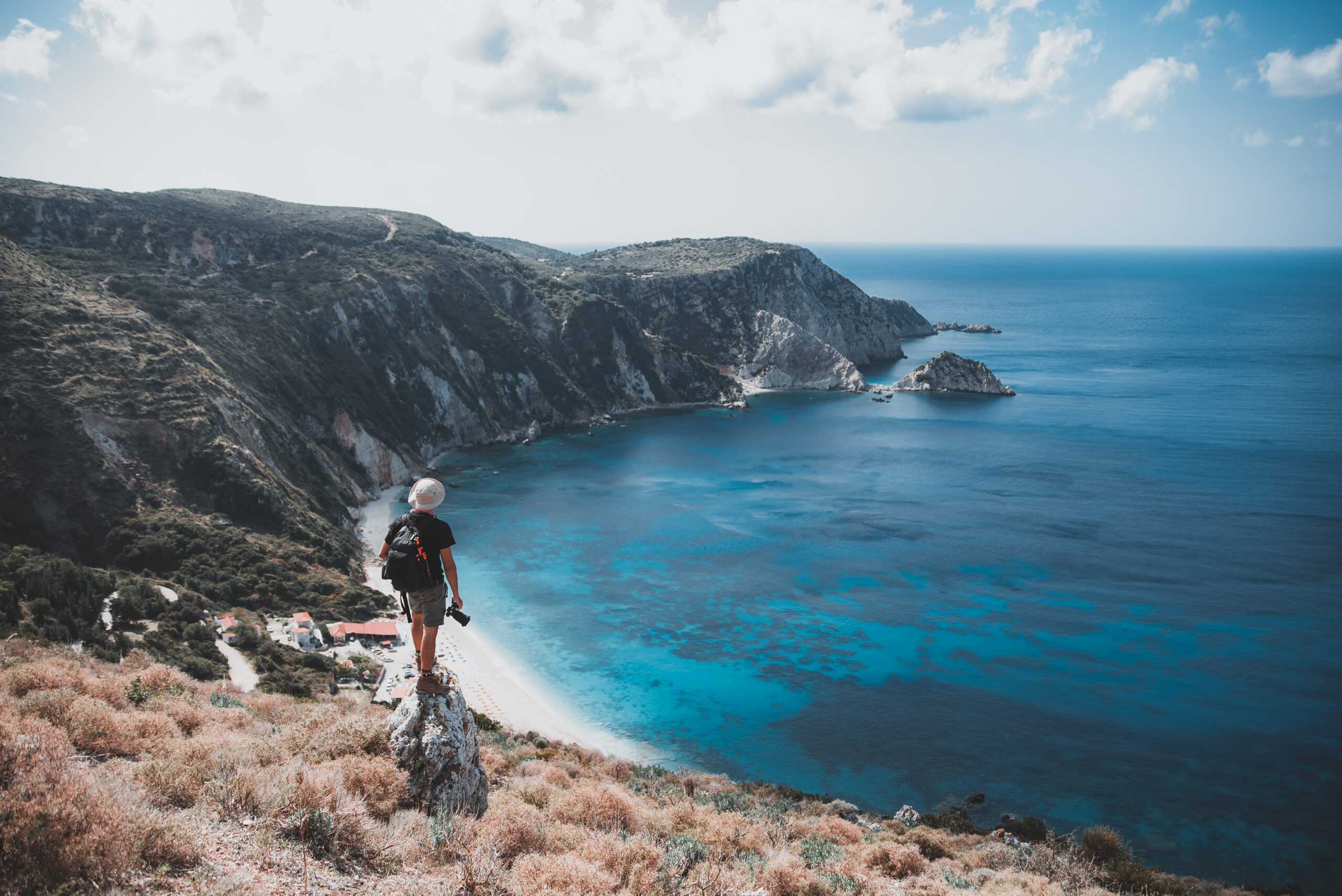 Unlike many of its neighbours, the largest and wildest of the Ionian islands never went down the nightclub-resort route. Much to the delight of locals, Kefalonia's natural charms have been left to flourish undisturbed.
Today, its coastline is still rugged and unspoiled — comprised of dramatic limestone cliffs, discreet coves and crystal-clear waters that act as the perfect base for kayaking or exploring the otherworldly coral reefs via a diving excursion.
Naturally, there's no shortage of exceptional beaches.
Myrtos, with its milky-white sand, is sandwiched between cypress-scented mountainsides, its hypnotic waters sparkle with iridescent marble sediment. Colourful Horgota is fringed with verdant forests. Lassi, which has two beaches, is laid-back, and perfect for families. These good-looking coastal locales thrive throughout the off-peak season, with a myriad of colours, flowers and lush greenery adorning the local landscape.
Away from the coastline, the island interior is a vivid patchwork of wild meadows, upscale wineries and serene oak forests.
A firm highlight is Mount Ainos, the Ionian peninsula's highest mountain. Studded with rare black pines, native orchids and charismatic wild ponies, the views from the peak over to the neighbouring islands of Ithaca, Zakynthos and Lefkada make the adventurous hairpin trek up the mountainside a must.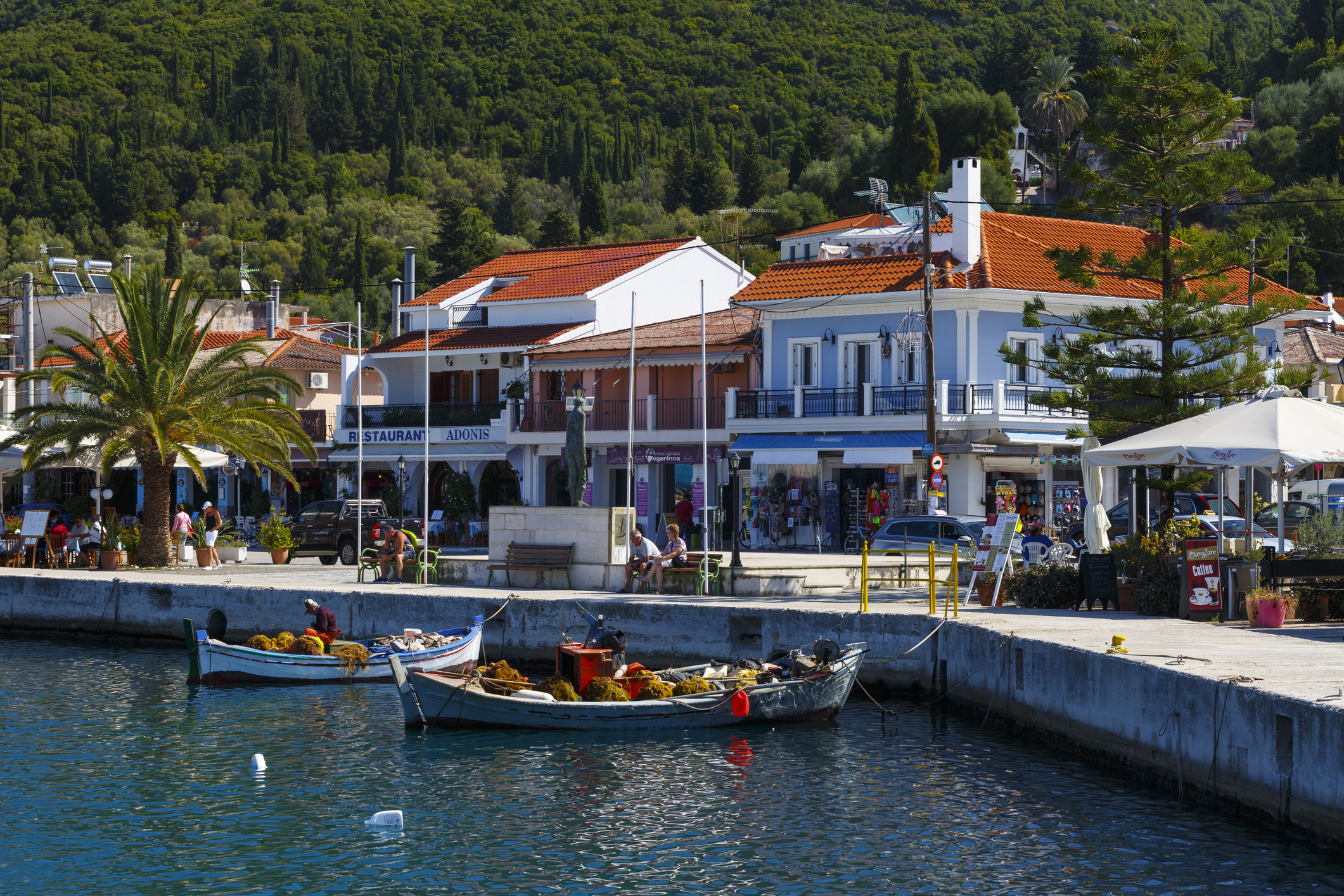 If you prefer your feet firmly on the ground, Kefalonia is blessed with more down-to-earth delights, in the shape of its world-class cave systems.
Drogarati is a breathtaking 150-million-year-old stone grotto, ornamented with ancient stalagmites and gravity-defying stalactites. Drogarati's acoustics are so mesmerising, legendary Greek soprano Maria Callas played a gig here.
A 10-minute drive north, Melissani Cave is, if anything more bewitching. According to Greek myth, Melissani was a favoured haunt of nymphs. Its unique geology — flooded, with a collapsed roof — is best explored from a dinky rowboat around noon, when incoming sunbeams put on a captivating subterranean lightshow.
The island's charms aren't limited to natural wonders.
Storybook villages — straight off the pages of Captain Corelli — punctuate the oleander-fragranced landscape. The capital, Argostoli, is renowned for its waterfront bakeries, where you can pause with a hearty spinach and cheese spanakopita, or sweet custard-filled bougatsa while being serenaded by wandering musicians singing traditional 'kantades'.
In the quieter months, when the throngs of tourists have dispersed, life carries on for locals, who will undoubtedly give you a friendly nod or engage you in conversation. Even 'downtown' you're never far from nature, as loggerhead turtles linger hopefully in the harbour for scraps.
Fiskardo village in the north is graced with a peaceful harbour, old-school gas-lighting and premium cocktails from Theodora's cafe. No wonder celebrities from Jon Bon Jovi to John Galliano have moored their yachts here.
Assos, like Fiskardo, was among a handful of settlements to survive a brutal 1953 earthquake. Today, its Venetian architecture is a candy-coloured time capsule, overlooked by the romantic ruins of a 16th-century castle — well worth an invigorating hike.
Three decades after Captain Corelli set down his famous mandolin, the pretty Greek island of Kefalonia still strikes a chord.