Are you concerned about exposing your little one to harsh chemicals? Worry not: our roundup of non-toxic products for babies and toddlers are just as amazing as they are child-proof.
Did you know that, according to studies, children are thought to be more sensitive to chemicals in the environment than adults? Little ones can breathe, eat and drink much more for their size, as compared to an adult's body weight. Babies and toddlers also tend to put their hands and toys in their mouths, which further exposes them to all sorts of potentially unsafe substances.
More worryingly, some of the chemicals found in common household products (such as phthalates and Bisphenol-A) are known to be endocrine disruptors, meaning they could potentially harm your child's hormonal and reproductive development. A recent survey of goods in outlets in Manchester actually found toys with up to 300 times the permitted levels of phthalates.
Trying to minimise the risk and reduce their children's exposure to harmful chemicals, more and more parents now seek to buy non-toxic products. And while toy companies still have a long way to go when it comes to chemical-free options, there are a few businesses leading the way when it comes to non-toxic solutions.
Here, we round up some of the best baby- and toddler-proof products that are not only free of chemicals, but also stylish, functional and great for your child's learning and development.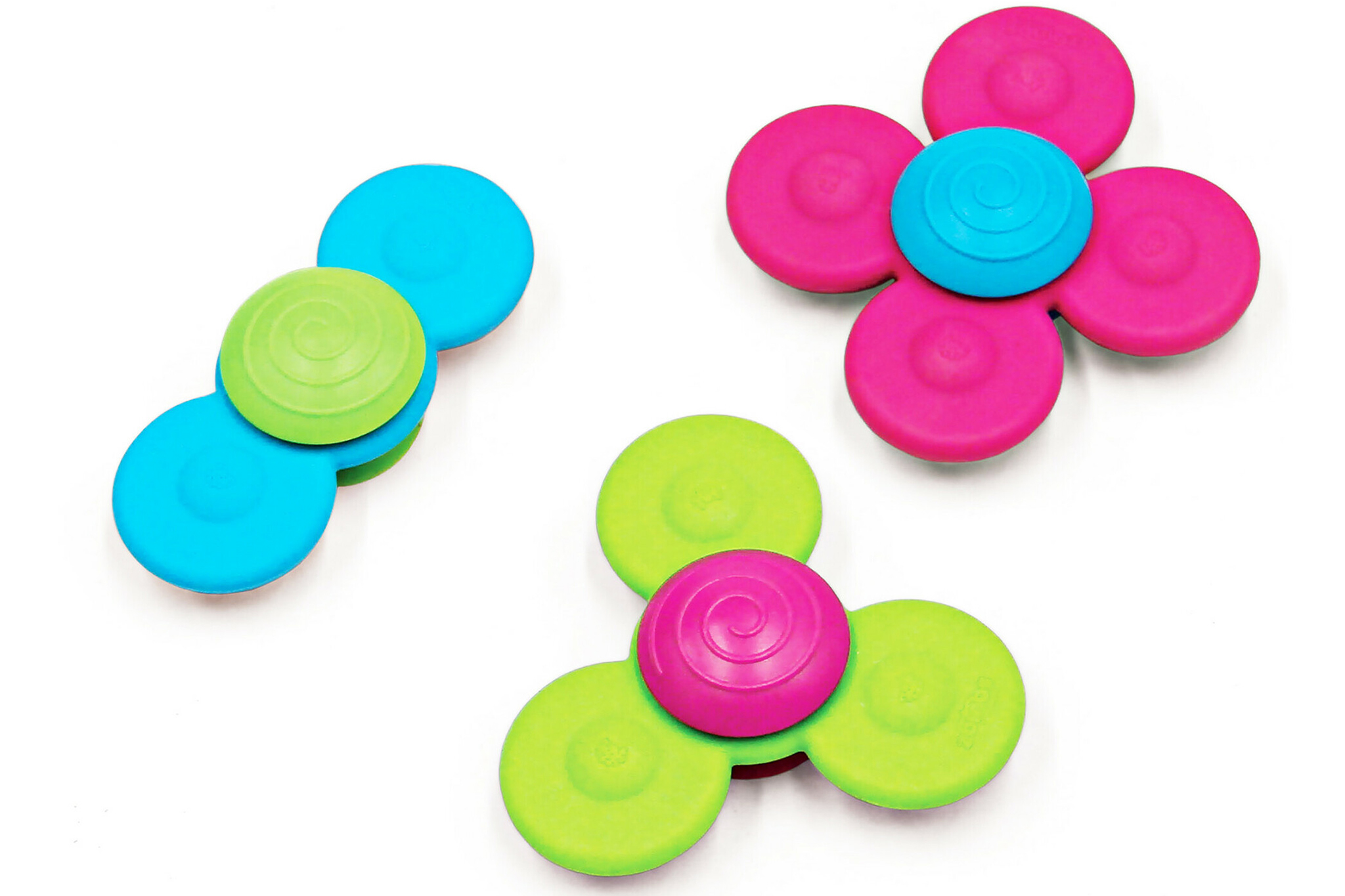 Fat Brain Whirly Squigz spinners
Fat Brain's colourful Whirly Squigz spinners are sure to catch your tiny tot's attention, keeping them busy and excited throughout the day. These little flower-shaped, spinning pieces can stick onto any smooth surface. Perfect for table play, bath time or on-the-go fun, they help develop your child's motor and observation skills as well as their hand-eye coordination. Being crafted from high-quality silicone, they can be used as a teether, too.
When it comes to safety, Fat Brain toys undergo a rigorous testing process. TOMY, the Japanese company behind the brand, hires independent chemical experts to assess the specifications of the toys' raw materials and verify they contain no hazardous chemicals. The final product is also independently tested by expert laboratories for safety.
£20.99, suitable for 10 months and above, available from amazon.co.uk
Lamaze Freddie the Firefly pram toy
Freddie the Firefly has long been a favourite among parents, designed to stimulate your baby's senses with its soft velour body, bright colours, patterns and textures. Lamaze's happy bug has now been relaunched to include many more exciting features, such as a squeaker, clinking rings, tethered ladybird teethe and knotted antennae, perfect for chewing. His layered wings include a peek-a-boo mirror, too, which allows for further exploration and interactive play. Freddie can easily be attached to pushchairs, prams and car seats.
Just like Fat Brain, the Lamaze baby line is managed by TOMY, with all toys being rigorously tested for harmful chemicals by independent experts.
£13.99, suitable from birth, available from amazon.co.uk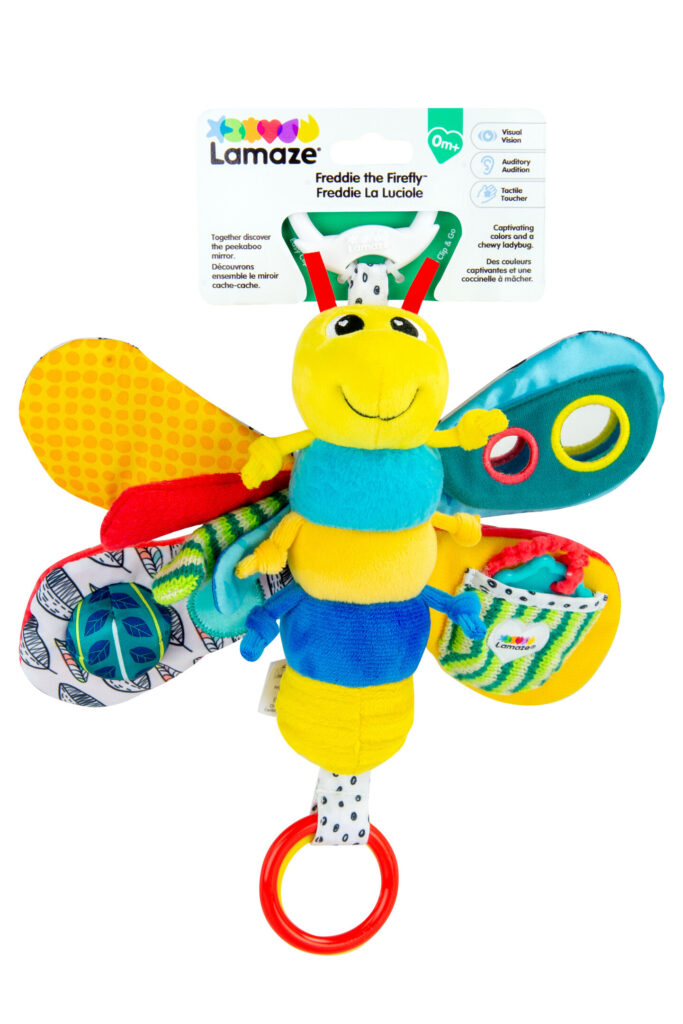 Little Gubbins baby wipes
If you're looking to save money while doing your bit for the planet, swap disposable baby wipes for these eco-friendly reusable cloths. Coming in a pack of 20, the Little Gubbins microfibre cloths are made using recycled materials, making for the perfect wash-and-reuse solution.
The wipes are ideal for sensitive skin as they're super soft. Microfibre is extra-absorbent, too, and easy to clean without the need for chemicals. They also come with a free laundry bag.
£12.29, suitable from birth, available from amazon.co.uk
Munchkin teether toy
The Sili Twisty Bendable Multi-Texture Teether is made from 100% natural beechwood and food-grade silicone. It's also BPA-free, which means it doesn't contain any traces of Bisphenol-A (which has been linked to negative health effects in infants and children).
Part teether, part rattle and part early learning toy, Munchkin's figure-eight-shaped soother was made to help relieve tender, itchy gums: it has rings, bumps and ridges, which are sure to keep your baby comforted and entertained all at once.
£11.99, suitable for ages three months and over, available on munchkin.co.uk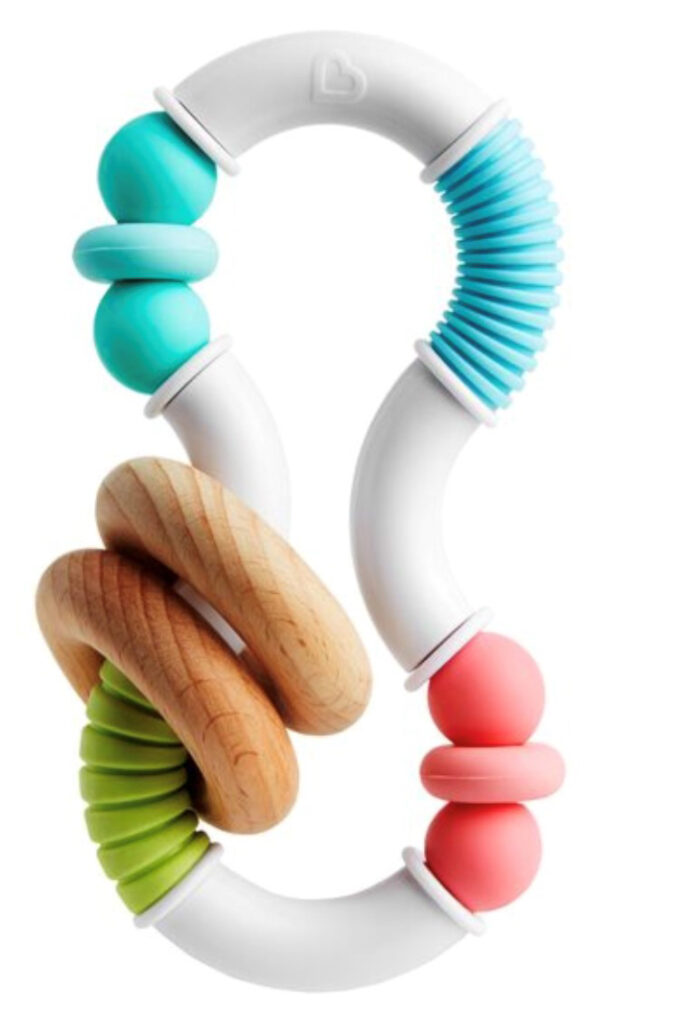 Little Brian paint sticks
Are you looking to give your little one a way to channel their inner Picasso? The Little Brian Paint sticks will do the trick. Your toddler can simply twist them up and down, just like a glue stick, to create their own cool artwork on paper, a canvas, cards or even wood and glass. There's no need for water or brushes, and the paint dries in just 60 seconds.
The Little Brian Paint Sticks Bucket includes 20 mess-free paints (12 classic, six dayglow and two metallic colours) in one handy package. EN71- and REACH-tested, the paints contain no BPA, phthalates, cadmium, lead, formaldehyde, latex, formamide or flame retardants.
£12.24, suitable for ages three years and over, available from amazon.co.uk
Rock Stepper playmat
If you're after a thick mat where your toddler can play freely while staying safe, check out the Rock Stepper. Made of a durable foam, the playmat is sustainable and chemical-free. It's made from a non-toxic PVC memory foam, which means there aren't any toxic nasties such as BPA, phthalates, lead, latex, formamide, formaldehyde, EVA and flame retardants.
Waterproof and easy to clean, this special mat also supports your child's learning and development. It features visual prompts, including a wheel with 70 corresponding flashcards featuring letters, numbers, colours, shapes and pictures, and comes with a complementary app that hosts games covering aeras such as maths and literacy for early years foundation stage (EYFS) ages. All are developed by primary school teachers, designed to encourage game play, help boost brain development and improve fine motor skills.
£195, suitable from birth, available on rockstepper.com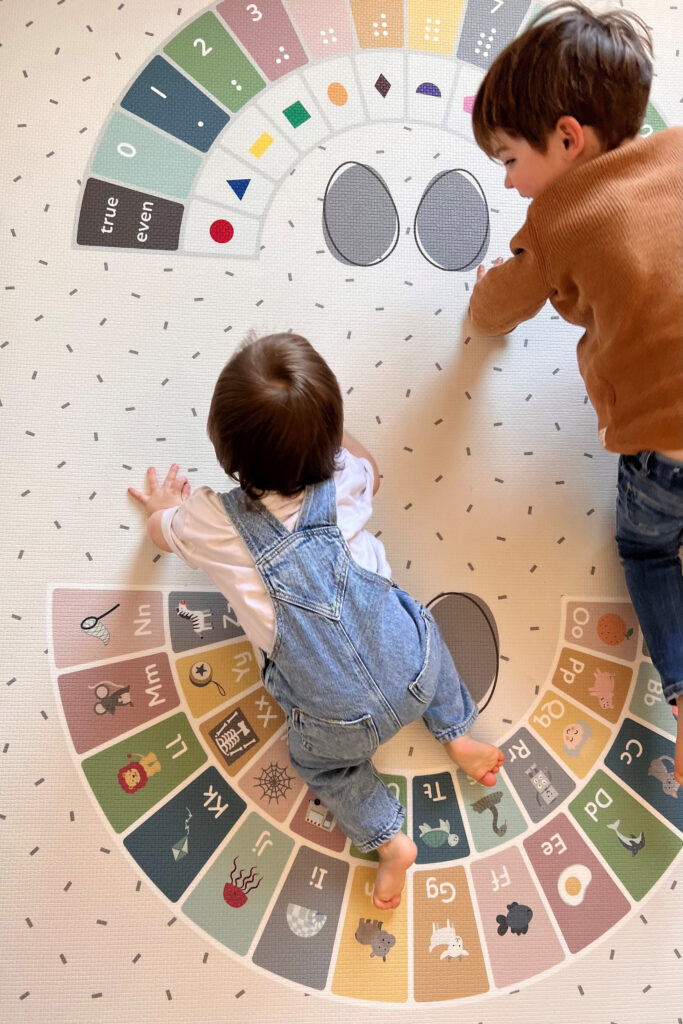 Vilac wooden blocks
Vilac has been using carefully chosen woods and lacquers for its toys for over a century. The company has developed its lacquer to ensure that it's durable and, above all, safe for children to handle. Before they go on sale, Vilac toys are subject to stringent quality control, certified by independent laboratories. All of them comply with the European standard for toys NF-EN 71, legislation that ensures mechanical and fire safety as well as non-toxicity.
Coming in all different colours and shapes, the Vilac wooden blocks will give your toddler's imagination and creative thinking a boost, while helping them develop their motor skills. Show them how to make different structures — from animals to houses and vehicles — using the 54 colourful blocks in Vilac's appealing storage barrel. They can be used to role play, build, stack and create shapes, enhancing your toddler's motor skills one block at a time.
£30, suitable for ages two and over, available from hippychick.com
Lifetime toddler bed in white and birch
Perfect for little ones who are apprehensive about saying goodbye to their cot, this Scandi-style bed with white and birch wood finish from Lifetime is designed to make the transition from toddler to child that bit easier. It's appropriate for children aged two and over, with its low design and raised side panels making it extra-secure. Better yet, it can accommodate your little one until they're approximately five to seven years old, which means you won't be splurging on a new bed anytime soon. It also comes with a matching, separate storage cupboard and ladder bookshelf, creating a special corner just for them.
Lifetime's wood comes from selected FSC-certified forest plantations in Northern Europe, and is given ample time to achieve the right hardness without the addition of artificial agents. The company uses only eco-friendly and water-based lacquer, while the furniture undergoes a series of quality tests before it's approved for delivery.
£295, suitable for ages two and over, available from cuckooland.com

Mama Bamboo eco-nappies
Your baby deserves soft, luxurious nappies, and Mama Bamboo's eco-friendly offering more than fits the bill. The nappies are made from gentle, breathable, biodegradable, bamboo viscose, designed to feel silky on your baby's delicate skin. At the same time, bamboo fibres have moisture-absorbing and temperature-regulating properties to keep skin dry and comfortable on a hot, humid day, as well as natural antibacterial properties which reduce the chances of nasty nappy rash and irritation.
As for their non-toxic credentials? Mama Bamboo nappies are free from alcohol, chlorine, preservatives, phthalates, latex, PVC and Polycyclic aromatic hydrocarbons (PAHs).
£9.95 – £111.00, suitable from birth, available from kiddykind.com
Pure Earth Collection blackout blinds
For little ones who like to sleep without a nightlight, these organic, plastic-free blinds are the perfect buy. The Pure Earth Collection blinds are designed to fit almost any window, easily adhering to the glass while ensuring a close fit to block out the maximum amount of light from outside. They're easy to fold away and come in a reusable cotton drawstring bag for storage and travel.
The blinds are non-toxic, too, made from natural GOTS-certified cotton which contains no Polyvinyl chloride (PVC).
£84- £151.20, available from kiddykind.com
Totter + Tumble playmat
Parents looking for a functional, safe but also ultra-stylish playmat for their tot are sure to find it in Totter + Tumble. Having been tested to British and European Toy Standards EN 71, these playmats are made from a non-toxic PVC memory foam and do not contain BPA, phthalates, lead, latex, formamide, formaldehyde, EVA or flame retardants.
Made of a thick, wipeable memory foam, Totter + Tumble playmats come in all kinds of wonderful designs, such as the midnight teal Wanderlust and honey yellow Keeper (two sides of the same reversible mat).
£160, suitable from birth, available on totterandtumble.co.uk
Main photo: Lifetime