From scrumptious delicacies to mystical temples and even bubbling springs (the latter making for an unforgettable spa experience), Busan's stock as an unforgettable holiday destination is rising. Here's why the South Korean city needs to be on your radar
PAID CONTENT
South Korea's colourful second city, Busan, might not get the same amount of attention as Seoul, but even so, it's just as fun, safe and stylish. The city lies on a beautiful stretch of coastline, meaning it offers all the big-city buzz of Seoul but with the added bonus of stunning beaches.
Combine that with its accessible mountain trails, cool, up-and-coming neighbourhoods and amazing food, and Busan feels like no other city in Asia: an exciting, easy-to-navigate urban gem with a hard-to-beat, outdoorsy edge. Here's why Busan deserves its place in your travel diary.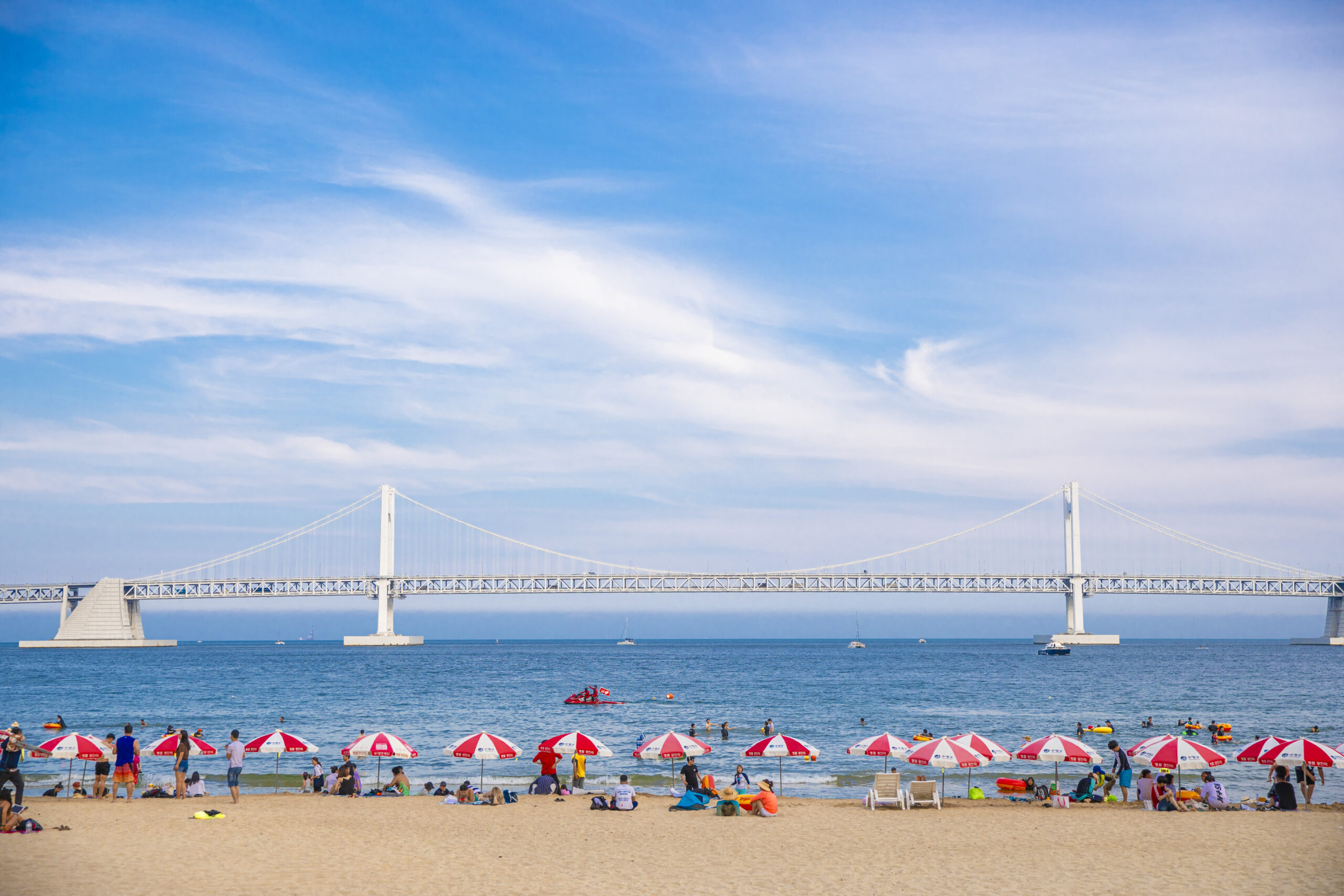 1. It offers some of the most distinct food in the country
Busan is revered in South Korea for its speciality cooking. Being a seaside city, it does fish very well. A visit to the lively, friendly Jagalchi Market is an absolute must. Here, you'll find every kind of fish cooked to perfection at its first-floor restaurants.
Just as fun and even more informal, the 'restaurant street' at nearby Gukje Market is where you can try kimbap (seaweed-wrapped rice) and the gleefully sinful ssiat hotteok (think cinnamon roll meets deep-fried donut). Find Busan's other speciality, milmyeon (a spicy, cold-noodle soup), as well as Busan pork soup rice, at Choryang Milmyeon, although expect a queue. Or, for trendier eats, Jeonpo Cafe Street is known for its arty coffee stops.
2. It's where urban cool meets the great outdoors
Busan is home to seven beaches. Known for its white sand, party-ready Haeundae Beach is the most popular and includes a whole neighbourhood known for its buzzy restaurants and bars. Elsewhere, Gwangalli is also known for its nightlife; Songjeong for its reliable surf; and Dadaepo for its sunsets.
But Busan's mountains also add to the city's outdoorsy allure. With several, waymarked trails, Jangsan mountain offers epic views of the city. Or there's the easier-going, hour-long walk up Geumnyeongsan mountain that winds up at Sanseong village, where restaurants specialise in hearty baeksuk (chicken broth).

3. There's a thriving arts scene
With a booming arts scene, Busan is now considered one of the fastest-growing culture centres in Asia. And it has some genuinely distinct creative spaces: dubbed the 'Santorini of Korea', Gamcheon Culture Village is a neighbourhood of colourfully painted houses that's famed for its street art, galleries and cafes. Five-storey Busan Museum of Art competes only with Museum of Contemporary Art Busan on Eulsukdo Island as the city's foremost centre of contemporary art, while there's a plethora of other indie galleries city-wide, including GoEun Museum of Photography.
Other must-sees include immersive digital art space Museum 1 and the former wire factory turned epic culture space f1963, home to one of the world's most beautiful bookshops.
4. The city's history has its highs — and lows
Busan boasts an array of mountains, many of them sprinkled with historic temples. Built in 1376, the seven-story, stone Haedong Yonggung Temple is one of the most distinct Buddhist temples in South Korea. Why? It's perched on a cliff, with gorgeous views of the ocean, and is a short coastal walk away from vibey Haeundae Beach.
At the foot of Geumjeong Mountain lies the seventh-century Beomeosa Temple; some of its stepping stones are said to comfort the souls of dead Buddhist monks who suffered from the tribute demands of officials in the late Joseon Dynasty. Trek all the way to the peak along the Geumjeong Mountain Fortress, and you'll find Seokbulsa ('stone buddha temple') — the tough hike rewarded with 30ft-high Buddhist statues and panoramic views of the city.
Busan's natural history is just as stunning: don't miss a walk in Ahopsan Forest, a beguiling, 400-year-old bamboo woodland that was off limits to the world until 2016.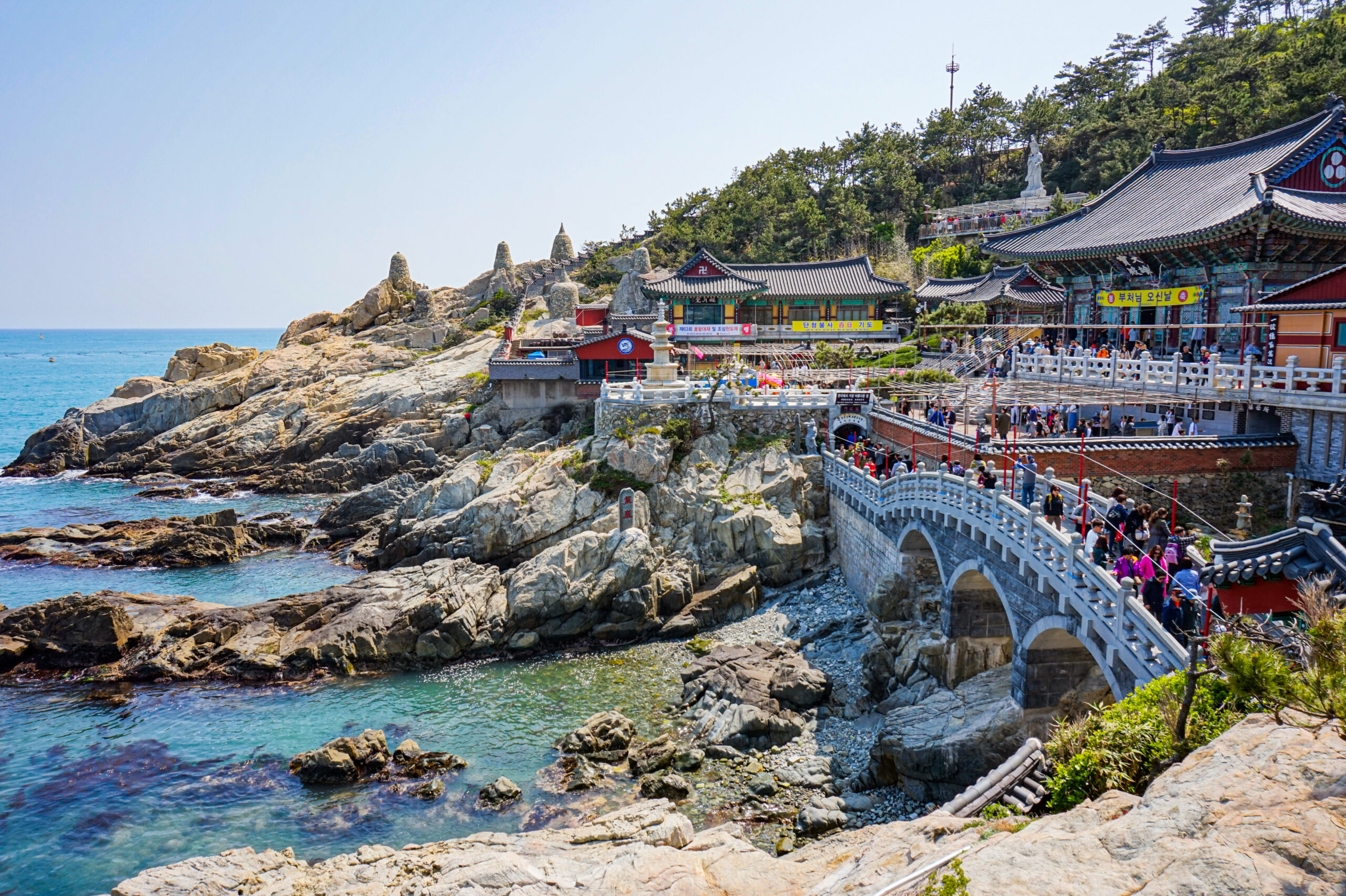 5. The shopping and spa days aren't bad, either
Chic, stylish and lots of fun, Busan's endless retail options easily rival Seoul, from the trendy stores of Seomyeon to haggling at the stalls of Gukje Market or book shopping at the charming Bosu-dong Book Alley.
Finish your day of shopping with a wind-down at one of the city's many spas, an essential experience for anyone visiting South Korea. With countless saunas and pools, Heosimcheong Spa claims to be home to one of the largest natural springs in Asia. Or there's the gigantic SpaLand, fittingly based at Shinsegae Centum City, the world's largest department store — it comes with all kinds of themed sauna rooms, from the Pyramid room to the Bali Room.
Both Qatar and Cathay Pacific offer flights from London Heathrow to Busan, with an average flight time of 15 hours 20 minutes.  For more information on Busan, including how to plan the perfect itinerary,  please visit visitbusan.net. 
Words by Alexander Barlow