PAID CONTENT
South Korea's seaside city is known for its beautiful coastline, but also for its speciality dishes and fresh-as-it-gets seafood, which draws visitors from across the country year-round. Here's your guide to Busan's essential eats
Discover the country's food culture
Before sampling Busan's mouth-watering delicacies, it's worth getting acquainted with South Korea's gastronomy. The country's bold, delicious cuisine makes it a popular destination for go-getting gourmets year-round. But you don't have to be a serious foodie to eat well in its cities. While always packed with unique flavours, many of the country's food traditions are, in fact, very easy to get along with.
So, if fiery, fermented cabbage kimchi doesn't sound like your thing, there are countless alternatives: street food is a big part of South Korea's food culture, with stalls in every city — including Busan — specialising in everything from eumuk (fishcake) and gimbap (seaweed-wrapped rice rolls) to the sweet, sinful hotteok (Korean pancakes). Then there's the glorious chimaek (fried chicken and cold beer) as well as countless fun, flavoursome Korean barbeque restaurants, where diners sit around a charcoal grill and cook their own beef and geonbae! (cheers!) with glasses of soju (an easy-drinking, low-alcohol spirit).
Eat like a local in Busan
The country's second largest city is revered for its food. Much of it centres on seafood; an absolute must for any visitor to Busan is a trip to Jagalchi Market, a reliably buzzing fish market where you can haggle for seafood and have it cooked by the restaurants on the first floor. On level two, there's a raw fish area, where you can choose live fish to eat, such as uber-fresh strips of sashimi.
You'll find another must-stop for seafood sophisticates at the north end of Gwangalli Beach: Millak Raw Fish Town specialises in hoe (raw) fish; buy from the market and eat with gochujang (spicy, red-pepper paste) at one of the 300 restaurants in this 10-storey building, which overlooks the sea.
Busan's many 'food streets' are another buzzy way to sample the city's delicious comfort food: at downtown shopping hotspot Seomyeon, local speciality dwaeji gukbap — a rich, savoury broth with slow-cooked pork, usually served with kkakdugi, a spicy radish kimchi – is worth every calorie. Or head to Gukje Market and pull up a stool at its fast-moving food street and try other delicacies such as soondae, gimbap or ssiat hotteok (a sweet, seed-stuffed pancake).
Another must-try? Spicy fish cakes served on skewers, known as eomuk: you'll see everyone eating them. Pick some up at Goraesa Eomuk in Haeundae and head to the city's most famous beach. And you can't not try South Korea's ultimate comfort food: chimaek. It's everywhere, but the Chicken Times in Haeundae and 24-hour Chicken Kkang in Seomyeon are both popular with a late-night crowd. Barbeque is just as ubiquitous; for a classic spot, Somunnan Amso Galbi, set in a traditional Korean hanok house (est 1964) has a delightful old-world charm.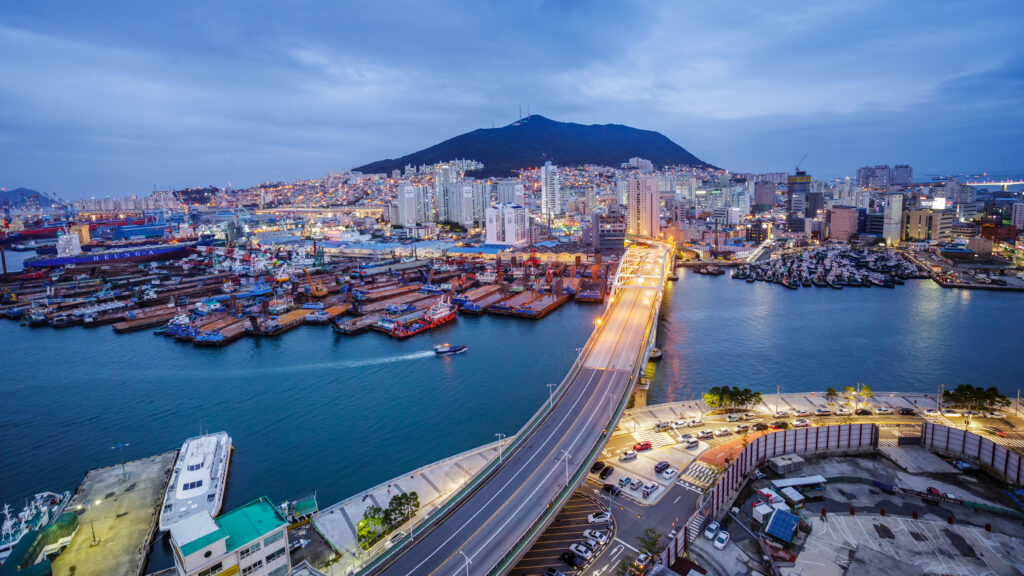 Top spots for dining out
One of the most unique dishes in Busan is milmyeon, a spicy, wheat-noodle soup served chilled in a umami-rich broth, topped with pickled radish, sliced steak, boiled egg and the tangy-sour gojuchang. Busan-ites go crazy for this dish, particularly in summer, when queues outside Gaegeum Milmyeon are common. Choryang Milmyeon, close to Busan Station is another go-to spot that also excels in mandu (dumplings).
Another seriously delicious and unique Busan craving is jokbal: tender braised pig's feet served chilled with naengchae (chilled vegetables), topped with a spicy mustard sauce that gives it a sour, tangy flavour. Not far from BIFF Square, so-called 'Jokbal Street' in Bupyeong-dong district is home to several jokbal specialists, including Wonjo Hanyang Jokbal, or there's also Hongso Jokbal in Seomyeon.
But no trip to Busan is complete without trying nakji-bokkeum, a spicy, garlicy octopus stew that's served with either naksae (shrimp) or, for the more adventurous, gopchang (tripe). Opened in 1972, Gaemijip, close to Gukje Market, is famous nationwide, and is the originator of the shrimp-tripe variant. Or try Gugine Nakji-bokkeum, which offers three levels of heat: soon-han (mild), bo-tong (regular) or mae-un (spicy). Either way, a cold beer is essential.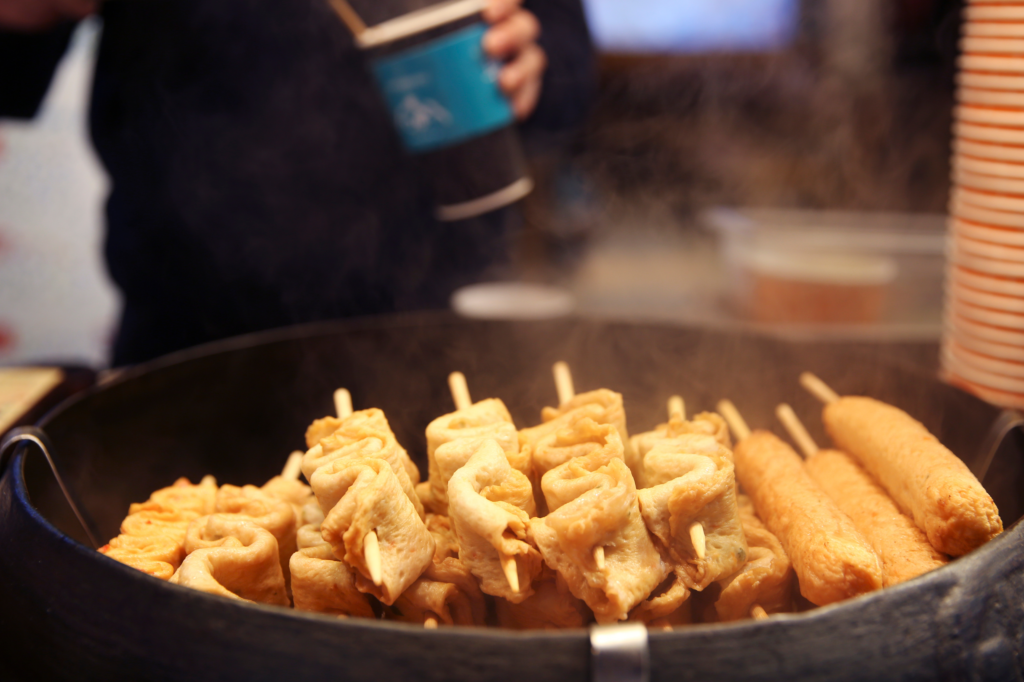 Both Qatar and Cathay Pacific offer flights from London Heathrow to Busan, with an average flight time of 15 hours 20 minutes.  For more information on Busan, including how to plan the perfect itinerary,  please visit visitbusan.net. 
Words by Alexander Barlow