Is there anything better than biting into a cool and juicy slice of watermelon on a hot, balmy day? We think not. These recipes will inspire you to sneak this colourful fruit into some refreshing meals
Watermelon consists of around 93% water, so as the UK temperatures (hopefully) get hotter, it's the perfect fruit to keep you hydrated and refreshed. Watermelon is also thought to boast a variety of other benefits. Its antioxidant properties may be useful in preventing or delaying some types of cell damage, while its Vitamin A and C content can help to maintain healthy skin.
However, the most surprising health benefit of watermelon could be its rich citrulline concentration, which is an amino acid that can improve blood flow and boost recovery after a workout. So, next time you see an athlete drinking watermelon juice, you'll know why.
Unlike more stereotypical summer fruits, such as strawberries and pineapple, some people often shy away from integrating watermelon into savoury recipes and sweet treats, opting to enjoy it solely as a crisp wedge. To ensure that you don't miss out on the versatility of watermelon, we've curated five tasty recipes that will have your friends envying your summer spread.
1. Watermelon Salad
Those who've ventured to Eastern Mediterranean countries such as Egypt, Greece and Cyprus will likely have experienced the mouth-watering combination of watermelon and tangy sheep's cheese. And if you haven't, you must. This watermelon salad recipe offers a delightful blend of salty and sweet flavours. Combined with a honey, lime and balsamic vinegar dressing, it'll be the perfect side dish at your barbecue.
Serves: two
Takes: five minutes
INGREDIENTS
180g watermelon, deseeded and cubed
medium cucumber, sliced
100g feta cheese, crumbled or cubed
handful mint leaves, chopped
handful basil leaves
For the dressing (optional)
2 tbsp balsamic vinegar
2 tbsp honey
dash lime juice
METHOD
Combine the watermelon with the cucumber, feta, mint and basil.
Combine dressing ingredients, add a pinch of salt to taste and drizzle over the salad before mixing
2. Watermelon iced coffee
Are you bored of the usual sweet options of vanilla and caramel in your coffee? Fear not – we've got the recipe for you. The refreshing taste of juicy watermelon combined with light-roasted coffee will be the perfect cooler to kick-start your morning this summer.
Serves: 1
Takes: 5 minutes
If your kitchen features a Nespresso Barista device, then let Nespresso do all the hard work for you. The brand's latest Californian Dream Summer Collection is inspired by a laid-back, LA lifestyle and will have you drifting into a West Coast state of mind in no time.
METHOD
Simply brew the Juicy Watermelon Over Ice capsule in your Barista device, pour it over a cup filled with ice cubes and top with 180ml of cold water.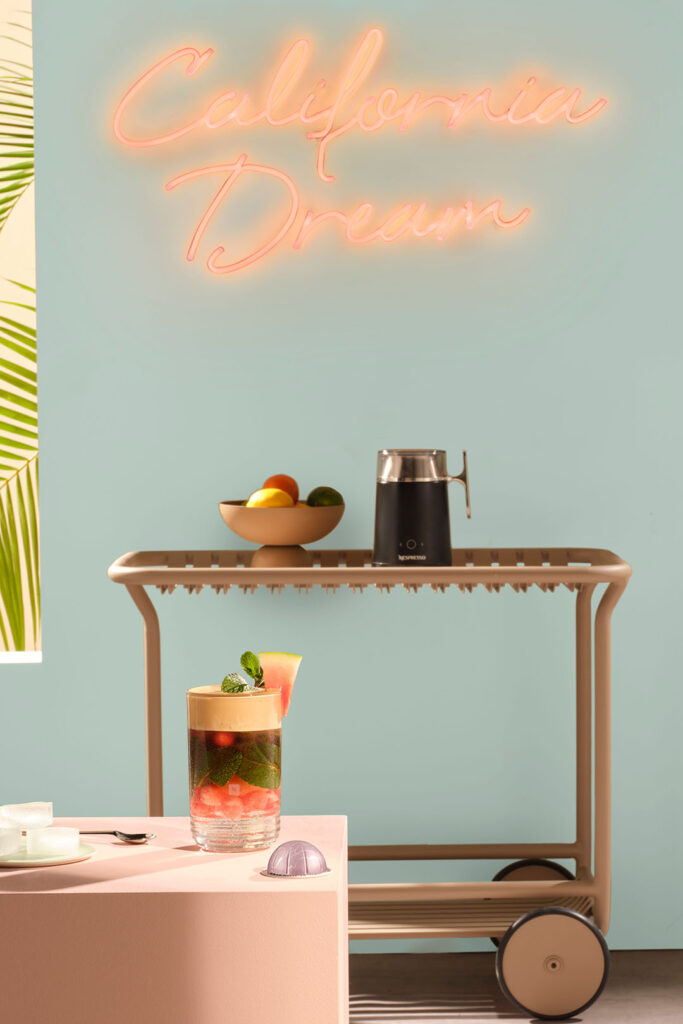 3. Watermelon Salsa
Perfect for dipping your chips and vegetable sticks into as a pre-dinner snack, slathering on top of nachos or adding to grilled chicken tacos, salsa goes with so much. Instead of opting for your usual shop-bought pot, why not try making your own? And while you're at it, sweeten it up with some refreshing watermelon…
Serves: 6
Takes: 10 minutes
INGREDIENTS
200g watermelon, diced
200g red pepper, diced
Quarter red onion, diced
small bunch mint, roughly chopped
medium bunch coriander, roughly chopped
1-2 jalapeños, sliced (optional)
juice of one lime
METHOD
Mix the watermelon, pepper and red onion with the coriander, mint and lime juice.
Add jalapeños, if using, season with salt and pepper to taste and serve.
4. Watermelon mojito with grilled mint
No summer recipe list is complete without a fruity and fresh cocktail to share with friends and family. This watermelon mojito recipe from The Mixer is a great alternative to Pimm's and will be a delightful addition to the cocktail list at your next garden party.
Serves: 1
Takes: 5 minutes
INGREDIENTS
4-6 mint leaves
4-6 chunks fresh watermelon, seeds removed
60ml Wray & Nephew white rum
30ml fresh lime juice
30ml simple syrup
150ml soda water
crushed ice
watermelon wedge and mint sprig, to garnish
METHOD
Lightly brown the mint leaves on the grill before mixing them together with the watermelon chunks in a cocktail shaker.
Add in the rum, lime juice and simple syrup.
Fill the shaker with crushed ice and shake vigorously for about 10 seconds. Once you've finish shaking, fill a tall glass with crushed ice and strain the mixture into the glass, topping it up with soda water. Stir gently to combine.
Garnish with a watermelon wedge and mint sprig.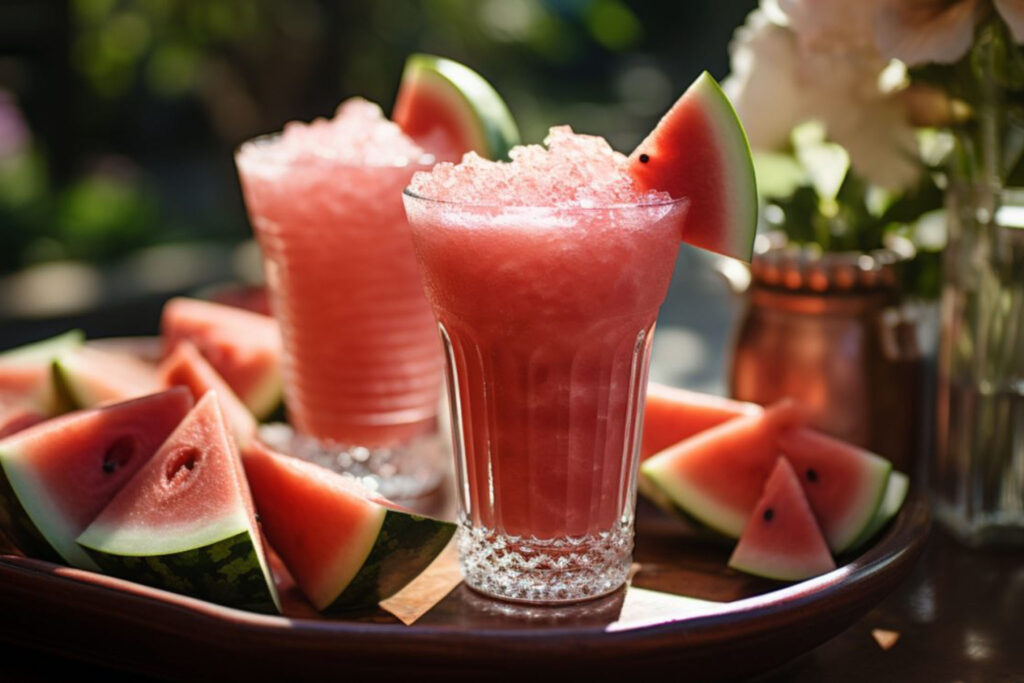 5. Watermelon popsicles
Not only are watermelon ice lollies a tasty treat for kids to enjoy on a hot summer day, but they're a great way to help prevent dehydration, too.
METHOD
Scoop the flesh out of half a small watermelon and, after picking out the black seeds, puree using a blender or in a liquidiser.
Fill some ice lolly moulds with the blended watermelon and push in the sticks.
Freeze until solid and enjoy.