Clean, sober, minimalist and flavourful — these are four words that executive pastry chef Francesco Mannino would use to describe his work. We sat down with him to discuss what influences his cooking style, the inspiration behind his latest creations and to find out more about his latest stint at Pan Pacific London
A scroll down Executive Pastry Chef Francesco Mannino's Instagram account (@fmannino_pastry) will leave your mouth drooling. Each post features a decadent creation — from matcha and cherry cannolis to light and fluffy marshmallows tossed in olive oil. It's fair to say his work is far from mundane. We spoke to Francesco to find out more about his influences, and why you need to visit SHIOK!, Pan Pacific's in-house patisserie.
View this post on Instagram
When did you decide you wanted to become a pastry chef? What were your influences while growing up?
I've always been passionate about food, and I also love photography, so becoming a pastry chef was something I always wanted to do and has enabled me to combine cooking techniques with artistic flair, which are the two things that are most important to me. It has also given me the opportunity to travel the world, which has been really exciting and taught me a lot in itself.
How did your upbringing or other experiences influence your cooking style?
I grew up in Italy with my family, and was constantly surrounded by wonderful meals, each made with love — this definitely inspired me and birthed my love of cooking, too. When I look back, I still have memories of my grandmother cooking and passing on her recipes and tips and tricks to me, which I believe plays a part in my cooking today.
Spending time in Asia later in life influenced me also, and I'd describe my culinary style as clean, sober, minimalist and flavourful.
Can you tell us more about your career? What lessons have you learnt along the way?
My ultimate career highlight so far has to be opening my own bakery in Seoul with my wife — living and working as a pastry chef in Asia has greatly influenced my own technique. I love the refined yet minimalist style of Asian patisserie.
My other career highlights are writing my own cookbook, Modern Italian Desserts, and winning 'Dessert of the Year' in the UK in 2005 — this was a fantastic experience, and I loved the thrill of the competition. I have learnt that hard work pays off and you have to be open and willing to learn. That would be my advice to young and aspiring chefs.
Are you excited about the role at Pan Pacific London? I guess you'll be working across a lot of different venues and concepts — how do you feel about that?
I'm really excited to have joined the team at Pan Pacific London. I've worked in pastry kitchens across the globe throughout my career, in hotels such as The Connaught, The Lanesborough, Claridge's and The Langham, Shenzhen, so I feel I have a lot of experience and passion to bring to the role. I'm delighted to be back in a hotel kitchen at Pan Pacific London, and to be overseeing pastry across the hotel. It's going to be an exciting couple of months!
How will the flavours, dishes and ingredients differ within each venue?
All the desserts are refined, delicate and seasonally changing across the various outlets at Pan Pacific. SHIOK! is the property's elegant, in-house patisserie, which aims to bring western flavours with an Asian twist to the heart of the city.
SHIOK! offers a range of breakfast pastries and choices that can be enjoyed alongside coffee or aromatic loose-leaf tea blends, suitable for guests on the go and ideal for morning meetings. In the afternoon, a varied selection of patisserie, sweet treats and impressive, handmade celebration cakes in a variety of flavours can be enjoyed in-store, collected to take away or delivered straight to your door.
The Orchid Lounge, on the other hand, is the perfect destination for a curated afternoon tea with a Singaporean twist, not found anywhere else in London and designed to be savoured. Asian flavours are brought to a traditional British afternoon tea with seasonal collections, plus guests can choose the 'kopi tiam' savoury course or traditional sandwiches if preferred.
The sweet course features a selection of intricate and seasonally themed patisserie, perfectly paired with English sparkling wines and teas from the Rare Tea Company. Drawing inspiration from the seasons, I'm delighted to be working on my very first afternoon tea collection for The Orchid Lounge, which will have a festive focus and launch in November. I'm really excited for guests to try it!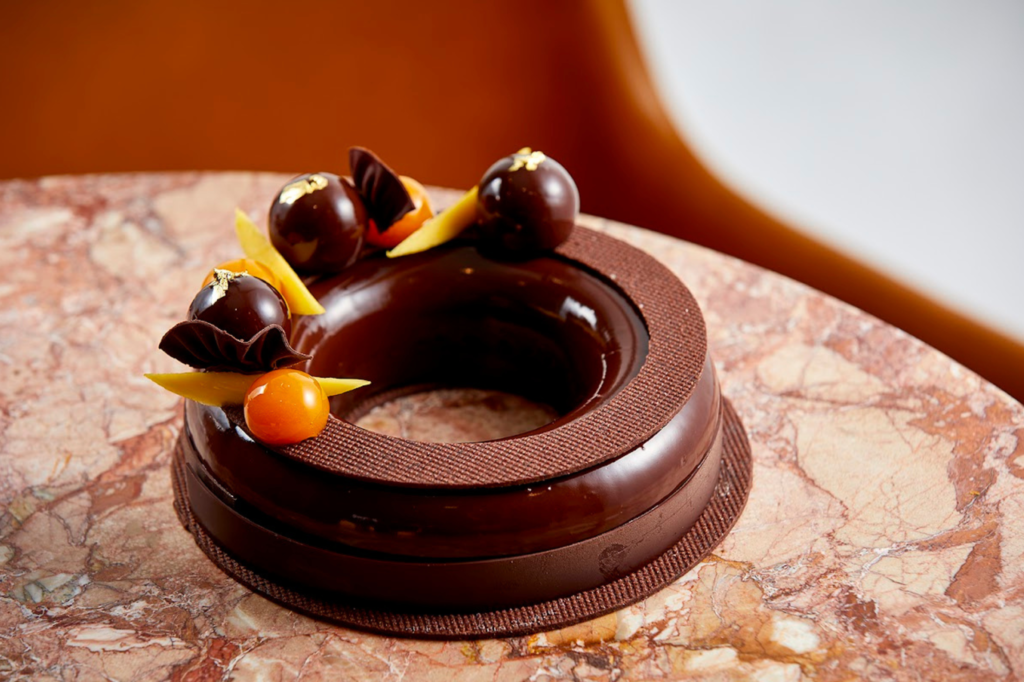 How will the menu change seasonally?
At Pan Pacific, we pride ourselves on ensuring we source the freshest of ingredients in line with what's in season. We work very closely with our suppliers to obtain the very best local produce wherever possible. In terms of the shift in dishes, fresh and light options featuring fruit will be a focus for spring and summer, while autumn and winter calls for heartier and more comforting menu choices.
What's your personal favourite pastry and why?
An absolute favourite of mine is millefeuille. The contrast in textures is incredible, but it also requires technique, as it's very challenging to achieve. I'm always intrigued to see the quality of the pastry when I see it on a menu, as it's so hard to master.
For budding bakers reading this, do you have any tips on how to make the perfect dessert or pastry at home?
My top tip for making the perfect pastry is to chill your dough really well, so the butter can firm up. This way, the pastry will hold its shape while baking. It's also important to use the best ingredients, including high-quality butter.
When baking a cake, my secret for cake batter would be that when you're adding eggs, if the batter starts to split a little, add a little flour and it'll come back together.
To make the perfect caramel, you need to make sure your sugar is well stored and doesn't have any impurities. It's so important to keep the side of the pan clean — clean it with a wet brush throughout the cooking process to avoid sugar crystals forming. You also have to make sure to stop stirring after the caramel reaches 120C, or the sugar will recrystallise. All these tips are tricks I've learnt along the way in my career. panpacific.com
View this post on Instagram