These expansive parks and hidden gardens are a great way to find peace and serenity in the capital this spring
With clocks set to go forward an hour this Sunday (26 March), there's no time like the present to embrace the pleasant spring climate and strike out into the capital's parks and gardens. But while many will flock to Regent's Park, Richmond or even the good old Hyde Park when planning a day out, London is full of bucolic surprises that are waiting to be discovered.
From courtyards sprouting out of storied World War II ruins to an Edenic garden hidden amongst the skyscrapers of Canary Wharf, these are the most peculiar and satisfying green spaces worth visiting in London.
View this post on Instagram
Discover a luxuriant moor on the outskirts of the city
This vast area of parkland sits in a rather unusual spot. British Airways has turned 260 acres of reclaimed land near Heathrow Airport into Harmondsworth Moor, a green sanctuary of meadows, rivers, lakes and ponds. Even though it's surrounded by the M25 and the M4, and planes can be heard flying overhead, it's still easy to find some peace here amid the trees, serene paths and bridleways.
The meadows have been recreated using specially harvested seeds designed to attract insects, butterflies and birds (keen ornithologists should keep their eyes peeled for the green woodpecker and magpie), while the stones of the old Waterloo Bridge which was demolished by 1936 were transported here to serve as striking decorative features. Aptly named 'Giant's Teeth', these granite stones have been placed one next to the other, resembling a magnificent teething grin.
Harmondsworth Moor is available for visits 24 hours a day and is accessible by car (about an hour drive from the city centre), and by public transport: take the Piccadilly Line to Heathrow Terminal 5, and then the 350 bus to Duke's Bridge stop, followed by a 15-minute walk to the park.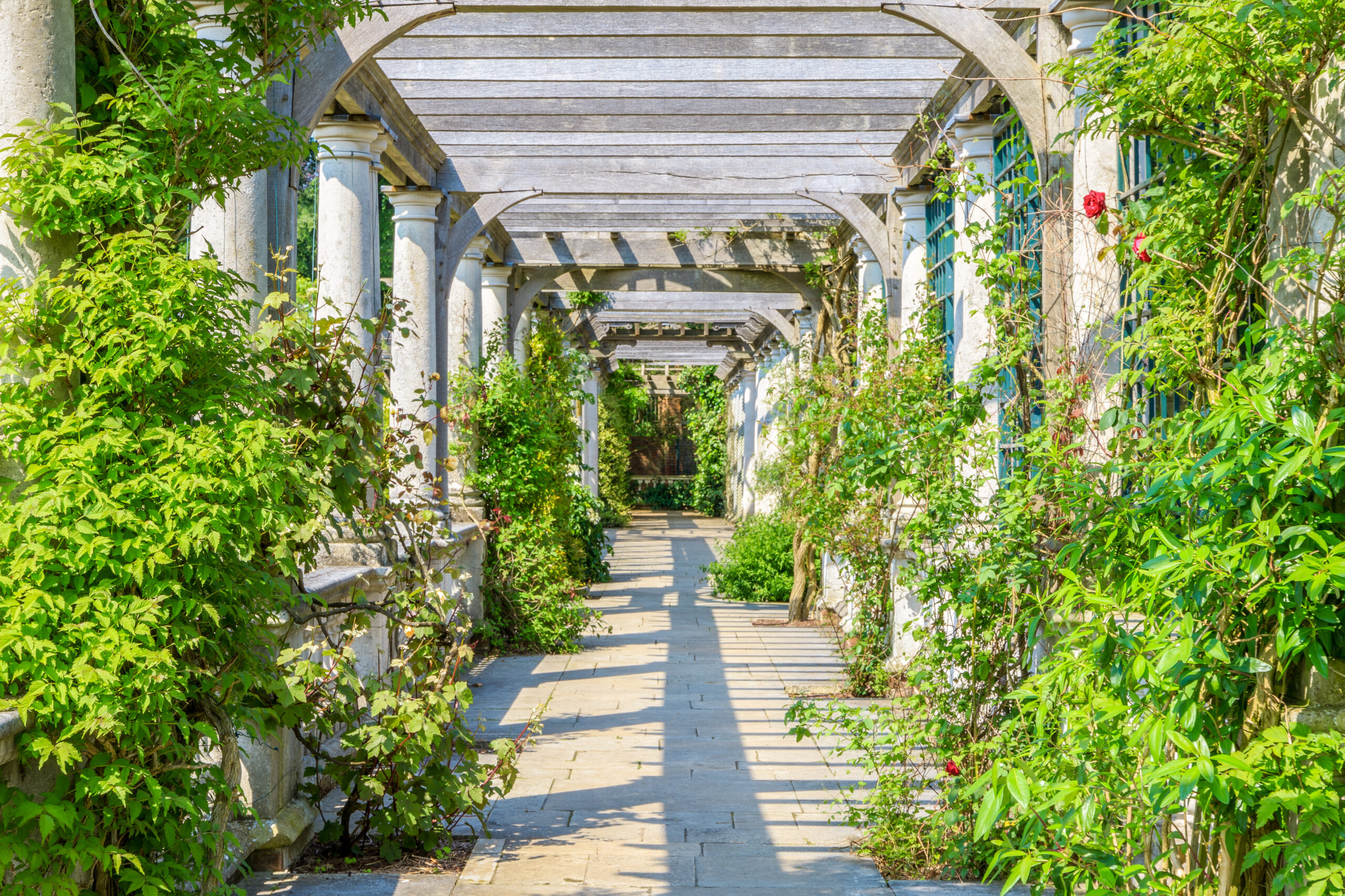 Snap a gorgeous selfie underneath a lush pergola in Hampstead
For a truly Instagrammable backdrop, head to the Hill Garden and Pergola in Hampstead. Its construction was commissioned by Lord Leverhulme back in 1904, when he decided to create a terrace in his verdant estate (known as The Hill) to host extravagant garden parties. A lot of it was sadly demolished after World War II but the City of London has been working to resurrect it to its former glory.
Swap Hampstead Heath's wild parkland for this Edwardian marvel on the West Heath, and you'll be met with a lush canopy and elegant stone columns, all looking as if they've popped out of a fairy tale — with foliage twisting around them in spring making for an enchanting sight. The Hill Garden and Pergola is also a licensed wedding venue, which makes total sense; after all, who wouldn't say 'I do' underneath a wisteria-clad arch?
The Hill Garden and Pergola is open daily from 8.30am. Closing times vary (check out the schedule here). Hampstead Heath is a six-minute walk away from Hampstead Heath rail station.
View this post on Instagram
Discover the ruins of a bombed-out church taken over by nature
The centrepiece of this beautiful garden is tied to a dark moment in history. The medieval St Dunstan church was bombed and severely damaged in the Blitz of 1941 — the tower and steeple, along with the north and south walls, are the only parts of it still standing today. But while the church was never rebuilt, in 1967, the City of London decided to turn its remains into St Dunstan in the East Church Garden, a public space which opened in 1971.
Today, vines climb up the church walls, while flowerbeds and trees form a wonderful, lush courtyard right in the middle of the City. All kinds of visitors come here to relax on the benches and take in the place's history amid the foliage. The garden is also available for hire for special events.
St Dunstan in the East Church Garden is open from 8am to 7pm (or dusk). The nearest tube stations are Monument and Tower Hill, both around a five-minute walk from the garden.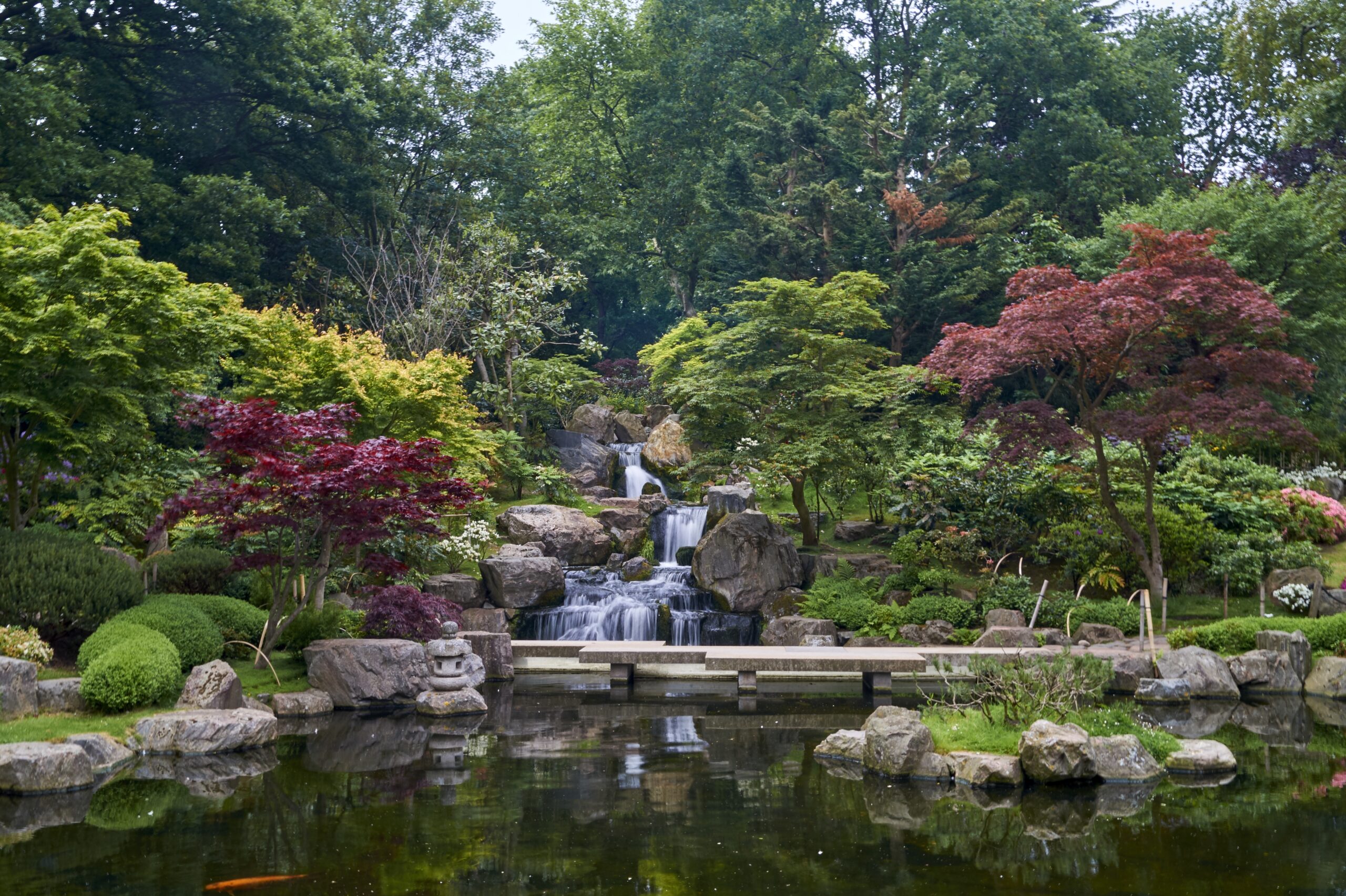 Find your Zen in a Japanese garden in Kensington
For a taste of Japan in London, pass by the Kyoto Garden. This charming pocket of nature sits within Holland Park in Kensington but serves as a must-visit oasis in its own right. Think tranquil waterfalls, Japanese maple trees and stone lanterns, all guaranteeing an ultra-zen experience just a few steps away from Kensington High Street.
Spread around the ruins of Holland House — a grand, early Jacobean building that was once the home of diplomats and powerful families — the garden was opened in 1991 as a gift from the city of Kyoto to commemorate the friendship between Japan and Great Britain. If you're lucky, you may spot a few flamboyant peacocks strutting along the pebbles that surround its painterly pond.
Holland Park is open daily from 7.30am and closes 30 minutes before dusk. The nearest tube stations are Holland Park (four-minute walk) and High Street Kensington (10-minute walk).
View this post on Instagram
Discover a neon-pink paradise in Richmond
At the Isabella Plantation, its collection of rare trees and shrubs deep inside Richmond Park is a true celebration of colours. During spring, around 50 azaleas and large collections of rhododendrons and camellias bloom, making for a striking, fluorescent pink, purple and fuchsia palette that takes over this part of the park.
Native plants commonly grow alongside exotics throughout the plantation, all lining the different pathways and ponds in Richmond Park, with the latter completing the dreamy setting. This 42-acre piece of land has received significant investment from the Heritage Lottery and Big Lottery funds to improve biodiversity, with its ponds and stream providing habitat for invertebrates and amphibians.
Richmond Park is open to pedestrians 24 hours a day, except during the six-week deer culls from November to early December and February to early March. Richmond train station is a 30-minute walk away (or 20 minutes by bus).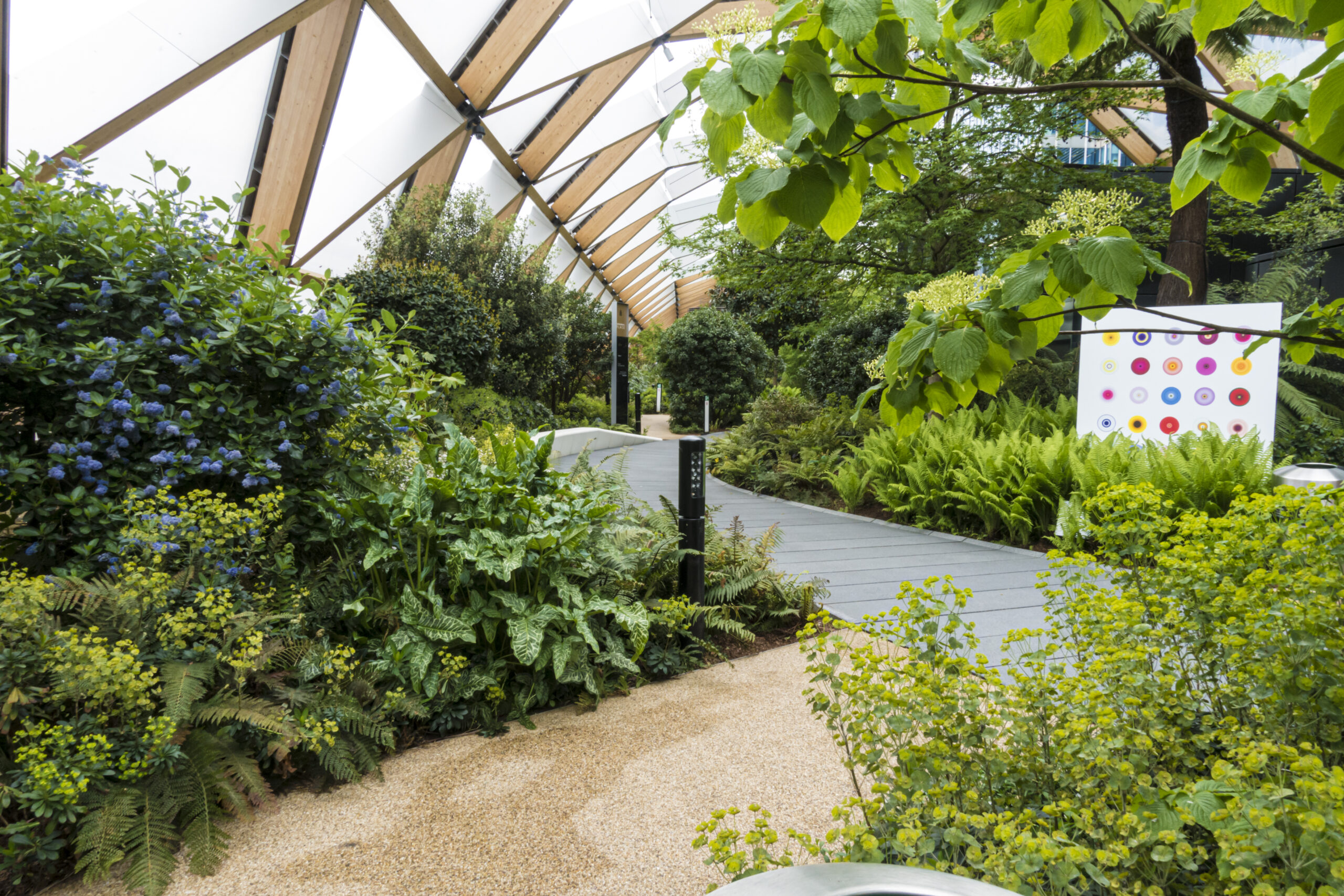 Stroll through exotic vegetation amid the skyscrapers of Canary Wharf
Who knew tropical plants could thrive on top of a railway station? Sitting on the roof of the Crossrail station in Canary Wharf, the exotic Crossrail Place Roof Garden is an Edenic hub in the middle of East London's otherwise-frantic business district.
Plants are arranged based on their origin, with Asian bamboos to the east, and ferns from the Americas to the west. Stroll by trees, shrubs and flowers from all over the world, as you peek through the structure's lattice roof at the Canary Wharf skyscrapers.
The garden also houses an 80-seat performance space which, in partnership with the Space Theatre, hosts a series of free festivals and live performances in the summer, known as Bloom. Locals can attend or even participate in the events and activities — these range from literature stations printing short stories to theatre shows and children's workshops. Previous highlights include Moth Physical Theatre's puppet show and dancer Dominique Vannod's performances that blend contemporary dance with art.
Crossrail Place Roof Garden is open daily from 9am to 9pm (or sunset in summer) and is found in the north dock, adjacent to the HSBC tower in Canary Wharf.
View this post on Instagram
Hang out in a garden with a social conscience in Southwark
Created back in 1887, Red Cross Garden was social reformer Octavia Hill's flagship project in a series of initiatives to improve housing and living conditions for the poor. Hill wanted to create an open space in then-overcrowded Southwark, for locals who lived in largely unsanitary conditions. To provide them with housing, she also commissioned the six cute cottages that overlook the garden.
Red Cross's Victorian layout was buried under grass and tarmac in the late 1940s but the garden was eventually reconstructed and reopened by the Bankside Open Spaces Trust in 2006. Today, you'll find kids playing along its pond, and volunteers hosting all sorts of celebrations, after-school clubs and even poetry readings all around the greenery.
The Red Cross Garden is open from 7.30am until sunset and lies a 10-minute walk from Southwark station.