Make their day with our pick of deluxe Easter eggs, quirky chocolate hens and hampers brimming with goodies
We all know that chocolate eggs are all the rage at Easter, but why stop there? Now's your chance to get creative with gifts — think hand-decorated delights, velvety liqueurs and baskets filled with vegan treats. The more indulgent the better!
Here's our selection of the most delicious chocolate treats to offer your friends and family over the bank holiday.
For a taste of Italy
For a chocolatey delight with an Italian spin, check out the Baci Perugina Dark or Milk Chocolate Egg. Not only are these handsomely packaged eggs made of smooth Italian chocolate, but they also hide a special surprise inside. After carefully cracking the egg, the recipient will discover three chocolates filled with gianduia, a hazelnut and milk chocolate paste; when unwrapped, these luscious 'kisses' (or baci) unveil a message of love. And because the fun doesn't stop there, hidden inside the egg is another small, surprise gift.
Baci Perugina's chocolate Easter eggs are available to buy for £22.95 at Lina Stores delis around London, as well as online.
For a luscious cake
Let them eat cake with Patisserie Valerie's lovingly handmade Easter offerings. Choose between the extravagant Nutella Easter Nest Cake, which boasts layers of chocolate sponge and chocolate-hazelnut cream topped with dark chocolate ganache and swirls of Nutella, and the equally irresistible Easter Mini Cake Box featuring six delicious options: three Eggsquisite Chocolate Minis and three Eggciting Mini Surprises (think chocolate sponge layered with chocolate cream and crowned with luxury chocolate eggs).
Patisserie Valerie's Nutella Easter Nest Cake is available for £42.95, while the Easter Mini Cake Box sells for at £36.95 — all available in-store and online.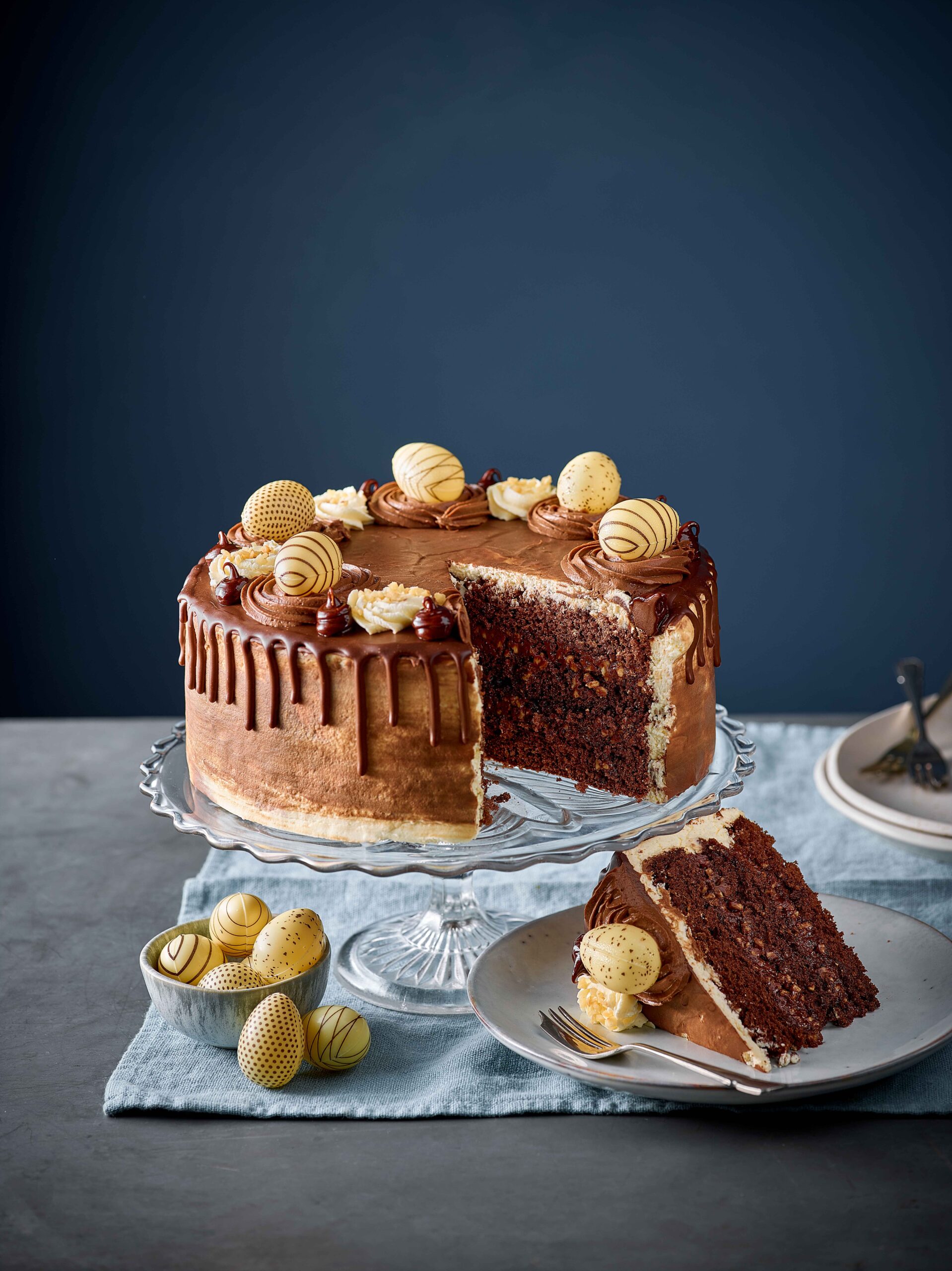 For a sweet-and-salty effect
Gourmet and creamy, Melt's Sea Salt Easter Egg includes all the rich chocolate flavour you'd expect from an Easter egg, but with an added sprinkle of sea salt to cut through the sweetness. Each egg is handcrafted, containing no artificial flavours, preservatives or harmful additives, so you can enjoy it guilt-free.
Melt's Sea Salt Easter Egg is available to buy for £27.49 at the brand's London shops in Notting Hill and Holland Park, as well as online.
For a strong chocolate fix
Lavishly thick and chunky, Hotel Chocolat's Extra Thick Rocky Road to Caramel Easter Egg is designed for serious chocoholics. One side is made from solid caramel-milk chocolate, which blends notes of cocoa with caramelised sugar, while the other side has a crispy texture thanks to puffed rice and cookie pieces. Within the egg lies a selection of pralines, caramels and dessert-inspired chocolates.
Hotel Chocolat's Extra Thick Rocky Road to Caramel Easter egg is available for £30 at the brand's stores across the UK as well as online.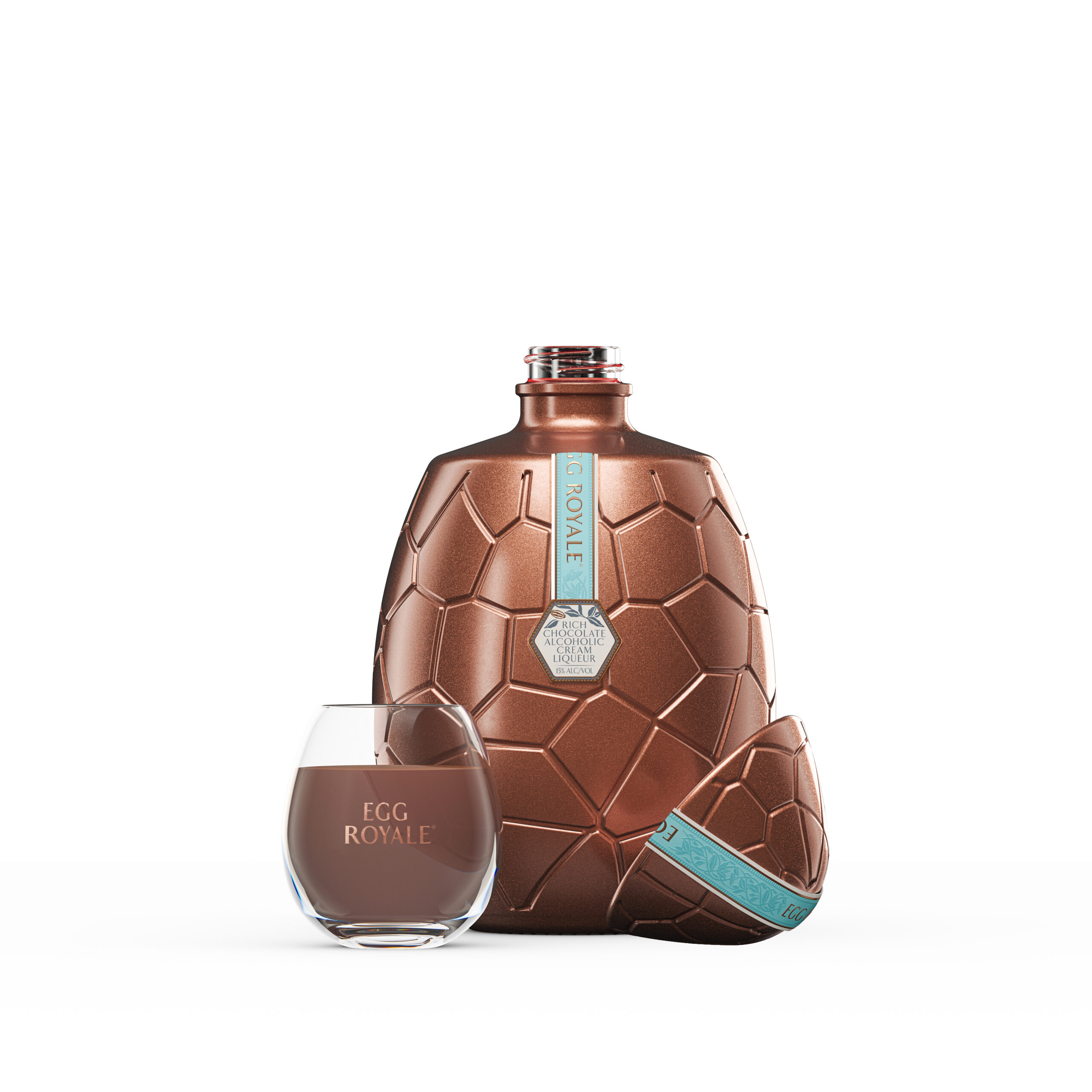 For a chocolate tipple
Beautifully packaged in a bottle that's cunningly disguised as a chocolate egg, Gravity Drinks' Egg Royale is a rich and velvety alcoholic cream liqueur made with fine cocoa and real cream. Serve straight-up over ice or use in a chocolate martini for an Easter treat that's strictly for grown-ups.
Gravity Drinks' Egg Royale is available from £24 at Threshers, Harvey Nichols, Fenwick, Very, Amazon, Master of Malt and Freemans (in store or online).
For an indulgent tasting tour
If you're looking to gift and share a special experience with a loved one, WonderDays has created two just for you and your chocolate-loving pal or partner. The company organises private chocolate-tasting tours in London's Chelsea and Mayfair, inviting you to tuck into all kinds of sweet treats, from chocolates, biscuits and doughnuts to gelato and macarons.
Both tours begin with sipping hot chocolate with your guide before walking around to discover bakeries, chocolate shops and patisseries, where you'll taste melt-in-your-mouth delights and learn all about both areas' chocolate traditions. Fun fact — you'll get to try Queen Elizabeth's favourite chocolates on the Chelsea tour. Locations and shops change every month — chocolatiers and stores previously featured include Charbonnel et Walker, Harrods and Carpo.
WonderDays' Private Chelsea Chocolate Sweet Treats Adventure for two costs £410, while the Private Mayfair Chocolate Tour & Tasting Experience for two is £368.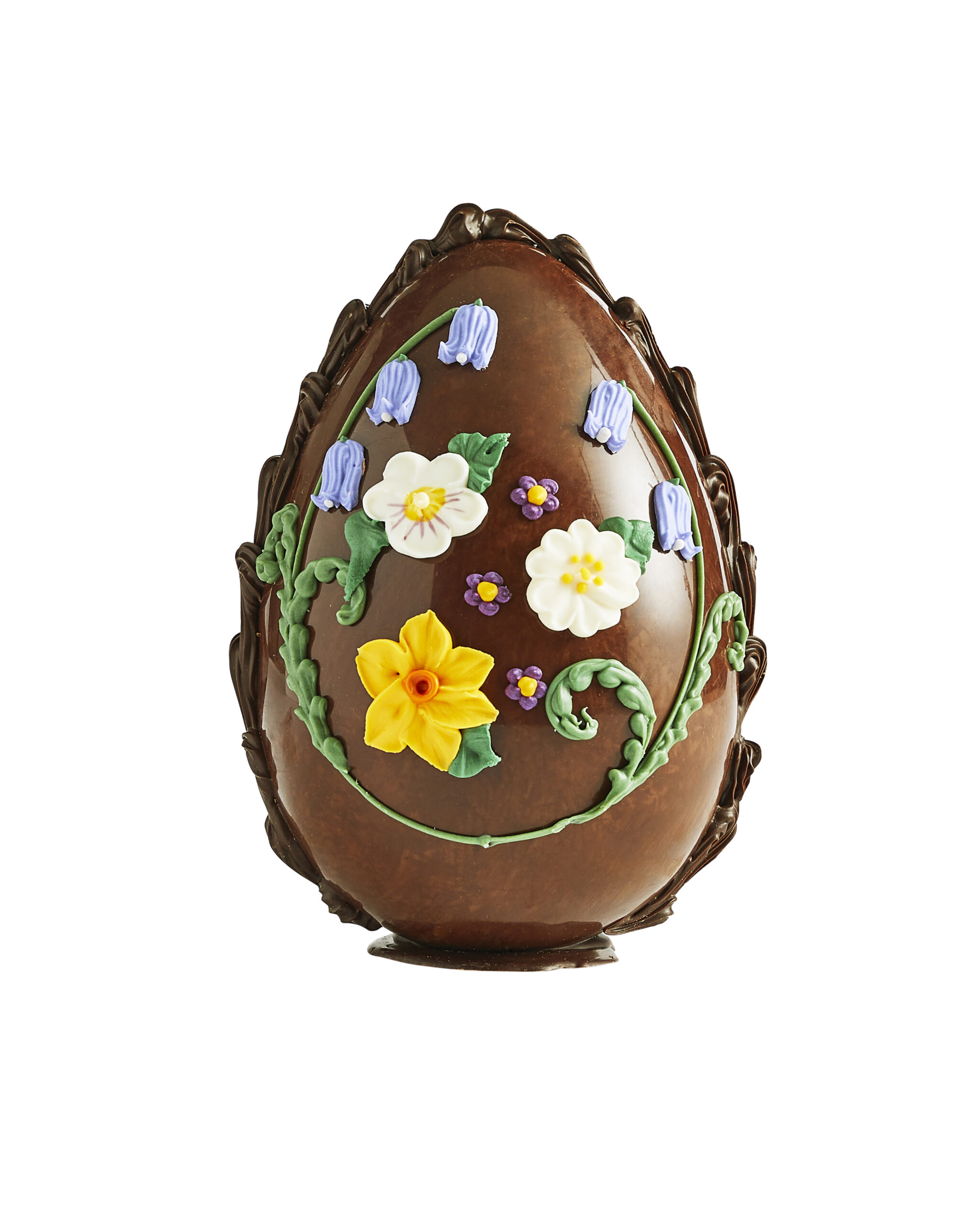 For a true work of art
Bettys' Spring Flowers Easter Egg is not just pretty to look at— it's also utterly mouth-watering. Made from the brand's Swiss Grand Cru milk chocolate, it's stippled with dark chocolate and hand-decorated with icing flowers. This one could stand proudly both on the recipient's Easter table and in an art gallery.
Betty's Milk Chocolate Spring Flowers Easter Egg is available to buy for £38.50 at Bettys' tea rooms across the country, as well as online.
For a sweet surprise
If you're looking for a gift in a clever package, then these Golden Milk Chocolate Praline Eggs from Fortnum & Mason are the way to go. While the box looks like a regular egg crate, the eggs inside are extra special; six real hen eggs have been carefully hollowed, then painted gold and filled with praline milk chocolate.
Fortnum & Mason Golden Milk Chocolate Praline Eggs are available to buy for £29.95 at the brand's stores in the UK and Hong Kong, as well as online. More Easter treats to be found in store and online.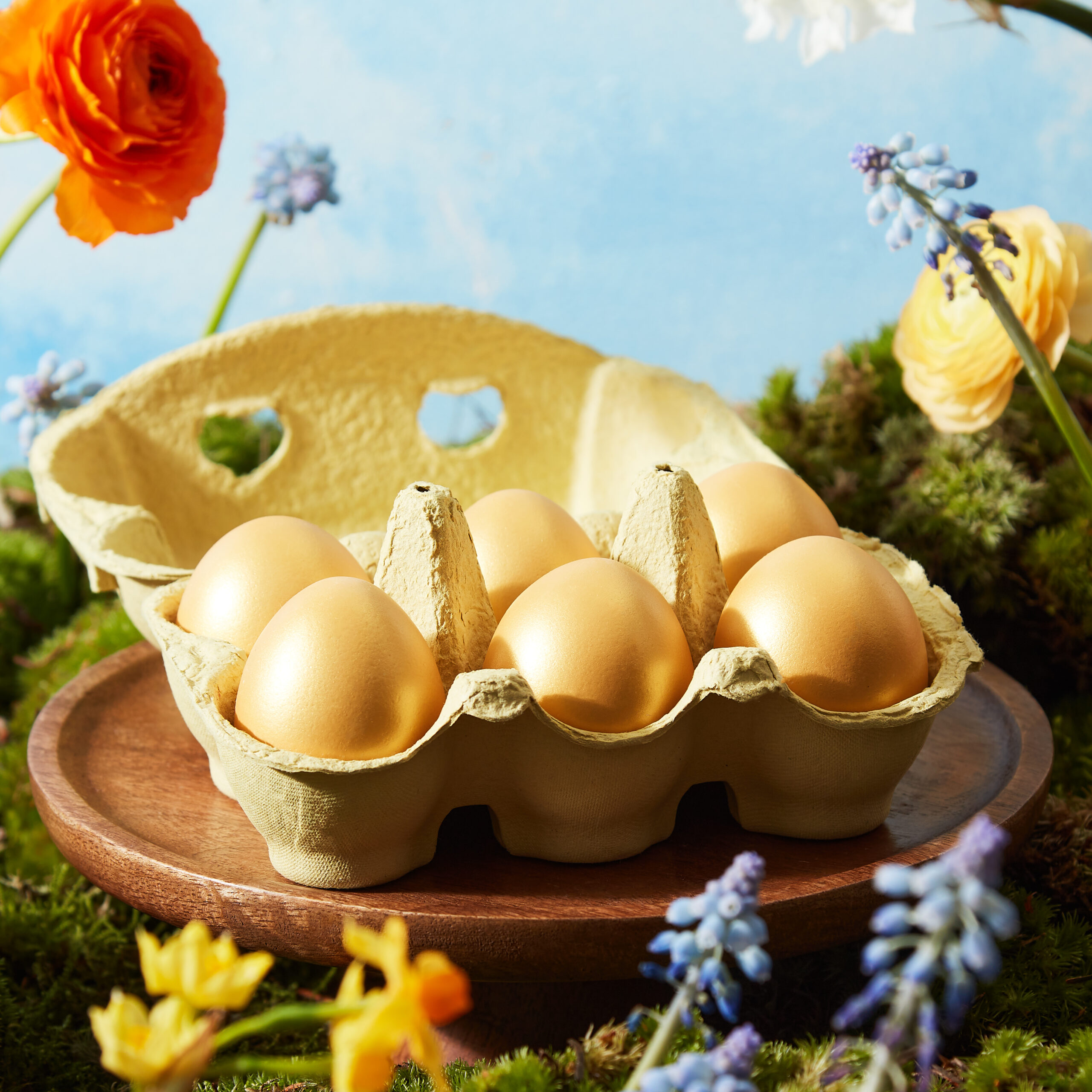 For a cheese board with a twist
Perfect for those who can't decide between sweet and savoury for dessert, this Cheese and Chocolate Tasting Basket from Snowdonia Cheese Company (in partnership with Willie's Cacao) offers an assortment of cheeses and chocolate bars that make for a delicious pairing. The drool-worthy hamper includes four cheeses and four chocolate bars, a Welsh slate serving board and a tasting guide with suggestions on cheese-chocolate combos and ways to serve.
Snowdonia Cheese Company's Cheese and Chocolate Tasting Basket is available to buy for £45 in independent food shops and selected premium grocers in the UK, as well as online.
For a delectable vegan alternative
Eden Treats' Luxury Chocolate Gift Hamper contains an indulgent selection of vegan and gluten-free goodies, perfect for the responsible choco-lover in your life. It includes four artisan chocolate bars, a smooth chocolate and hazelnut spread and a sharing bag of chocolate biscuits, all dairy-free and equally scrumptious.
Eden Treats' Luxury Chocolate Gift Hamper is available to buy from the brand's Bristol shop, or online, for £38.98.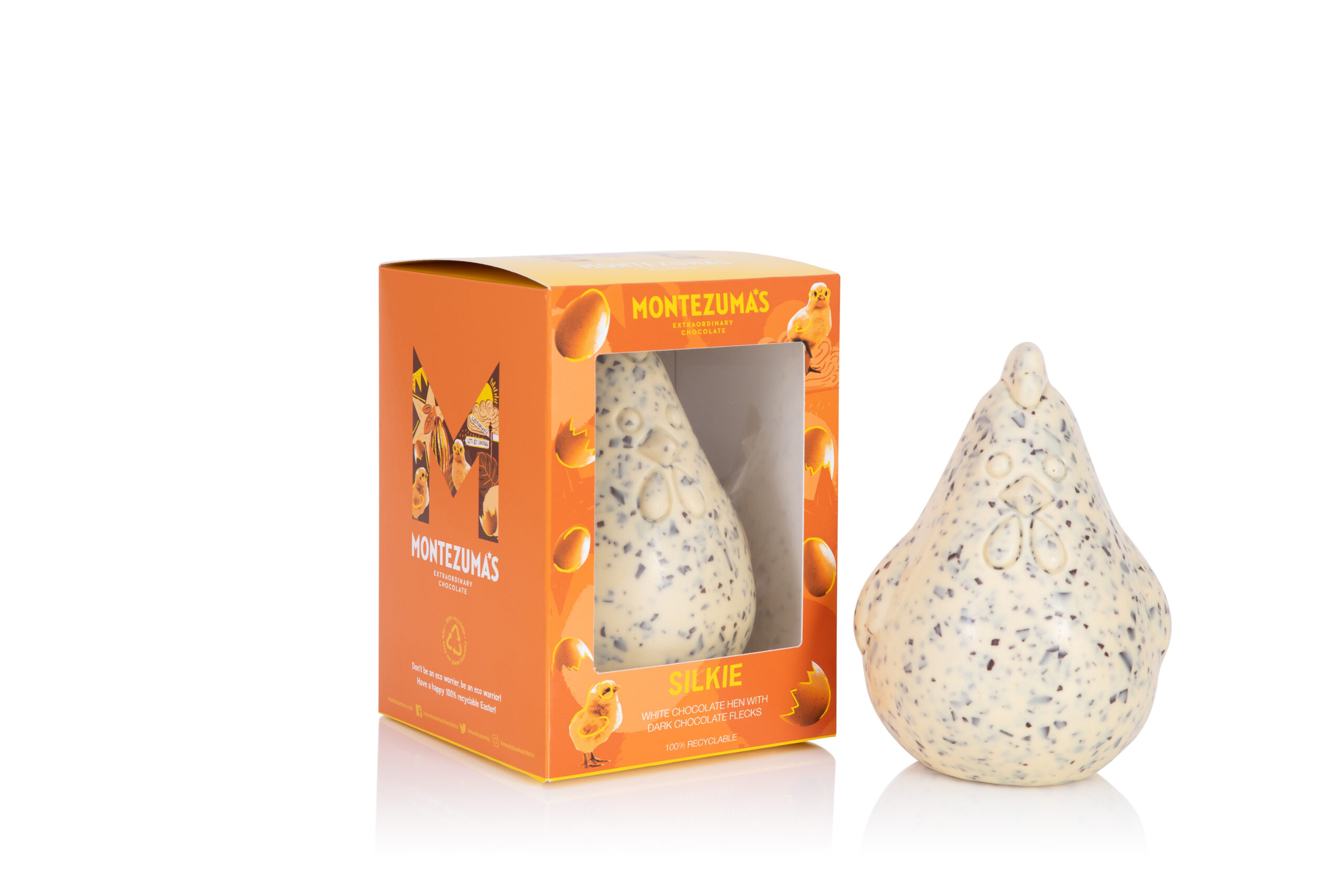 For a white chocolate gift
This special hen from Montezuma is the ideal gift for white-chocolate lovers. Fittingly named Silkie, it's made from creamy white chocolate with dark chocolate feathery flecks. For a vegan option, don't miss the brand's Dark Organic Giant Egg with Orange, which contains sweet orange oil and no dairy.
Montezuma's Silkie White Chocolate Speckled Hen is price atd £12.50, while the Dark Organic Giant Egg with Orange costs £30 — both available in Montezuma's stores across the UK, as well as online.
For a decadent golden doughnut
Who says lavish desserts have to be overpriced? Gourmet finger doughnut brand Longboys has created the ultimate doughnut that looks and tastes super indulgent, without a hefty price tag. The Golden Boy is a dreamy chocolate doughnut with vanilla crémeux filling, topped with chocolate crumbs, flakes and chocolate-filled golden eggs. Hurry up as this fancy fellow will be available for a limited time only.
Longboys' Golden Boy is available for £4.50 until Easter Monday (10 April) at Longboys' sites in London as well as Harrods and Selfridges.