There's no need to spend a fortune on Christmas decorations when you can make them yourself with the help of Mother Nature. Here are three you can create in time for winter
Nothing beats wrapping up warm for a winter walk to forage for nature's bounty. And there's no better time to do so than during the Christmas period, when plants can bring festive cheer into your living space.The hedgerows may initially look bare, but they bely all kinds of hidden treasures from berries to glossy green yew and holly.
Not only will boughs of evergreen brighten your holiday home, but they'll perfume the air with their rich scent. Pine, spruce, fir and cedar are incredibly easy to find on the roadside, while woodland floors are often scattered with pinecones. And these natural Christmas decorations are very much on-trend this year.
Pete Bloomfield — a gardener and forager at the Lost Gardens of Heligan, near St Austell in south Cornwall — is an expert at making natural Christmas decorations with the local flora. The 200-acre estate, which is gloriously decorated in the run-up to Christmas, is home to walled Victorian gardens, woodlands and a working farm. "Before venturing out as a first-time forager, make sure you have a pair of gloves, strong scissors and your phone for plant identification," says Pete. "It's also important you have permission from the landowner before you start snipping."
Here are three Christmas decorations to get stuck into.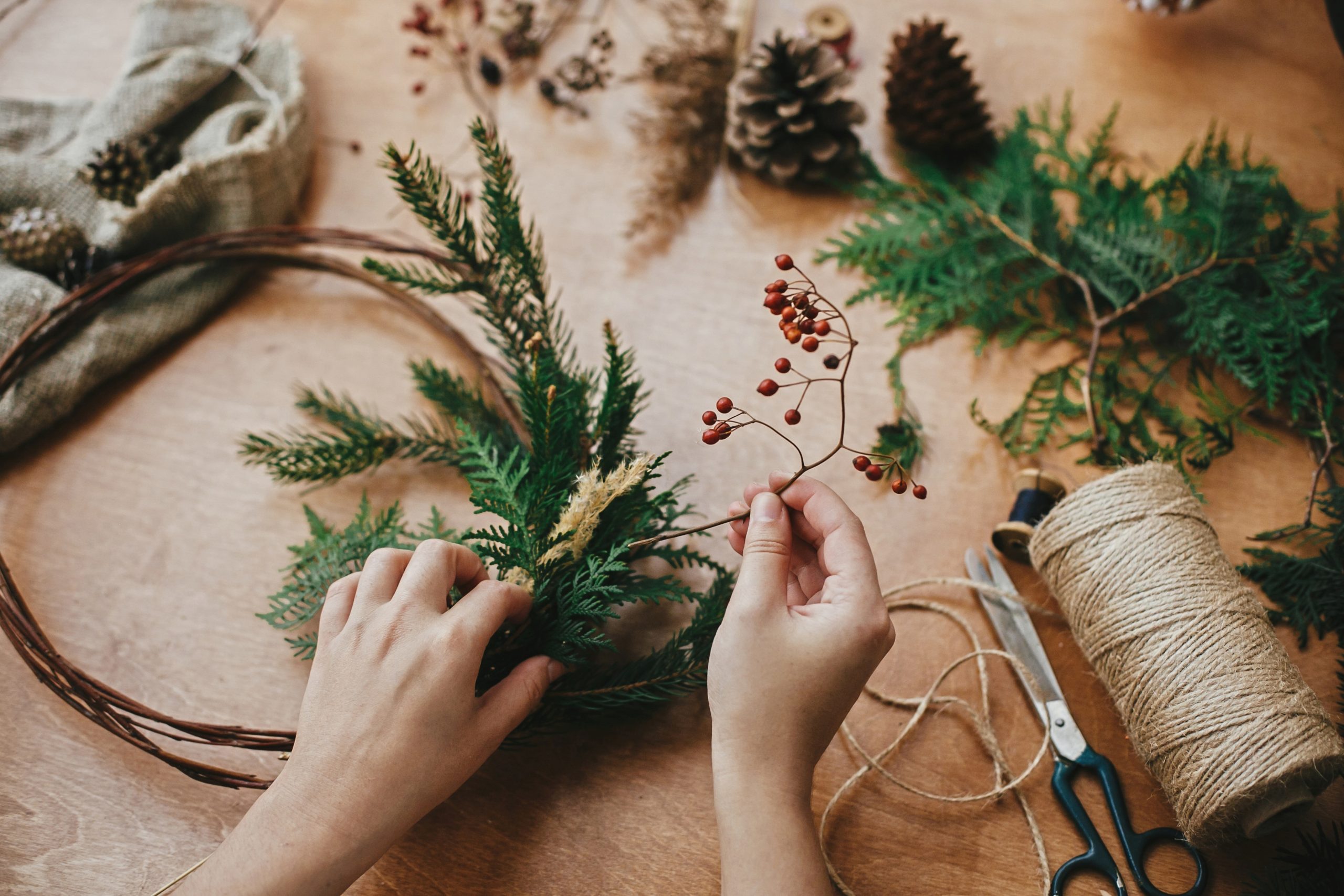 How to make classic festive garlands
Victorian garlands traditionally incorporate dried cranberries, orange slices and popcorn, threaded together with cotton. But for a foraged take on this yuletide favourite, find colour in the form of scarlet hawthorn berries, accompanied by rosehips in bold shades of violet, orange and red.
Fasten sprigs of spruce to rope using inexpensive floristry wire. Yellow, orange and red pyracantha — which form many urban English hedgerows — bring a splash of colour to your garland, while pinecones lend a textured, rustic feel.
"If you want to use greenery, try a garland of yew, holly and ivy," says Pete. "Holly is best picked in late autumn before the berries get eaten. Keep it somewhere cool, like a garage or conservatory with water, until it's ready to be brought inside. And ivy's best left as late as possible, as it produces shiny black berries in the winter.
"Here at Heligan, we use radiata cones from our 200-year-old pine trees. If you put these by a radiator or in a warm airing cupboard, they'll open and look stunning in a winter garland."
You can preserve pinecones by leaving them overnight in a bucket with one-part white vinegar to two parts water. Place them in the oven at 200° for one to two hours, and then varnish them.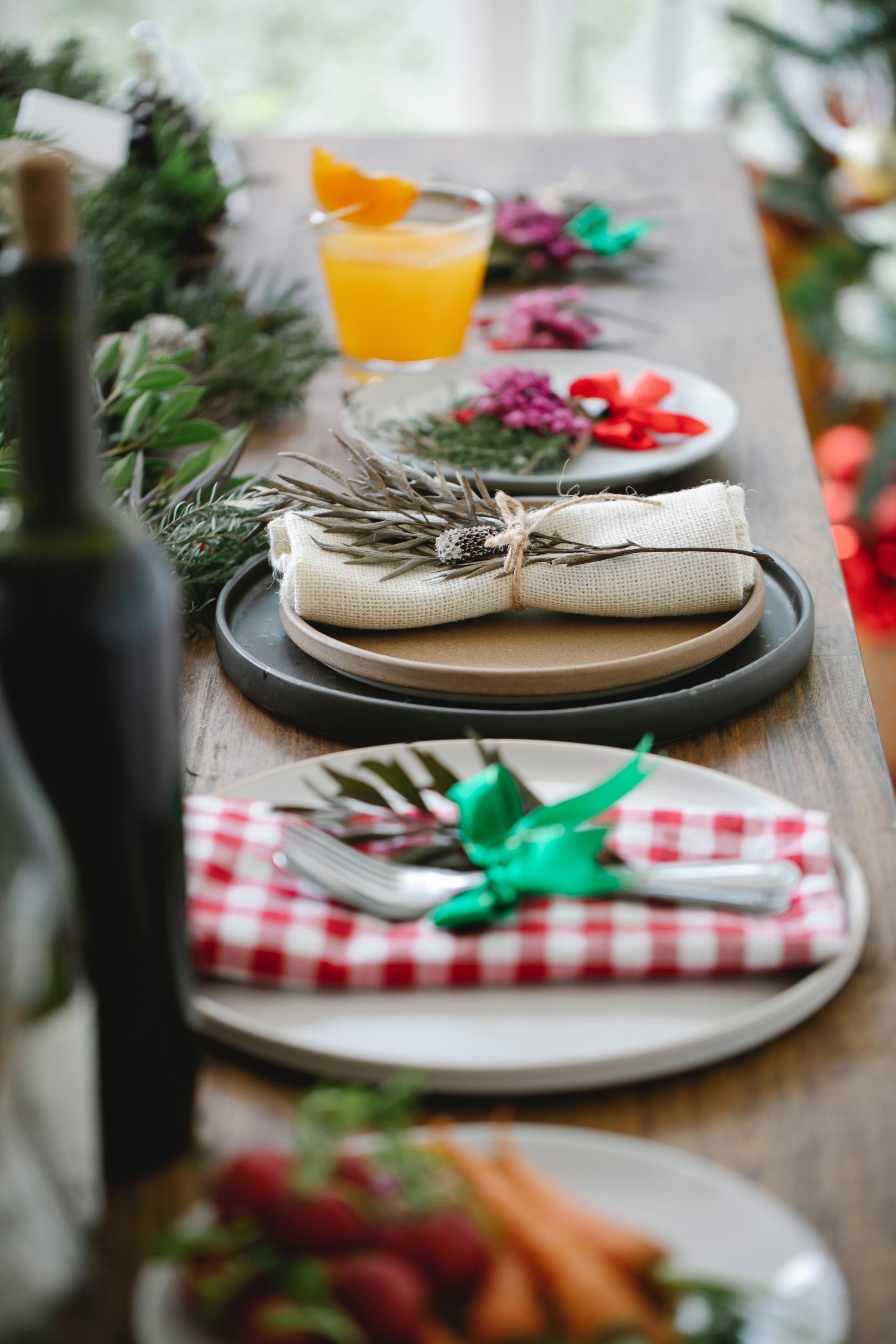 Create Christmas dinner table settings
These table decorations often make a popular DIY Christmas activity with children. On your next walk, collect twigs and greenery such as fast-growing pussy willow, which contrasts with spiky conifer, while veined ivy leaves are aesthetically pleasing sculptural shapes.
Gather your chosen natural items together and tie them in place with a piece of ribbon. Or for a rustic appearance, replace the ribbon with old-fashioned gardening twine in brown, red or green. The finished arrangements can be arranged on napkins to welcome your guests to the table.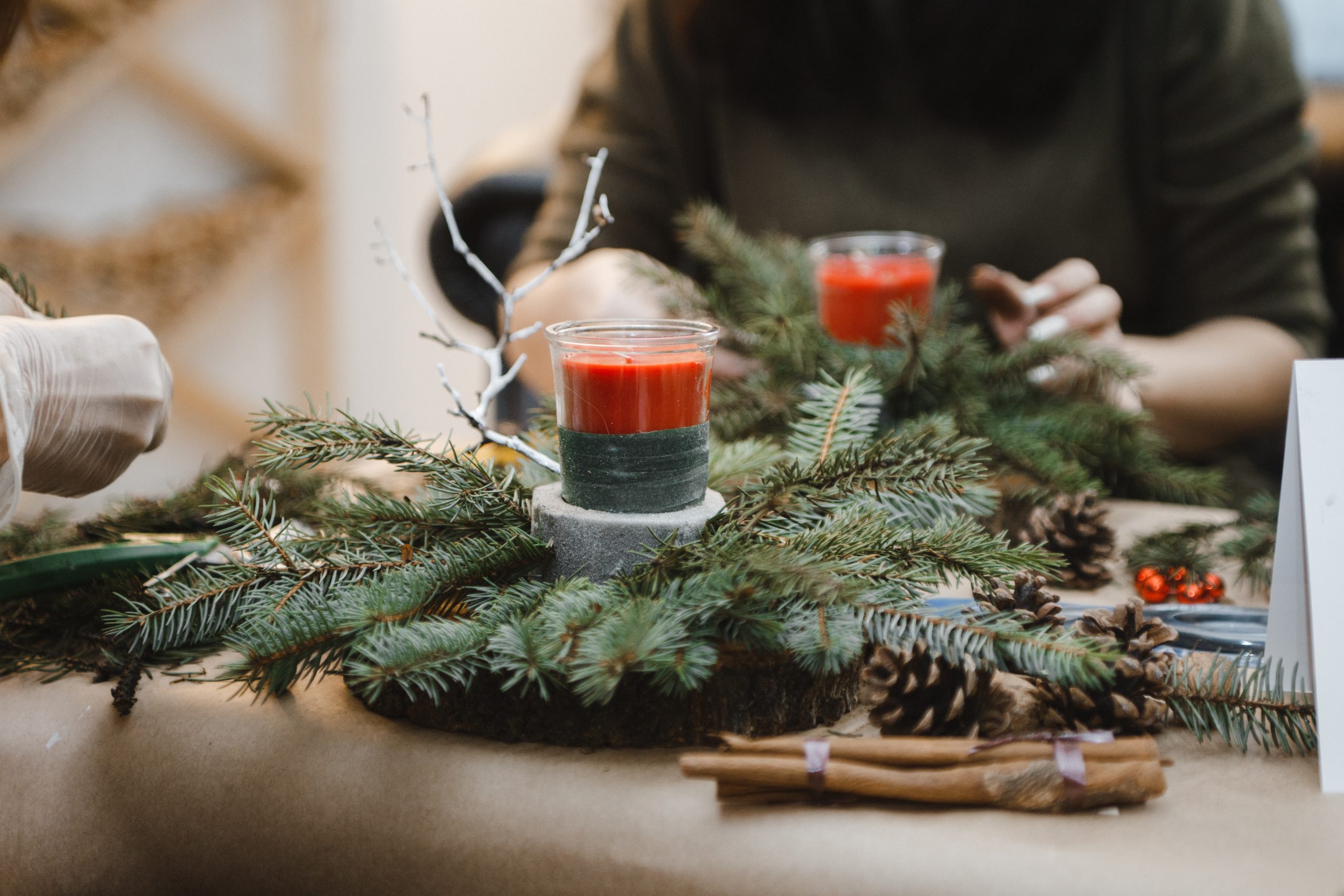 Make your own Christmas candle holders
Hold a plain candle stick upright in the middle of a small terracotta pot, then fill the pot with dried rice until the candle feels stable and stands straight. You can artfully arrange sprigs of greenery and berries on top of the rice.
Pete says: "The hedgerows and woodlands at Heligan are full of architectural seed heads and delicate stems that can actually be collected and dried well in advance of the festive season. Dried biennial sea holly heads and lunaria annua (otherwise known as honesty) are popular choices in December.
"These bold shapes look glorious adorning candle bases or wreaths. And we always save a few of our globe artichokes and agapanthus to create striking centrepieces and displays."
Pete points out it's important not to overlook your own garden when foraging for natural decorations. He adds: "For larger candle bases and displays, you can incorporate crimson hydrangea heads and blue stachys. They both keep their colour well when dried. It's best to leave these flower heads and stems in a vase with a centimetre of water, then let the moisture evaporate."
Once dried, these plants can be spray painted or woven into arrangements, so they bring joy and happiness for years to come.
Written by Rebecca Tidy