PAID CONTENT
Culture and heritage are writ large across the northwest coast of Saudi Arabia, where visitors to The Red Sea can get a unique glimpse into the Arabic country's past through hikes to thousand-year-old rock carvings and stargazing expeditions
First light, and it's time to journey into the northwestern Saudi Arabian desert on a hunt for stories. Between red rock canyons and rolling sand dunes, a traditional Bedouin breakfast is being laid out in sight of the towering Hijaz Mountains. A fire is lit to boil water for mint tea and dates, while doum nuts from the surrounding palms are shared as sunlight hits the sugarloaf rock formations of Jabal Raal, a desert massif looming over the banquet.
Among those breakfasting is former camel farmer turned local guide Marwhan Aljuhani and, as the sun begins to warm the land, he lingers a moment by the fire before beginning a hunt in the cool desert for something few would expect.
Once upon a time, this region of Saudi Arabia was underwater. The 3,000ft-high mountaintop is named after a genus of male oyster that once lived in the ocean of the Red Sea. Among the treasures found in its honeycombed ravines and rocky boulder fields today are shells and fossilised corals from another time. Even carapaces have even been unearthed more than 90 miles inland.
"Like the oyster shell, this landscape still needs to be cracked open," says Aljuhani, as his eyes scan the canyon floor for another unlikely find. "There's a massive sense of the unknown here — not just for international visitors but for us Saudis, too. There's so much to discover and only now are we beginning to unlock many aspects of our cultural history."
A closer look on a map reveals another truth about Jabal Raal. Found inland one hour northwest of the coastal city of Umluj, it now falls within the scope of The Red Sea, an ambitious 10,800sq mile luxury tourism development on Saudi Arabia's west coast, overseen by Red Sea Global, which will welcome its first guests later this year.
Soon, Six Senses Southern Dunes, a 76-villa property will become the area's first luxury resort. This will later be joined by a second venture called Desert Rock Resort, which will house villas and suites intricately built into the bones of the imposing Jabal Raal plateau.
All together, it's a colossal undertaking and yet only a glimpse of what the future holds for the project. For beyond that, The Red Sea will comprise 50 luxury hotels, state-of-the-art entertainment venues and a brand-new international airport, all of which will be powered by renewable energy.
The reward for visitors is an atlas of undiscovered mangroves, islands and reefs, including Al Wajh lagoon, home to flourescent coral gardens and the world's fourth largest barrier reef, as well as stunning desert, mountain and volcanic interiors.
However, while The Red Sea is a bold new experiment in sustainably minded tourism, one of the driving forces behind the project is to showcase Saudi Arabian culture in a way that's never before been experienced by the outside world.
In addition to experiencing a Bedouin desert breakfast with a twist, here are four other unmissable culture and heritage adventures you can soon embark on in The Red Sea.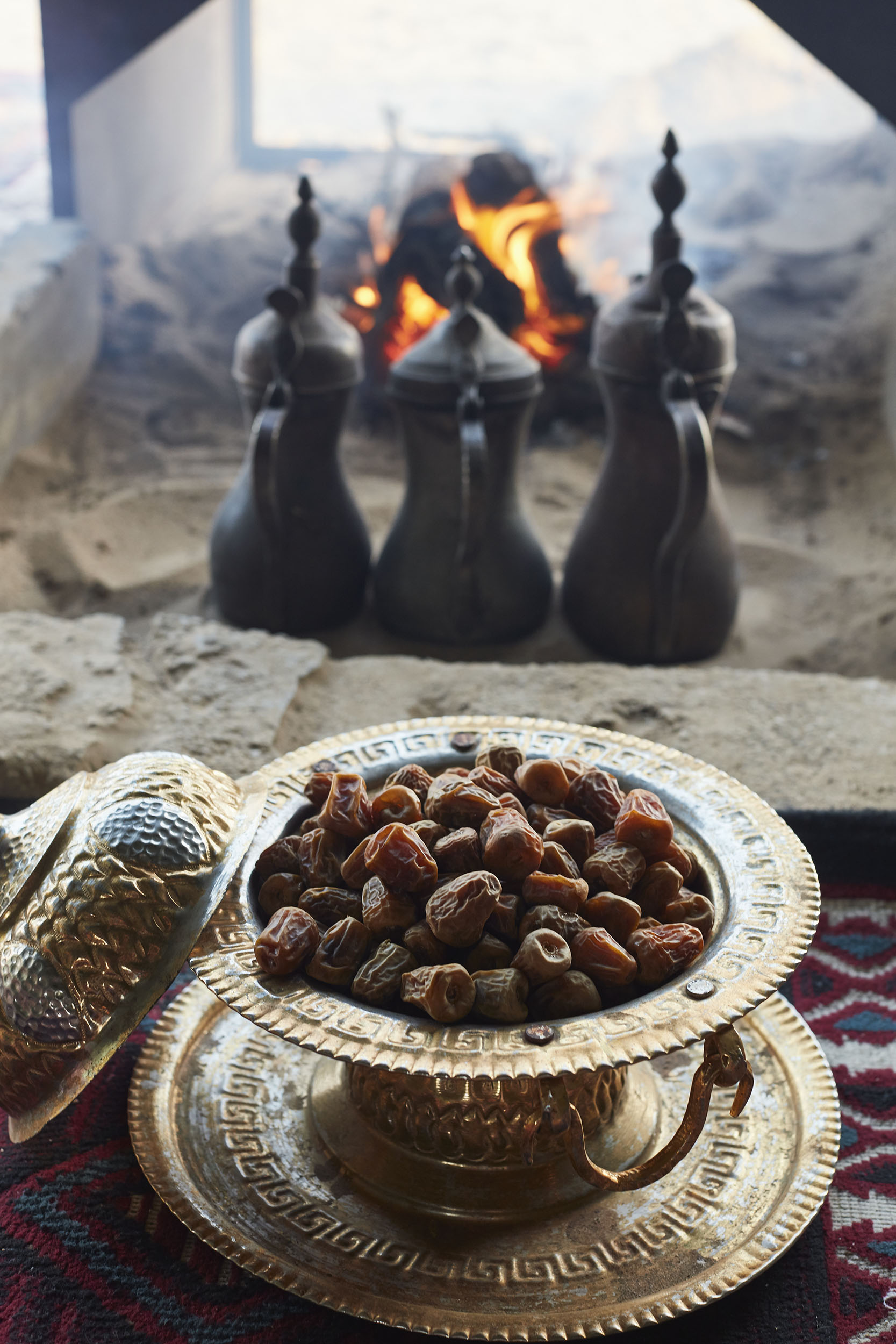 Discover ancient desert petroglyphs
"I remember catching my breath when I first came here, as if I'd been let into an extraordinary secret," says Rosanna Chopra, executive director of destination development at Red Sea Global. "Then I felt overwhelmed by the responsibility we now have to protect and nourish this place for future generations."
Chopra is standing in the centre of the Humpf Valley, the land shared between Jabal Raal's traditional Beli and Jahani tribes, as she talks excitedly about a little-known Arabian cultural treasure: Al Marzouqi, an eye of the needle rock formation etched with petroglyphs thousands of years old.
On both sides of her, the pictograms are a reflection of theland and the wildlife that still live here. There are figures and emblems of the desert. Hunters. Camels. Goats. Star constellations. Most were etched into the walls with rocks and some are thought to be up to 4,000 years old. Behind Chopra is a desertscape full of similar stories and it's such treasures that The Red Sea giga-project is hoping to now share with the rest of the world.
"We're still finding valuable cultural sites in the mountains, so we're retracing the footsteps of those who lived here hundreds of years ago," she says.
"In one way, this region is a thread that combines kingdoms through the many strata of time, from the Byzantine era through the centuries of Silk Road trade to the Bedouins. Our job is to transport visitors to a place that's been paused for a long time, to bring these stories back to life."
Learn from falcon trainers at a Bedouin camp
Camels, desert foxes, wild goats and a multitude of seabirds are just a few of the many wondrous species that live freely on the wave-lapped Red Sea coast and within the Hijaz Mountains. But the most totemic — and the creature embedded the deepest in the psyche of the Saudi nation — is the falcon. By any measure, it's the most highly revered of all Middle Eastern birds of prey.
"We have two main kinds," says hunter and falcon trainer Saleh Alfidi as he watches the prized bird spiralling in the airstream above a traditional Bedouin tent encampment he shares with a group of falconers. "Shahin is faster, but Huor is larger, with more beautiful eyes and feathers."
Alfidi's ancestors trained falcons to hunt for food such as rabbits and small desert grouse, and today, his passion for his feathered companions is shared by tens of thousands in the Kingdom. Similar to horse-riding in nations around the globe, falconry is deep-rooted in Saudi Arabian culture and a multi-million riyal industry has grown around the emblematic species.
The challenge for The Red Sea is to introduce visitors to experiences like this while continuing to protect these birds of prey and respecting the community of people who care for them. As such, there will be no falconry displays at any of The Red Sea's luxury resorts, but trainers are keen to share their stories and passion for this age-old pastime with those who are eager to learn more, and opportunities to do so are in the works.
Aside from its cultural relevance, those who see falcon training from up close are astonished by how skillful it is. In Alfidi's case, he first learnt from his grandfather, then his father, and he's determined to pass on what he's learnt.
In doing so, the region is spearheading a transition to a more sustainably minded version of falconry, one that will both nurture the cultural traditions of the past, while allowing the iconic species at its heart to be better understood and preserved for generations to come.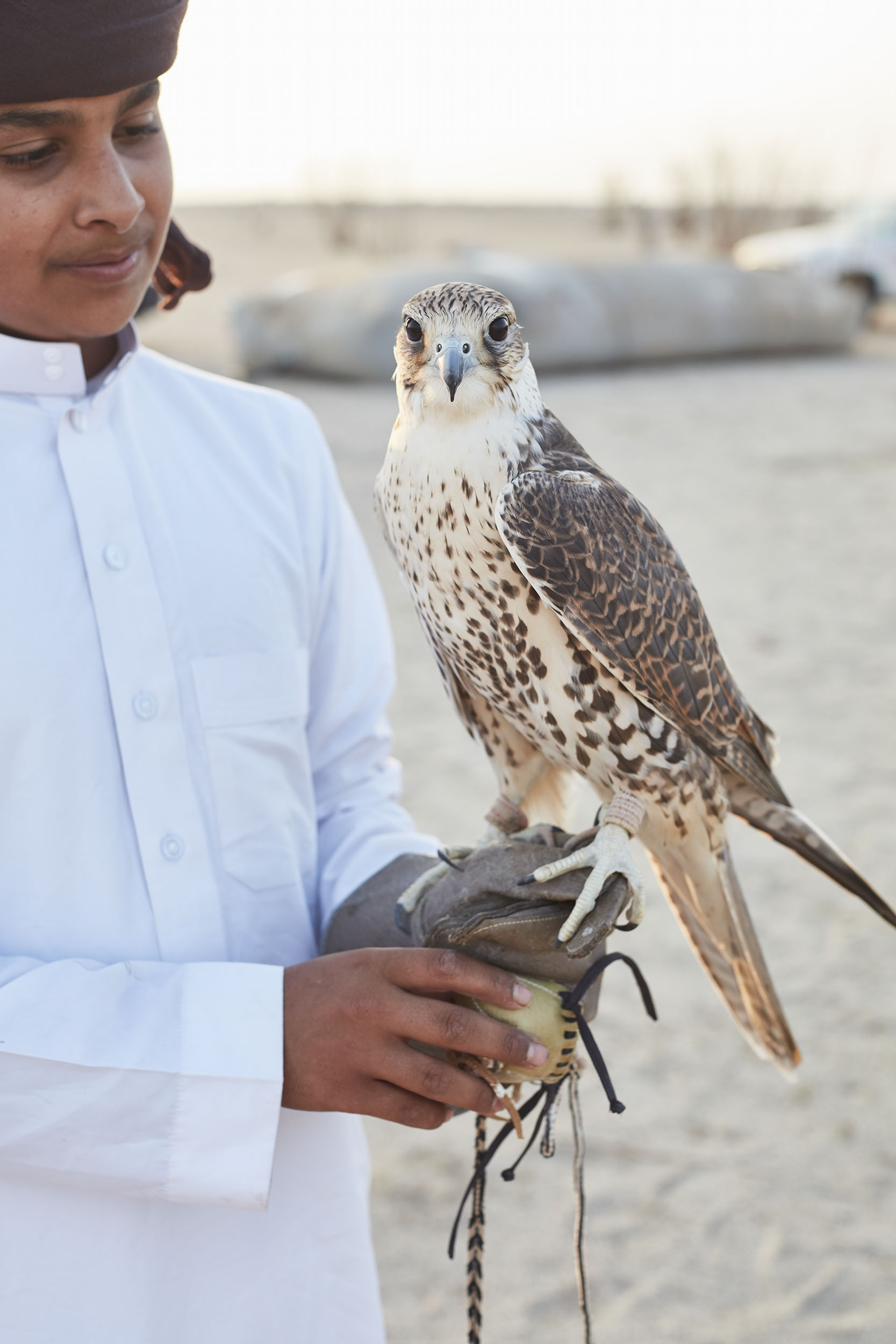 Encounter roaming camel herds in the desert
When approaching the desert on the road to the Hijaz Mountains, it doesn't take long to happen on Saudi Arabia's most iconic mammal.
Take the main highway to the city of Umluj and you'll see herds of camels in close proximity to the roadside. It's a fruitful place for sightings of the humped ungulate. A slightly longer journey, though, takes you farther east to the undulating dunes of Habees Sands, a realm that's arguably the most emotive place to spot the mammals in the entire Arabian Gulf.
"God says the camel is one of his greatest creations in the Quran," says Aljuhani, driving through a wide sweep of desert pockmarked by outcrops of doum palm and acacia. "For me, they sum up the most important things in life — they give us milk, food, clothing and, traditionally, transport. They bring so much life to the desert."
Aljuhani stops the 4×4 jeep and points beyond a shroud of trees. Accompanied by the sound of palms rustling and the occasional whiff of woodsmoke from a nearby Bedouin encampment, a train of caramel-skinned camels pace as if in slow motion across the dunescape. The harem draws nearer, using slender legs and broad-padded feet to tread softly across the warm sand. Soon, they're mere feet away.
As he watches on, Aljuhani drinks in a view he must have seen a thousand times over, yet never tires of. "Look, babies hiding with their mothers at the back," says the guide. "We call them 'Mofrood', meaning they have finished their milk."
Next, Aljuhani notices markings on their skin, then bends down to draw what he sees in the sand with his finger, creating an elongated half-moon, a curve from left to right. "Each tribe has a mark for its own herd," he says. "The markings for these is like a hook."
Watching the scene silently nearby, it's possible to capture a sense of what it must have been like to live in Saudi Arabia's desert centuries ago. Not much has changed, but what has is the variety of excursions led by The Red Sea that will bring visitors face to face with these landscapes.
There will be off-road desert safaris through the Humpf Valley on e-buggies; guided tours through red rock canyons on fat bikes — their large, elasticated tires allowing you to speed through the sand-bedded canyon with ease; and high climbing adventures along the peaks of Jabal Raal.
Being among the first travellers to witness these landscapes and its wild inhabitants is an undeniable thrill. Better yet, though, is the chance to learn about their ties to the Kingdom's cultural heritage from someone who has the desert in their blood.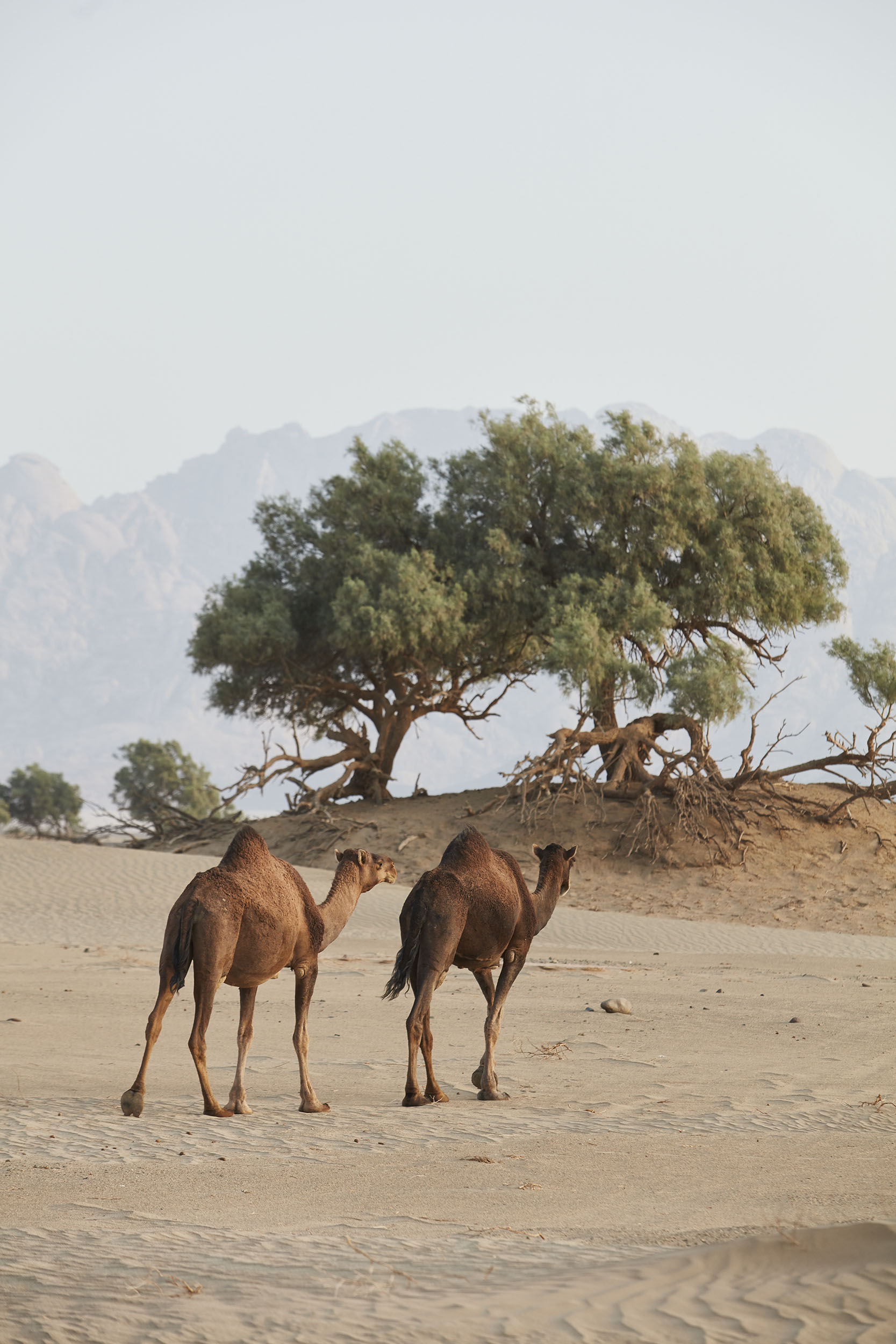 Explore the night sky via the history of Arabian astronomy
The Arabian desert is known for its colour, with hues that shine from deep orange and tangerine to flaming red and ruby. But after sunset, the sky burns just as bright. Every night, darkness spreads across the land, totally undisturbed by light pollution, as the stars and moon light up the heavens. The eye-piercing clarity of the Arabian sky is a meditative tonic, no matter what time of the year you're lucky enough to visit.
Currently, the International Dark-Sky Association is considering awarding the destination Dark Sky Reserve status, which would make it the largest certified stargazing hotspot in the world.
"I feel like you belong to the sky when on a stargazing excursion here," says Areej AlHussan, adventure and sports manager at Red Sea Global.
"It's silly, but I often think I can reach out and touch the stars. The clearness of the sky here also adds credence to the fact that half of the world's stars were first named by Arabs. This speaks to our long history of astronomy and studying the stars."
It's difficult to appreciate how different this scenario was for the ancient Arabians, who once relied on the stars for travel, as well as to better understand the seasons for agriculture. Merchants used the sky to guide themselves along the Red Sea coast and through the mountains to share faith, stories and cultural beliefs. Spice traders from Yemen and Oman led caravans along the coast to Egypt and Syria, and the stars that lit the way became part of the fabric of Bedouin life. Today, astronomy is deeply rooted in Arabic storytelling.
Among the constellations AlHussan points out are Ursa Major, which is known by its Arabic name Dubhe ('the bear'), and Taurus, which is home to Aldebaran, meaning 'the follower', a giant star 65 lights years. Next, she highlights Orion's Belt, which rises as if pitched on its side.
"Arabia was a pioneer in astronomy and the stars were responsible for helping shape our culture in so many ways," adds AlHussan. "From the beginning, The Red Sea has been developed as a destination without any light pollution. Sustainability is central to our development philosophy, which means that tomorrow we'll be able to gaze on the stars in much the same way as my ancestors did thousands of years ago."