PAID CONTENT
Northwest Saudi Arabia may be renowned for its desert thrills and exhilarating mountain excursions, but there's more to this impressive swathe of coastline than that. Here's a taste of the adventures that await in The Red Sea
In western Saudi Arabia, the change in scenery can be extreme. On the coast, congregations of islands harbour untouched mangroves and astonishing beaches that disappear into deep blue seas. Beneath the surface, the world's fourth largest barrier reef teems with life.
A little further inland, the wind-brushed mountains tumble down to vast canyons that are surrounded by mighty rock cathedrals and a burgundy desert. To step foot on this swathe of coastline is to jump from crystalline beaches to otherworldly desert landscapes, all in the space of several hours.
Adventure — from hiking to kayaking, fat biking to scuba diving — will soon take centre stage when a new 10,800sq mile eco-friendly holiday destination is unveiled later this year. Known simply as The Red Sea, it'll comprise 50 luxury hotels, state-of-the-art entertainment venues and a brand-new international airport, all of which will be powered by renewable energy.
Meanwhile, electric and hydrogen-fuelled cars will zoom guests from their resort to brand-new dive centres or sunset yoga classes in the desert, and of the 90-plus islands found along the coastline, only 22 will see development, with nine becoming designated conservation zones.
Connecting with this wildly diverse destination in a way that will allow the environment and its wildlife to thrive is at the heart of the guest experience at The Red Sea. Here are some of the best eco-minded activities that will be on offer across the destination.
Mountain highs
A mere glimpse of Jabal Raal, a 3,000ft massif in the Hijaz Mountains, is enough to awaken a sense of adventure. Two inland luxury resorts — Six Senses Southern Dunes The Red Sea and Desert Rock — will provide a comfortable base from which to explore this wild terrain.
Guests can start their voyage by taking an exhilarating ride on electric fat bikes through Wolf Passage — their large, elasticated tires enabling you to speed through the sand-bedded canyon with ease.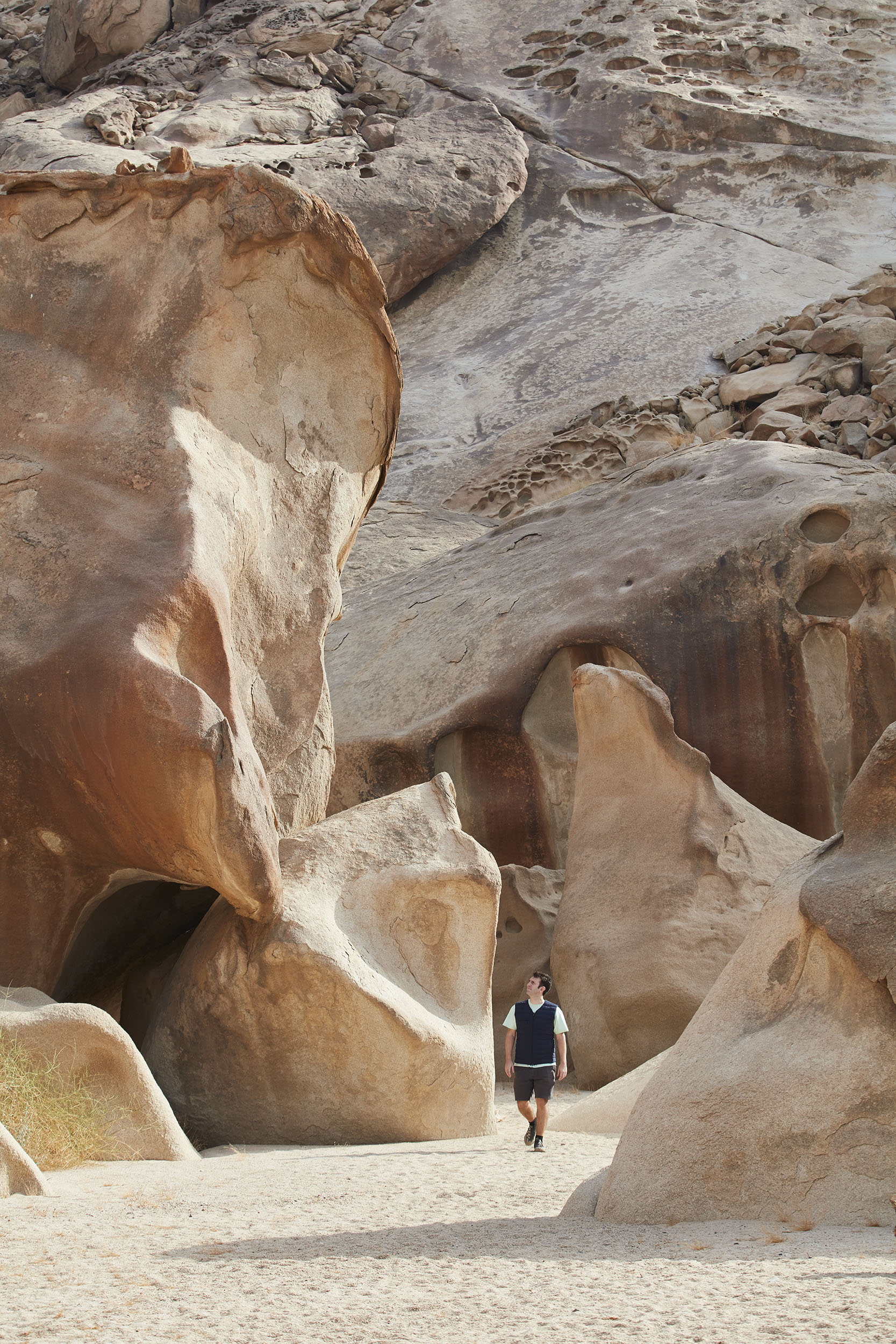 Afterwards, guests can test their mettle on an electric ATV safari beneath red granite peaks or scramble to the top of a mountain before abseiling down to a picnic of cardamom teas served with dates and gingerbread-like doum palm fruit which have been picked nearby.
There are other adventures for those seeking an education, too. Learn from Saudi Arabia's traditional Bedouin tribes on how to survive in the wild using ancient methods passed down throughout history or play palaeontologist for the day in a region that was once a happy hunting ground for the planet's largest creatures.
"It's true," says Olly Wood, director of adventure and sport at Red Sea Global. "Fossilised teeth have been found high in the mountains from dinosaurs including Mosasaurus — the Tyrannosaurus rex of the sea. At times, we have to stop and look through the eyes of a child at all the possible adventures and experiences hidden in plain sight here."
These words — adventure and experience — resonate again and again in the honeycombed canyons of the Jabal Samhan Nature Reserve. This is especially true for destination expert Marwan Al Juhani, who guides visitors through The Red Sea. Al Juhani gets emotional when talking about the beauty of Jabal Raal and its time-eroded canyons. He says visitors will be unable to resist the gravitational pull of the bell-shaped mountains once here.
"There'll be via ferrata and other high climbing adventures — but only activities that fit into the landscape," Al Juhani explains. "This isn't a theme park — we'll work with what we have sensitively and we won't build anything that detracts from the beauty of the mountains and desert."
Desert thrills
"We want our travellers to get dirty — to get sandy," says Rosanna Chopra, Red Sea Global's executive director of destination, as she looks out across the sandy valley. "We're going to unlock this desert and its canyons for the world, but only in the right way. There'll be no camel riding or dune bashing. This is a theatre of adventure, but one you'll only discover through respect and understanding that we need to leave it better than we found it."
The best way to kick-start an adventure out here, according to Chopra, is with an off-road desert safari in the Humpf Valley, which is situated under the looming shadows of the Hijaz Mountains. This area of The Red Sea is home to a collection of ancient petroglyphs depicting camels and hunters that reflect the cultural history of the Saudi Arabian interior.
"You are walking in the footsteps of time here," adds Chopra. "It's like being transported to a place that's paused."
From here the geology changes starkly once again, with neighbouring Habees Sands giving visitors the chance to hike across wild dunes, stargaze under skies filled with awe-inspiring constellations, and learn about the stories — and mythic spirits — of the desert by campfire light.
"Listen to the sound of the shifting sands," says Al Juhani as a wind blows across the dune tops. "Habees Sands means 'the trapped one' and, in ancient times, local Bedouin tribes associated the wind with the noise of the Djinn, or genie. Still today, some think there is someone trapped out here in the sands and it's as if the Djinn is telling us it's alright to come and spend some time in their world."
Beach bliss
Not all activities in The Red Sea demand hard work, dirty fingernails, or pushing visitors beyond their comfort zone. On the wave-rippled coastline, the pace is dialled down and from the shoreline, it's possible to see all the opportunities that lie ahead: sea kayaking through fish-inhabited mangroves; bird watching for falcons or, perhaps, sunrise or sunset yoga overlooking a crimson-dressed sky from a sequestered rocky headland.
"This is a meditation in landscape," says yoga instructor Alifa Rofii, originally from Java, Indonesia, as she begins a session of ashtanga yoga. "The movement of your body in rhythm with the lapping sea and shape-shifting sand dunes feels completely instinctive here — it brings me closer to nature and myself."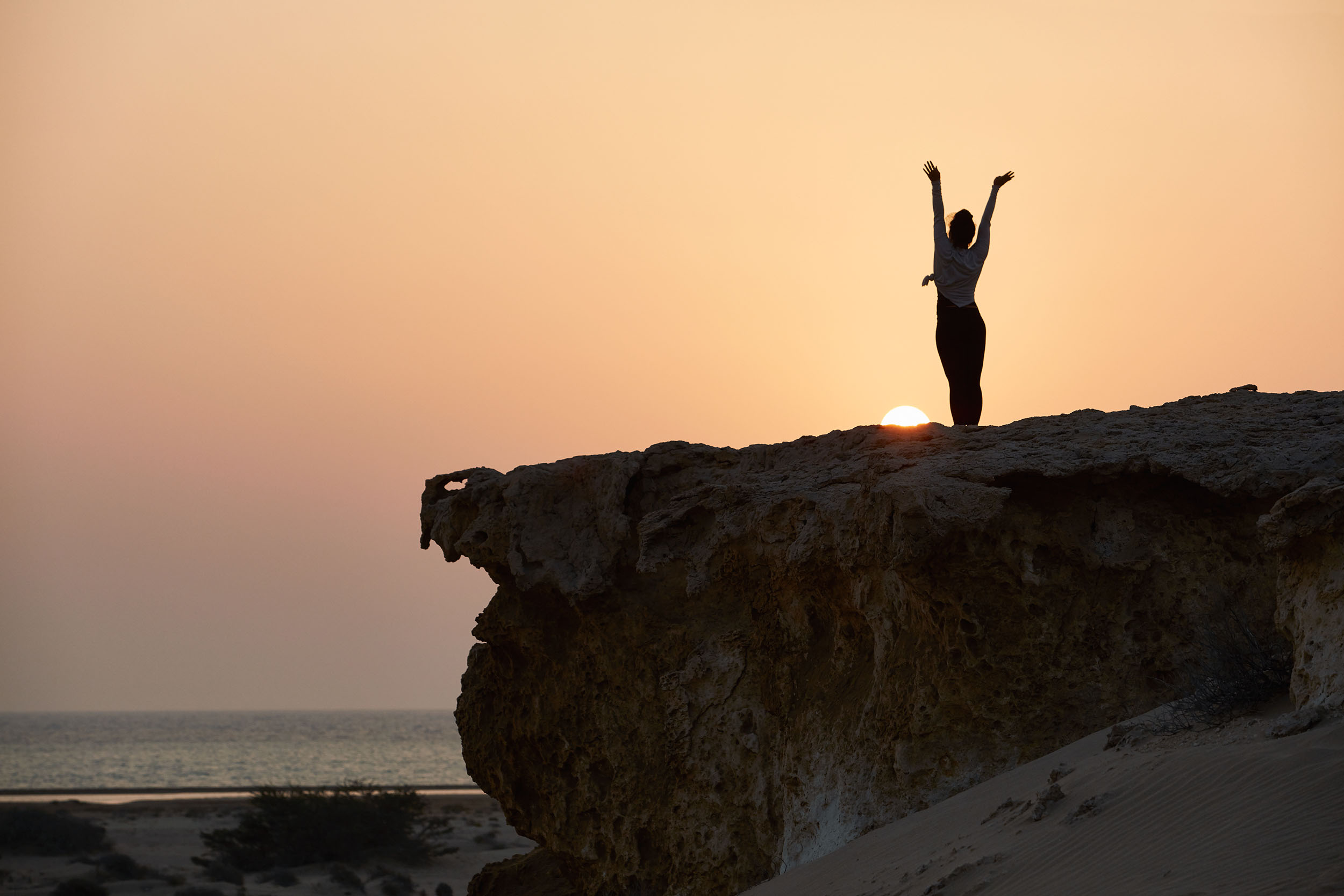 A sunrise yoga session will put guests in good stead for the wealth of water sports that will be available across The Red Sea. Chief among them will be hopping aboard a sailboat and setting course for the 92 islands that make up the Al Wajh lagoon.
The region's reputation as a sailing hotspot is still nascent, but it's hoped that a newly announced partnership between The Red Sea and The Ocean Race, which has pitted the world's best sailing teams against one another for nearly 50 years, will help build a legacy for the region that will last for years
to come.
"Anything with a paddle or a sail is possible here," says Chopra. "When I first arrived and took to the water, all I saw was shades of blue — no picture could ever do this destination justice. Then, as the day progressed, the wind built up and all I wanted to do was sail and feel the natural power of the Red Sea at my fingertips. We don't want people to come here for a transient experience. We want our guests to leave with memories that will shape them in the future."
Underwater magic
While there's an abundance of adventures waiting to be discovered both on and off the coast of the Red Sea, arguably the main attraction for guests can be found beneath the ocean's surface.
The brightly coloured coral gardens that make up this vast and unspoiled barrier reef are a playground for scuba divers, snorkellers and free divers, and this living aquarium brims with seasonal aggregations of some of the planet's most mesmerising marine creatures. Snapper, grouper, wrasse and eel play peekaboo with smaller fish between the nooks and crannies of the coral.
Meanwhile, appearing from caves and channels are larger pelagics like the tiger shark, an elusive species that tops many a scuba diver's bucket list. And in the midst of all this action, slow-moving hawksbill turtles swim idly in the shallow waters on their way to nest on many of the protected islands.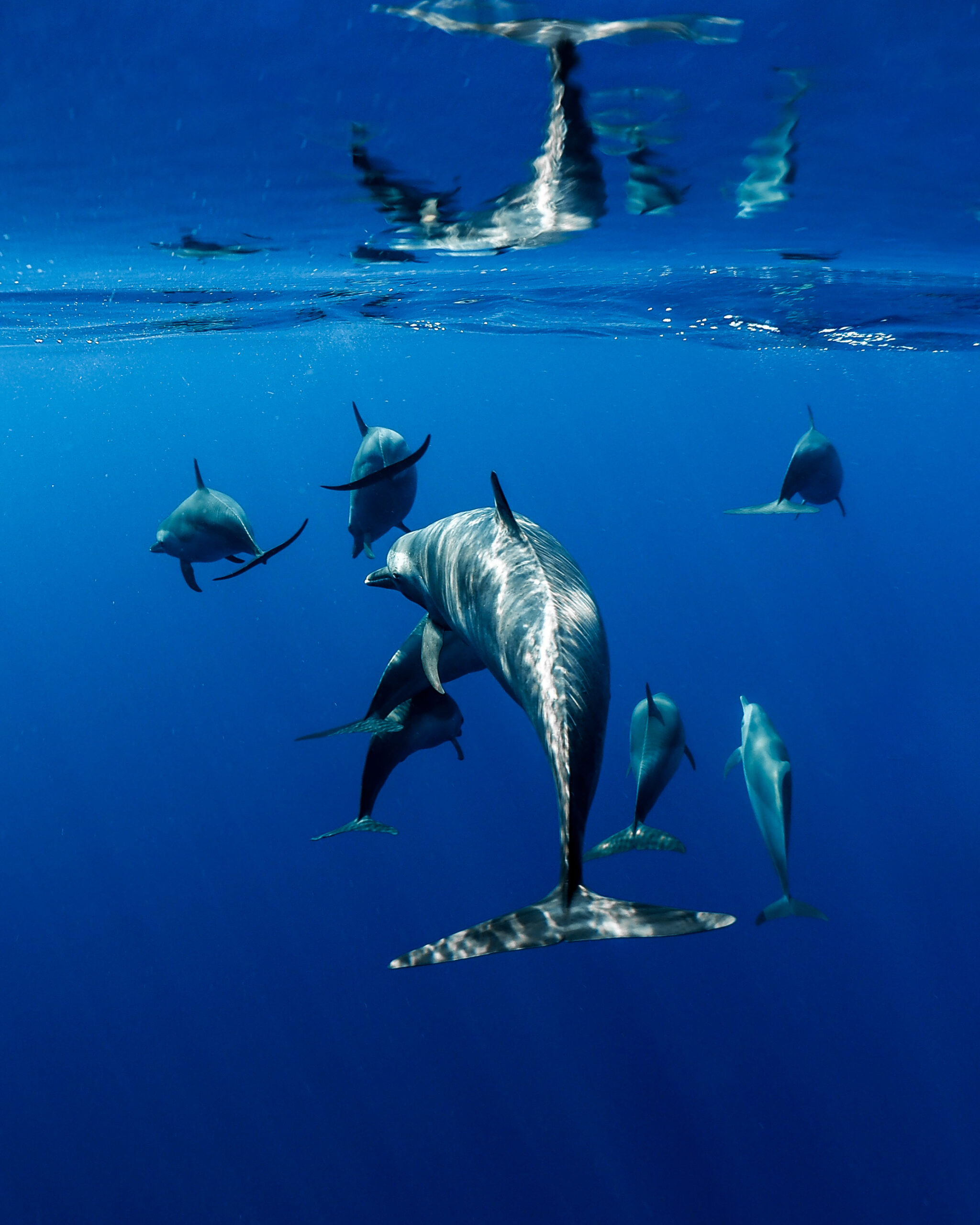 Also here on most days, mapping new dive sites and monitoring the reef's health, is Dr Sander den Haring, associate director – diving operations, Red Sea Global. Surrounded on his dive boat by a blur of coral shadows beneath the surface, den Haring squints from the sunshine, but also as if in disbelief that there's no one else here.
"This is really a paradise unfound," he says the next morning, showing plans for brand-new dive sites that are being prepared for guests alongside the first of The Red Sea's luxury resorts. "We're opening up this destination in a way that's never been seen before and we plan to give these reefs the utmost protection. This stretch of reef is mindblowing, and one of the best I've ever experienced."
However, this is only one part of the adventure. Getting to the reefs and dive sites is half the fun and, having set off from the marina pontoon, the sounds of waves and twin-propeller speedboat engines signal the arrival of another amphibious resident of the Red Sea. Playing acrobatically in the stern waves, a pod of dolphins emerges alongside den Haring's boat as if hitching a ride on their way to Egypt.
"We have around 15 miles of outer barrier reefs and we've designed our dive boats around these locations," adds den Haring. "Guests can get out to these sites quickly and experience them all in comfort. And for every dive site we've mapped so far, there's another awaiting discovery — it's a sea of must-sees."
Three reasons why The Red Sea is a stargazers delight
Light pollution is practically non-existent
"Here, the darkness is total", says Al Hussan, adventure and sports manager at Red Sea Global and an amateur stargazer. "You feel like you belong to the sky when you're out here in the desert."
The Red Sea plans to keep it that way, too
Preventing light pollution isn't just good for stargazing, it also helps protect the region's nocturnal wildlife, which include critically endangered hawksbill turtles that nest at night on nearby islands. The Red Sea is seeking International Dark-Sky Accreditation to ensure that as new infrastructure is built, the destination will continue to retain its stargazing prowess.
Stargazing has been a big deal here for centuries
The galaxies that hang above The Red Sea have been studied by Arab astronomers for thousands of years, and traders once relied on these constellations to guide them through the desert. "The stars were responsible for helping shape our culture" Al Hussan adds. "From the beginning, we've developed The Red Sea without creating light pollution. It's paramount to our sustainable philosophy."