Two upcycling experts share top tips for furniture flipping, a new homes trend that is both economical and eco-friendly.
With so much time spent in our homes since the start of 2020, this trend was bound to be huge. Once tagged as upcycling or repurposing, 'furniture flipping' has inspired the nation to give homes a whole new look without actually buying anything other than decorating materials.
Since late December 2020, there's been an 88% increase in searches for 'furniture flipping', according to the design team at Essential Living, who tipped it as the hot trend for 2021 earlier in the year. This fun, innovative and sustainable way of adding individuality to your home is catching on. You only have to look at Instagram and Pinterest to see multiple sites devoted to furniture reinvention, but how easy is it to get started?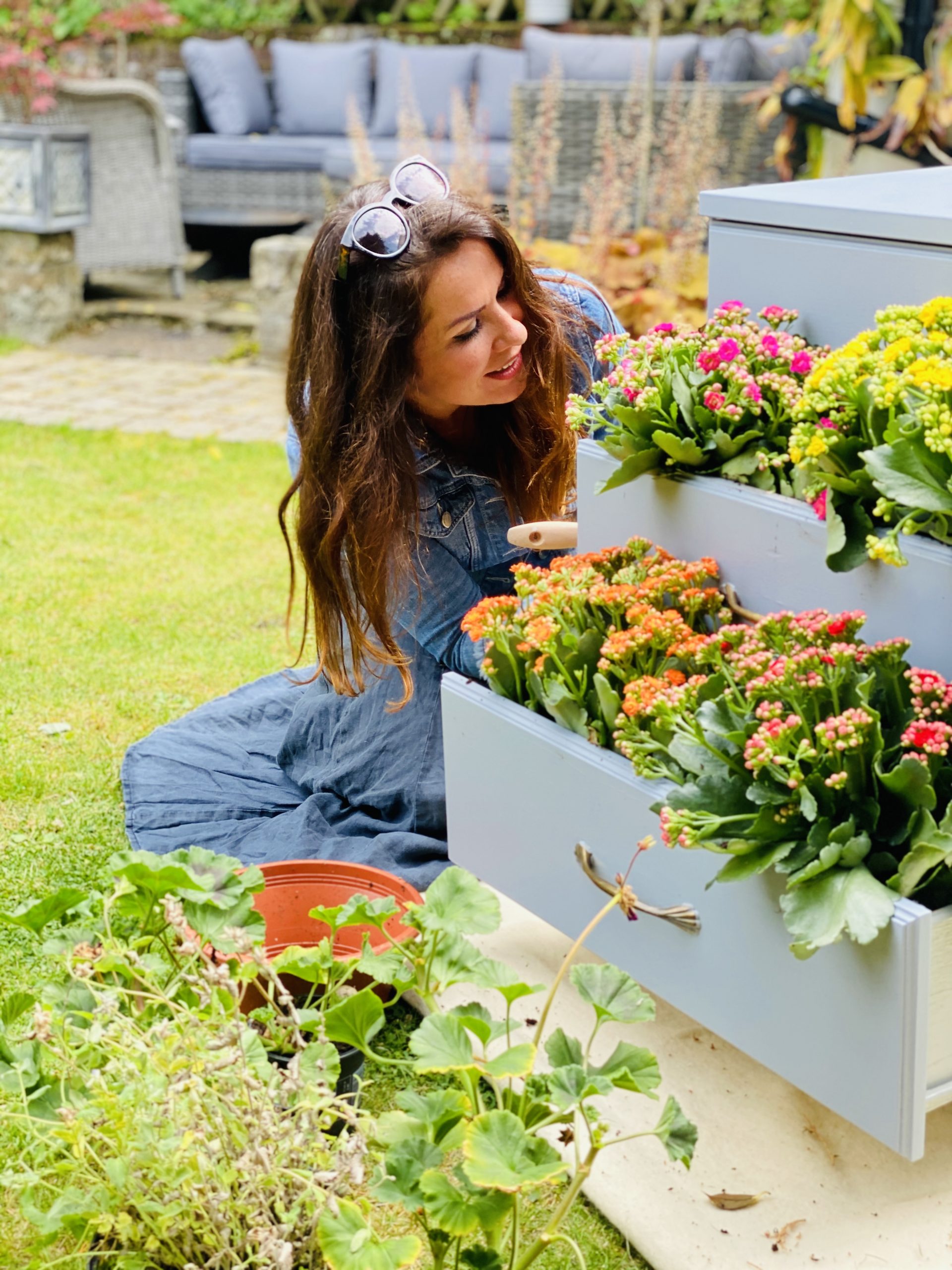 Throughout lockdown, DIY expert Georgina Burnett was saving boxes, old furniture and anything else she could find for ITV's This Morning, where she features as a guest presenter teaching viewers how to upcycle and restyle their homes.
"People now have far more of a throwaway attitude than when I was a kid," says the TV presenter, who also juggles roles as a writer, property developer and interiors vlogger. "But that's because things are much more readily available. Before I throw anything out, I try to think about what I could do with it first. Once you've salvaged one item, it makes you realise how easy and satisfying upcycling is."
Start by buying second hand
A seasoned DIY expert, Georgina has plenty of tips for those looking to try their hand at furniture flipping. "I think the main thing is to start small," she says. "You often see these vintage nest tables at charity shops and something like that is a great place to start."
Indeed, her own home is filled with repurposed salvaged finds, from a kitchen table she picked up from someone's driveway (with a note saying it was OK to take, of course) to a stained chaise longue she found on Gumtree. "One of the things I say to people trying to make a home for themselves is to buy furniture second-hand rather than new," she explains. "We're so used to buying items that everybody else has, but you can take an item that nobody wants, upcycle it and make it into something unique, all while saving yourself a lot of money."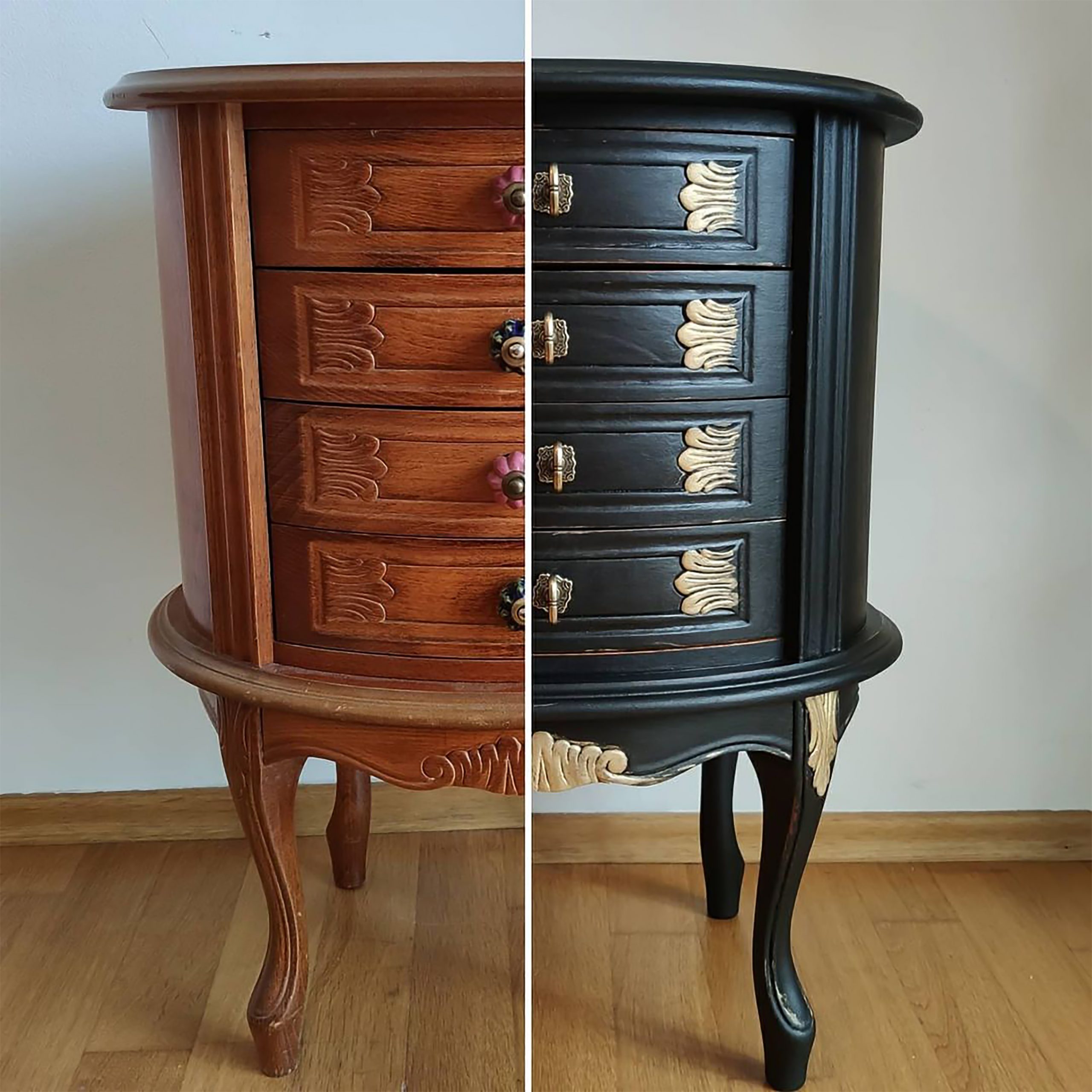 Choosing chalk paint lets you fix your mistakes
Another recommendation comes in the form of chalk paint, as a simple yet game-changing tool. "It's really easy to work with and if you go wrong, you can just get a damp cloth and wipe it off before you've waxed it," Georgina explains. What's more, it can be applied to almost any material, including fabric. "To reupholster is quite a skill, and to pay someone to do it often costs more than the furniture itself. My daughter helped me to paint my grandmother's old fabric armchair when she was about two years old — that's how simple it is."
Go pro and paint wooden furniture
If you've got the opportunity to inherit or purchase some old wooden furniture, don't be put off by the fact it looks out of place in a contemporary style setting. Second-hand vintage expert Kate Beavis reveals how to paint old furniture like a pro. Likely to have been treated with paint or varnish over the years, pieces have often collected dirt and grease, so she explains: "When painting a piece of furniture, preparation is key to a good finish. Make sure you take time to clean it to remove all dust, sand the item, then prime it before you paint
Once it's painted, you can elevate the design even further by replacing or installing handles. And if you don't like how it looks on the inside, you can create a hidden flash of character by lining it with wallpaper.