This vivid purple hue has been named Pantone's 'Colour of The Year' for 2023. Here's how to incorporate the shade into your home. Words by Layla Turner
Each year, designers wait with bated breaths for the announcement of Pantone's Colour of The Year. The concept started in the late 90's, and continues to shape the design space today, with the winner announced in-late December. This year, the winner of the title is Viva Magenta, the deep, pink-purple hue that Pantone described as "audacious, full of wit and inclusive of all."
The announcement serves as inspiration to designers the world over and you'll undoubtedly see it infiltrating interior design concepts, catwalks, homeware designs and ready-to-wear collections for both high street and designer brands until a new winner is announced at the end of the year. So if you're looking to impress your friends with this year's trend-setting shade, here are some clever ways to add a few splashes around your home.
The perfect pairing
Some people might feel hesitant to introduce a colour that falls somewhere between pink and red into their home, but celebrity interior designer, Naomi Astley Clarke, describes Viva Magenta as a wonderful hue, full of warmth and comfort. "It's of equal parts blue and red pigments, which makes it a wonderful pairing for other colours in the home. It's always important to consider the journey through one's home and how the colour scheme of each space will work together, as well as the transition between them," says Naomi. "That being said, it's vivid, so I recommend using it sparingly so it's not too overpowering. Viva Magenta is a powerful accent colour, so cushions and throws are a great way to incorporate it into your living spaces."
For those still on the fence who want to work with the colour in a more subtle way, Naomi recommends curtain trims or smaller accessories, such as mugs and tea towels, all of which are a great way to get a feel for the colour and see how it compliments the rest of your home before going to gung-ho.
"If you're considering painting a whole room, use only in small spaces such as a downstairs WC, otherwise it could be too much," Naomi adds.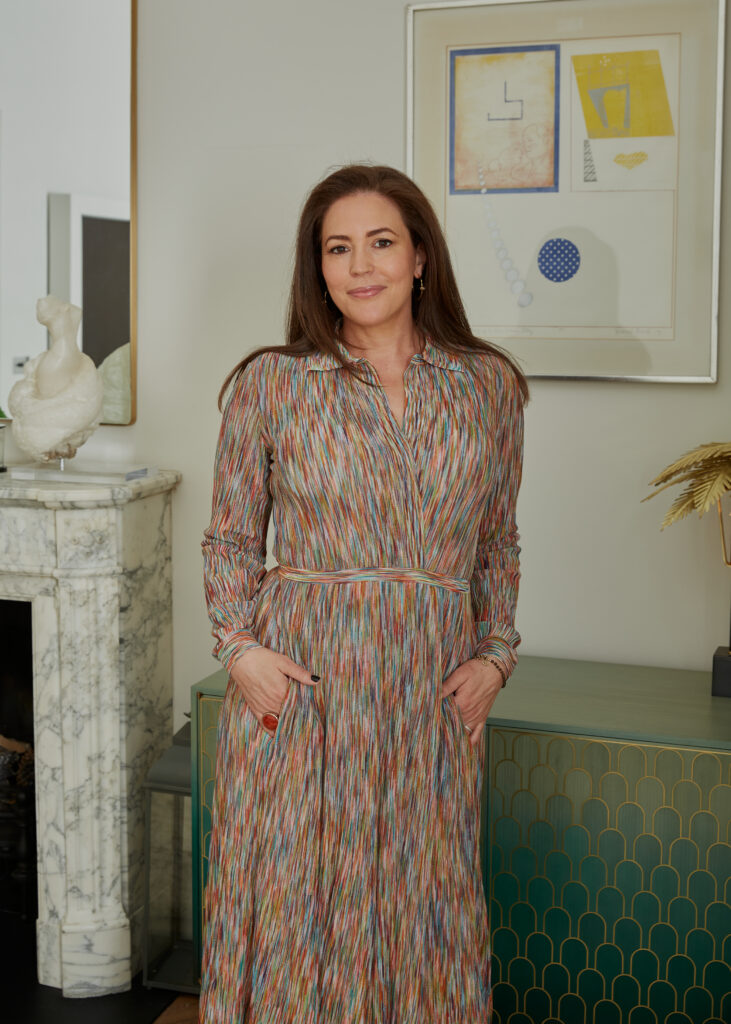 Express yourself
Evelina Kravaev Söderberg, head of design & creative at H&M HOME, describes the colour as particularly expressive. "It says a lot about what we creatively need right now. We need to express ourselves more, be brave, bold and add colour into our homes. "How you add it into your home will largely depend on your personality, and what you're like as an individual. If you have a colourful and bold personality, it's great to make a whole room based on shades of the Viva Magenta colour. If you have a more toned-down personality, why not try and spice up certain areas with products in Viva Magenta, as the colour works very well with neutral shades?"
A recent collaboration with Pantone and H&M home revealed that how we use colour can have a greater impact on our mood than we would have thought.
"Environment and colour affect our mood much more than we are aware of. You can experiment and analyse what happens when you make colour changes in your home. With the Pantone and H&M Home collaboration, the design team did a lot of colour research together with our in-house design expert. Through analysis, it became clear that bluegreen hues had calming qualities and red shades were energetic," says Söderberg. So, for those looking to add both an energising and comforting hue throughout their home, Viva Magenta may be the perfect colour indeed.
A designer's picks
Naomi Astley Clarke lists her favourite Viva Magenta pieces.
"Glassware is a subtle, sophisticated way to bring bright colours into the home. I adore the Flavio Poli For Seguso Vetri D'arte Purple Sommerso Vase. The submerged glass piece would look great on any flat-top surface, and is a great way to see if the shade will work well with other colours in your home." £1,723, theitaliancollector.com
"The exquisite Murano Glass Flavio Poli Bowls, by the same designer, make for another great display piece. They're totally unique, and are the perfect way to tie in the magenta hue." £1,723, theitaliancollector.com
Finally, vases and other accessories are a great, low-maintenance way of adding colour to any room. This stylish, orb-shaped vase from H&M home will not only illuminate your space, but will add a pop of colour, too. £24.99, hm.com