Give your living space a new lease of life with these irresistible home buys, all costing less than £100
It's wintertime, so naturally we're all spending a lot more time indoors. If you're in love with your living room and the way you've decorated it, then this is a wonderful time to bask in the glow of your newly revamped home. However, if your living room is pining for a bit of love, or if that worn-out armchair and cracked wallpaper desperately need tossing out, well, there's no time like the present to discover your inner Carol Smillie.
To help you renovate your living room on a budget, we've compiled a list of fantastic home buys for under £100 so you can bring some life into your home without breaking the bank.
Repaint the walls, floorboards and furniture
Whether you choose to refresh the paint on your floorboards, refinish hardwood or pick a new, bright colour to make one (or all) of your walls stand out, freshly painted interiors will immediately give the impression that your living room is as good as new. You can take your DIY skills a step further by repainting a chest of drawers or an old coffee table, too.
Opt for neutral tones like beige or pastel pink, which work perfectly with most furniture, or mix things up with a bold colour such as magenta, which Pantone named Colour of the Year for 2023. As paint brand Dulux advises, "Consider combining a main, neutral shade with an accent colour, whether it's bold or subtlety striking. For example, consider a deep grey. When combined with rich blue you'll achieve a serene, oceanic feel. However, blend it with pops of yellow or orange and you'll find that instant energy and warmth fills a space."
A handy way to choose the right shade for your living room is with a colour wheel, helping you pick complementary colours and understand how they blend together. Paints on Amazon sell for as little as £8.34 or you can splurge for Farrow & Ball's wider range of colours for £30 and over.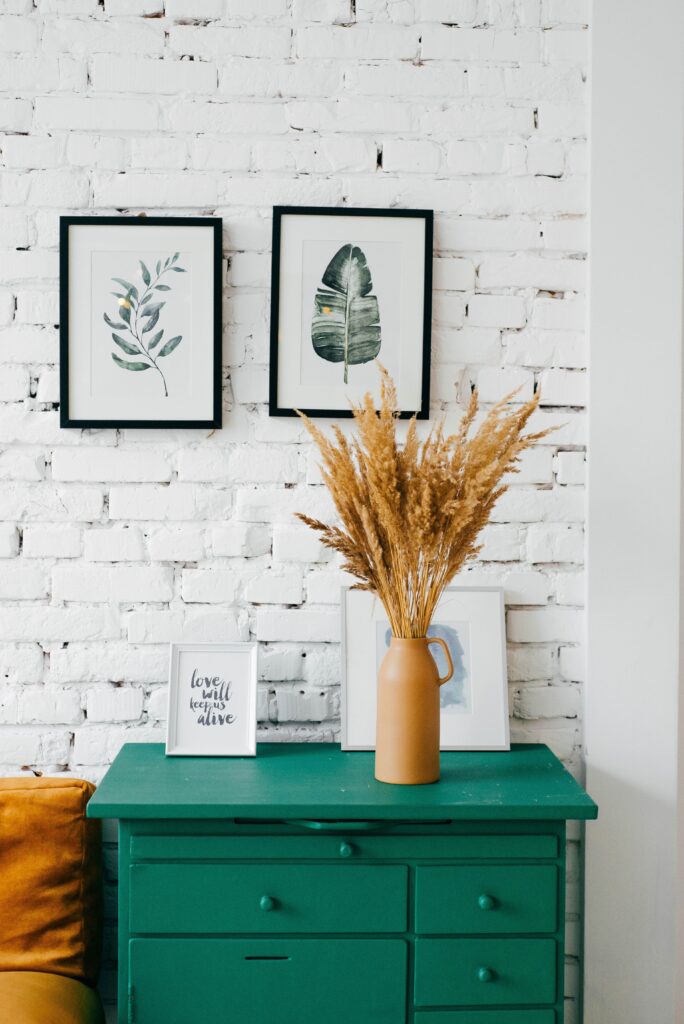 Upholster a shabby sofa
Looking to revamp your current sofa or a vintage couch that's collecting dust in your attic? A simple quick fix is to dress it in a new cover to give it a makeover. If you can't afford a new cover for the entire couch, a fancy throw will succeed in covering parts of it and adding a touch of colour.
You'll be able to find plush throws for as little as £4 at Wilko (this ultra-soft teal offering costs just £5.50), while whole sofa covers go for £15.99 on Wayfair — this soft cover in deep burgundy is a great option if you're looking to give your living room a regal feel.
Add a picture ledge or bookshelf
While you don't want the living area to look cluttered, a small picture ledge or bookshelf could be a good, inexpensive addition to your walls, allowing you to personalise your space in a minimalistic, elegant way. Populate the shelf with books, candles, photos or small paintings to achieve a monochromatic or more colourful effect, depending on your taste and the living room's tones.
IKEA, Argos and Shelf Direct offer a variety of shelves and ledges in all styles and sizes, for as little as £5. This set of two wooden shelves (at £20) from Argos Home is perfect for nature-inspired interiors, but if you're looking for something a little more contemporary, this IKEA structure with asymmetric shelves (at £25) could add a touch of sophistication to your wall.
Lay a chic carpet
Whether you're covering the entire floor or seeking to add a decorative throw, carpets and rugs are a quick and easy way to add a new dynamic to your interiors. Neutral, deep blue and earthy tones are popular this year, but don't be afraid to experiment with bolder colours, especially if your living room is otherwise covered in neutral shades.
Amazon, IKEA and Wayfair offer a wide selection of rugs and carpets, with prices ranging from £16.99. La Redoute is also a great place for natural-looking rugs sourced from smaller ateliers, such as this Rabisco Berber-style rug (at £49.50), made in Belgium — the ecru shade beautifully blends with a wooden floor.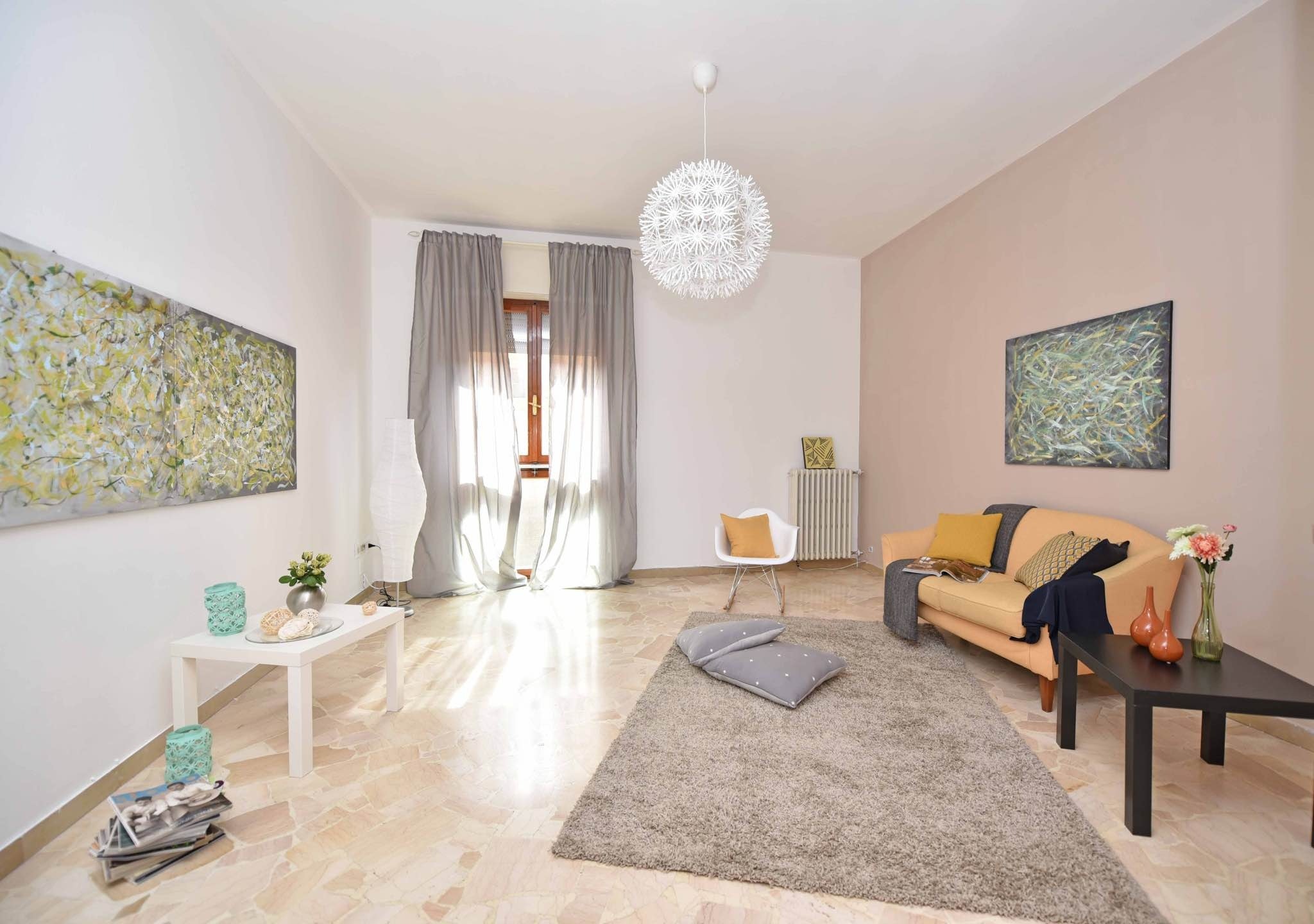 Re-dress your windows
If your living room includes curtains rather than blinds, a new fabric or colour can be a great way to frame your windows more elegantly.
Curtains can be expensive but there are deals to be found, especially at places like John Lewis or Next, which offer an array of designs and extensive colour palettes with prices starting from £40. These Next cotton curtains in soothing sage green start from £40 and come with an additional coating with thermal properties.
For something bespoke, check out Hillarys. Request an appointment with one of the retailer's advisers to see samples, and order your dream, made-to-measure curtains in your preferred pattern and colour (from shades of blue to silver and gold). Alternatively, opt for bespoke shutters or blinds in pastel tones from Thomas Sanderson. Both retailers offer a winter sale — up to half off at Hillarys (plus an extra 25% off your order) and 30% off at Thomas Sanderson — on selected products.
Replace dingy outlets and light switches
An easy way to spruce up your living space is to give your outlets or light switches a new shiny look. If any of these appear to be mouldy or all worn out, it might be time to change their original covers. This is something you can do yourself: for the traditional, surface-mounted white box sockets, unscrew the old box and screw the new one to the wall, with the cable run in and the faceplate attached.
A common UK plug is generally fitted with a 3A or 13A fuse. Keep in mind that the amp value of the circuit must be greater than the outlet you're installing. For example, don't install a 20-amp electrical outlet on a 15-amp circuit. In any case, make sure to follow the manual's safety instructions step by step to avoid any accidents.
Amazon offers a range of outlets and switches to choose from, with prices starting from £9.99 for outlets and from as low as £2.99 for switches.