Chintz is trending in interior design once again thanks to grandmillennials and their love for floral fabrics. This is how to incorporate the 16th-century Indian design style into modern day interiors.
More than a quarter of a century after Ikea's infamous 'Chuck Out Your Chintz' TV ad exhorted British people to banish the fancy, the floral, the beaded, the bedecked and the bejewelled from their homes, chintz has been making something of a comeback. This is evident in its appearance in major exhibitions around the world, including London's Fashion and Textile Museum's exhibition Chintz: Cotton in Bloom show of 2021.
In 2021, Google searches for 'chintz prints' rose by 240% and for 'chintz fabrics' by 125%. In part, this is due to the growing trend for blurring the line between indoors and outdoors, with flowers and foliage motifs adding botanical touches to interior spaces. However, it's also partly due to the nostalgic 'cottagecore' trend, which has been popular in recent years, celebrating rural life and rustic activities and crafts, from foraging to needlepoint. Lush foliage motifs were chosen to brighten many interiors during the pandemic, reminding us of far away landscapes that we hadn't been able to experience in person.
But what is chintz exactly, who is bringing it back and can it really be part of contemporary interiors or is
it just a fleeting retro fad?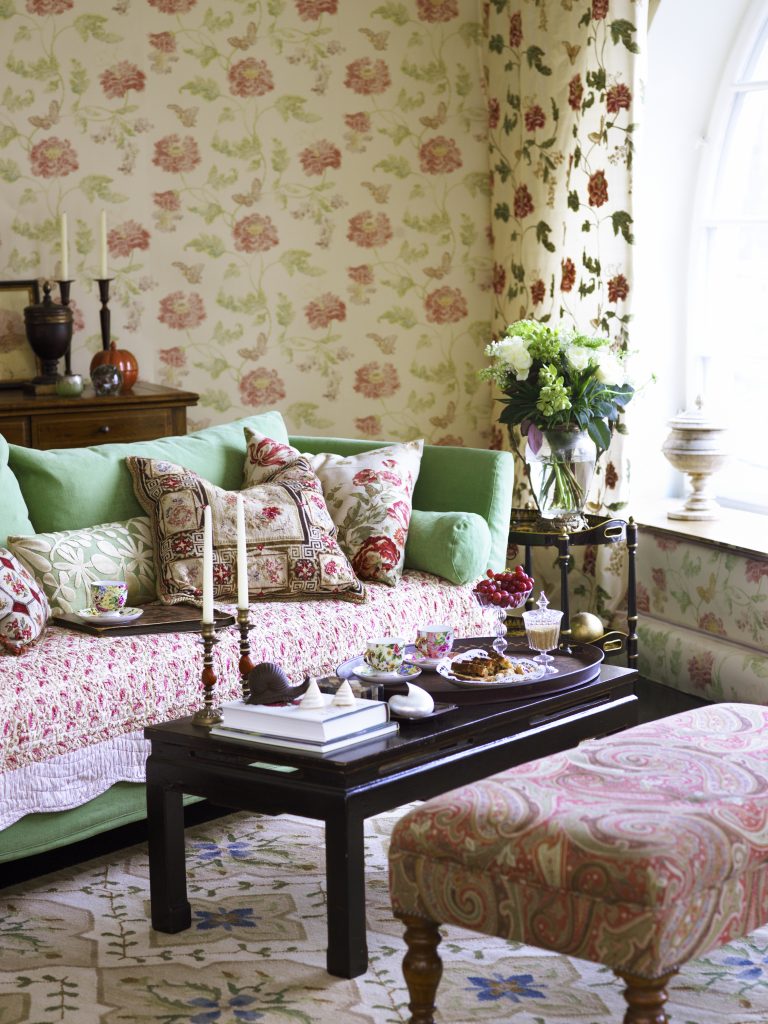 What is chintz?
A Hindi word meaning spotted or speckled, chintz is an Indian textile developed in the 16th century, printed with flower designs and other patterns (often incorporating animals) in an array of colours, usually on a pale background.
But the term subsequently spread to be used to describe pottery, wallpaper and other items bearing this style of decoration and, as time went on, the terms 'chintz' and 'chintzy' also started to be used disparagingly to describe cheap, low-quality or gaudy items.
How to decorate with chintz today
Chintz has made its comeback on the social media pages of 'grandmillennials' — influencers with a love of printed fabrics and 'artfully curated clutter' (another key trend). It's also sometimes referred to as 'granny chic' and related to overblown styles such as chinoiserie (an 18th-century mode inspired by art and design from Asia). Among the favoured fabrics are those by design firms Laura Ashley and Morris & Co (founded on William Morris's legacy).
But if florals are the future of interior design trends, is it possible to incorporate them into our homes without being overwhelmed by pattern and colour? The answer is
a resounding yes.
One option is to look for contemporary designs such as those by award-winning designer Kit Kemp, founder and creative director of Firmdale Hotels and author of Design Secrets: Adding character and style to an interior to make it your own. Kit's collaboration with global design brand Andrew Martin brings chintz firmly up to date with its boldly lyrical spirit and playfulness.
"Large-scale, multicoloured fabrics may be scary, but they provide a focal point, acting like a 'canvas' for a room," Andrew says. But he shares an alternative approach for those wary of a chintzy room. "If in doubt, use plain colours and fabrics on the perimeter of the room and add the pattern and detail to the central pieces, such as on the sofa cushions or a statement chair."
Other ideas for adding a splash of chintz include covering a headboard with a floral fabric or adding nature-inspired wallpaper to nooks and crannies you want to differentiate from the rest of the house, such as snugs and reading corners. Chintz-pattern curtains or room-dividers can have the same effect.
Words: Rhonda Carrier